Subscribe/Access
Advertisements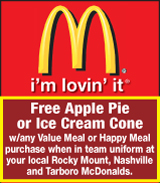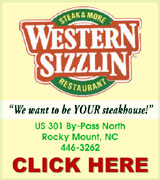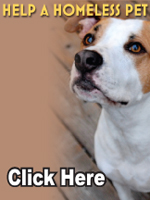 Sections
Member Options
Back
County to supply board with iPads
Nash County Commissioners will soon transition to a paperless board agenda, as each commissioner will receive an iPad to do county business on.
Assistant County Manager Rosemary Dorsey gave an iPad demonstration during Monday's regular board meeting, showing commissioners the different features the iPad has. More ...
Amanda Clark, Graphic Staff Writer

James Alston is named Patriotic Citizen of the Year at Castalia's annual Fourth of July Celebration.

CASTALIA JULY 4TH
Castalia Fourth of July Committee members are calling this year's festivities a success, despite an afternoon thunderstorm sneaking up on festivities and delaying fireworks for around an hour.
Anna Joyner, who is the Parade Coordinator for Castalia's July Fourth events, said the fireworks, which were scheduled to start after 9:15 p.m., did not start until 10:30 p.m. Joyner said she has heard that there were a lot of disappointed citizens but said public safety was the main reason for the delay. More ...
Amanda Clark, Graphic Staff Writer
Castalia mulls rules for electronic gaming
Castalia Commissioners plan to hold a public hearing at the next regular business meeting in order to discuss new text amendments to be added to the current zoning laws. The text amendments are in regard to electronic gaming operations, such as those operated in Internet cafes and other sweepstakes operations. More ...
Amelia Harper, Graphic Correspondent
County okays animal control ordinance
Nash County Commissioners adopted an updated animal control ordinance on Monday that included revisions suggested by citizens during a public hearing last month.
The ordinance was initially brought before commissioners in May and it was decided to hold a public hearing to allow citizens to express their opinions on the new, updated ordinance. More ...
Amanda Clark, Graphic Staff Writer
Nashville's Youth Day set for Saturday, July 21
When Lena Sessoms helped start the first Youth Day in Nashville, she expected a big turnout from local youth.
Sessoms said initially, Youth Day was started because there wasn't a lot for youth to do during the summer months. So she, along with several others began the first ever Nashville Athletic Youth Day.
So far, Sessoms said she has been disappointed in the turnout. More ...
Amanda Clark, Graphic Staff Writer
FIRST COTTON BLOOM 2012
Anna Thomas Manning, 1, and Eli Manning, 4, hold the first cotton bloom of 2012, which was found on Shelton Manning and Sons Farm in Momeyer. They are the children of Pepper and Brent Manning. The Nashville Graphic has held a long-time tradition of offering a free one-year subscription for the first bloom of the season brought to the newspaper. More ...

RETIREMENT PARTY
The Town of Nashville surprised former Nashville Police Chief Bill Creech with a retirement party on Wednesday, June 27 at the Nashville Community Building. Creech retired from the department with over 30 years with Nashville's Department. More ...

ACCIDENT
Police, fire and rescue responded to a one-car accident on I-95 last Thursday afternoon. The accident occurred near the 135 mile marker on I-95 S. Four people were transported to the hospital, and one passed away after being taken to the hospital by East Care. Rocky Mount Police are investigating the accident. More ...

Spring Hope Board to vote on chicken ordinance next month
The Town of Spring Hope will vote on whether to allow chickens in the town limits at their meeting next month.
At their regular meeting last week, commissioners heard recommendations from the Planning Board and instructed Town Attorney Mark Edwards to draft an ordinance that included the conditions given by the Planning Board. More ...
Amanda Clark, Graphic Staff Writer
NASHVILLE POLICE BRIEFS
ARRESTS
Andre Markie Edwards - 6/28/2012 - charged with burglary, larceny and conspiring to break/enter a building with the intent to commit felony larceny
Robert Lee Battle - 6/28/2012 - charged with burglary, forcible entry and burglary, conspiring to break/enter a building with intent to commit felony larceny More ...

NASH COUNTY SHERIFF INCIDENT REPORTS
A larceny of a central unit was reported on 6/25/2012 at 11756 Salem School Road
A breaking, entering, larceny of a residence was reported on 6/25/2-12 at 3778 Red Oak Road
A breaking, entering, larceny of a hunting club was reported on 9481 Highway NC 48
A larceny of a dog was reported on 6/26/2012 at 4002 Old White Oak Road More ...

Farmers urged to nominate candidates for FSA committee
Pender Sharp, Chairman of USDA's North Carolina Farm Service Agency (FSA) has important advice for area farmers and producers: "Nominate candidates to your FSA Nash County Committee! Nash County agriculture needs good farmers to serve."
Sharp, a Wilson County farm business owner and Chairman of North Carolina's FSA State Committee, was referring to the election of Members to FSA's Nash County Committee, a process now underway. More ...

Upgrades almost complete at Red Oak's Ennis Park
The expanded parking project for the W.B. "Bill" Ennis, Jr. Memorial Park in Red Oak should be completed within a few weeks, Mayor Alfred Wester said at the July Town Meeting on July 2. The town also opened bids for the installation of new dugout covers.
"We are ready to pave all four sections for the parking and are just waiting for the contractors to come," he said. "After that, the lines will just need to be repainted." More ...
Amelia Harper, Graphic Correspondent
Parade
A fire truck from Momeyer Volunteer Fire and Rescue was one of 16 fire trucks who participated in Castalia's July Fourth Parade last Wednesday. More ...

Grand Marshals
Three local WWII veterans served as grand marshals for the Fourth of July Parade last Wednesday. Pictured above (L-R) is: Sgt. Linwood "Pee Wee" Harper, of Castalia, and First Class Herman Strum, of Spring Hope. More ...

WAITING
Pictured above, the Davis family wait for the parade to start in a shady spot. Pictured is Melvin Davis with two-year-old Tevin Davis and six-year-old Kira Davis. More ...

Bone, Lemus wed
Emily Joyce Bone and Juan Carlos Lemus were married Saturday, March 31, 2012 at Leon Russell Chapel, at NC Wesleyan College, Rocky Mount. The officiating minister for the 6 p.m. ceremony was Rev. David Haley.
The bride is the daughter of Jeffrey Alvin Bone of Sandy Cross and Tracy Garnet Owens of Whitakers.
The groom's parents are Jorge and Blanca Lemus of Falls Church, Va. More ...

ENGAGED
Mr. and Mrs. C. Allen Rose of Nashville announce the engagement of their daughter, Allison Victoria, to the Reverend Jason Dean Currie of Grifton. He is the son of Mrs. Geraldine T. Johnson and husband Bucky of Middlesex and Mr. J. Wayne Currie, and wife Kelly of Wendell. He is the grandson of Mr. and Mrs. J. Josey Taylor and the late Mr. and Mrs. Clayton A. Currie. More ...

ENGAGED
Mr. and Mrs. Dean Holland of Nashville announce the engagement of their daughter, Corrie Dean Holland of Raleigh, to Elic Onslow Gurganus of Nashville, Tennessee. He is the son of Corbin and Rachel Cummings of Castalia and Mark Gurganus of Clover Virginia. The wedding is planned for October 13, 2012 at Calvary Baptist Church in Rocky Mount. More ...

ENGAGED
Mr. and Mrs. Gregory Scott Clifton of Nashville announce the engagement of their daughter, Betsy Scott Clifton to Joshua Edward Joyner, the son of Mr. and Mrs. Edward William Joyner of Rocky Mount.
The wedding will take place November 17, 2012 at Bellamy Manor, in Enfield. More ...

Summer Night Lights set Rocky Mount in July
Rocky Mount Parks and Recreation Department and the Police Department are teaming up to present a new community effort, Summer Night Lights. The inaugural event is an anti-crime initiative designed to take place during peak crime hours with the intent of combating violence during these times.
Summer Night Lights will take place every Friday and Saturday in July from 7 p.m. to 10:30 p.m. with alternate locations. More ...

Rocky Mount Academy Honor Rolls
Rocky Mount Academy has announced its Third Trimester Honor Roll
Grade 6, Headmaster's List: Shelley Anderson, Holly Brantley, Guy Deyton, Thomas Griffin, Marcus Lerro, Jacob Watkins; High Honors: Frances Anderson, Bailey Beddingfield, Cameron Cross, Bhavisha Gulabrai, Casey Jones, Caleb Lambert, Elijah McCadden, Elias Moore, Anna Penwell, Joseph Petruzziello, Alexis Reams;
More ...

NCC Nursing Aide I and II Graduates, 1
Nurse Aide I Class: Left to right - Front row: Stephanie Jenkins of Nashville, Victoria Robinson of Rocky Mount, Candice Garner of Rocky Mount, Crystal Powell of Rocky Mount and Sabrina Long of Raleigh. Back row: Jamie Daniel of Bailey, Simone' Autry of Spring Hope, Gloria Carpenter of Bailey, Taneshia Armond of Nashville, Stacy Cobb of Rocky Mount and Teresa Pernell, of Nashville. Not pictured: Syreeta Nicholson of Battleboro. More ...
Photos contributed by Nash Community College
NCC Nursing Aide I and II Graduates, 2
Nurse Aide I – Hybrid Class: Left to right: Tonya Thorne of Rocky Mount, Ashley Arrington of Rocky Mount, Melissa Ayers of Nashville, Amy Carter of Nashville and Mary Ann Proctor of Rocky Mount. More ...

NCC Nursing Aide I and II Graduates, 3
Nurse Aide I Class: Left to right - Front row: Mable Parker of Nashville, Crystal Tyson of Nashville and Dee Dee Cherry of Battleboro. Back row: Jewely Guay of Roanoke Rapids, Vanessa Gonzalez of Wilson and Megan Burnette of Zebulon.
More ...

PEACHTREE COMMUNITY NEWS
On a hot, sultry Sunday morning Peachtree folks gathered for worship. Pastor Whitehouse's sermon was titled, "Small is Big with God." It was based on scripture found in Matthew 13: 31-35 which tells the parable of the mustard seed and the leavening that goes into bread. The kingdom comes into a life in a small way, but does not end there. Little is much when God is involved. More ...
BARBARA HARDISON
MOUNT ZION FWB CHURCH NEWS
Robert Tyner welcomed everyone to Sunday school. We had 85 in attendance. Barbara Morgan was pianist for Sunday school. Robert prayed the closing prayer.
Our choir sang "God Can Do Anything But Fail." More ...
ROSALENE BASS
BEULAH COMMUNITY NEWS
We want to thank each of you who attended our monthly fish fry on Friday night. Even though we had a storm with some rain (which we needed) during the supper, we still had a great turnout! We really enjoyed the fellowship and the continued support. Without you it would not be successful. I pray everyone has stayed safe during the severe heat we are having. Please use caution and great sensible decisions when going outside. More ...
WILMA ENROUGHTY
RED OAK NEWS
Congratulations to Tyler and Sunny Petty in the birth of their daughter, Brooklyn Davis Petty, born on June 25! Grandparents are Butch and Phyllis Petty and great-grandmother, Aileen Davis.
Several ladies from Red Oak Baptist Church participated in the Adopt-a-Dorm Bible Study at Fountain Correctional Center in Rocky Mount on Monday, July 2. More ...
SUZY PEARCE
OUTDOOR ADVENTURE CAMP
Nash County 4-H hosted an Outdoor Adventures Camp on June 28 at the Nash County Ag Center. Youth learned about archery and the basics of BB gun shooting, focusing on the safety of the sports. The class was taught by NC Wildlife Officers. The class also featured hands on tree identification with the NC Forestry Service. Pictured, 10-year-old Ashton Palmer aims at a target during a BB gun lesson. More ...

FARM SERVICE AGENCY
Pollinator habitats, which support a variety of pollinator species, will now be accepted as a Continuous Sign-up Conservation Reserve Program (CCRP) practice. CCRP is a voluntary program that helps producers apply conservation practices to safeguard environmentally sensitive land. More ...
SHARON TAYLOR
PNC gives to Down East Partnership
PNC Financial Services Group Inc. recently announced it will contribute $50,000 to the Down East Partnership (DEPC) toward improving its Discovery Place park located on Lexington Street in Rocky Mount.
"We are excited to partner with PNC on such an important project," said Henrietta Zalkind, DEPC Executive Director. More ...

A trio of NC legends pass away in 2012
It has been a tough year for North Carolina icons.
You couldn't miss it unless you were out of the country last week, but the passing of Andy Griffith completed the urban legend circle of deaths of a certain type coming in threes. I suppose we can only hope there is some truth to that old saying so that we'll get a break. More ...
Mike Brantley
Missing my little tuxedo guy, Domino
It was around 11 years ago that I met the first guy I would fall in love with.
He was wearing a tuxedo and was as skinny as a rail.
Oh yeah, and he was a cat.
Domino came into my life on a whim. I went to pick out a cat for my cousin and ended up falling in love. I found my cousin another cat and brought Domino home with me. I was 20 years old, just about to be 21. More ...
Amanda Clark
Rediscovering Nash County
We're diligently working updating data and information, finishing up advertisements and starting the production process of the Nashville Graphic's 2012-2013 edition of Discover Nash County Guidebook.
As many of you know, this book is an all inclusive guide to anything and everything in Nash County. It includes demographic information for Nash County and each municipality located here. You'll find information about recreation, scenic places and historical locations along with fun stuff to do around the county. More ...
Jo Anne Cooper
Backward Glances
LEGION OFFICERS –– This photo originally published in The Graphic July 24, 1975. The 1975-76 officers of the American Legion Post 110 of Nashville were installed. More ...
A PICTORIAL LOOK INTO THE PAST
Nash County Animal Friends' Notebook
We've found that our more mature friends are calmer, laid back and generally very sweet wonderful companions. Most, through no fault of their own (family breakup or death, moving, etc.) find themselves in the Shelter system. They often have plenty of energy, love to go walks (although maybe not real long ones!), and get along with everybody and everything. More ...
Carol Vierela, Nash County Animal Friends

LEISURELY DIP. Birchwood's Catherine Coats competes in the IM event during last Thursday's pool matchup against the Nash Rec Swim Team.

THE HEAT BUSTERS
NASHVILE -- Cloudy skies brought a brief reprieve to 100-degree conditions when Birchwood and Nash Rec tangled for the second week in a row last Thursday.
Nash Rec wrapped up the season sweep with a 554-219 decision over Birchwood at the Nash-Halifax Swim League Meet at the NRST Pool. More ...
GEOFF NEVILLE, Graphic Sportswriter
Nash County softball players earn Gold Medals
RALEIGH -- The Rocky Mount/Nash County Special Olympics softball team recently won a gold medal.
The team defeated Cleveland Co. 10-7 and Brunswick Co.11-9 to win gold medals in Division B.
The Special Olympic softball games were held at the Special Olympics North Carolina Summer Games in Raleigh, N.C. More ...
Staff Reports
Nash Co. standouts honored
ROCKY MOUNT -- Nash County was well-represented on the 2012 North Carolina Softball Coaches Association's District 3 Class 3-A All-Star Team.
Nash Central's Lesley Murray, Lindsey Sharpe, Brittani Strickland and Rachel Pearce claimed All-District honors, as did Southern Nash's Madison Bell. More ...
Staff Reports
Buffaloe shines in the Big Apple
NEW YORK, N.Y. -- Christian Buffaloe, a 12-year-old local Kyokushin Karate fighter, won the 11-13 Youth Division of the All American Open Kyokushin Championships on June 23 in New York City.
The Kyokushin All American Open was established in 1996 to bring in the best full-contact knockdown karate competition from North, Central and South America, but has evolved to welcome the best fighters from Europe, the African continent, Russia, Asia, and the South Pacific region. More ...
Staff Reports
Post 58 ready for postseason
ROCKY MOUNT -- Rocky Mount Coleman-Pitt Post 58's baseball team will open postseason action Thursday evening at Gryphon Stadium when its hosts the No. 4 seed from Area I East - Southern Conference member New Bern Post 24. Post 58 (18-6) is the No. 1 seed from Area I East - Northern Conference.
The best-of-three series will move to New Bern High School's Boykin Field for game 2 Friday evening
If a game 3 is needed, play will resume in Rocky Mount Saturday night. More ...
CHARLES ALSTON, Graphic Correspondent
Aparicio on fire for Post 58 squad
ROCKY MOUNT -- Can anyone be more on fire than Rocky Mount Coleman-Pitt Post 58 player Jay Aparicio?
Fans at what turned out to be the final regular season game for Post 58 last Wednesday saw that in person.
Post 58 wanted to get a measure of revenge over visiting Pitt County Post 39 after its easy 12-4 win over Rocky Mount earlier in the season. More ...
CHARLES ALSTON, Graphic Correspondent
Mudcats record road victory over Nats
WOODBRIDGE, VA. – Catcher Alex Monsalve got his first hit with the Carolina Mudcats on Sunday afternoon at Pfitzner Stadium in Northern Virginia.
It was towering blast over the left-field wall that proved to be the difference in a 3-2 victory over the Potomac Nationals.
More ...
Staff Reports
Nash Co. heads to state
NASH COUNTY -- Nash County's Crazy Sox overcame their lack of experience with plenty of heart and tenacity during action at the Tar Heel District 13-15 Softball Tournament two weekends ago at Zebulon Elementary School.
With a berth in the state event at stake, Nash County won a 13-12 thriller over Youngsville in the opening round. More ...
GEOFF NEVILLE, Graphic Sportswriter
CHAMPION AT COUNTY LINE
NICK AT NITE. Nick Wean (left) poses in County Line Raceway's J&M Chevrolet Victory Lane following his feature win recently at the 3/8ths mile clay oval. More ...

HIGH FIVE
Nash Rec swimmer Hunter Proctor (right) exchanges a high-five with Coach Wendy Wilson before Proctor competes in an event as part of last Thursday's home meet versus Birchwood. More ...

MORE SWIM HEROICS, 1
WATER WORLD. Standouts from last Thursday's Nash-Halifax Swim League Meet between Birchwood Country Club and host Nash Rec included (above) Abby Wilson. More ...

MORE SWIM HEROICS, 2
WATER WORLD. Standouts from last Thursday's Nash-Halifax Swim League Meet between Birchwood Country Club and host Nash Rec included (above) Birchwood's Taylor McIntyre. More ...

BACKSTROKE COMPETITOR
Nash Rec's Trey Barker competes in the Backstroke during last Thursday's home pool contest against Nash-Halifax Swim League opponent Birchwood CC. This Thursday evening, Nash Rec will be on the road at Westridge, while Birchwood will travel to Benvenue Country Club. Both meets will start at 5 p.m. More ...

PAMELA DARLENE ALSTON
ROCKY MOUNT –– Pamela Darlene Alston, 44, of Rocky Mount, died on Saturday, June 30, 2012, at Vidant Medical Center in Greenville. More ...

LINDA EVANS ROBERSON
ROCKY MOUNT –– Linda Evans Roberson, 59, of Rocky Mount, died on Sunday, July 1, 2012, at Vidant Medical Center in Greenville. More ...

ROBERT AVON DILLAHUNT
ROCKY MOUNT –– Robert Avon Dillahunt, 59, of Rocky Mount, died on Sunday, July 1, 2012, at Nash General Hospital in Rocky Mount. More ...

MARTHA DUANE DICKERSON
Martha Duane Dickerson, 70, passed away Wednesday July 4, 2012. She was born June 10, 1942 in Talladega County, Alabama. She was the daughter of the late Robert and Stokley Mae Gravette.
More ...

MARTHA PHIPPS ANDREWS
Martha Phipps Andrews, 96, passed away Tuesday, July 3, 2012. She was born in Durham County March 21, 1916 to the late Alonza Green and Margaret Carden Phipps. She was preceded in death by her husband William J. Andrews and several brothers and sisters. More ...

JAMES "JAY" DAWSON VOLIVA, SR.
James "Jay" Dawson Voliva, Sr., 74, passed away Tuesday July 3, 2012. He was born March 23, 1938 in Tyrrell County to the late Claudie and Mattie Ainsly Voliva. He was preceded in death by his wife Geneva Voliva. More ...

HAZEL HATCHER HERRING
ROCKY MOUNT - Hazel Hatcher Herring, 93, passed away Tuesday, July 3, 2012 at Nash General Hospital. She was born on October 26, 1918 in Johnston County to the late Ner and Undine Sellers Hatcher. In addition to her parents she was preceded in death by her husband, Romie Lee Herring, Sr.; sisters, Norma Smith, Letha Wall, Ethel Woodard, Velma Ellis, Ruth Humbert; brothers, Carl Hatcher, Ed Hatcher, Harper Hatcher, Tom Hatcher, and Joe Hatcher. More ...

MARVIN WAYNE EVANS
Marvin Wayne Evans, 69, passed away Saturday, June 30, 2012. He was born July 17, 1942 in Edgecombe County to the late Horace Green and Mary Denson Evans. He was also preceded in death by one sister and two grandsons. More ...