Subscribe/Access
Advertisements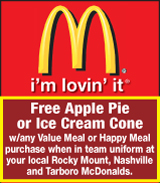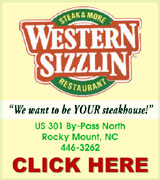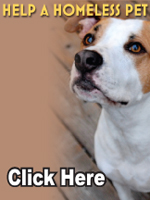 Sections
Member Options
Back
Nashville council oks internet, bingo fees
Internet sweepstakes cafes and bingo parlors in Nashville will now have to pay a privilege license fee, Nashville Town Council members decided at a budget work session last week.
The issue of whether to add internet sweepstakes and bingo parlors to the list of those required to pay fees has been in discussion among Nashville Council members for a while. However, the town was unsure whether the town could legally tax such businesses. More ...
Amanda Clark, Graphic Staff Writer
Nash budget reduced by three percent
Nash County Manager Bob Murphy presented a tight budget to commissioners last week during a budget work session.
The proposed $85.4 million budget for Fiscal Year 2012-2013 is three percent less than the current fiscal year budget. More ...
Amanda Clark, Graphic Staff Writer
CELEBRITY VISITS THE ORIGINAL NASHVILLE
Jim Fowler recently came to Nashville for a visit while in the area for a client appreciation day for Tony Engrassia, who serves as a financial advisor for Mutual of Omaha in Rocky Mount. Fowler was the host of Mutual of Omaha's Wild Kingdom for many years. More ...

Recycling grant awarded to Nashville
The Town of Nashville has been awarded a grant that will allow the town to install recycling containers throughout downtown.
Nashville Town Manager Preston Mitchell told council members at the May 1 regular meeting that the town had been notified it had been awarded a 2012 Community Waste Reduction and Recycling Grant. More ...
Amanda Clark, Graphic Staff Writer
Peace charged for indecent liberties with children
A former volunteer baseball coach has been charged with taking indecent liberties with two of his players over 15 years ago.
Ray Peace, of Rocky Mount, turned himself into the Nash County Sheriff's Office after seven warrants were taken out against him for indecent liberties with a child. More ...

NRMS Superintendent to host meetings on reassignment
Nash-Rocky Mount Schools Superintendent Dr. Anthony Jackson will hold superintendent office hours on Wednesday evening and Thursday morning to give the public a chance to discuss any concerns regarding school reassignment.
A committee has been meeting regularly to work on the reassignment process. More ...
Amanda Clark, Graphic Staff Writer
Funky Trunk opens in Nashville
Toni Fink, Ana Joyner and Renee Silk are filling a void in Nashville with the recent opening of their consignment store and gift shop business The Funky Trunk.
Nashville's Chamber of Commerce held a ribbon cutting for the new business on Friday morning. In addition, grand opening celebrations were held on Saturday. More ...
Amanda Clark, Graphic Staff Writer
Former Nashville Graphic staff member passes away
Barbara Ann Miller Greene, 68, passed away Sunday, May 20, 2012.
Greene worked at The Nashville Graphic for many years as the newspaper's composing room supervisor before starting a new career with the Nash County Health Department in 1995. She retired from Nash County on February 27, 2009. More ...

CATFISH LUNCHEON
The Nash County Soil and Water Conservation District held its annual appreciation luncheon on Wednesday, May 9 at Rose Hill. For over 30 years, the district has held a luncheon every spring to promote conservation efforts and to show its appreciation to the people and agencies who support those efforts. More ...

NASHVILLE POLICE BRIEFS
ARRESTS
Ashley Ganae Ford - 5/15/2012 - charged with simple assault
India Worthington - 5/15/2012 - charged with simple assault
Crystal Reene Taylor - 5/15/2012 - charged with larceny More ...

NRMS Board looks at proposal on transporation efficiency
The Nash-Rocky Mount School (NRMS) System is looking at ways to make transportation more efficient for the upcoming school year.
Binford Sloan, Director of Transportation for NRMS, presented a transportation efficiently proposal to school board members on Monday evening during a work session. More ...
Amanda Clark, Graphic Staff Writer
Book signing
Harold D. Cooley Library hosted a book signing for local author, Tillie Bell, on April 26. Bell grew up in the Corinth community and is a Nashville High School graduate. Her book "Prayer Patterns, A Collection" is a collection of manuscripts written for Woman's Missionary Union meetings at Rock Creek Baptist Church in Nashville from August 2000 through June 2011. More ...


Pictured is David Edwards (at left), who was awarded a Lifetime Achievement Certificate. Presenting the award was Jim Dickens (at right). (Contributed photo)

Radio Reading Service honors locals at appreciation dinner
The Down East Radio Reading Service recently held its annual Volunteer Appreciation Dinner and honored two for their service.
Merle Taylor was named the Volunteer of the Year for her many years of reading for Down East Radio Reading Service.
More ...

Brown receives scholarship
Rocky Mount Academy has awarded the Ann MacPherson Weaver Memorial Scholarship this year to Davis Richard Brown who will enter RMA this fall in the ninth grade. Brown has attended Faith Christian School for one year, and, prior to that time, was a student in the Wake County school system, most recently at Daniels Middle School for sixth and seventh grades. More ...

Northern Nash High School AFJROTC receives Distinguished Unit Award
Unit NC-801 at Northern Nash High School has been selected to receive the 2011-2012 Air Force Junior ROTC Distinguished Unit Award. This award recognizes Air Force Junior ROTC units that have performed above and beyond normal expectations, and that have distinguished themselves through outstanding service to their school and community while meeting the Air Force Junior ROTC mission of producing better citizens for America. More ...

Four NRMS students receive scholarships
Four Nash-Rocky Mount high school seniors have been awarded the State Employees Credit Union "People Helping People" Scholarship.
Tori Parker, Southern Nash High School; Essence Henderson, Northern Nash High School; William Garrison, Rocky Mount High School; and Lesley Murray, Nash Central High School are recipients of a four-year scholarship valued at $10,000. More ...

Gonzalez enlists in US Navy
Civilian Salvador T. Gonzalez, son of Guadalupe and Jose B. Gonzalez of Spring Hope, recently enlisted in the United States Navy under the Delayed Entry Program at Navy Recruiting District, Raleig.
The program allows recruits to enter the Navy and take up to one year to complete prior commitments such as high school. More ...

Teachey, Matthews wed
Katherine Blair Teachey and Lt. Horace Greeley "Trey" Matthews III were married Saturday, May 19, 2012 at Rose Hill Plantation. The officiating ministers for the 5 p.m. ceremony were Rev. Robert Bergland and Rev. Caswell Shaw.
The bride is the daughter of Mr. and Mrs. Kimberly Paul Teachey of Rocky Mount. More ...

Ramsey, Smith marry
Sara Elizabeth Ramsey and Byron Jesse Smith were married Saturday, May 19, 2012 at Sunset Avenue Baptist Church, Rocky Mount. The officiating minister for the 1 p.m. ceremony was Pastor Jack Stone.
The bride is the daughter of Mr. and Mrs. Rod Ramsey of Nashville.
The groom's parents are Mr. and Mrs. Dale Smith of Canton. More ...

ENGAGED
Mr. and Mrs. Jeffery Wayne Lucas, Sr. of Nashville announce the engagement of their daughter, Mary Leigh Lucas, of Raleigh, to Bryce Joseph Abalos Creedon, of Raleigh. He is the son of Mr. and Mrs. David Creedon, of Fayetteville. The wedding is planned for June 30, 2012 at Calvary Baptist Church. More ...

Employee of the Month
Vikki Jones has been selected as Nash County Department of Social Services Employee of the Month for April 2012. Vikki has been with the agency for almost 25 years and is a Processing Assistant III. Described as a great team player, Vikki delivers service with a smile to those needing her assistance. More ...

Dr. Atkinson speaks to area women educators
The Beta Theta Chapter of Delta Kappa Gamma International, a society that honors outstanding women educators, met on Saturday, May 5, to install new officers for the next biennium. Dr. June Atkinson, State Superintendent of Public Instruction, was the guest speaker. More ...

INSTALLATION OF OFFICERS
New officers of the Beta Theta Chapter of Delta Kappa Gamma, pictured left to right, are Rhonda Carter, President; Terri Brantley, Secretary; Peggy Lamm, Treasurer: and Nell Boone, Parliamentarian. More ...

Guest speaker
Dr. June Atkinson, State Superintendent of Public Instruction (pictured second from right) was the guest speaker Saturday, May 5, at the Beta Theta Chapter of Delta Kappa Gamma installation of new officers. Pictured with Atkinson are (left to right) Rhonda Carter, Brenda Stephenson, and Cheryl Rice. More ...

Nash Central High School Environmental Club takes first place in state Envirothon
Little did the seven members of Nash Central High School's (NCHS) Environmental Club know that their community service learning project would be awarded first place in North Carolina's Envirothon when they hosted an EcoFair at Nashville Elementary School last February. However, after a successful event and a video-taped submission of their project to the North Carolina's Envirothon Competition, the group was notified of their first place win for the state. More ...

Nashville native receives degree from Piedmont Virginia Community College
A local resident was among the 569 graduates who received degrees and certificates at Piedmont Virginia Community College's 39th annual commencement May 11.
Daniela J. Marden was awarded an Associate of Applied Science degree in nursing. A 2003 graduate of Northern Nash High School, she is the daughter of Miles Jefferson Joyner Jr., and Pamela Baker Joyner of Nashville. More ...

NCC student honored at Excellence Event
The North Carolina Community College System honored community college students from throughout North Carolina during its recent excellence event, "The Great Within the 58." The awards luncheon was part of a week-long celebration of "North Carolina Community College Excellence in Education," as proclaimed by Gov. Beverly Perdue. More ...

MOUNT ZION FWB CHURCH NEWS
Robert Tyner welcomed everyone to Sunday school. There were 94 in attendance for Sunday school with two visitors. Allie Farmer read the Bible verse for today. Today was youth Sunday. The youth had provided a pretty, colorful basket of flowers in honor of Rev. Jim Bogle and wife, Martha, for their dedication to our church for the past several months. Barbara Morgan was our pianist for today. Thank you. More ...
ROSALENE BASS
BEULAH COMMUNITY NEWS
On Saturday morning at Beulah Church of Christ, the ladies had a delicious breakfast. They had planned this to get most of our ladies together to talk about the Bible study class that will be started in June. It will be on Tuesday night, June 5 at 7. All ladies are invited to attend. More ...
WILMA ENROUGHTY
Eleven honored at conference
Eleven men and women were honored at the second annual "Destined 2 Win Family Conference" held at Union Hill Baptist Church, Nashville NC. Ministry in song was rendered by Unity Ministry of First Baptist Church Hodges Town of Roanoke Rapids. Greetings and welcomes were given by Rev. Jacquetta Harrison of Jacquetta Harrison Community Service. The statement of purpose was given by Rev. Xavier Harrison.
More ...

Dr. Raper's memory honored at FWB foundation meeting
Free Will Baptists were challenged recently to follow the example of the late Dr. Burkette Raper, who established the North Carolina Foundation for Christian Ministries.
Raper's memory was honored at the foundation's annual meeting, which was held at Mount Olive College on a campus that was built during Raper's 40-year tenure as the college's president. More ...

Ceremony held to honor Confederate Memorial Day
Each year, May 10 is observed by the state of North Carolina as Confederate Memorial Day. Members of the Bethel Heroes Chapter 636, United Daughters of the Confederacy met on this day to honor the Nash County men who fought and died during the War Between the States. More ...

Brooklyn Community News
Thanks to the Nashville Police Department, Joey Corbett, George Bottoms, Steve Glover, the Nashville Council Board and others who helped make the Nashville Police Academy possible. I am so personally grateful to Officer Colbert for his patience and dedication to this program.
More ...
LENA SESSOMS
PEACHTREE COMMUNITY NEWS
On Sunday morning Peachtree Church held a service honoring law enforcement, emergency and fire personnel and commemorating officers who have fallen while serving. It was an inspiring service that was planned and conducted by Ricky Tucker. He is a Deacon at Peachtree and is employed by the NC State Capital Police and is in a unique position that enables him to lead this service. More ...
barb
Reinke honors Brock Equipment technician with Public Service Award
Reinke Manufacturing, Inc., a leading manufacturer of mechanized irrigation systems, is pleased to announce that Tyler Brock of Brock Equipment in Bailey has earned the PLUS (Proven Leaders in Unmatched Service) Certified Technician Award. The prestigious award is one of the most elite technical service designations awarded by Reinke. More ...

Bryant receives Trustee Service Award from North Carolina Hospital Association
Michael Bryant, former chairman of the hospital's board of commissioners, was a recipient of a Trustee Service Award presented by the North Carolina Hospital Association. The award was given in conjunction with the NCHA Trustee Institute, an annual educational conference for hospital trustees, executive leadership and physicians. Bryant was one of three honored at the event. More ...

HOBGOOD ACADEMY HONOR ROLL
Hobgood Academy Honor Roll and Principal's List
The following students at Hobgood Academy made the Principal's List (A's) or the Honor Roll (A's and B's) the 5th six weeks of school. More ...

Honored
Pamela H. Breedlove, Ed.D., was recently honored at a reception at East Carolina University. Her dissertation, Teacher evaluation in North Carolina: Teacher perceptions during a time of change, was selected to receive the fourth Annual Glatthorn Dissertation Award. The award is funded by the family of Dr. Allan A. Glatthorn, who was Distinguished Research Professor of Education at East Carolina University and the author of numerous books on educational leadership. More ...

Tolerant of the intolerant who think they're tolerant
It's been too weeks since I've voted, and I still have something stuck in my proverbial craw.
It has nothing to do with who won what race, or how I voted.
No, to me, it is about the fallout after the election. I've never seen more hissy-fits thrown in person, in public, on TV or on the Internet. If you missed it, consider yourself lucky. The whole thing weakened my faith in people and how this country gets along. More ...
Mike Brantley
Don't forget why we celebrate Memorial Day
Memorial Day weekend is quickly approaching and for many, it means an extra long weekend to take advantage of. If you are fortunate enough to get an extra day off, don't forget why we remember Memorial Day.
Memorial Day is a day of remembrance for those who have died in our nation's service. It's a day to be thankful for the families that are left behind without their loved ones.
More ...
Amanda Clark
Barbara Greene was an inspiration to many of us
Sunday morning brought some sad news to many of us here at The Nashville Graphic.
Barbara Greene of Spring Hope passed away Saturday after a courageous battle with cancer.
Barbara worked at The Graphic as the supervisor of our composing/production department for many years before starting a brand new career in 1995 at the Nash County Health Department. More ...
Jo Anne Cooper
Citizen completes Police Academy
I enjoyed the series of courses I completed for the Nashville Police Academy. They were very friendly, which is exactly opposite from what I was expecting. I loved every moment of it. I learned so much! For example, I saw how the police spend their time, the procedure used for stopping cars not to mention how they are talked to by people they stop. Everyone should really try it, especially young people. More ...
Letters to the Editor:
Scholarships now available
Nash and Edgecombe County residents can receive scholarships from private trusts designed specifically to benefit people in this area. Here is a list of what is available:
The Helen Lancaster Minton Educational Fund provides scholarships to qualified post-secondary students. More ...
Letters to the Editor:
Nash County Animal Friends' Notebook
Have you heard.... shelter dogs have too much baggage? It's better to adopt a puppy to start with a clean slate? NOT True. Many shelter dogs are well-behaved pooches who, for an endless list of possible reasons, could not be kept by their original owners. Older shelter dogs make ideal candidates for people wanting to skip the puppy stages of chewing, potty training and mouthing. More ...
Carol Vierela, Nash County Animal Friends
Backward Glances
This photo originally published in The Graphic on April 19, 1962. This group of Momeyer Junior 4-H'ers captured the top spot in the annual 4-H Talent Show. Seventeen clubs entered the contest with approximately 120 4-H members participating. More ...
A PICTORIAL LOOK INTO THE PAST
THE CROWN QUARTET
STANHOPE -- Two weeks ago, Southern Nash High School track and field coach Brian Batchelor thought his club's best chance for a state championship would come in the 400 Relay.
But Southern dropped a baton in the event at the regionals and was unable to qualify for last Friday's Class 3-A State Track and Field Meet at North Carolina A&T University's Aggie Stadium in Greensboro. More ...
GEOFF NEVILLE, Graphic Sportswriter
Southern Nash wraps up historic season
FIREFOX VILLAGE -- Southern Nash was unable to make a final-day run at the Class 3-A Boys State Golf Championships.
SN concluded the 36-hole event last Tuesday by posting a last round 341. That gave the Firebirds a combined 674 strokes, which was good for 12th place overall in the team standings. More ...
Staff Reports
Swimming schedule finalized
NASH COUNTY -- The Nash-Halifax Swim League will kick off its summer season on June 14.
Participants will be Nash Rec, Birchwood, Westridge, Roanoke Valley and Benvenue Country Club.
The campaign will close with the annual N-HSL Championships on July 28 at the Harrison Family YMCA in Rocky Mount. More ...
Staff Reports
CLASS 2-A STATE TRACK RESULTS
GREENSBORO -- Here are the Top-Two Finishers in each event and Top-10 Team scores from last Friday's Class 3-A State Track and Field Championships, which were held at Aggie Stadium on the campus of North Carolina A&T State University: More ...
Staff Reports
Central Looks To 2013
ROCKY MOUNT -- Such are Nash Central's upgraded softball expectations that a tinge of disappointment followed a campaign that featured a share of the Big East Conference regular season championships, a league tournament crown and a second-round appearance at the Class 3-A State Playoffs.
But NCHS coach Gary Smith hoped for a bit more than the Lady Bulldogs' postseason exit last Tuesday against Havelock. More ...
GEOFF NEVILLE, Graphic Sportswriter
Smith showing the way for RMA
ROCKY MOUNT -- In their first season under the leadership of Coach Pat Smith, members of the 2012 Rocky Mount Academy Eagles Varsity baseball team soared to old heights once again as they returned to the NCISAA state baseball tournament recently.
In their last NCISAA appearance in 2010, they had an early exit in round one to Southlake Christian Academy.
More ...
Staff Reports
Mudcats fall on road
WOODBRIDGE, VA. – The Potomac Nationals scored three runs in the first inning, and held on for a 4-2 win in front of 5,116 on Sunday afternoon in Class A Carolina League diamond action at G. Richard Pfitzner Stadium in Northern Virginia.
The Mudcats (21-21) dropped to .500 with the loss. The Nationals improved to 18-22. More ...
Staff Reports
RM hosts Alumni Game
ROCKY MOUNT -- Ben Gay and Absorbine Jr. might have been in short supply around town after Rocky Mount's Alumni Baseball Game at Gryphon Stadium last Saturday afternoon.
Forty-two former Rocky Mount baseball players, ranging in age from 18 to 63 (the youngest -- RMHS graduating seniors Damian Smith and Collin Watson; the oldest, Class of '67 alums and 63-year-olds Eddie Joe Lynch and Doug Roberson), gathered to play the last Rocky Mount High-related game ever on a field that was laid out in 1920. More ...
CHARLES ALSTON, Graphic Correspondent
East Carolina is seeded sixth
GREENVILLE -- The East Carolina University baseball team will take aim on its first post-season league title since 2002 when it opens play as the No. 6 seed at the 2012 Conference USA Baseball Championships presented by Trustmark, at Trustmark Park in Pearl, Miss. More ...
Staff Reports
Big payout at Co. Line
ELM CITY -- County Line Raceway, as everyone knows made a schedule change to bring in the Ultimate Super Late Model Series last Saturday night.
With top stars such as Chris "Smokey" Madden, Casey Roberts, Casey Barrow and Daniel Baggerly on tap to show up, a lot of the local boys would also make the attempt to make the big show tonight. More ...
Staff Reports
Hilliard on East-West roster
GREENSBORO -- Southern Vance High School hoops skipper Mike Rotolo has finalized his roster for the 2012 North Carolina Coaches Association East-West All-Star Boys Basketball Game.
Rotolo will serve as the head coach for the East Team at the annual event, which is scheduled for July 16 at the Greensboro Coliseum. More ...
Staff Reports
State seeded third at tourney
GREENSBORO -- No. 13 North Carolina State punched its ticket to the 2012 Atlantic Coast Conference Baseball Championship as the third seed, equaling its highest seeding for the tournament since 1993, according to the pairings announced Sunday by the conference office. More ...
Staff Reports
CATHERINE RAYNOR GRICE
Catherine Raynor Grice, 79, passed away on Wednesday, May 16, 2012. She was born June 16, 1932 in Johnston County. Catherine was the daughter of the late Charlie and Fisher Raynor. She is preceded in death by her husband Woodrow Grice and several brothers and sisters. More ...

EMMA PRIDGEN SKINNER
Emma Pridgen Skinner passed away on May 16, 2012. She was born on May 21, 1929, the daughter of Henry Luther Pridgen and Mollie Robbins Pridgen. She was preceded in death by her parents, her dear husband of 54 years, James A. "Billy" Skinner; her sister, Mavis Skinner; brother-in-law, Ed Skinner; her son-in-law, Vann Manning; and brother-in-law, Sam Braswell; and one child. More ...

CHRISTINE DEW JOYNER
Christine Dew Joyner, age 81, passed away on Tuesday, May 15, 2012 . Born in Nash County on June 21, 1930, she was the daughter of the late Archibald Rice Dew and Maude McNeill Dew. She was also preceded in death by her husband of 58 years, Richard "Dick" Joyner and grandson, Bradley Justin Armstrong. More ...

MADELINE BRANTLEY
ROCKY MOUNT - Ms. Madeline Brantley, of Rocky Mount, died on Friday, May 18, 2012, at Nash General Hospital. More ...