Subscribe/Access
Advertisements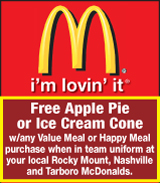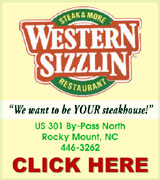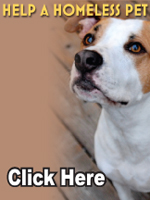 Sections
Member Options
Back
Relay for Life starts Friday afternoon
Over 75 teams and 1,000 participants are getting ready for this weekend's Relay for Life event at the Rocky Mount Athletic Complex.
This is the 18th year Nash County has had a Relay for Life event.
Leslie Pittman, Co-Chair for the event, said she is expecting a good turnout for this year's event. More ...
Amanda Clark, Graphic Staff Writer
Early voting has begun
Early voting began last week and so far, voters aren't coming out, said Nash County Board of Elections Director John Kearney.
"I got workers," Kearney said. "The voters are just not coming."
As of Monday afternoon, 538 residents had cast their vote at the Nashville early voting site and only 94 had cast a vote in Rocky Mount. More ...
Amanda Clark, Graphic Staff Writer

Flowers are brought to the front of the Nash County Superior Courtroom on Saturday at the start of a memorial service for fallen officers.

WE REMEMBER
Law enforcement officers gathered on Saturday to remember the 12 officers who have lost their lives in the line of duty in Nash and Edgecombe Counties.
Several spoke during the local Peace Officer Memorial Service, which started in the Nash County Superior Courtroom and ended outside the courthouse. More ...
Amanda Clark, Graphic Staff Writer
Town to hire interim police chief
The Town of Nashville hopes to have an Interim Chief of Police in place on July 1 when longtime Chief Bill Creech retires.
Creech announced his plans to retire earlier this month. He has been with the Town of Nashville's Police Department for 32 years, eight of them as the town's police chief. More ...
Amanda Clark, Graphic Staff Writer
Mediation held between Nash, Wilson
After 18 months of legal wrangling and millions of dollars spent in waging paper warfare, Nash County, Sanderson Farms, and the City of Wilson, as well as other assorted plaintiffs, have agreed to sit down to discuss the issue of the proposed Sanderson Farms with the help of a professional mediator. The talks began last week and were held at the Wilson Operations Center. More ...
Amelia Harper, Graphic Correspondent

Heath Hinson recently received several awards he earned while serving in the military over 60 years ago. Pictured is Hinson with his awards and a photo of him in service.

Nashville veteran receives WWII medals after 60 years
Heath Hinson waited over 60 years for the medals he earned while serving 20 months in the United States Army. Hinson's patience recently paid off, as Congresswoman Renee Ellmers presented him with the medals.
Hinson joined the Army right after turning 18.
"I was inducted March 15, 1945," Hinson said. More ...
Amanda Clark, Graphic Staff Writer

Pictured, Rocky Mount-Durham District Governor George Brothers (center) presents the Blue Ribbon Award to President Ronnie Pace (far left) and Past President Bob Bunn (far right).

Momeyer Ruritan Club earns Blue Ribbon Award
The Momeyer Ruritan Club was recently recognized as the only club in the Rocky Mount-Durham District to earn a Blue Ribbon Award.
Blue Ribbon Awards are given to clubs who meet several criteria, including those who receive 90 percent or better attendance during the year, at least one project completed in each of the five Community Service Committees and clubs must be at charter strength. More ...

Library to host book signing for local author
The Harold D. Cooley Library will host a book signing for local author Tillie Bell on Thursday, April 26 at 5 p.m.
Bell's book, "Prayer Patterns, A Collection," is a collection of manuscripts written for Woman's Missionary Union meetings at Rock Creek Baptist Church in Nashville from August 2000 through June 2011. More ...

OFFICERS INSTALLED
The American Legion Post 110 of Nashville swore in its new officers for the 2012-2013 year on Monday, April 16, 2012. More ...

POST OFFICE VISIT
Diane Day and Janet Pridgen's second grade classes at Nashville Elementary School visited the Nashville Post Office on Tuesday, April 17. Students had a wonderful time touring the post office. Sales Associate Wanda Coleman and City Carrier Tracie Thompson talked to the students about the daily process of the postal service. More ...

NRMS Park Scholars address Rocky Mount Kiwanis Club
The Keynote speaker for the Rocky Mount Kiwanis Club meeting recently was Eva Maria Feucht, Director of Park Scholarships, North Carolina State University. Joining her were two Nash-Rocky Mount Public School District Alumni and the mother of a third. More ...

Master Gardeners to hold plant sale
The Nash County Master Gardners will hold their annual plant sale at the Nash County Agriculture Center, 1006 Eastern Avenue in Nashville on Saturday, May 5 from 8 a.m. until 12 p.m.
Plants, annuals, ferns, herbs, heritage tomatoes, perennials, Master Gardener grown plants and much more will be for sale. More ...

Area teens compete for distinguished title
The 30th annual Distinguished Young Woman Scholarship Program of Nash-Rocky Mount will be held at the Keihin Auditorium this year on the Edgecombe Community College Campus near Tarboro. The program will be Sunday, April 29th at 2:00 and tickets are on sale by participants or at the door. We are excited abou the six intellectual, talented, and beautuful young girls vying for the prestigous title of Distinguished Young Woman of Nash-Rocky Mount. More ...

BEULAH COMMUNITY NEWS
The Red Oak High School Alumni Banquet was held at the Rocky Mount Shriners. It was the 94th year this great event had taken place. The last graduating class from Red Oak High School was in 1966 and it then became an elementary school only. The children today really miss out on the great friendships that we had back then. More ...
WILMA ENROUGHTY
MOUNT ZION FWB CHURCH NEWS
The weather kept me at home this morning. Therefor I don't have the Sunday school report. I did hear the we had a good attendance. One of the deacons gave me a CD of the morning message and service. I got my information for this article from that CD and the bulletin. Our choir sang "Nothing is Impossible" for the call to worship. Pastor Bogle welcomed everyone. More ...
ROSALENE BASS
PEACHTREE COMMUNITY NEWS
On a wonderfully rainy Sunday morning, Peachtree folks gathered to worship. Pastor Whitehouse's sermon title was "How to Know the Will of God." It was based upon the parable found in Matt. 21: 28-32. He said that we need to not only verbalize our obedience to God but to obey, in the small daily decisions that we make. More ...
BARBARA HARDISON
RED OAK NEWS
The Red Oak Community Club met in March with 11 members present. Sharon Jeffries, secretary, presided over the meeting in the absence of president, Betty Melton. The devotion was given by Nell Boone reading from Ephesians, chapter 4. She told the story of Cathy Rigsby, Olympic gymnast, and her struggles before she became a gold medalist. More ...
SUZY PEARCE
Instrument Petting Zoo
Nashville Elementary School held an Instrument Petting Zoo on Monday night. Middle and High School students demonstrated instruments to the elementary school students in a "petting zoo" style. The event gave students the opportunity to see and hold instruments from the orchestra. Pictured above, Nash Central High School students John Sloop and Lucas Pressley (L-R) perform a jazz number for students on Monday night. More ...

DSS EMPLOYEE OF MONTH
Debbie High was selected as the Nash County Department of Social Services Employee of the Month for March 2012. Debbie has been with the agency for 33 years and is an Adoptions Social Worker. Described as compassionate and caring, Debbie is dedicated to assuring what is in the best interest of the children and families in her caseload. More ...

Taylor earns lifetime achievement award
Local resident Roger G. Taylor, a financial professional with AXA Advisors, LLC and affiliated with the Raleigh office, has earned the company's Lifetime Achievement Award. Taylor was presented with the award during a national recognition conference. More ...

TWIN COUNTY STUDENTS BRIEFED ON VISIONING PROCESS
A youth council-on-economic-development event was hosted by Carolinas Gateway Partnership at the Gateway Technology Center on April 14. The "Student C-O-E-D Think Tank" attracted 34 students from 10 public high schools in Nash and Edgecombe counties. More ...

Green Day celebration
Nash Community College held its annual Green Day celebration recently including a presentation by Keep America Beautiful Coordinator of Nash and Edgecombe Counties Cornelia McGee-Anthony, followed by a tree planting and litter pick-up on Old Carriage Road. (Contributed photo) More ...

Free firewood
eLogHomes in Middlesex will be providing free firewood for all who stop by the company's manufacturing and distribution center. This will be an ongoing effort by eLogHomes to provide a service for individuals to save $150-to- $250 a cord of wood. The company will be offering eastern white pine. The doors will be open to the public Monday thru Thursday between the times of 8 a.m. to 3 p.m. More ...

Nashville Lions Club speaker
Members of the Nashville Lions Club welcomed guest Keith Smith to its April 18th meeting. Smith presented the plan to take Nash Community College into the next decade financed by the voters on the May bond referendum. Pictured above, left, Mary Boehm, President of the Nashville Lion's Club and Keith Smith, Associate Vice President of Community & Governmental Affairs, Nash Community College. More ...

Your tax dollars at waste – Pig Book time
It is that time again.
In an election year, we get all kinds of promises and distortions and much hand wringing about the ways government just can't cut spending any more. It seems we're lean and mean if you listen to the politicians — excepting the recent Secret Service and GSA scandals aside. More ...
Mike Brantley
Come on out to Relay for Life
It's that time again, time to take a stand in the fight against cancer. It's Relay time!
Nash County's Relay for Life will kick off on Friday night with opening ceremonies at 6 p.m. If you've never been to Relay for Life, you're missing out.
Although there are some somber moments during Relay events, remembering those who lost the fight against cancer, there are plenty of happy ones too. More ...
Amanda Clark
Nash County Heritage Book available –– second printing has arrived!
About three years ago I had the privilege of becoming involved in an awesome endeavor. It was an endeavor to preserve some of the stories of the people, places, and events of Nash County. There were many people involved as they wrote articles, helped to edit and proof the articles, market the book, and give much needed encouragement, advice, and support. More ...
Letters to the Editor:
Please support our community college
This year marks the 45th anniversary of Nash Community College. At its inception in 1967, the College served less than 2,000 students. Over the years the institution has evolved to meet the educational requirements of our community. Today, the College serves over 13,000 students each year through 84 educational programs and occupational courses. More ...
Letters to the Editor:
Reader feels public education is over funded
A recent editorial from the Winston-Salem Journal, reprinted in an area paper headlined, "Quit the Bickering and Fund Public Education." While giving this advice to the NC Legislature, is it possible that the writer at the Journal, and those that think like him, are missing the point completely? More ...
Letters to the Editor:
Backward Glances
Mary Lewis Beal and Jackie Hinton were caught on camera while enjoying the arrival of warmer temperatures in the spring of 1962. More ...
A PICTORIAL LOOK INTO THE PAST
Nash County Animal Friends' Notebook
Mutt - The mutt represents the best of all worlds.
A mixed-breed dog is a testament to nature. Without any input--some might say interference--from humans, the mixed breed defies description. Available in all sizes, shapes, colors, and patterns, he might have a long snout or a short nose. More ...
Carol Vierela, Nash County Animal Friends

TEAMMATES AND COMPETITORS. (L-R) Southern Nash's Clinton Whitaker and Zamonia Knight sprint toward the finish line during the Boys 100 as part of last Wednesday afternoon's Big East Conference track and field meet at picturesque Firebird Stadiu

SNHS Speedsters
STANHOPE -- Two years ago, Southern Nash used a crew of strong sprinters and timely distance and pole vault finishes to score an unlikely boys team victory at the Big East Conference Track and Field Championships.
For Southern to repeat that fate this time around, a similar formula will be needed. More ...
GEOFF NEVILLE, Graphic Sportswriter

SAVING THE DAY FOR LHS. Louisburg High School keeper Kera Ktul (right) picks up a loose ball last Thursday evening while being challenged by Southern Nash's Katie Murray during the Ladybirds' 1-0 victory.

GOING-AWAY PARTY
STANHOPE -- Just before halftime, a linesman asked Southern Nash head coach John Matthews if this was a conference match.
League girls soccer events utilize an overtime format to determine a possible winner, while non-conference matches usually end in regulation if the score is tied at the conclusion of time. More ...
GEOFF NEVILLE, Graphic Sportswriter

KHALIL MAKES CONTACT. Nash Central's Khalil Macklin rips a pitch during last week's road baseball game against league foe Rocky Mount.

NC Can't Hold Lead
ROCKY MOUNT -- No one could see these episodes coming, let alone the Nash Central baseball team.
In a Big East Conference baseball contest that was suspended last Tuesday evening due to heavy rain and resumed Wednesday afternoon, the Bulldogs squandered a one-time massive 8-1 lead over homestanding Rocky Mount and they ended up losing to the Gryphons 9-8 in nine innings. More ...
CHARLES ALSTON, Graphic Correspondent
Southern will host campers
STANHOPE -- The 2012 Southern Nash High School Softball Camp is scheduled for June 14-15 on the SNHS campus.
The camp will run from 8-11 a.m. each day. Cost is $25 per participant.
Ages 5-18 are welcome to take part in the camp, which will feature two action-packed days of instruction, teaching, games and fun. More ...
Staff Reports
Battle selected as RM's coach
ROCKY MOUNT -- For the first time since 1983, Rocky Mount High School has selected a current assistant coach to run the Gryphon football program.
The school announced last Friday via a media release that Jason Battle, a 1998 RMHS graduate, would succeed Dickie Schock as Rocky Mount's new head coach. More ...
CHARLES ALSTON, Graphic Correspondent
Mudcats stop MB
ZEBULON -- The Carolina Mudcats belted seven extra base hits to swim past the Myrtle Beach Pelicans 7-2 last Saturday night at Five County Stadium in a Class A Carolina League baseball showdown.
The crowd of 4,821 endured a one-hour, 23-minute rain delay to see the Mudcats (7-8) take out a week's worth of frustration on the Pelicans (8-7). More ...
Staff Reports
ECU averts a sweep
HOUSTON, TEX. -- Junior Jharel Cotton picked up his Conference USA leading seventh win working 6 1/3 solid innings, while Drew Reynolds notched his team and league best eighth save as No. 24 East Carolina University (27-13-1, 9-5-1) avoided a series sweep at No. 7 Rice (30-12, 11-4) Sunday afternoon, 4-3, in college baseball action. More ...
Staff Reports
CHAMPIONSHIP FORM
The Carolina Young Guns 11-Under Baseball Team won the Gold Bracket Championship at the 2012 Top Gun Super Spring State Tournament, which was held April 14-15 in Winterville. More ...

NCWC honors athletes
ROCKY MOUNT -- The North Carolina Wesleyan College Department of Athletics hosted its 47th Annual Awards Ceremony on April 16 in the Garner Lobby of the Dunn Center.
Coaches, staff and student-athletes came together to celebrate the accomplishments of both individuals and teams from the 2011-2012 season. More ...
Staff Reports
NCSU sweeps Boston College
RALEIGH -- No. 18 North Carolina State overwhelmed Boston College 16-9 by tying season-highs for runs and hits in last Saturday's nightcap to sweep a doubleheader and claim the series win at Doak Field at Dail Park in Atlantic Coast Conference baseball action. More ...
Staff Reports
FLIGHT FOLLOWERS
Southern Nash's Haley Overman (l) and Louisburg's Samantha Calvery (r) race toward the ball, but it is eventually grabbed by LHS keeper Kera Ktul during last Thursday afternoon's non-conference, girls soccer match on the SN campus in Stanhope. More ...

RITA MAE PITTMAN
ROCKY MOUNT - Rita Mae Pittman, 57, passed away April 16, 2012. Funeral services were Saturday, April 21, 2012 at 1 p.m. at Open Door Ministries of Faith Deliverance Center with the Rev. Oliver Pittman officiating. Burial was at Red Hill Cemetery.
More ...

MALACHI ANTHONY LLOYD
ROCKY MOUNT - Malachi Anthony Lloyd, 14 months, died April 15, 2012. Funeral services were Sunday, April 22, 2012 at Greater Joy Baptist Church at 2:30 p.m. Bishop Shelton Daniels officiated. Burial was at Gardens of Gethsemane. More ...

ROGER LEE PHILLIPS
NASHVILLE - Roger Lee Phillips, 74, passed away Tuesday April 17, 2012. He was born July 20, 1937 in Greene County. Roger was the son of the late Roger V. and Leona Manning Phillips. Roger was preceded in death by his sister Lois Boyette. More ...

NORMA MELTON CALHOUN
Norma Melton Calhoun, age 85, passed away on April 18, 2012. She was born November 21, 1926 in Nash County to the late Patty and D. Leon Melton. She is preceded in death by her husband, L.G. "Tony" Calhoun. More ...

JAMES ROBERT WATSON
James Robert Watson, age 67, passed away Wednesday, April 18, 2012. Born in Nash County on June 06, 1944, he was the son of the late John Robert Watson and Estelle Daughtridge Watson. He was preceded in death by his wife, Lena Jessup Watson and brother, Thomas Arnold Watson. More ...

CHARLES RAY ELLIS
Charles Ray Ellis of Rocky Mount passed away Thursday April 19, 2012. His was preceded in death by his wife, Maude Rogers Ellis of 45 years, parents William and Maggie Ellis and siblings James "Buddy" Ellis, Francis Stewart, and Ruby Ballance. More ...

CLARENCE WILLIAM CLAY
Clarence William Clay, 77, passed away Thursday, April 19, 2012. He was born on August 29, 1934 in Dameron WV. He was the son of the late Andrew Marvin Clay and Frances Marie Workman Clay. Clarence was preceded in death by his infant son, Richard Lee Clay; son, Timothy Wayne Clay; brothers, James Connie Clay and J. Edgar Clay; sister, Lillian Toney; and brother-in-law, Jackie Randall Riffe. More ...

LEAH LEE WIMBERLEY
Leah Lee Wimberley, age 74, passed away Thursday, April 19, 2012. Born in Nash County on August 06, 1937, she is the daughter of the late William Frederick Lee and Minnie Leah Pittman Lee. She was preceded in death by her cherished husband of 34 years, Robert Diggs Wimberley, Jr. More ...

HELEN JANE LAURIE MEARS
Jane Laurie Mears, 84, passed away on Saturday, April 21, 2012. She was born on January 28, 1928 to Helen and John Laurie in Mountainville, New York. She is preceded in death by her husband of 58 years, Robert Lee "Bobby" Mears; her parents; and her brother, Jack Laurie. More ...

JOHN PATRICK BRASWELL
John Patrick Braswell, age 39, passed away Saturday, April 21, 2012. Born in Hagerstown MD on June 02, 1972, he was the son of Hershal and Carole Braswell. More ...