Subscribe/Access
Advertisements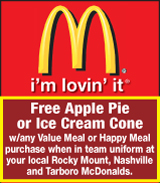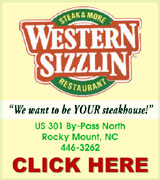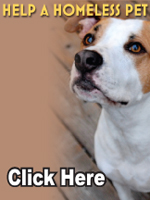 Sections
Member Options
Back
Judge declares no bias in zoning trial
Judge Richard Doughton came in from Alleghany County this week to help resolve questions concerning whether Pitt County Judge Russell "Rusty" Duke should have recused himself from hearing the zoning issues between the City of Wilson, assorted individual plaintiffs and Nash County. After hearing testimony Monday, Doughton ruled against the order of recusal. More ...
Amelia Harper, Graphic Correspondent
Proposed districts bring opposition
The North Carolina General Assembly recently released a partial proposed map of newly drawn districts that has many questioning the odd form that the districts, particularly in the Nash-Franklin County area, are taking. The new map only includes proposed Voter's Rights Act districts and leaves much of the rest of the map open to question. More ...
Amelia Harper, Graphic Correspondent - 1 opinion posted
Fire destroys home
A single-wide mobile home was completely destroyed by fire Monday, sending one man to the hospital with respiratory distress due to smoke inhalation. The fire occurred about noon on Monday at 1949 Lindsay Road in Coopers Township.
According to Deputy Fire Marshall John Frazier, the one occupant of the home, James Lucas, tried to escape from the fire after it began. More ...
Amelia Harper, Graphic Correspondent
Storms cause damage to Nashville area homes
A severe thunderstorm Friday damaged several homes in the Nashville area and caused power outages to parts of Nashville and the surrounding area. The storm struck just after 4 p.m., assaulting the area with violent rain, high winds and hail.
The Nashville Fire Department responded to one report of power lines on a vehicle on Taylor's Store Road, Nashville Fire Chief Randy Goodbrod said. More ...
Amelia Harper, Graphic Correspondent
Plane crashes in Red Oak
NC Highway Patrol officers responded to an unusual traffic situation in Red Oak on Thursday, June 23, when Ted Shanks placed an emergency call for aid at a plane crash site near the intersection of Hwy. 43 and Red Oak Road in Red Oak. Ted's father, Von Roger Shanks, 82, had taken his small passenger plane up using the air strip that was located on his property on Red Oak Blvd. in Red Oak. However, the engine apparently stalled, sending the plane crashing into the trees. More ...
Amelia Harper, Graphic Correspondent
Town of Castalia set for July 4th Celebration
The Town of Castalia is ready to celebrate Independence Day with its annual July 4th Celebration set for Monday.
Food and craft vendors will open at 11 a.m. followed by the annual parade at 2 p.m.
A full program with entertainment will begin at 3:30 p.m. including performances by Ronnie Ezzell, Erin Strickland, the "Array of Hope" Dancers, Charles Metters, the TAZZ Band, and Jerry Harrison & Faith. More ...

COTTON BLOOM
Nellie G. Vick, of Nashville, holds the first cotton bloom found on the Vick Farm June 23, just outside of Nashville. Vick is from the Sandy Cross area and said she had been in search for the first cotton bloom for several weeks before finding this one. More ...

NASHVILLE POLICE BRIEFS
ARRESTS
Patrick Lamont Hines - 6/4/2011 - charged with trespassing
David Marshall Viverette - 6/5/2011 - charged with failure to appear for a probation violation
Shakeera Lavonne Sessoms - 6/6/2011 - charged with order for arrest More ...

Fish for free on July 4th
The N.C. Wildlife Resources Commission is reminding the public that July 4 is a "free fishing day" in North Carolina when everyone — residents and non-residents — can fish in all public waters, including coastal waters, from 12:01 a.m. until 11:59 p.m., without purchasing a fishing license.
While everyone can fish in public waters without a license, all other fishing regulations, such as length and daily possession limits, as well as bait and tackle restrictions, apply. More ...
Contributed

4-H Summer Interns assisted with the Fishing Camp, held recently at the Chappell Family Pond. Pictured (L-R) is: John Wind, Taylor Joyner and Triston Gregory.

Local youth participate in fishing camp
Thirty youth participated in the annual 4-H Fishing Camp, held at the Chappell family private pond.
Nash County 4-H, along with N.C. Wildlife Commission, conducted this hands-on learning experience. More than 150 fish were caught and for many, this was their first fishing experience. 4-H Summer Interns assisted the young fishermen. More ...

EPHESUS NEWS
Rev. Dougald McLaurin's message, "Love Like There's No Tomorrow", was based on John 3:16-19. In keeping God's greatest commandment, we must love Him, love one another in the church, and love the lost. We need to actively strive to serve God daily with our actions so that we may serve as we are called. More ...
DEBBIE PHILLIPS
Nash Health Care receives national recognition for MRSA reduction initiative
Nash Health Care recently received two leadership awards from a national hospital association for its outstanding work in preventing hospital-associated MRSA infections. Nash Health Care was honored with the VHA Central Atlantic's Gold award Excellence in MRSA Reduction 2008-2010 and the Central Atlantic Region's Excellence in MRSA Reduction Award for 2010. More ...

BIRTH ANNOUNCEMENTS
Amanda and Allen Clark of Nashville are proud to announce the birth of a son, Corbin Nicholas Clark, born May 30, 2011 at Nash General Hospital in Rocky Mount. He weighed 7 pounds, 10 ounces.
Maternal grandfather is Eddie Manning of Bethel. Paternal grandparents are Frank and Katie Clark of Bethel.
More ...

Madison Aryn Barnes
Michael and Brittany Barnes of Crestview, Florida announce the birth of their daughter, Madison Aryn Barnes, born April 28, 2011 at Eglin Air Force Base Medical Center, Fort Walton Beach, Florida. She weighed 6 pounds, 13 ounces and was 19 inches long. More ...

Local homeschool class celebrates graduation
The Christian Homeschool Association of Rocky Mount (CHARM) celebrated the graduation of 13 high school students on Saturday, June 4, in a ceremony at Englewood Baptist Church in Rocky Mount.
"You are a select group of individuals that have been given the opportunity to be educated not by the government, but by those more important to you, your parents. More ...
Contributed - 1 opinion posted
Tyson graduates from Army Warrant Officer School
Joseph N. Tyson graduated from the U.S. Army Warrant Officer Candidate School at Fort Rucker, Daleville, Ala., and was appointed to the rank of warrant officer one.
The student completed an intense six-week course conducted in a very demanding, rigorous, high-stressed, and deadline-required environment. More ...

HORSE CAMP
Nashville Parks & Recreation sponsored a free horse camp on June 17 as part of its summer programs. Approximately 30 children participated learning the different parts of the horse and parts of the tack such as saddles and bridles. They also learned how to brush a horse's coat. More ...

Nash County Blood Drives
Wednesday, June 29 from 10 a.m. until 4 p.m. at Nash Health Care Systems, 2460 Curtis Ellis Drive, Rocky Mount
Friday, July 1 from 11 a.m. - 4:30 pm at Golden East Crossing Mall, Rm 2016 next to Rue 21 at 1100 North Wesleyan Blvd., Rocky Mount More ...

PEACHTREE COMMUNITY NEWS
On this first Sunday since summer officially arrived, Peachtree folks gathered for worship. Pastor Whitehouse was away attending a conference so Deacon Chairman, Jerry Hobgood led the service. Sanctuary flowers were given by Kathy and Aubrey Farmer to honor their daughter, Ginny and her husband, Derrick Pittman. Delivering the morning sermon was Dr. George Shore. More ...
BARBARA HARDISON

Lewis

Area men receive state honors
Two Edgecombe County residents received state honors at The North Carolina Community Action Association 2011 Annual Conference held May 12, 2011 at the Raleigh Marriott City Center.
Pinetops native James H. Collins and Tarboro resident Randolph Lewis were among many North Carolina citizens celebrated at the Black Tie Gala for meritorious service and accomplishment. More ...
Contributed
MOUNT ZION FWB CHURCH NEWS
We had 83 in attendance in Sunday school today. Allie Farmer read the Bible verse.
I provided an arrangement of mixed flowers from my yard for the altar table today. The pretty yellow gladiators with a few snapdragons, zinnias and a few other flowers made a pretty arrangement. More ...
ROSALENE BASS
BEULAH COMMUNITY NEWS
Everyone mark your calendar again. This Friday night is the monthly fish fry at the Beulah Church of Christ annex on Reges Rd. It begins at 5:00 until 8:00 p.m. We thank you and also look forward to seeing all of our friends each month for good food and good fellowship. We hope to see you again this week! More ...
WILMA ENROUGHTY
RED OAK NEWS
Everyone arrived back home safely from the "Big Apple Adventure" last week! A great time was had by all who attended the Vacation Bible School at Red Oak Baptist Church. Approximately 78 children and many youth workers and teachers participated through Bible study, missions, music, crafts, and recreation.
More ...
SUZY PEARCE
In consideration of American exceptionalism
There is something, I suppose, that I refer to as "Brantley Children Exceptionalism" around our house.
That comes from a track record of academic achievement by our kids, hard effort in whatever they try to do and a sincere heart to do the right thing. More ...
Mike Brantley
Sanderson is not in our best interest
In reference to the pursuit of Sanderson Farms, Nash County Manager Bob Murphy stated in his interview with The Wilson Times on June 22, 2011 that "Nash County is going to do whatever is in the best interest of our citizens." More ...
Letters to the Editor:
Age old scam heats up again
We all dread getting an emergency phone call. Now, imagine you get a call out of the blue from your grandchild in distress. Of course you want to do whatever you can to help. But what if the person on the line isn't who they say they are? Scammers sometimes pose as grandkids to try to bilk money out of seniors and too many times, they're successful. More ...
Attorney General Roy Cooper
Backward Glances
This photo was found in The Graphic's 1963 archives. If you recognize anyone, give us a call at 459-7101. More ...
A PICTORIAL LOOK INTO THE PAST
Nash County Animal Friends' Notebook
I imagine many of you know this little ditty: For want of a nail the shoe was lost. For want of a shoe the horse was lost. For want of a horse the rider was lost. For want of a rider the battle was lost.
Well, we have a new one. It starts with: For the want of a short-term foster a dog was lost. Problem is…it ends there. In other words, the dog DIED. More ...
Carol Vierela

SENSATIONAL SHOWING. Birchwood's Lily Grace Wells makes a splash during her team's home swim matchup last Thursday evening against Westridge in Nashville.

BCC's HOME OPENER
NASHVILLE -- After opening on the road in Week One against Benvenue and Roanoke Valley, the Birchwood Swim Team got to enjoy its home opener last Thursday when BST hosted perennial foe Westridge at the Birchwood Country Club Pool.
Using talent and strength in numbers, Westridge was able to come up with a victory over BST -- though several Birchwood performers boasted strong efforts. More ...
GEOFF NEVILLE, Times Sportswriter
Nash Rec Topped Vs. Valley
ROCKY MOUNT -- Roanoke Valley fired the first salvo that this is going to be a competitive season in the Nash-Halifax Swim League.
RVST traveled to Nash County last Thursday and toppled perennial titan Nash Rec by a tight 371-365 margin in a meet that also featured host Benvenue, which closed with 99 points. More ...
GEOFF NEVILLE, Times Sportswriter
Southern schedule released
STANHOPE -- Head Coach John Matthews and the Southern Nash Firebirds will kick off their 2011 boys soccer schedule on August 18 with a road contest against the Bunn Wildcats.
As part of their campaign, the Firebirds will take part in the annual The Brittany For The Boys Soccer Showcase on August 27 at Gillette Park in Wilson. More ...
Staff Reports
Canes schedule released
RALEIGH -- The National Hockey League has announced the 2011-12 regular-season schedules for its 30 member clubs.
The Carolina Hurricanes will open the season at the RBC Center on Oct. 7, with a 7 p.m. game against Southeast Division rivals, the Tampa Bay Lightning. More ...
Staff Reports
MORE SWIM HIGHLIGHTS, 1
Among the participants during last Thursday's swim meet between host Birchwood and Westridge was (above) a Westridge swimmer. More ...

Rogers picked to play in E-W game
STANHOPE -- Nick Rogers' football career isn't over, after all.
Rogers, Southern Nash's standout offensive lineman, thought he had played his final game last fall when the Firebirds were eliminated in the Class 3-AA State Playoffs.
Instead, Rogers has been selected to the East Team for the annual North Carolina Coaches Association East-West All-Star Football Game. More ...
GEOFF NEVILLE, Graphic Sportswriter
Post 58 ready for playoffs
WILSON -- Coleman-Pitt Post 58's Matthew Berry looked right at home playing in Wilson Sunday night.
And that might not be such a bad thing considering the recent Rocky Mount grad will be playing his college ball at Barton College next season.
Berry, who signed with the Bulldogs last week, went 5-for-6 and knocked in three runs at Fleming Stadium in leading Post 58 to a 13-6 win over Wilson Post 13. More ...
CHARLES ALSTON, Graphic Correspondent / Submitted photos by David Hahula
RM's Morales tabbed for soccer match
GREENSBORO -- Rocky Mount's Andrew Morales, a Duke University signee, will represent Nash County at the annual North Carolina Coaches Association East-West Boys Soccer All-Star Game.
The event will be staged July 19 on the campus of the the University of North Carolina-Greensboro. More ...
Staff Reports
Claytor an All-American
NORMAN, OKLA. -- Barton College golfer and former Northern Nash High Schol standout Daniel Claytor has been named in the NCAA Division II Ping All-America Team.
The talented sophomore, along with teammate Michael Marshburn (Cary), received the last of many accolades from a banner 2010-11 campaign when the Golf Coaches Association of American honored them last week. More ...
Staff Reports
Mudcats defeated in extras
ZEBULON -- Sean Halton singled home the tying run in the ninth to tie the score and then hit a sacrifice fly as part of a four-run Huntsville 10th inning as the Stars defeated the Carolina Mudcats 10-6 at Five County Stadium on Sunday afternoon in a Class AA Southern League diamond event. More ...
Staff Reports
Winners crowned at Co. Line
ELM CITY -- The hot afternoon sun beat down over Turn 1 as the stands filled up for another hot night of racing action at County Line Raceway last Saturday.
With 93 cars signed in the 5 different divisions, the excitement was building among the fans and competitors. More ...
Staff Reports
MICHAEL RAYON
ROCKY MOUNT – Michael Rayon, of Rocky Mount, North Carolina, died on Friday, June 24, 2011. More ...

MARQIZ TE'VONN THOMAS
Battleboro – Marqiz Te'vonn Thomas, 17, of Battleboro, North Carolina, died on Saturday, June 25, 2011, at Halifax Regional Medical Center in Roanoke Rapids. More ...

NORMAN EDWARD MITCHELL, SR.
Norman Edward Mitchell, Sr. "Pops" passed away Tuesday, June 21, 2011. He was born April 28, 1932 in Durham County. He was the son of the late O.C. and Nellie Mitchell, Sr. He was preceded in death by his brother O.C. Mitchell, Jr and a sister, Crissie Mitchell Giles. More ...

JOHN ASTER WINSTEAD SR.
John Aster Winstead, Sr., 83, passed away, Tuesday, June 21, 2011. He was born April 15, 1928 in Nash County. John Aster was the son of the late George and Bessie Riley Winstead. More ...

MAGGIE PARKER SHARPE
ROCKY MOUNT- Maggie Parker Sharpe, 84, died June 17, 2011. Funeral services were at Stokes Mortuary Chapel, Saturday, June 25, 2011 at 1 pm. Elder Herman Vaughan officiated. Burial was at Pine View Cemetery. Visitation was Friday from 6 until 7:30 pm.
More ...

MICHAEL LYONS
ROCKY MOUNT – Mr. Michael Lyons, 53, of Rocky Mount, died on Friday, June 24, 2011. More ...

GLORIA JEAN BITTING
RALEIGH - Mrs. Gloria Jean Bitting, 59, of Raleigh, died on Monday, June 27, 2011, at Wake Medical Center in Raleigh. More ...

MABEL VAUGHAN BROWN
Mabel Vaughan Brown, 93, passed away, Sunday, June 26, 2011. Born in Granville County, she was the daughter of the late Frank Henry Vaughan and Eleanor Frances Vaughan. She was also preceded in death by her nine brothers and sisters. More ...

JAMES WALTER KEHOE
NASHVILLE - James Walter Kehoe, 26, passed away on Monday, June 27, 2011. He was born November 28, 1984 in Wake County. He is the son of James and Donna Kehoe of Nashville. James proudly served in the USAF. More ...

FREDERICK STANLEY CARNIGHT, JR.
NASHVILLE - Frederick Stanley Carnright, Jr., 61, passed away, Sunday, June 26, 2011. He was born November 27, 1949 in Niskayuna, NY. He is the son of Frederick S. and Frances Carnright of Norfolk, Virginia. More ...