Subscribe/Access
Advertisements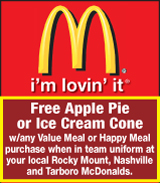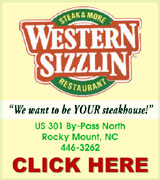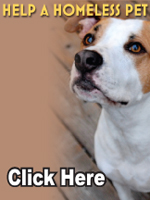 Sections
Member Options
Back
Board hires new Superintendent
At their board meeting Monday night, the Nash-Rocky Mount Schools board unanimously approved Dr. Anthony Jackson as the new superintendent. He was selected out of 20 applicants for the position.
"The board is confident that Dr. Jackson has the experience, collaborative leadership skills, and focus on quality instruction that will continue to move our school system to the next levels of achievement for all students," board chairman Bob Jenkins read, in a prepared statement. More ...
Michele A. Cruz, Graphic Correspondent
Spring Hope accepts $55,000 park grant
After prompting by citizens, and promises of support from businesses and neighboring communities, Spring Hope Commissioners voted unanimously Monday to accept a $55,000 matching fund grant from the NC Parks and Recreation Department. Concerns about finding the funds to match the grant over the next three budget years had originally caused commissioners to consider rejecting the state grant. More ...
Amelia Harper, Graphic Correspondent

Warren "Sneak" Lewis

IN THE LINE OF DUTY
The small town of Middlesex was the unlikely setting for an unfolding drama, as a sober processional brought hundreds of family, friends, law enforcement officers, and dignitaries from across the state and nation to see Nash County Sheriff's Deputy Warren Basco Lewis, III laid to his final rest. Citizens stood solemnly on the hushed streets of Middlesex as dozens of law enforcement vehicles, with flashing lights and silent sirens, escorted the body from Southern Nash High School, where over 2500 people attended funeral services, to the small Hollywood Cemetery on the outskirts of town. More ...
Amelia Harper, Graphic Correspondent
Castalia okays funds to hire park architect
Castalia Commissioners voted unanimously to approve $6,275 in order to hire a landscape architect to craft a plan for the proposed Castalia Park. Mayor Ellene Leonard said that Nash County Parks and Recreation Director Sue Yerkis had encouraged the move as part of a long-range plan to apply for grant funding to aid with the construction of the park in the future. More ...
Amelia Harper, Graphic Correspondent
School system works with budget cuts
Federal, state, and local budget figures look better than previously forecast, Nash-Rocky Mount Schools Superintendent Rick McMahon shared with the board at their meeting Monday night. "We're cautiously optimistic that we'll be ok," he said. "We're not overextended right now."
"The state budget doesn't have to get any better to be where we need to be," he said. "In the worse case scenario, we're covered." More ...
Michele A. Cruz, Graphic Correspondent
CLASS OF 2011
Nash Central High School Salutatorian Will Bass (left) and Valedictorian Bennett Williford (right) prepare for graduation Saturday morning. Commencement excercises were held at 10 a.m. Saturday, June 11 for Nash-Rocky Mount Public Schools including Nash Central High, Northern Nash High, Southern Nash High, and Rocky Mount High. More ...

Public hearing set for annexation of Habitat lot
The Nashville Area Habitat for Humanity is one step closer to the possibility of building five new homes in the Brooklyn Community.
The certificate of sufficiency and the resolution to hold a public hearing for the purpose of annexing property owned by Habitat was approved at last week's Nashville Town Council meeting. More ...

Social Security office moves
The Social Security Administration Office has moved from its Sunset Avenue location to 1071 Hunter Hill Road in Rocky Mount.
You can reach the office locally by calling 1-866-964-0784. The toll-free number is 1-800-772-1213. More ...

GRADUATION Pics, 1
NASH CENTRAL – Heather Pridgen, Madison Robinson, Victoria Potts and Maria Rivera. More ...
Graphic photos by Jo Anne Cooper, Geoff Neville, David Hahula
GRADUATION Pics, 4
NASH CENTRAL – Takol Rice, Bailee Richardson, Megan Raynor. Back row: Ryan Ricks and Damian Richardson. More ...

GRADUATION Pics, 6
NORTHERN NASH – 1st Row (L-R) Eddie Congelli , Lauren Bulluck , Dylan Hendricks; 2nd Row (L-R) :Megan Myers, Lauren Parker, Hiren Patel, Eric Collart; 3rd Row (L-R): Matt Naccarato, Kirk Haskins III, Trey Collie. More ...

GRADUATION Pics, 7
NORTHERN NASH – 1st Row (L-R): Khrystal Hardy-Avent, Samantha Guerrero; 2nd row (L-R) : Melissa Hayes, Gabrielle Hayes, Shrouq Boaj; 3rd Row (L-R): Betsy Braswell, Sayvion Greene, Brian Cooper. More ...

NASHVILLE LIONS CLUB
The Nashville Lions Club installed its new board last week welcoming the first female president, Mary Boehm, since the club was established in 1938. More ...

Red Oak woman receives nursing licensure
Lindy Short Medlin recently graduated as a Registered Nurse from the Nash Community College Nursing Program, and received licensure from the North Carolina Board of Nursing. After receiving a Bachelor of Science degree in Special Education and a Masters degree in School Administration at East Carolina University, Lindy taught autistic children in the Nash-Rocky Mount School System for 15 years before pursuing nursing. More ...

BIRTH ANNOUNCEMENT
Steven and Misty Cockrell of Nashville are proud to announce the birth of a son, Benjamin Gage Cockrell, born May 2, 2011 at Nash General Hospital in Rocky Mount. He weighed 7 pounds, 15 ounces and was 21 inches long. More ...

50 YEARS OF DEDICATION
Gene Braswell of Nashville was honored for his 50 years of service to the Nashville Lions Club with a 50-year pin. He is pictured with new club president Mary Boehm. (Graphic photo by Jo Anne Cooper)
More ...

NEW CLUB MEMBERS
New members installed at last week's Lions Club meeting included Bob and Amber Simpson. Charles Holloman (left) of the Rocky Mount Lions Club installed new members of the club and board. The club meets the first and third Mondays at Langley's Town and Country. More ...

All State Band Clinic and Concert
Seven students from Red Oak Middle School were recently selected to participate in the All State Band Clinic and Concert. In order to audition for All State, the students first had to be selected in the top percentage of the All District auditions. Making all state is a great honor and most schools only have one or two students selected, if any. More ...

Northern Nash young leader to serve as Leadership Ambassador
Charlie Hasty will be attending the Hugh O'Brian Youth (HOBY) Leadership Seminar of North Carolina East presented by the Raleigh Jaycees. Charlie Hasty will join more than 150 other young leaders representing numerous Eastern Carolinian high schools. Hasty attends Northern Nash Sr High School in Rocky Mount,NC. More ...
Contributed
MILITARY BRIEFS
Army Pvt. Damine L. Thorpe has graduated from basic infantry training at Fort Benning, Columbus, Ga.
During the nine weeks of training, the soldier received training in drill and ceremonies, weapons, map reading, tactics, military courtesy, military justice, physical fitness, first aid, and Army history, core values and traditions. More ...


Mariam Ann Kannan, a senior at Nash Central High School, receives a $10,000 four-year college scholarship. Pictured with Kannan is SECU advisory board member Melanie Lynch. (Contributed photo)

Students earn scholarships
SECU Foundation, funded solely by the members of State Employees' Credit Union (SECU), has presented a $10,000 four-year college scholarship to Mariam Ann Kannan, a senior at Nash Central High School and also to Dylan Casey Hales, a senior at Southern Nash High School.
Mariam is the Daughter of Mary Ann Kannan.
Dylan is the son of David and Judy Alford. More ...

Fourth annual Ride for Knowledge raises $9,000
The Fourth Annual Jack Laughery Ride for Knowledge was held at Rocky Mount Harley-Davidson on Saturday, May 21, 2011 raising $9,000 for the Helen & Jack Laughery Honorary Scholarship Fund.
The annual event serves as a tribute to Jack Laughery, the former Chairman and CEO of Hardee's Food Systems, Inc., along with his wife Helen and their love of motorcycling and support of higher education.
More ...
Contributed
EPHESUS NEWS
Rev. Dougald McLaurin's message Sunday was from Matthew 25:14-30, What Are You Afraid Of? We have the potential to do well with what was entrusted to us according to our abilities and talents, and we should strive to use it to fulfill God's purpose for us. I am here where I am suppose to be and I can do all He has called me to do. Also, we should not be afraid of what is in our past for we are all sinners saved by the Grace of God. More ...
DEBBIE PHILLIPS
MOUNT ZION FWB CHURCH NEWS
Our attendance for Sunday school was down to 79. Several people traveling. Welcome to our one visitor and all others. Come again. Ryan Marlowe read the Bible verse for today. Thank you. The beautiful, colorful flowers were given in memory of Shirley Cooper Matthews by sisters, Bonnie Manning and Jean Greene. Thank you. More ...
ROSALENE BASS
PEACHTREE COMMUNITY NEWS
Last week was an eventful week. There were graduations, summer vacation began for school students and teachers and on Friday some much needed rain fell. There were strong winds in the area with several trees down and some property damage. But rain was sorely needed and everything looks refreshed and greener. More ...
BARBARA HARDISON
RED OAK NEWS
Several ladies from Red Oak Baptist Church attended the Adopt-a-Dorm Bible Study at Fountain Correctional Center on Monday, June 6. Marilyn Boone led the study. Others attending included Jean Mellor, Audrey Pearce, Suzy Pearce, Nell Boone, Hazel Hill, and Sue Edwards. More ...
SUZY PEARCE
Word for the week
We fulfill one of the purposes for our existence when we seek God (Acts 17:26-27). When we seek Him, we consult with Him. We take our joys and difficulties to Him in prayer. We seek direction from Him by reading the Bible. We receive light from God as we ply the pages of the Bible (2 Peter 1:19). More ...
Dr. Dennis Prutow
The ultimate guide to Father's Day gifts
That's right, it is Father's Day this weekend, the holiday that ranks in the very top of holidays – trailing only Christmas, Easter, Mother's Day, Labor Day, Valentine's Day, Thanksgiving, Boxing Day, Presidents Day, Columbus Day, Earth Day, Hiccup Awareness Day and Bean Day – in the top of people's minds. More ...
Mike Brantley
Sometimes tragedy changes our perspective
Our thoughts and prayers go out to the Lewis family of Middlesex and the Nash County Sheriff's Department for their loss of Warren "Sneak" Lewis, the Nash County Investigator who was shot and killed last Thursday night in the line of duty.
We probably never fully appreciate the risks the men and women of law enforcement take daily to serve and protect our communities. More ...
Jo Anne Cooper
Backward Glances
Aljah Ray Strickland Dew is pictured at Strick's Clothing Store in July of 1963. The store still operates today in downtown Nashville. More ...
A PICTORIAL LOOK INTO THE PAST
Nash County Animal Friends' Notebook
Let's start with the common domestic housecat. Your pet. Do you keep it inside safe and sound or do you let it go in and out? Or perhaps you have an outdoor cat? Common sense tells us that the only safe cat is an indoor cat. Safe from dying in the road, from dogs, from other cats (possible diseases like FIV) plus many other dangers, like car engines! PLUS if they aren't fixed, they can get into fights and roam. More ...
Carol Vierela, Nash County Animal Friends

NASH CENTRAL FEMALE TRIPLE CROWN AWARD WINNER. Senior softball/volleyball standout Kristen Shuford has been selected as the 2010-11 Female Triple Crown Award Winner at Nash Central High School.

TRIPLE CROWN BIDS
ROCKY MOUNT -- Two athletes with a penchant for leadership qualities took home the Triple Crown Awards during the recent Nash Central High School Athletic Awards Ceremony.
Kristen Shuford, who starred in volleyball and softball for NC, was saluted as the Female Triple Crown Award recipient. More ...
GEOFF NEVILLE, Graphic Sportswriter

AND THE WINNER IS. Castalia resident Cory Leonard recently took first place -- and a check for $20,000 -- at the FLW Tour Co-Angler Tournament Title on the Potomac River. Leonard came through with a three-day catch of 37 pounds, 11 ounces.

Leonard Lands FLW Top Prize
CASTALIA -- Given his history on the Potomac River -- and a star-studded field -- Castalia resident Cory Leonard didn't expect much from his appearance at the FLW Tour Co-Angler Tournament.
"The Potomac hadn't been kind to me in the 8-10 times I've been there,'' Leonard said. "I was thinking maybe I could get a decent finish, draw a check and go on to the next (event).'' More ...
GEOFF NEVILLE, Times Sportswriter
Garrard tourney is slated
GREENVILLE -- The David Garrard Golf Classic, which will benefit the Beau's Buddies Cancer Fund, will be held June 26-27 at the Greenville Country Club in Pitt County.
The event will feature several NFL athletes, some of whom are former East Carolina University players. Garrard quarterbacked the Pirates prior to moving to the pros where he is the starting quarterback for the Jacksonville Jaguars. More ...
Staff Reports
Northern's Ruffin to serve as coach
GREENSBORO -- Northern Nash head coach Rick Ruffin will serve as an assistant for the East Team for the annual North Carolina Coaches Association East-West Boys Basketball All-Star Game.
The event will be held on July 18 at 8:30 p.m. at the Greensboro Coliseum. The girls game will begin at 6:30 p.m. More ...
Staff Reports
NCWC's athletes saluted by league
ROCKY MOUNT -- A whopping 59 North Carolina Wesleyan College student-athletes -- including several Nash County natives -- have been selected to the 2010-11 USA South Conference Academic All-Conference Team.
In order to earn recognition, a student-athlete must have secured a 3.0 grade-point average in each of the two semesters of a given year. More ...
Staff Reports
Skelton's key double lifts Carolina Mudcats
ZEBULON -- James Skelton drilled a three-run double in the eighth inning to spur the Carolina Mudcats to an 8-3 victory over first-place Tennessee on Sunday afternoon at Five County Stadium in a Class AA Southern League baseball matchup More ...
Staff Reports
IT'S TIME FOR YOUR SHOT
Senior stalwart Jeffrey Lucas was outstanding in track and field this past season -- and football and wrestling -- for Nash Central High School. The talented Lucas is the winner of this year's Nash Central HS Male Triple Crown Award. More ...

Post 58 continues hot streak
ROCKY MOUNT -- Rocky Mount Coleman-Pitt Post 58 ran its winning streak to six games last Wednesday with a 13-3, seven-inning conquest of visiting North Raleigh Post 297 in non-conference play at Nash Central High's Dawg Pound. More ...
CHARLES ALSTON Graphic Correspondent
ECU players selected in Major League Draft
GREENVILLE -- East Carolina University's Shawn Armstrong, Seth Maness, Brad Mincey, Mike Wright and Zach Wright each heard their names called last Tuesday afternoon as they were selected on the second day of the 2011 Major League Baseball First Year Amateur Player Draft. More ...
Staff Reports
PFLAG announces summer shows
PFLAG Rocky Mount will host "Summer Show Times" featuring two award-winning films: For the Bible Tells Me So, a 98-minute documentary, and Prayers for Bobby, a 91-minute movie. The films will be shown in the Warner Room of Braswell Memorial Library, Rocky Mount. More ...
Contributed
Cherry Hill offers summer music camp
The sounds of children's voices and music will again echo through Warren County's historic Cherry Hill this summer.
A Summer Music Festival and Camp is again being presented by the Cherry Hill Concert Series at the beautifully preserved 19th century plantation home in Inez. More ...

WARREN BASCO LEWIS III
Warren Basco Lewis III, 38, of Middlesex died Thursday. Funeral services were held at 2 p.m. Monday at Southern Nash Senior High School. Burial followed in Hollywood Cemetery. Middlesex. The servic was officiated by the Rev. Curtis Pettit, the Rev. Bob Rose and the Rev. Steve Edmondson. More ...

RONNIE TYSON
Ronnie Tyson, 59 passed away, Saturday, June 11, 2011. He was born December 15, 1951 in Nash County. Ronnie was the son of the late, Oscar Jr. and Peggy Eason Tyson. More ...

RUBY MAE HARRIS
ENFIELD – Ruby Mae Harris, 88, of Enfield, and formerly of Chicago, Illinois, died on Monday, June 6, 2011 at Enfield Oaks in Enfield. More ...

JAKWAN E. PITTMAN
Rocky Mount – Jakwan E. Pittman, 33, of Rocky Mount, died on Saturday, June 4, 2011 at Nash General Hospital in Rocky Mount. More ...

BETTIE M. POWELL AVENT
WHITAKERS - Funeral services for Bettie M. Powell Avent, 86, who died Tuesday, June 7, 2011, were Monday, June 13 at 12 p.m. at Social Union Baptist Church. Burial followed in Pineview Cemetery with Rev. Nathaniel Bunn officiating. More ...

JOHNIE F. HORNER
CASTALIA - Johnie F. Horner, 90, died Wednesday, June 8, 2011 in Silver Spring, Md. Funeral services were Sunday, June 12 at 12 noon at Union Hill Baptist Church, Nashville. Interment followed in the Horner Family Cemetery. More ...

JUDITH R. EVANS
Judith R. Evans, 68, passed away, Wednesday, June 8, 2011. She was born July 20, 1942 in Mercer County, PA.; Judith was the daughter of the late, William Roach and Wilma Lloyd Roach. More ...

GEORGE WILLIAM STRICKLAND
George William Strickland, 75, passed away June 09, 2011. Born July 17, 1935 in Battleboro, he was the son of the late Laverne Strickland and Lorelle Fauntleroy Strickland. More ...

RONNIE AHMAD NIMER
Ronnie Ahmad Nimer, age 28, of Sharpsburg, died Sunday, June 12, 2011 at Pitt Memorial Hospital in Greenville. More ...