Subscribe/Access
Advertisements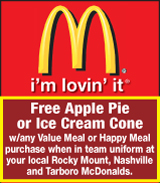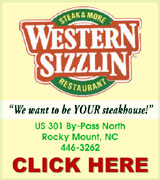 Sections
Member Options
Back
NPD investigates weekend shooting
A Nashville man has been charged with attempted murder after reportedly shooting another Nashville man five times outside Omar's Quick Mart on Saturday night.
According to Nashville Police Chief Bill Creech, 26-year-old Shiaphan Lewis and Marcus Antonio Alston were in Omar's Quick Mart, at 802 S. First Street in Nashville, with owner Omar Bayyari around 10:40 p.m. Creech said sometimes Lewis helps Bayyari at the store and the two were getting ready to close up for the night. More ...
Amanda Clark, Graphic Staff Writer
Four charged in recent assault of Nash deputy
Two Nash County Sheriff's Deputies are recovering after being injured while responding to a call last Wednesday night.
Deputy Ray Lynch was responding to a call of shots fired on Driver Road in Middlesex when he was assaulted by several suspects. During the altercation, Lynch's shoulder was fractured. More ...

School system battles statewide budget cuts
Barring miraculous intervention, the Nash-Rocky Mount school system seems destined to face additional massive cuts to its budget for the coming fiscal year. Officials say that these cuts will be sure to impact staff, students, and facilities in a drastic way. More ...
Amelia Harper, Graphic Correspondent
Beating cancer takes on new meaning for Relay Survivor Chair
"I want to live. I want to be cancer free."
Ginger Pate signed those words to her sister-in-law, Elaine, in January after being told she had triple negative invasive ductal carcinoma.
Ginger, 52, was born deaf and over time, she became legally blind with only four percent vision in her right eye. Elaine said she needs a cornea transplant but that they are hesitant to move forward with such a procedure. More ...
Amanda Clark, Graphic Staff Writer
Senate Bill 8 hot topic at recent education forum
The Rocky Mount Branch of the NAACP sponsored an education forum that focused on Senate Bill 8 and the effects the bill would have on public education if it were passed in the General Assembly.
North Carolina Representatives Angela Bryant, Joe Tolson and Jean Farmer-Butterfield all came out to offer their thoughts on the bill, along with Nash-Rocky Mount Schools Superintendent Rick McMahon and Rocky Mount Preparatory School Headmaster Michael Pratt. More ...
Amanda Clark, Graphic Staff Writer - 1 opinion posted
Coopers continues working towards land purchase for park
The Coopers Community Development Corporation is one step closer to their dream of a community park, thanks to a $2,500 donation from a local farmer.
Faye Bone was recently selected as a winner in the America's Farmers Grow Communities project sponsored by the Monsanto Fund. More ...
Amanda Clark, Graphic Staff Writer
Second poultry plant public hearing is Monday
A second public hearing will be held on Monday morning for the proposed Sanderson Farms site on Highway 97.
The Nash County Board of Commissioners voted to rezone the properties from Rural Commercial and Residential to General Industrial last November. However, the rezoning was challenged by area residents opposed to the project so Nash County agreed to send the rezoning back to the planning board. More ...

Police charge three with drug violations
Nashville Police charged three with drug violations as part of an on-going narcotics investigation.
According to Investigator George Bottoms, of the Nashville Police Department, complaints of narcotics sales and use as well as suspicious activity led to an investigation, which resulted in three search warrants being issued last Friday afternoon at locations in Nashville. More ...

Local woman killed in head-on collision
A Spring Hope woman is dead after the vehicle she was driving was hit head-on on Bend of the River Road last Wednesday evening.
According to reports from the North Carolina Highway Patrol, Ernest William Tyska, 68, of Bend of the River Road, Elm City, was driving a Chevrolet Silverado east on Bend of the River Road, near NC Highway 58, when he crossed the center line and collided with Alma Rosa Lopez, 32, who was traveling west in a Dodge Caravan. More ...

Military News
Battle
Civilian Kanisha J. Battle, daughter of Veronica Battle of Rocky Mount and Barry Sears, of Rocky Mount recently enlisted in the United States Navy under the Delayed Entry Program at Navy Recruiting District.
More ...

Parent's Breakfast
Spring Hope Elementary School hosted a parent's breakfast on Thursday, March 10 in the school cafeteria. The school cafeteria puts on the event every year during school breakfast week to allow parents the opportunity to have breakfast with their kids. Pictured above (L-R) is: Spring Hope Elementary staff Peggy Owens, Marsha Winstead, Billie Odom and Hope Murray. More ...

Nash County Blood Drives for April 2011
Friday, April 8 from 7:45 a.m. until 1:45 p.m. at Southern Nash High School in the gymnasium, 6446 Southern Nash Road, Bailey
Monday, April 11 from 4 until 8 p.m. at Bethlehem Baptist Church, 305 South Halifax Road, Rocky Mount More ...

Brown awarded Gen. Hugh Shelton/Caldwell Fellowship
Forrest Brown of Rocky Mount has been chosen as the winner of the Gen. Hugh Shelton/Caldwell Fellowship. The Shelton/Caldwell Fellows Scholarship is granted each year to an NC State freshman who has shown academic excellence, critical thinking and creativity, extraordinary promise for leadership, exceptional character, and the desire and commitment to engage in the Fellows rigorous program of leadership development. More ...


McQueen

Local ladies are presented at Rhomania Scholarship Ball
The Zeta Pi Sigma Chapter of Sigma Gamma Rho Sorority, Inc. presented 8 area high school seniors and juniors to society during the 2011 Rhomania Scholarship Ball. The Ball was held on March 26, 2011 at 6 p.m. at Cornerstone Family Life Center, located in Greenville. More ...

Northern Nash Band News
The Northern Nash band program is thriving and very active this spring. The Winterguard is competing with JV and Varsity squads, the newly formed Percussion Ensemble spreads its wings, and the concert bands are hard at work. On February 5th, twenty-six musicians from Northern Nash performed with the All-District high school bands in Greenville at ECU's Wright Auditorium; and on March 12th, fifteen of these auditioned for the North Carolina All-State band. More ...

Pope to attend West Point Leaders seminar
Matthew Pope, a junior at Nash Central High School, has been selected to be among 1,000 attendees at West Point's prestigious Summer Leaders Seminar (SLS) in June.
More than 4,000 juniors nationwide applied to SLS, which offers outstanding high school juniors the opportunity to experience life at West Point.
More ...

Nash Community holds detention officer graduation
Eight students recently graduated from Nash Community College's five week Detention Officer Certification Course. The state accredited course is designed to teach the latest skills necessary for service as a sworn detention officer in North Carolina. More ...

PEACHTREE COMMUNITY NEWS
The cold of winter returned on Sunday, but love warmed the hearts of those who attended church at Peachtree. Pastor Whitehouse preached the concluding part of his sermon titled, "Conflict in the Church" based on Galatians 2: 11-14. He said that the first century church had issues within the church that give to the twenty-first church great truths.
More ...
BARBARA HARDISON
Redeemer's Inn holds dedication
Redeemer's Inn held an open house on Sunday, March 27 from 2 p.m. until 4 p.m, followed by a dedication ceremony.
The Redeemer's Inn is a transitional home, helping women to bridge the gap between incarceration and living successfully in the community.
More ...

MOUNT ZION FWB CHURCH NEWS
We had 91 in Sunday school, with one new member. Welcome everyone. I trust you enjoyed studying the Word with us. I liked Brother Bob's quote for today, "I may not be what I ought to be, but I thank God that I am not what I was." That should be true of all Christians. More ...
ROSALENE BASS
Relay for Life News & Events
Second Chance Prom: "Atlantis Forever" 2nd Chance Prom will be held on April 2, 2011. Doors Open at 6:30 p.m. Red Carpet Entrance at Rocky Mount Moose Lodge. Tickets are $75 per couple. 21 and over! More ...

BEULAH COMMUNITY NEWS
Attention: Mark your calendar for this Friday night! The monthly fish fry at the Beulah Church of Christ Annex on Reges road will be from 5:00 - 8:00 PM. Once again we look forward to your fellowship and really appreciate your continued support. For anyone who would like to help with preparations, that will be held on Thursday morning at 9:00 AM. All help is appreciated.
More ...
WILMA ENROUGHTY
Laymen attend Bobcats game
"Ambassadors for Christ" Union Hill Missionary Baptist Church Layman League Ministry is on the move. At their February 2011 meeting, discussion centered on ideas to further encourage Junior Laymen (ages 9-18) in attending meetings, speaking engagements, community service, workshops and their willingness to work in ministry. More ...

RED OAK NEWS
Eileen Shanks, Suzy Pearce, and Audrey Pearce attended the NRBA WMU Associational Leadership Team met Saturday, March 26 at the Associational Office in Dortches.
Several Women on Mission groups will be meeting soon. More ...
SUZY PEARCE
EPHESUS NEWS
On Sunday morning, Pastor David Eidson's message was "According to His Promise" from Romans 8:26-29. From verse 27 (NASB) "and He who searches the hearts knows what the mind of the Spirit is, because He intercedes for the saints according to the will of God". Even when you do not know the right words to pray, the Holy Spirit prays with you and for you. More ...
DEBBIE PHILLIPS
Goats are really smarter than you think!
I don't stare at goats like the guys did in the George Clooney movie from last year, but I must admit I am a man of many goats. And the numbers seem to be growing every week.
Some of you may remember last year when months of me saying, "We're going get some goats," for our little farmstead finally turned into "We got some goats." It was a great time. More ...
Mike Brantley
More budget cuts will compromise public education in North Carolina
I feel compelled to write this letter because I am getting the impression that the general public either does not realize the critical status of the state budget for public education or they think it is political jargon and will not really happen. Folks, this is real, and if you want the children of Nash County and the rest of North Carolina to have a chance at a decent public education, you need to contact your legislators immediately before it is too late. More ...
LETTER TO THE EDITOR:
Little time left to prepare for the baby!
Well it looks like we're in the short rows now. Just 10 more weeks and Allen and I will be parents.
I wish I could say we were sitting back and relaxing, waiting for our little boy's arrival but instead, we're rushing to get a million things done before this little guy comes. More ...
Amanda Clark
Backward Glances
We found this photo in the archives at The Graphic. We're pretty sure the photo was taken in 1961. We're not sure who these guys are, but looks like they were having a ball! We've often heard of the many womanless pageants held back in the 1960's to raise money for local organizations. We're wondering if these guys might have been taking part in one.
More ...
A PICTORIAL LOOK INTO THE PAST
Nash County Animal Friends' Notebook
Let's just talk about male dogs! Recently, I heard a story that a man wanted to fix (neuter) his dog so he would be better behaved and not roam. However, he didn't like the idea that his dog would no longer look "manly." So surgery included artificial enhancements. *snicker* However, the poor dog had trouble sitting down so they had to be removed. More ...
Carol Vierela / Nash County Animal Friends' Notebook

TANGLED UP. (L to R) Northern Nash's Samantha Wooten and Nash Central's Casey Warren try to gain possession of the ball during Monday's Big East Conference girls soccer contest on the NCHS campus.

Shutout For NN
ROCKY MOUNT -- Buckling down on defense and scoring some timely goals will be Northern Nash's recipe for girls soccer success during the 2011 campaign.
It's a mix that has worked well for the Lady Knights during a recent two-match winning streak in Big East Conference action. More ...
GEOFF NEVILLE, Graphic Sportswriter

IN THE CLEAR. Nash Central's Denasia Pitchford surpasses this height during girls high jump competition as part of last Wednesday afternoon's Big East Conference track and field event against host Northern Nash.

NCHS' Life Of Brian
ED OAK -- Many area track and field observers feel like Big East Conference boys teams will be chasing Nash Central -- literally -- in the race for league supremacy during the 2011 season.
As usual, Nash Central is loaded from top to bottom for veteran head coach Brian Winham. More ...
GEOFF NEVILLE, Graphic Sportswriter

AIR BALL. Southern Nash's Karla Flores (left) awaits the drop of the ball along with a Corinth Holders player during last Thursday afternoon's girls soccer match, which was claimed by the host Ladybirds.

Wanted: Scorers
STANHOPE -- John Matthews prides himself on being a patient man, but even he is becoming frustrated by Southern Nash's inability to score goals during the 2011 high school girls soccer season.
Matthews, who is SN's second-year head coach, has seen his Ladybirds tally just two goals this spring that didn't come courtesy of a penalty kick or an indirect kick. More ...
GEOFF NEVILLE, Graphic Sportswriter
Northern welcomes campers
RED OAK -- The annual Northern Nash High School Volleyball Camp is scheduled for July 26-27 at the NNHS Gymnasium in Red Oak.
The camp will run from 9 a.m.-3 p.m. each day. Campers are asked to bring a bag lunch.
The event is open to girls in grades 4-12. Cost is $30 per person. Beverages will be provided. More ...
Staff Reports
Wachovia Cup standings tight
CHAPEL HILL -- Wachovia Bank, a Wells Fargo Company, along with the North Carolina High School Athletic Association, has announced the standings through winter sports in the Wachovia Conference Cup competitions for the 2010-2011 sports season. More ...
Staff Reports

STRETCHING IS IMPORANT. Nash Central's Jordan Taylor (left) retires a D.H. Conley baserunner on a close force play for the Bulldogs during their road diamond victory last week over the Vikings.

Central Keeps The Pace
WENDELL -- Nash Central High School's baseball team hit the road twice last week and returned from both trips with victories.
The Bulldogs, who sport the best overall record in the county at 10-1 entering Big East Conference play this week, traveled to East Wake last Thursday and put on a hitting clinic. More ...
CHARLES ALSTON, Graphic Correspondent / Submitted photos by David Hahula
Pirates claim pair of wins over Memphis
GREENVILLE -- Zach Wright's two-run home run in the bottom of the ninth inning in game two of the twinbill last Saturday broke a three-all tie and gave East Carolina University (18-5, 2-1 C-USA) a 5-3 walk-off series win over Memphis (12-10, 1-2 C-USA) at Lewis Field inside Clark-LeClair Stadium in college baseball action. More ...
Staff Reports
Wesleyan celebrates diamond anniversary
ROCKY MOUNT -- On a day celebrating 50 years of North Carolina Wesleyan College Battlin' Bishops baseball, the 2011 version of the Blue and Gold provided a result typical of the program's tradition.
North Carolina Wesleyan welcomed USA South Conference foe Greensboro College to Bauer Field and sent the Pride home with a 4-1 loss last Saturday afternoon. More ...
Staff Reports
CALLING HIS SHOTS
Nash Central High School shot put veteran Keifer Griffin hopes to make an impact in the pit this season for the Bulldogs in Big East Conference action.
More ...

Civil War Living History at Stonewall Manor
A Civil War Living History Weekend is set to take place April 2-3 at Historic Stonewall Manor in Rocky Mount, across from Battle Park.
The event will run from 10 a.m. - 5 p.m. Saturday, April 2 and from 11 a.m. - 4 p.m. Sunday, April 3. More ...

Quilters to exhibit at NC Wesleyan
The Four Sisters Gallery at NC Wesleyan College will be first to host Quilting: A Community History: Quilters from the Haliwa-Saponi Indian Community of Hollister. It will next travel to the Guilford Native-American Art Gallery in Greensboro. With the support of a grant from the NC Arts Council for Folklife Preservation, curator Karen Lynch Harley has assembled an exhibit and interviewed the eighteen quilters included in the exhibition. More ...

Country Doctor Museum announces new hours
It's spring, which means the Country Doctor Museum resumes a full operational schedule.
Operating hours are 10 a.m. to 4 p.m. Tuesday through Saturday. Tours are guided and run approximately 45-60 minutes. Tours begin on the hour each day, and the last tour of the day begins at 3 p.m. More ...


Guitars & Friends

Nash Arts
Nash Arts kicks off its spring season with back-to-back weekend shows.
Guitars & Friends, a unique musical group comprised of area musicians, will perform Saturday April 2 at 7 p.m. Admission is $12 for general public and $10 for Nash Arts members. More ...

Nash Community College Design students to display artwork
Nash Community College Advertising and Graphic Design students will display their work at an art show in the College's Brown Auditorium on Thursday, April 14 from 6-8pm. The event is free and open to the public. For more information on the art show or Nash Community College's Advertising and Graphic Design program, call 252-451-8256 or email nneal@nashcc.edu.
More ...

MARVIN EARL NELMS
NASHVILLE - Marvin Earl Nelms, age 79 of Nashville, died Wednesday, March 23, 2011 at Nash General Hospital. More ...

TOMMY MITCHELL
ROCKY MOUNT - Tommy Mitchell ,55, of Rocky Mount, departed this life on Friday, March 25, 2011 at Nash General Hospital in Rocky Mount. More ...

JOHN WILLIAMS, JR
ROCKY MOUNT - John Williams, Jr., 78, of Rocky Mount, departed this life on Friday, March 25, 2011 at Nash General Hospital in Rocky Mount. More ...

ALMA ROSA LOPEZ RODRIGUEZ
SPRING HOPE - Alma Rosa Lopez Rodriguez, 32, of Spring Hope, departed this life on Wednesday, March 23, 2011 at Nash General Hospital in Rocky Mount. More ...

JIMMY RICHARD ROBBINS
Jimmy Richard Robbins, 76, passed away, Friday, March 25, 2011. He was born November 23, 1934 to George and Fannie Winstead Robbins. More ...

STEVEN DAVIS
Steven Davis, 47, passed Friday March 18, 2011 at his residence in Brunswick, Maryland. He was born in Cheverly, Maryland. More ...

RUTH MCCULLERS MORGAN
Ruth McCullers Morgan, centenarian, age 103, passed away Friday, March 25, 2011. Born on August 09, 1907 in Calhoun County, Alabama, Ruth was the second youngest of 11 children belonging to James and Emma McCullers. More ...