Subscribe/Access
Advertisements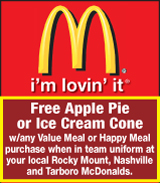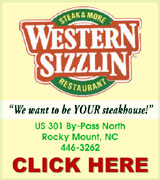 Sections
Member Options
Back
Bill could void annexation of Oak Level
A local bill that would repeal Rocky Mount's annexation of the Oak Level community has made its way to the finance committee, where it is expected to be given a favorable vote and then move on to a vote in the North Carolina House of Representatives.
Representative Jeff Collins sponsored House Bill 56, which would repeal Rocky Mount's proposed annexation of around 1,400 acres, which is in and around the Oak Level community. More ...
Amanda Clark, Graphic Staff Writer
Two Castalia board members' residency recently questioned
Town officials and some Castalia citizens are calling into question the residency of two members of the town board. Commissioners Gus Sjoberg and Clarence Bender, in turn, are accusing the mayor, the town secretary, chairman of the planning board Olla Mae Bobbitt, and certain citizens of harassment and violation of their civil rights. More ...
Amelia Harper, Graphic Correspondent

THOMPSON

Service honors Billy Thompson
Billy Thompson served both his country and his community well and on Monday morning, Thompson was remembered for that service during a flag raising in his honor at the Rocky Mount Veterans Memorial at Jack Laughery Park.
The flag-raising ceremony was performed by the Joint Veterans Committee of Nash and Edgecombe Counties. More ...
Amanda Clark, Graphic Staff Writer - 1 opinion posted
Planning Board denies Sanderson
In a 5-3 vote, Nash County Planning Board members denied the rezoning of a tract of county –owned land designated as a potential site for a Sanderson Farms processing plant. The decision came after nearly two hours of discussion and debate over the merits of rezoning the land that already is the subject of controversial lawsuit over the last rezoning attempt. More ...
Amelia Harper, Graphic Correspondent
Nashville Town Council meets with North Carolina
Nashville Town Council members met with state legislators Monday morning to discuss several issues of concern.
Several items were brought before Representative Jeff Collins and Senator Buck Newton during the meeting, which is held every year prior to the state's budget session.
The budget was one thing council members expressed concern about to both Newton and Collins. More ...
Amanda Clark, Graphic Staff Writer

WHAT A GAL! – Cindy Wells of Nash County E-911 Communications Center gets her head shaved raising funds for St. Baldricks at Coopers Fire and Rescue on Saturday.

Locals join Coopers to fight childhood cancer
You might notice a lot of folks walking around with bald heads this week – 66 to be exact! That's how many people had their heads shaved Saturday to help cure childhood cancer.
The Bulldog Brigade of the Coopers Fire and Rescue Department double-dog-dared folks around Nash County to team up with them and the St. Baldrick's Foundation to raise money to help cure childhood cancer. More ...
Jo Anne Cooper, Graphic Publisher
Downtown project nears completion
By this time next month, Nashville's Downtown Redevelopment Project will be just about complete.
Van Narron, of Narron Contracting, told downtown business owners last week during a monthly update that the project was on schedule and that he fully expected the project to be substantially complete by the April 28 deadline.
"We will be finished on time," Narron said. More ...
Amanda Clark, Graphic Staff Writer
Plow Day location to change
Jimmy Dozier wasn't sure if Plow Day would return this year. But thanks to encouragement from Cowboys for Christ, the show will go on, though in a different location.
Dozier has been hosting Plow Day at his farm since 2007, where hundreds of people come out each year to get a taste of North Carolina Heritage. More ...
Amanda Clark, Graphic Staff Writer
Environmental study results unveiled
The results of an environmental study were released last week and conclude that Sanderson Farms will not have a negative impact on Nash County.
Sanderson Farms is looking to build a poultry processing plant in Nash County on Highway 97, close to Interstate 95.
More ...
Amanda Clark, Graphic Staff Writer
NRMS receives $4.1 million for Race to the Top funding
Using the awarded US Department of Education Race to the Top (RTT) funds, all Nash-Rocky Mount Schools (NRMS) school sites will have wireless technology.
NRMS will receive $3.1 million in RTT funds over four years, NRMS superintendent Rick McMahon shared at the board of education meeting Monday night. This year, the system received $969,000. More ...
Michele A. Cruz, Graphic Correspondent

Walter Miles Swanson

One final hunt for Grandpa Swanson
Whomever it was that first said: "The more things change, the more they stay the same" got a big "Amen!" from me during opening day of spring Turkey Season, when I carried Grandpa Swanson's old homemade box call on a hunt to surprise my dad. It was just as if Grandpa was looking over my shoulder as I worked the call to get a gobbler into range for my dad to shoot. More ...
Contributed story as told by Rick Swanson
PEACHTREE COMMUNITY NEWS
Spring is officially here and the weather over the week-end was just about perfect. On Sunday Pastor Whitehouse chose as his sermon topic, "Conflict in the Church". It was based on scripture from Galatians 2: 11-14. Paul was addressing issues in the early church that were causing conflict. Many conflicts arise from trivial, non-biblical matters. More ...
BARBARA HARDISON
MOUNT ZION FWB CHURCH NEWS
There were 85 in attendance in Sunday school including two visitors. Matthew Morgan read the Bible verse for today. Barbara Morgan was pianist for Sunday school. Barbara Manning provided a pretty pink hydrangea for the altar table. Thank you.
Our choir sang "I Just Keep Trusting My Lord" for the call to worship. Pastor Rogerson welcomed everyone and prayed the prayer of invocation. Hymns of worship were "O How I Love Jesus" and "Shelter in the Time of Storm." More ...
ROSALENE BASS
BEULAH COMMUNITY NEWS
Sunday school began Sunday morning at 9:45. Kenneth Massengale welcomed everyone, asked about those who wanted to be on our prayer list, and had prayer. There were several on our prayer list but Carolean Hyde had requested special prayer. She has not been doing well for some time but especially this week. Keep her in your prayers, along with others you may know about. More ...
WILMA ENROUGHTY
RED OAK NEWS
The Baptist Men's breakfast and meeting was held on Sunday, March 20.
Don't forget the children's Movie Night on Saturday, March 26, 5:00 PM- 7:00 PM at Red Oak Baptist Church. Children can enjoy movies and snacks at no cost and parents can have a night out. Youth and adults will provide child care. Contact the church if you plan to participate. More ...
SUZY PEARCE
Relay for Life News & Events
Second Chance Prom: "Atlantis Forever" 2nd Chance Prom will be held on April 2, 2011. Doors Open at 6:30 p.m. Red Carpet Entrance at Rocky Mount Moose Lodge. Tickets are $75 per couple. 21 and over! Special Guest Band...BOOMERANG (songs from the 70's, 80's and 90's). More ...

EPHESUS NEWS
On Sunday morning, Pastor David Eidson's message was "You'll Always Have Hope" from Romans 8:18-25. To quote from verses 18 and 19 (NASB), "For I consider that the sufferings of this present time are not worthy to be compared with the glory that is to be revealed to us. For the anxious longing of the creation waits eagerly for the revealing of the sons of God". More ...
DEBBIE PHILLIPS
It's a mad world during March basketball
Someone, somewhere in this country is probably going to get some teeth knocked out, some hair pulled, or maybe even shot at before this month is out – over a college basketball game.
No, it won't be because of a bet, or some personal involvement. It will be because of a close game, or a bad call by a ref (defined as: any call that goes against your team), or a phrase poorly chosen and uttered at the worst possible time. More ...
Mike Brantley
We're fortunate to have the D.A.R.E. program in Nash County
I can barely remember how life was in fifth grade but there are certain things I do remember and boy, was fifth grade the start of a challenging time in my life.
As a fifth grader, you are at an age where you start to make vital decisions in life. You start getting introduced to things that teach you the importance of "no." More ...
Amanda Clark
Backward Glances
We found this photo in the 1961 archives at The Graphic. If you recognize her, give us a call at 459-7101.
More ...
A PICTORIAL LOOK INTO THE PAST
Coopers double-dog-dare is a huge success!
One thing I learned early in life, being raised up around folks in the Coopers Community, is if you throw a challenge their way, you best get ready to see some dust fly and results happen.
And that is exactly what happened Saturday. Well, maybe there was no dust flying, but there sure was a lot of hair hitting the floor and a lot of "bald men" – and a girl – walking around afterwards! More ...
Jo Anne Cooper
Local business owner thanks Chamber for recent Business of the Year award
From the bottom of our hearts, we would like to thank the Nashville Chamber of Commerce for recently bestowing their "Business of the Year" award to us at Ward Drug Company of Nashville. This honor is very coveted and honorable, and makes us even prouder to be an integral part of the Nashville business culture. More ...
Letters to the Editor:
It's time government changes method of taxation for its operating budget
Sooner than later, the unfair and outdated property tax is going to fade into the history books. Sooner, if local public officials exercise some long needed wisdom and a little later if we must wait for the upcoming financial meltdown. Either way, it's days as the primary source of local tax revenue are being numbered, by reality, if nothing else. More ...
Letters to the Editor:
North Carolinians deserve to regain rights
It is a shame when North Carolinians must resort to annexation repeal bills to get their voices heard. It is time that we had meaningful annexation reform which provides for a vote for those wishing to be annexed and for those who have been selected to be annexed. At no time should an annexation proceed without a vote of the people being annexed. More ...
Letters to the Editor:
Nash County Animal Friends' Notebook
Someone planned on giving our group a gift Friday morning. They sought me out but they didn't surprise us. We have six announcers. They start barking the moment a foot or a tire hits our driveway!
Lady is our guard dog. She seems very friendly, unless you touch us without having the stand-down command. She is very protective of her family, but she will allow you on the property. More ...
Carol Vierela, Nash County Animal Friends

EYE ON THE SITUATION. Northern Nash's Caroline Johnson (left) chases down a loose ball during the Lady Knights' home conference matchup Monday night against the Wilson Hunt Lady Warriors in Red Oak.

The Big East Hunt
RED OAK -- After a rare year away from the postseason, the Northern Nash Lady Knights hope to once again qualify for the Class 3-A Girls Soccer State Playoffs this spring.
For that to happen, Northern Nash will have to excel in the always-competitive Big East Conference, which will feature the likes of expected powerhouses Wilson Fike, Wilson Hunt and Rocky Mount. More ...
GEOFF NEVILLE, Graphic Sportswriter

MAKING THE PLAY. Nash Central High School pitcher Grayson Bass (with ball) throws out a runner at first base as teammate Lindsey Sharpe looks on during Monday's home softball game against Wilson Beddingfield.

Something Is Bruin
ROCKY MOUNT -- Eight would prove to be enough for Nash Central High School's effective victory streak to start the 2011 fast-pitch softball season.
Looking for their ninth straight decision, the Lady Bulldogs were edged 4-2 against Wilson Beddingfield on Monday at home. More ...
GEOFF NEVILLE, Graphic Sportswriter

LIKES THE LOOK OF IT. Southern Nash's Ryan Shearin follows the flight of this tee shot on a par-3 during last Thursday afternoon's match against Bunn at The River Golf and Country Club in Franklin County.

Down To The River
BUNN -- Home-course advantage wasn't a priority when Bunn and Southern Nash met last Thursday afternoon for an 18-hole prep golf showdown.
In fact, both teams were at home, as both BHS and Southern compete and practice at The River at Lake Royale Golf and Country Club. More ...
GEOFF NEVILLE, Graphic Sportswriter
SN girls are 1-3-2 this year
STANHOPE -- Southern Nash has gotten off to a 1-3-2 start this season in girls prep soccer action.
Last week, the Ladybirds fell 1-0 in overtime against North Johnston, which scored on a penalty kick in the initial period of the extra session. More ...
Staff Reports
Wilson Hunt the pick
NASH COUNTY -- Wilson Hunt didn't even win the Big East Conference baseball title last season. Yet, the Warriors ended up in the state championship series with East Rowan for the NCHSAA 3-A title.
With the 2011 conference season set to get underway next week, it could be a wide open race to see who will end up on top. More ...
CHARLES ALSTON, Graphic Correspondent / Submitted photos by David Hahula
Brandt helps East Carolina best Rutgers
GREENVILLE -- Junior Kevin Brandt struck out a career-best 12 batters and fellow classmate Corey Thompson drove in four runs as East Carolina University (16-4) capped off a perfect week with a 6-0 win over Rutgers (7-11) Sunday afternoon at Lewis Field inside Clark-LeClair Stadium. More ...
Staff Reports
Bulldogs edged 4-3 by Rose
GREENVILLE -- It could have been billed as Nash Central's biggest non-conference baseball game ever -- a contest with six-time state champion J.H. Rose from Greenville.
With the Bulldogs riding an eight-game winning streak to start the season, a win over the Rampants last Friday evening at historic Guy Smith Stadium would have been a statement maker. More ...
CHARLES ALSTON, Graphic Correspondent / Submitted photos by David Hahula
CNU gets by Battling Bishops
ROCKY MOUNT -- Last Saturday, the North Carolina Wesleyan College Bishops baseball team played well against visiting Christopher Newport and seemingly was on the verge of a victory throughout the contest.
The ninth-ranked Captains held on, though, and claimed a 3-2 victory.
Sunday's rematch, unfortunately for the Bishops, followed a sickeningly similar script. More ...
Staff Reports
Central racks up victories
ROCKY MOUNT -- The Nash Central Bulldogs softball squad will get one week off in their schedule before starting Big East Conference play next Tuesday.
But in the last week they played three non-conference games, winning two but finally losing to visiting Wilson Beddingfield in a 4-2 game on Monday. More ...
KENT WHEELESS, Graphic Correspondent
ELIZABETH JONES RIGG
Elizabeth Jones Rigg, age 90, passed away Monday, March 21, 2011. Arrangements to be announced by Wheeler and Woodlief Funeral Home, Rocky Mount.
More ...

REBA BOLINGER COGGIN
NASHVILLE - Reba Bolinger Coggin, 87, died Monday, March 14, 2011. She was born June 9, 1923 in, Shellenberg, Indiana, daughter of the late Ray G. and Maggie Swafford Bollinger. She was the widow of the late Wilber J. Coggin and also preceded in death by a brother, Rex Bolinger. More ...

KATIE BELL DEANS CRAWFORD
ROCKY MOUNT - Katie Bell Deans Crawford, 83, died March 8, 2011. A funeral service was held Saturday at New Hope Baptist Church (Nash) at 2:00 pm. Burial was at New Hope Baptist Church Cemetery. Viewing/visitation was Friday from 3-7pm.
More ...

ROSA BAILEY JONES
Mrs. Rosa Bailey Jones, age 81, of Rocky Mount,, died Saturday, March 19, 2011 at Nash General Hospital. Born September 18, 1929, she was a daughter of the late LeRoy Pierce and Della Davis. More ...

STEPHEN WASHINGTON EZZELL, SR.
ROCKY MOUNT- Stephen Washington Ezzell, Sr. 83 passed away Thursday, March 17, 2011. He was born in Nash County, July 13, 1927 to the late Josh and Mittie Jones Ezzell. More ...

MOSES TONY HUGHES
HALIFAX - Mr. Moses Tony Hughes, age 63, of Halifax, died Saturday, March 19, 2011 at Halifax Regional Medical Center. More ...

DAISY LEE COLEMAN
ROCKY MOUNT - Daisy Lee Coleman, 85, died March 19, 2011. Funeral services will be Wednesday, March 23, 2011 at Foster Memorial Baptist Church, 1:00 pm. Rev. Jeremiah Webb officiating. Burial will be at Northeastern Cemetery. Viewing/visitation was Monday, March 21, 2011 from 3-7 pm.
More ...

JESSE RAY "J.R." PATTERSON
Jesse Ray "J.R." Patterson, age 65, passed away Sunday, March 20, 2011. A native of Nash County, he was born December 26, 1945, son of the late Robert Pat Patterson and Berta Hawkins Patterson. He was also preceded by his wife, Emily Jo Edwards Patterson. More ...

LEE EDWARD RICHARDSON
NASHVILLE - Lee Edward Richardson died Monday, March 7, 2011 at Hospice of Wake County. He was born on March 21, 1937 in Nashville to the late Cassie Richardson Braswell and Charlie Richardson.
More ...

HENRY BATTLE
NASHVILLE - Funeral services for Henry Battle, 90, who died on Tuesday, March 15, 2011, were Monday, March 21, at 1 p.m. at Mt. Vernon Baptist Church with Rev. Tyrone Jones officiating. Burial followed in the Oakland cemetery. More ...