Subscribe/Access
Advertisements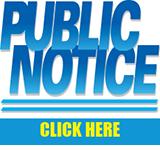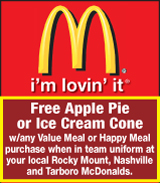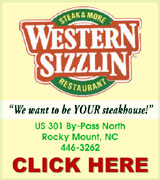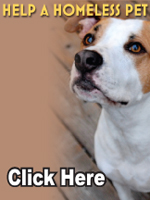 Sections
Member Options
Back
Fire claims home near Red Oak
A Red Oak home was destroyed Saturday afternoon after an outside fire spread to the back of the home.
Red Oak Volunteer Fire Chief Bryant Fisher said the call came in around 3 p.m. on Saturday at 275 N. Browntown Road. Fisher said an outside fire had spread into the backyard of a residence and ignited the back of a mobile home and other outbuildings. More ...
Amanda Clark, Graphic Staff Writer
DOWNTOWN VIEW
The unusually warm weather has put Nashville's Downtown Redevelopment Project ahead of schedule.
Van Narron, of Narron Contracting, met with downtown business owners with the good news last Thursday morning during a monthly downtown merchants meeting.
"We're ahead of schedule," Narron said. "We took advantage of the pretty weather this week and we probably bumped the schedule up three weeks." More ...
Amanda Clark, Graphic Staff Writer
"NEW" group launches pro Sanderson ad campaign
NEW NC JOBS for Nash, Edgecombe, and Wilson Counties, a newly-formed advocacy group created to promote bringing Sanderson Farms to Nash County, held its first press gathering Tuesday in order to premiere two new commercials. The group also issued a press release containing information promoting the Sanderson Farms operation and unveiled a new website which contains the commercials. Skip Carney of Carney and Co. Advertising led the press event. More ...
Amelia Harper, Graphic Correspondent
School Board debates pros/cons of corporal punishment policy
At the request of vice chairman Evelyn Bulluck, the Nash-Rocky Mount Schools (NRMS) board reviewed their corporal punishment policy, which was approved last August, at their meeting Monday night. Due to pressure from advocacy groups and social norms as well as a fear of lawsuits, the board plans to take another vote next month on whether to keep or remove this discipline policy. The board also approved a new extensive policy for selecting field trip chaperones. More ...
Michele A. Cruz, Graphic Correspondent
Shelter reports adoption, rescue increase
Animal adoptions at the Nash County Animal Shelter are going up and staff attributes the increase to more awareness.
Figures provided for the fourth quarter in 2010, compared to the same time period in 2009, show both adoption rates and rescues increasing significantly. In 2009, a total of 49 animals were adopted during the fourth quarter, which runs from October to December. In that same time period in 2010, adoption totals were 84. More ...
Amanda Clark, Graphic Staff Writer - 2 opinions posted

Sam Collier

Local Scout completes flag pole project
Three new flags fly proudly over Nashville in front of the town's Police/Fire Complex, thanks to the efforts of a local scout.
A flag dedication ceremony was held last Thursday afternoon to celebrate Sam Collier's Eagle Scout project, a project he worked on for over a year, facing all types of weather to make sure the project happened.
Collier has been a member of Boy Scout Troop 7 of Rocky Mount since 2006. More ...
Amanda Clark, Graphic Staff Writer
Nash County mulls state legislative priorities
Nash County Commissioners met with new members of the NC State Legislature on Thursday, February 17, at their annual Legislative Dinner, held this year at the Birchwood Country Club. During the course of the dinner, NC legislators expressed their views and listened to concerns outlined by Nash County staff and elected officials. More ...
Amelia Harper, Graphic Correspondent

Chad Pridgen of the Coopers Fire Department (far left) presents Noah Strange (far right) with a plaque for having the best escape plan in the Coopers Fire District.

Coopers Fire announces fire escape plan winners
During October, which is fire prevention week, members of the Coopers Fire Department visited Coopers Elementary School to talk about fire prevention and to encourage students to create a fire escape plan.
Students all drew maps of their homes, showing evacuation routes with two ways out of their homes. More ...

Nash County Extension awarded funds for Homestead Demonstration Project
AgCarolina Financial recently awarded over $30,000 to 15 organizations in eastern North Carolina as part of their corporate-giving program, the Fund for Rural North Carolina. The grants will help the recipients carry out programs that specifically benefit farmers and rural residents in eastern North Carolina where the Association conducts business. More ...

Mary Strickland earns executive certification
Mary Strickland, MSN, BSN, manager of the Women's Center at Nash General Hospital, earned her nurse executive certification from the American Nurses Credentialing Center (ANCC). The ANCC is the world's largest and most prestigious nurse credentialing organization, and a subsidiary of the American Nurses Association (ANA).
More ...

STUDENTS OF THE WEEK
Katie Powell of Northern Nash High School (left front) and Jessie Shingleton of Southern Nash High School (right front) were joined by James Robinson of Nash Central High School (left rear) and Robert Barnes of Rocky Mount High School (right rear) in recognition by the Kiwanis Club of Rocky Mount as Students of the Week for February 7-11.
More ...

MILIATARY NEWS
Army Reserve Spec. Latasha D. Evans is returning to the U.S. after a deployment to Iraq serving in support of Operation Iraqi Freedom/New Dawn, or Operation Enduring Freedom in Afghanistan and the Southwest Asia Theater of Operations.
The soldiers return to Joint Base Dix-McGuire-Lakehurst, N.J., for debriefing, evaluations and out-processing procedures before returning to their regularly assigned Army Reserve or National Guard units. More ...

BIRTH ANNOUNCEMENT
David and Jacqueline Chartier of Rocky Mount are proud to announce the birth of their daughter, Sarah Lillian Chartier, born Jan. 10, 2011 at Heritage Hospital in Tarboro. She weighed 7 pounds, 1.1 ounces and was 20.5 inches long.
Maternal grandparents are Jackson and Dolly J. Joyner of Rocky Mount. Paternal grandparents are the late Don and Rita Chartier, formerly of Littleton. Paternal step-grandmother is Jane H. Chartier of Wilson. More ...

NC Wesleyan announces fall academic honor lists
North Carolina Wesleyan has announced its 2010 fall academic honor lists. To be eligible for inclusion on the President's Honor List, a student must have carried a minimum of 12 semester hours and maintained a 3.75 grade point average, while those on the President's List must have maintained a 3.25 GPA. Students named to the Part-Time Student Honor List must have carried a minimum of six but fewer than twelve semester hours with at least a 3.75 GPA. More ...

NNHS Air Force JROTC exceeds standards during assessment
The Northern Nash High School Air Force Junior ROTC cadets and instructors earned an overall unit assessment score of "Exceeds Standards" during a recent unit inspection and evaluation. The Northern Nash High School cadets performed exceptionally well and have taken great pride in demonstrating leadership skills and in accomplishing unit goals. More ...

MOUNT ZION FWB CHURCH NEWS
We had 92 in attendance in Sunday school, in spite of several regular members being out sick. Ina Jones taught the lesson in my class. We had a wonderful study on servanthood. Jesus is the greatest servant of all, because He came to earth to go to the cross in obedience to His Father to die for our sins. Praise Him for His marvelous love for mankind. He taught His disciples and us how to be a servant and serve others and God. More ...
ROSALENE BASS
BEULAH COMMUNITY NEWS
Sunday school began at 9:45, Sunday morning, follow by preaching at 11:00. Everyone had heavy hearts and were missing Roger Parker who went to be with the Lord on February 14th, after a long, corageous, battle with cancer. It made our hearts glad, though, to know Roger was a faithful Christian and remained faithful through all his trials and suffering. Please keep Mary and the family in your prayers and may God comfort them.
More ...
WILMA ENROUGHTY
PEACHTREE COMMUNITY NEWS
Peachtree has a musical celebrity in its midst. On Saturday evening David Griffin performed at a special celebration at Shenandoah University, located in Winchester, Virginia. He was invited to whistle the National Anthem before the tip off at their basketball game. He and Lynn were there at the invitation of the Athletic Director, Dr. Wayne Edwards. Wonder where David's next performance will be? More ...
BARBARA HARDISON
EPHESUS NEWS
During Sunday's worship service we observed the 125th birthday of WMU NC with the Acteens and Women on Mission providing skits reminiscing all of the different missions that have come about over the decades to make WMU what it is today.
More ...
DEBBIE PHILLIPS
Tobacco farmers receive lesson on improving crop
Eleven Nash County young farmers recently took part in a week long NC State Tobacco Short Course in Raleigh. They included: David Askew, Allen Braswell, Bob Glover, Brent Manning, Greg Manning, Terry Mills, Timmy Mills, Nicholas Perry, Josh Robbins, Bob Wilson, and Crane Wood. More ...

Richardson named DSS employee of the month
The Nash County Department of Social Services named Pam Richardson its employee of the month for January 2011.
Richardson passed away on January 21, 2011.
"She was a wonderful person, always had a smile on her face and was never hesitant to help anyone. She was always one of the first to reach out to coworkers during their times of need," a nomination form for Richardson stated. More ...

Lakeshia Hunter is Director of Shaw University CAPE program
Ms. Lakeshia Hunter has returned to Rocky Mount to direct the Shaw University CAPE (Center for Alternative Programs in Education) an extension campus of Shaw University in Raleigh, NC. The Rocky Mount CAPE also serves the Greenville area, through the Greenville extension campus. More ...

Relay for Life News & Events
Live Auction: The Sixth Annual Relay for Life Live Auction will be held on March 12, 2011 at the Farmer's Market in Rocky Mount. Starts at 6 p.m. with a preview at 4:30 p.m. Lots of items to be auction off including a two night stay at the Sheraton in Morehead City, a 1 week Mountain vacation, Mudcats tickets, Rudy Theatre tickets, gift baskets, homemade cakes, & lots, lots more! More ...

No surgery is minor when it's your kid
Medical terms aren't that hard to understand.
Take surgery for example. There are major procedures and then there are minor procedures. Minor, also known as routine, procedures are those performed on other people. Surgery performed on you on your loved ones is major surgery. More ...
Mike Brantley
Letters to the editor policy
The Nashville Graphic encourages letters to the editor, especially those dealing with local issues and topics in a timely manner.
To be considered for publication, all letters must be signed by their authors and include the address and telephone number of the author for verification purposes. The names of all letter writers and their cities of residence will be published. More ...

I guess my motherly instincts will soon kick in
Well, I have almost three more months before my life forever changes and I must admit, I am starting to have mixed feelings about those changes.
Being pregnant brings about a ton of different emotions. There are days you want to sit in a corner and cry but there are other days you feel like laughing at everything. More ...
Amanda Clark
Backward Glances
We found this photo in our 1961 archives at The Graphic. Looks like it was time to pick strawberries. If you recognize anyone in the photo, give us a call at 459-7101.
More ...
A PICTORIAL LOOK INTO THE PAST
Nash County Animal Friends' Notebook: A Bit about Animal Rescue and more…
Nash County Animal Friends is not a rescue group. We are an animal advocate group for Nash County pets. Our mantra is Spay and Neuter. Our focus is to work on reducing the pet overpopulation problem by spay/neutering, in an effort to keep the pets out of the shelter. Also to increase the pet adoptions by individuals and rescues by other groups (from the Nash County Animal Shelter). Adoptions are best, but that is secondary to stopping the cycle of unwanted babies. More ...
Carol Vierela / Nash County Animal Friends

LET'S JUST PUT A WRAP ON THIS ONE. Nash Central's Quamale Person (top) completes a pinfall during last Saturday's action at the Class 3-A East Regional Individual Wrestling Tournament in Winterville.

Not As Expected
WINTERVILLE -- Following a best-ever semifinal performance in the Class 3-A State Dual Playoffs, the Nash Central Bulldogs seemed to have plenty of momentum heading into last weekend's regional action.
But the Bulldogs, in what has to be classified as a disappointment, had only two performers qualify for the states courtesy of Top Four finishes at the Class 3-A East Regionals, which were held at the South Central High School Gymnasium in Pitt County. More ...
GEOFF NEVILLE, Graphic Sportswriter

HORTON HANGS ON FOR NNHS. Northern Nash's Kris Horton (left) held on to pick up this victory and went on to finish second in his weight class at the Class 3-A East Region Wrestling Tournament last Saturday.

Superb Six For NN
WINTERVILLE -- Considering the lofty expectations he places on his program, Northern Nash wrestling coach Corey Mercer was less-than-thrilled when his Knights fell in the first round of the team portion of the Class 3-A State Playoffs.
Northern didn't necessarily get a favorable draw, either, and the Knights would have faced eventual champ Hillsborough Orange in the second round. More ...
GEOFF NEVILLE, Graphic Sportswriter

SEEKING UNIFORMITY. Southern Nash's Josh Connie (right) holds on to the uniform of his opponent during last Saturday's Class 3-A East Regional Wrestling Tournament at South Central High School.

SNHS Is Shut Out
WINTERVILLE -- Rare are the occasions when Southern Nash is unable to qualify a grappler for the Class 3-A State Wrestling Tournament.
But that's the scenario for the Firebirds this season as SN won't have a performer at the states, which will begin Thursday and run through Saturday at the Greensboro Coliseum in Guilford County. More ...
GEOFF NEVILLE, Graphic Sportswriter
Wrestling scheduled for states
GREENSBORO -- The Greensboro Coliseum will be the site this weekend for one of the largest single high school sporting events in the Southeast.
The North Carolina High School Athletic Association's annual state wrestling championships are scheduled for three days, starting Thursday night and running all day Friday and Saturday, bringing together over 600 of the state's best prep grapplers for competition over three days. More ...
Staff Reports

MEASURE OF INTENSITY. (L to R) Rocky Mount's J'Kyra Brown and a Northern Nash player attempt to gain possession during last Friday night's championship game of the annual Big East Conference Girls Basketball Tournament at the RMHS Gymnasium.

NN vs. RM -- Once Again
ROCKY MOUNT -- Rocky Mount had waited six years to host a conference basketball tournament and it made it pay off last Friday night.
The Gryphon squads pulled off a championship doubleheader over Northern Nash to claim Big East Conference Tournament titles. More ...
CHARLES ALSTON, Graphic Correspondent / Submitted photos by David Hahula
NC Wesleyan wins regular season crown
ROCKY MOUNT -- After 24 games played this season, North Carolina Wesleyan College's men's basketball team had seemingly all of its goals resting on game number 25.
When the Bishops hosted Ferrum College last Saturday, they knew that the USA South Regular Season Conference Championship, the right to be the No. 1 overall seed in the USAS Conference tournament this week and the opportunity to avenge the squad's only conference loss this season all hung in the balance. More ...
Staff Reports
NASH CO. PARKS & REC RESULTS
NASH COUNTY -- Here are updated results from the Nash County Parks and Recreation Department's Basketball and Indoor Soccer Leagues: More ...
Staff Reports
Hunting event slated in Nashville
ALEIGH -- The N.C. Wildlife Resources Commission has set the schedule for the annual Youth Hunter Education Skills Tournaments for 2011, with expectations for increased participation in the popular shooting sports events.
Nine district-level competitions will be held in March, with hundreds of middle school and high school students taking part. Winning teams will advance to a state championship tournament in April. More ...
Staff Reports
Nash clubs begin state playoffs
ROCKY MOUNT -- It just wasn't a good night for the varsity basketball teams from Currituck High School.
Both teams boarded a bus in the town of Barco and traveled to the Rocky Mount area Monday for a couple of opening-round NCHSAA 3-A State Playoff Games. More ...
CHARLES ALSTON, Graphic Correspondent / Submitted photos by David Hahula
East Carolina opens with a home sweep
GREENVILLE -- For the third straight game, the East Carolina University pitching staff held Youngstown State's bats in check as the Pirates completed the series sweep Sunday afternoon by blanking the Penguins 10-0 at Lewis Field inside Clark-LeClair Stadium. More ...
Staff Reports
TAKING CONTROL
Northern Nash High School's Kris Horton (top) earns two points during his match against South Central's Josh Ward as part of the annual Class 3-A East Regional Wrestling Tournament, which concluded last Saturday afternoon in Pitt County.
More ...

A HANDLE ON THINGS
Southern Nash's Yancey Medina (right) attempts to escape a hold during last Saturday's action at the Class 3-A East Regional Wrestling Tournament in Winterville.
More ...

Food for the Soul exhibit opens March 5 at Nash Arts
On Saturday, March 5, 2011, at 2 p.m., a new show opens at the Nash Art Center in Nashville featuring music-themed art work as well as a piano performance by Nancy Ping-Robbins. She has been showing her paintings in the Piedmont area of North Carolina since 2007, starting with a retrospective of sixty pieces at the Luna Bean Coffee Shop in Wilson. More ...

SHOWDOWN!
Nash County's Got Talent Showdown kicks off at 7 p.m. Thursday, February 24 at Nash Arts in downtown Nashville. Performers include Chris Chappell, Erin Strickland, Meredith Collins, Meredith & Christian Davis, Robert Leonard, Ronnie Ezzell, Travis Moss and UNEQ Image. Admission is $10.
More ...

ELLA LOUISE WOODRUFF PARKER
NASHVILLE - Ella Louise Woodruff Parker, age 63, passed away Monday, February 21, 2011. She was born August 05, 1947 in Nash County, the daughter of the late William Lonnie Woodruff and Annie Batchelor Woodruff. She was also preceded by daughter, Cynthia Dianne Woodruff; brother, Lonnie Lee Woodruff; and granddaughter, Leigh Ann Davis. More ...

SUSIE LORETTA COATS LANGLEY
Mrs. Susie Loretta Coats Langley, 90, passed away February 20, 2011. She was born in Columbia, South Carolina, on February 24, 1920. She lived in Nash County most of her life. More ...

JOSEPH WILLIAM DONOVAN, JR.
Joseph William Donovan, Jr, 58 passed away, Wednesday, February 16, 2011. He was born February 11, 1953 in Richmond, Virginia to the late Joseph Sr. and Mary Belle Ayers Donovan. More ...

GREGORY ALAN EDWARDS
Mr. Gregory Alan Edwards, age 62, of Rocky Mount, NC, died Friday, February 18, 2011. Born September 1, 1948 in Aurora, IL, he was a son of the late Richard Lawrence Edwards and Charlene May Peaks Edwards of Greenville. More ...

RANDY WILLIAM JOYNER
Randy William Joyner, age 54, passed away Thursday, February 17, 2011. He was born January 14, 1957, son of Louise Joyner Cockrell and the late William Gorham Joyner. He was also preceded by his brother, Kenneth Joyner.
More ...

DOROTHY TOLER HAWKINS
Dorothy Toler Hawkins, 93, passed away on Wednesday, February 16, 2011. She was born October 25, 1917 to Gertha Trull Toler and Benjamin Franklin Toler, Sr. More ...

PAULINE MARIE FOX
Pauline Marie Fox, 87, passed away Friday, February 18, 2011. She was born July 1, 1923 in Hancock County, Illinois. She was the daughter of the late Ernest Williams and Pearl Wooldridge Williams. She was preceded in death by her parents; the father of her daughters, Jack E. Castlebury and her second husband, John Fox. More ...

GERALD "JERRY" CRIMI
Gerald "Jerry" Crimi, 63, passed away Thursday, February 17, 2011. He was born July 31, 1947 in Akron, Ohio. He was the son of the late Nick Anthony and Anne DonVito Crimi. In addition to his parents he was preceded in death by his father-in-law, Rodney Harper, Sr. More ...

RICHARD JAY "DICK" KUNKEL
Richard Jay (Dick) Kunkel, born March 1, 1918, husband of Margaret Hodges Kunkel, passed away February 21, 2011. He was the son of Jay Dee Kunkel and Charlotte Rachel Kerstetter Kunkel of Sunbury, Pennsylvania. His family moved to Baltimore where he completed four years in Baltimore City College High School, graduating in 1935. He attended Maryland Institute College of Art for two years. On May 15, 1941 he was inducted into the U. S, Army and sent to Pine Camp, NY to join the Fourth Armored Division. More ...