Subscribe/Access
Advertisements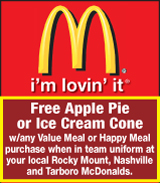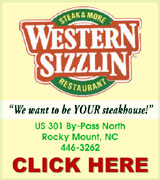 Sections
Member Options
Back
Town may revive old Glover Park
he Town of Nashville will apply for a grant this week that, if received, will pave the way for a new park in Nashville.
A special called meeting was held last Thursday night in order to hold a public hearing on the town's North Carolina Parks and Recreation Trust Fund (PART F) grant application for 2010-2011. More ...
Amanda Clark, Graphic Staff Writer
Nashville hopes to implement pay increases
The Town of Nashville will work towards implementing its pay plan study in the next budget year, Town Manager Preston Mitchell told council members during the board's annual retreat.
Nashville's Town Council approved funding for a classification and pay plan study during the board's retreat in January 2008. More ...
Amanda Clark, Graphic Staff Writer

Joseph M. Braswell

Braswell honored
Family and friends gathered at the Veterans Memorial at Jack Laughery Park last Monday morning to remember Pfc Joseph M. Braswell, who fought with the United States Army during World War II.
Braswell, who was born and raised in Castalia, was honored by the Joint Veteran Committee during the monthly flag raising at the Rocky Mount Park. More ...
Amanda Clark, Graphic Staff Writer
Local woman nailed for insurance fraud
A Nashville woman was among 10 individuals arrested and charged for their involvement in staging auto accidents to receive insurance money.
Insurance Commissioner Wayne Goodwin announced the staged auto accident ring during a press conference at the Nash County Sheriff's Office on Tuesday morning. More ...
Amanda Clark, Graphic Staff Writer
Man fakes deed to occupy local home
The Nash County Sheriff's Office is asking residents to be cautious of homes that have been foreclosed on after discovering a fake deed of trust on a Nashville home recently.
According to Captain Pat Joyner, of the Nash County Sheriff's Office, a man made a false deed of trust on a home on Jacqueline Drive in Nashville. More ...
Amanda Clark, Graphic Staff Writer
Citizens oppose poultry plant as commissioners consider lawsuit
Nash County Commissioners met in closed session with counsel Monday, January 24, to consider their legal options in a pending lawsuit regarding the proposed Sanderson Farms processing plant to be located on county-owned land on Hwy. 97. Meanwhile, more than 40 members of the public waited, using the time to voice concerns to the press about the plant, the lack of public imput, and allegations that accurate information regarding the issue was being withheld from the public. More ...
Amelia Harper, Graphic Correspondent
Downtown project is still on schedule
Nashville's Downtown Redevelopment Project is on schedule and Narron Contracting hopes to soon start replacing sidewalks in front of downtown businesses.
Van Narron, of Narron Contracting, met with downtown business owners last Thursday morning to provide an update on the project. More ...
Amanda Clark, Graphic Staff Writer
Nashville Opry is Saturday Night!
The 33rd Annual Nashville Opry will kick off at 6 p.m. Saturday night, January 29th. This year's event will be held at the Nash Arts Center in downtown Nashville. For full details and a schedule, see page 6-A of today's Graphic.
More ...

NASHVILLE POLICE BRIEFS
ARRESTS
Thomas Strewart McClain - 1/4/2011 - charged with assault by strangulation and assault on a female
Christian Hunter Sandridge - 1/3/2011 - charged with breaking and entering to an outbuilding, larceny and conspiracy
More ...

New DWI agency opens in Nashville
Martin DWI Services opened for business on Monday, January 24, 2011. Owner Rob Martin said the agency is licensed by the state of North Carolina to provide DWI substance abuse assessments and programs for those ordered to obtain them by the courts upon arrest or conviction for Driving While Impaired charges, or other substance abuse-related charges, such as possession of marijuana. More ...

Planning Board proposes changes that will affect poultry plant
The Nash County Planning Board met Tuesday, January 18, in order to review portions of the Unified Development Ordinance and to recommend changes to the County Commissioners. The move came in answer to litigation from the City of Wilson and 34 residents of Nash and Wilson counties and to concerns from others who oppose the Sanderson Farms project. More ...
Amelia Harper, Graphic Correspondent
Southern Nash Air Force Junior ROTC receives highest ranking
Southern Nash Air Force Junior ROTC was recently inspected by Colonel (US Air Force retired) Wade Williford, the HQ Air Force Junior ROTC Area Administrator 3. SNHS cadets earned the highest Air Force rating "Exceeds Standards". Additionally, Southern Nash cadets earned the highest rating in all categories in Cadet Operations. More ...

Fisher receives NC Soybean Producers Association award
RALEIGH - Bobby Joe Fisher received the North Carolina Soybean Producers Association's Meritorious Service award at the association's 44th annual meeting in New Bern on January 13, 2011. The award recognizes outstanding contributions to North Carolina Soybean Farmers. Fisher received the Meritorious Service award for outstanding leadership and service over the last two years as president of the North Carolina Soybean Producers Association. More ...

Carney to speak at Pregnancy Center's Celebrate Life Banquet
The Pregnancy Care Center Board of Directors has named Shawn Carney, Co-Founder of 40 Days for Life and the host of television show "Being Human," as the keynote speaker at this year's Pregnancy Care Center Celebrate Life Banquet.
The 2011 Celebrate Life Banquet will be held at Englewood Baptist Church on Thursday, February 17, 2011 at 7:00 p.m. Reservations are required and must be made by February 9, 2011. More ...

BIRTH ANNOUNCEMENT
Edward Nathaniel and Temsula Bass are proud to announce the birth of their daughter, Elianna Venitha Bass, born December 13, 2010 at Rex Hospital in Raleigh. She weighed 6 pounds, 11 ounces and was 19 1/2 inches long.
More ...

UNC-PENBROKE HONORS LIST
The University of North Carolina at Pembroke has announced its Chancellor's and Honors List for the 2010 Fall Semester.
Students are eligible for the Chancellor's List if they achieve a minimum semester quality point average of 3.7 while passing at least 12 semester hours of course work; none of the 12 hours may be Pass/Fail. More ...

NC STATE UNIVERSITY DEAN'S LIST
North Carolina State University Chancellor Randy Woodson announced that 6,905 undergraduate students earned Dean's List honors at NC State during the fall 2010 semester.
To make the Dean's List, students must earn an academic grade-point average of 3.25 or higher if they are carrying 15 or more hours of course work, or a 3.5 grade-point average if they are carrying 12 to 14 hours. More ...

BEULAH COMMUNITY NEWS
Sunday School began Sunday morning at 9:30 a.m. followed by church services at 11:00, at Beulah Church of Christ. Several of our members were not present due to medical problems. They sure were missed. Bell and Merritt Rose have both been a little "under the weather" this week. Keep them in your prayers. More ...
WILMA ENROUGHTY
MOUNT ZION FWB CHURCH NEWS
With all the sickness and different things going on, our Sunday school attendance was down to 86. We all enjoyed studying the Bible lesson together. Alex Marlowe read the Bible verse today. Our choir sang "Down in My Heart" for the call to worship. Hymns of worship were "Surely Goodness and Mercy" and "Blessed Be the Name". More ...
ROSALENE BASS
PEACHTREE COMMUNITY NEWS
The weather on Sunday morning was sunny and beautiful, but still freezing cold. Many Peachtree folks stayed home from church suffering from colds and other viruses. Pastor Whitehouse preached his concluding sermon relating to the nativity. This sermon was titled, "Not Made by Man". It was based on scripture from Isaiah 7:14 and Matthew 1:23. These verses tell of the prophecy and the reality of the "Virgin Birth" of God's Son. More ...
BARBARA HARDISON
RED OAK NEWS
Join us at Red Oak Baptist Church on Sunday, Jan. 30 for Baptist Men's Day! The day will begin with a breakfast for the men and boys at 8:30 AM followed by men teaching the Sunday School classes and leading the morning worship service. The Men's Choir will also provide special music. More ...
SUZY PEARCE

Sykes (far right) with student Emory New (far left).

Cancer survivor visits Nashville Elementary
Emory New, a fifth grader in Lottie Ennis' 5th grade class at Nashville Elementary, gave me a call one day and wanted to know if she could interview me. She and her class had to do a report on someone who had survived something. This report could be written about anyone throughout history, known personally by the student or not, who was a survivor. I was honored to be chosen by Emory for this class project. More ...
CONTRIBUTED BY DEBBIE SYKES
EPHESUS NEWS
The Ephesus Annual Chili Cook-off was a great success with 18 entries. First place winner was Randy Burnette, second place was Pastor David Eidson, and third place was Kim May. Dr. Tom May was the winner of the hottest chili. A special thank you to our judges, Student Pastor Dan Crumley, Todd Faulkner, Pastor Elizabeth Polk, and Mike Ward. Student Pastor Dan Crumley read our message in Word from Acts 2:40-47. More ...
DEBBIE PHILLIPS
Relay for Life News & Events
Cancer Awareness Ribbons Magnet: Huntin' For A Cure's team is selling 4 inch Cancer Awareness Ribbons Magnets. Please contact Casey @ 252-578-5700 or caseyyandle@gmail.com or Jennifer @ 252-578-1688 or jenniferyandle@gmail.com for a list of available ribbons. More ...

Nash Community College grads saluted
NASHVILLE -- Nash Community College is pleased to announce its January 2011 Emergency Medical Services EMT and Paramedic graduates. According to the Bureau of Labor Statistics, the job outlook for emergency medical technicians and paramedics is expected to increase between now and 2018 as a result of higher call volume due to an aging population, an increase in time required for each patient and an increase in specializing hospitals resulting in more patient transport. More ...
Staff Reports
NASH COMMUNITY COLLEGE EMT CLASS GRADUATES FOR JANUARY, 2011
Front Row (L-R): Megan Webb of Rocky Mount, Lora Cascell of Battleboro, Christopher Hendricks of Rocky Mount, Jennifer Wilson of Middlesex, Ashley Shook of Spring Hope, Richard "Alex" Wester of Rocky Mount and Olivia Moss, Instructor. Back Row (L-R): Matthew Hinton of Middlesex, Kenneth Rains of Nashville, John Blankenship of Louisburg, Lorenzo Celaya of Bailey and Joshua Garris of Whitakers. Not pictured: Heather Henderson of Rocky Mount.
More ...

NASH COMMUNITY COLLEGE PARAMEDIC CLASS GRADUATES FOR JANUARY, 2011
Front Row (L-R): Patricia Ojala of Tarboro, Connie Ezzell of Rocky Mount, Amanda Jones of Rocky Mount, Amber Barfield of Littleton, Amanda Hill of Micro, Patricia Campbell of Fremont and Chris Bullock of Tarboro. Back Row (L-R): Christopher Pettigrew of Sharpsburg, Gene Wooten of Fountain, Jaimie Dyke of Spring Hope, Brandon Holloman of Nashville, Brad Jackson of Tarboro, Tina Bailey of Nashville, Stephanie Blalock of Sims and Jason Smith of Nashville.
More ...

Pivotal moments drawing near for Nash
Two very different headlines in the news – one reaching back to late last year, one from last week –will prove to be pivotal moments in the direction of Nash County. And both will reach a conclusion of some kind in just a few short months.
One item, a story which broke seemingly out of nowhere last year, is the potential locating of a poultry processing plant in the county, by industry giant Sanderson Farms. More ...
Mike Brantley
It's Opry time in Nashville!
Well, January is coming to a close which can only mean one thing; It's time for Nashville's annual Opry!
This year's Opry will be different from year's past because the Opry will be held at Nash Arts.
There are several reasons for the change in venue and I won't get into all the boring details but the bottom line is, moving the Opry to Nash Arts will, in my opinion, make it a much better experience for all involved. I hope you all will come out and see for yourself. More ...
Amanda Clark
Make your voice be heard – call your elected officials
Here we are in a new year and our elected officials, all of them, have started the new year on a sour note. What are you talking about?, you might say. I'm talking about the "don't ask, don't tell" policy on same-sex marriage. More ...
Letter to the Editor:
Backward Glances
Kathryn Abernethy (left) took third place honors in a fashion event on the Peggy Man Television Show in 1961. Mary Lewis Beal was selected as one of the eight finalists. Twenty girls representing 10 school competed. Kathryn and Mary Lewis made their outfits in home economics under the supervision of Mrs. Ruth Perry.
More ...
A PICTORIAL LOOK INTO THE PAST
YOU are the SOLUTION – DREAM IT!
I once heard it said "Dream Big or Go Home." We have a lot of dreams for the pets of Nash County. We dream of the day where there will be no unwanted pets. We know some dreams are unrealistic, but we can achieve a portion of the dream. We can spay and neuter every companion pet (cats and dogs), so that their puppies/kittens won't become a statistic. We can find loving homes for some adoptable pets. But how do we go about achieving the dream? More ...
Carol Vierela / Nash County Animal Friends' Notebook

BOARD WORK. Nash Central's Destiny Lackner (50) tries to gain a rebound during the Lady Trojans' home victory Monday against West Edgecombe.

TROJANS TRAP WEMS
NASHVILLE -- Nash Central Middle School's home girls basketball victory Monday against West Edgecombe was definitely an inside job.
With a size advantage in the paint, the Lady Trojans consistently pounded the ball for quality scoring opportunities -- and they were rewarded in consistent fashion. More ...
GEOFF NEVILLE, Graphic Sportswriter

ENTRY PASS. Nash Central's Kysheem Mitchell (left) defends a pass into the paint during the Trojans' home victory Monday against W. Edgecombe.

Nash Central Surges
NASHVILLE -- Nash Central Middle School's solid 2010-11 boys basketball season continued Monday with a quality home decision against the West Edgecombe Warriors.
Already ahead by 13 points at intermission, Nash Central continued to pull away in the second half en route to posting a 63-39 victory over the Warriors at the NCMS Gymnasium. More ...
GEOFF NEVILLE, Graphic Sportswriter
Wesleyan will open on Feb. 6
ROCKY MOUNT -- With a roster filled with Nash County standouts, the North Carolina Wesleyan Battling Bishops will begin their 2011 men's baseball schedule with a home doubleheader on Feb. 6 against Eastern Mennonite.
NCWC's complete ledger for the campaign is as follows (home games are listed in CAPS): More ...
Staff Reports
Central continues amazing swim season
ROCKY MOUNT -- After a one-meet hiatus, the Nash Central Lady Bulldogs returned to the top of the Big East Conference swim standings during the latest league meet last Thursday at the Harrison Family YMCA.
Central, which has dropped just once conference event during the 2010-11 season, piled up 158 points to surge past Wilson Fike, which took the No. 2 position at 124 points. More ...
Staff Reports
Self-defense classes held
NASH COUNTY -- Through Nash County Parks & Recreation, Young Champions of America teaches self- defense classes.
The Young Champions of America is a national organization offering low-cost, high-quality martial art instruction to children ages 4 to 18 through local towns, schools and organizations.  More ...
Staff Reports
Nash Central boys defeat Hunt
ROCKY MOUNT -- Southern Nash's boys have pulled of two of them this season, but last Friday night it was Nash Central's turn.
The upset bug was alive and well in the Bulldogs' gym as they concocted a 56-40 basketball victory over Big East leader Wilson Hunt. Hunt came into the contest with an unblemished 3-0 record. The Bulldogs are now a half-game out of the top spot (2-1, 8-5 overall). More ...
CHARLES ALSTON, Graphic Correspondent / Submitted photos by David Hahula
NHL All-Star events planned
RALEIGH -- The following is a public schedule of events for the 2011 NHL All-Star Weekend, January 28-30 in Raleigh.
All times are local (ET) and subject to change. More ...
Staff Reports
Globetrotters coming to Raleigh
RALEIGH -- Hot on the heels of the most successful year in franchise history, the legendary Harlem Globetrotters will celebrate their 85th consecutive season when their dazzling 2011 "4 Times the Fun" World Tour stops in Raleigh, showcasing the wholesome family entertainment that has provided lifetime memories for generations of fans. More ...
Staff Reports
BERNICE MARSHBURN HUNTER
Rocky Mount - Bernice Marshburn Hunter, 86, died January 16, 2011. Funeral services were Sunday, January 22, 2011 at Stokes Mortuary Chapel at 2:00 pm. Burial was at Gardens of Gethsemane. Viewing/visitation was Friday, January 21, 2011 from 3 to 7 p.m.
More ...

MARY "JOYCE" HARRIS TETTERTON
Rocky Mount -Mary "Joyce" Harris Tetterton passed away on January 20, 2011. She was preceded in death by her parents, George Richard Harris and Annie King Harris of Pitt County. She was born on April 10, 1936 in the Belvoir Community of Pitt County. She was married to the late Delmer Clinton (D.C.) Tetterton of Pantego, son of the late Eva and David Tetterton. More ...

DANIEL LEE POPE
Spring Hope - Mr. Daniel Lee Pope, 71, of Spring Hope, died on Wednesday, January 19, 2011, at Somserset Court in Rocky Mount.
More ...

WILLIE EDWARD BATTLE, JR.
Rocky Mount - Willie Edward Battle, Jr died January 17, 2011. Funeral services were on Friday, January 21 at 2:00 pm at North End Missionary Baptist Church. Rev. Elbert Lee officiating. Burial was at Gardens of Gethsemane. Viewing was one hour prior to funeral services.
More ...

ROBIN FARMER EDWARDS
Robin Farmer Edwards, 53, passed away, Saturday, January 22, 2011. She was born October 24, 1957 in Richmond, Virginia. She is the daughter of the late Elvin and Christine Shiflette Farmer. More ...

WILLIAM ANDREW "BUDDY" COLEY
William Andrew "Buddy" Coley, 88, passed away, January 21, 2011. He was born June 6, 1922 in Nash County, son of Minnie Register Coley and William Andrew Coley Sr. Buddy was predeceased by his parents, his wife Lillie Mae Barnes Coley and eldest son, William A. "Bill" Coley III. More ...

MARIE MOORE TYSON
ROCKY MOUNT – Marie Moore Tyson, age 72, passed away Saturday, January 22, 2011 at Nash General Hospital. She was born in Johnston County on April 18, 1938, one of 15 children of the late Lawrence Hoyt Moore and Cindy Lee Moore. More ...

FREDDIE LORENZA HARVEY
Freddie Lorenza Harvey, native of Nash County, passed away January 23, 2011. He is the son of the late Sallie and Alfonza Harvey. More ...