Subscribe/Access
Advertisements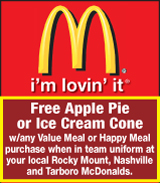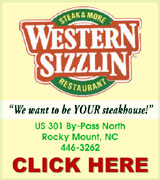 Sections
Member Options
Back
Castalia faces planning board seat conflict
Castalia needs two more members on its planning board, but filling the empty slots is not proving easy. The openings are due to the fact that Clarence Bender, Jr. and Deborah Sjoberg, who were originally appointed to the positions, have declined to serve. More ...
Amelia Harper, Graphic Correspondent

Tiny Tim (Cannon Puckett) and Bob Cratchit (Nelson Moore) prepare for a scene in "A Christmas Carol" which starts December 2nd at Nash Arts.

Christmas in Nash County
Nash County residents should have no problem getting in the Christmas spirit this weekend, as several holiday events are scheduled between Thursday and Sunday.
On Thursday night, Nash Arts' 10th annual presentation of "A Christmas Carol" will begin with shows on December 2, 3 and 4 and 9, 10 and 11. Shows will begin each night at 8 p.m. More ...

Man with local ties faces federal charges
A Greensboro man with Nashville ties has been indicted on 20 federal charges of wire fraud and money laundering.
James Whitley, 65, was indicted on September 15.
According to the indictment, Whitley solicited investors who lived on Bald Head Island, in the Greensboro area and elsewhere from December 2006 to around July 2009. More ...
Amanda Clark, Graphic Staff Writer
POP Clinic makes first visit to Nashville
A mobile spay/neuter clinic made its way to Nashville last Saturday and performed around 30 surgeries before heading back to its home base in Chapel Hill.
This was the first time the Pet Overpopulation Patrol, or POP-NC, has made its way to Nash County. The organization came at the request of the newly formed Nash County Animal Friends and plans to make regular stops in 2011. More ...
Amanda Clark, Graphic Staff Writer

100 YEARS – Alvarata Thomas holds a framed letter sent by President Barack Obama and First Lady Michelle Obama congratulating her on her 100th birthday. North Carolina Governor Beverly Perdue also sent Thomas a special framed certificate.

Alvarata Thomas celebrates 100 years
No matter how hard you try, you just can't surprise Alvarata Thomas. But that didn't stop friends and family from trying on Saturday.
Thomas celebrated her 100th birthday on November 26 and on Saturday, November 27, Castalia Missionary Baptist Church held a surprise party for Thomas. More ...
Amanda Clark, Graphic Staff Writer
Sand Witches To Go opens in Nashville
A Red Oak family has opened a sandwich shop in Downtown Nashville.
The Nashville Chamber of Commerce sponsored a ribbon cutting for Sand Witches To Go on Monday morning. This is the third week the restaurant has been open. More ...
Amanda Clark, Graphic Staff Writer
Nash Animal Shelter to hold Adopt-a-Thon
The Nash County Animal Shelter will hold its second Adopt-a-Thon next Wednesday, December 8 from 1 until 7 p.m.
The Adopt-a-Thon encourages adopters to have their pets spayed or neutered by reimbursing the $20 adoption fee if the adopters bring back proof the animal has been spayed or neutered. More ...

HONORING VETERANS
Each year, Rocky Mount Academy stays in school on Veteran's Day and honors all veterans for their service to our country. At 11:11 AM, students joined the nation in a moment of silence. Pictured above are some of the veterans who attended this year's annual celebration. Many are parents or grandparents of current RMA students.
More ...

Castalia faces sewer dilemma
Castalia citizens may soon be able to gain sewer services—but at a great price, Castalia commissioners learned this month. The Castalia Town Board convened in a special called meeting on Thursday, November 18 in order to hear a preliminary sewer study report presented by Mark Russell of the Mack Gay Associates, who conducted the study. Dennis Patton of the Upper Coastal Plains Council of Government was also in attendance. More ...
Amelia Harper, Graphic Correspondent
COLLEGE DAY
College Application Day was held at Northern Nash High School on November 17th. Counselors and college representatives met with students to help them complete their college applications. The goal of College Application Day is to get more students to apply to college. More ...

A Boys & Girls Club Thanksgiving in Nashville
Smithfields Chicken 'n Bar-BQ fed a Thanksgiving meal to the Nashville's Boys and Girls Club on Tuesday, November 23. Pictured are Boys and Girls Club members with Smithfield's staff. Youth enjoyed chicken, french fries, hush puppies and sweet tea. This is the second year Smithfields has fed the Boys and Girls Club for Thanksgiving.
More ...

EPHESUS NEWS
On Sunday, Nov. 21, our service began with the baptism of Mike Bauer; Todd, Kim, Rachel, and Marcie Bissette; and Debbie Peace.
This past Sunday, our service included testimonies by the Tar River Haiti Mission Team from their trip in October, sharing how people in a disastrous situation are reaching out for God's love. More ...
DEBBIE PHILLIPS
BEULAH COMMUNITY NEWS
I hope everyone had a really great Thanksgiving and I also hope you were able to visit with a lot of family and friends. At my house we were really blessed with food and twenty five family members shared it with us. We had two family members absent. One grandson, A.J. Andrews was sick and one granddaughter, Amanda Enroughty is in the marines, and stationed in Afganistan. More ...
WILMA ENROUGHTY
Ebenezer to celebrate 75 years
Ebenezer Pentecostal Holiness Church in Nashville will celebrate 75 years this Sunday, December 5.
The name Ebenezer means 'a rock of hope' and continues to be the driving force of mission for the church. A place of 'Hope' for whosoever will come. More ...

TURKEY GIVEAWAY
On Sunday, November 21, 2010 at the LOVE Church in Rocky Mount, Dr. Bernard Grant passed out free Thanksgiving Turkeys to over 25 families. Each family was given a Free Turkey and then served a hot Thanksgiving Day Dinner. Dr. Grant's mission at the LOVE Church is to Show forth the Love of Christ to each and every one that enters the doors.
More ...

MOUNT ZION FWB CHURCH NEWS
There were 108 present for Sunday school today. Eleven of those were visitors. Praise God for all 108. I would like to believe that some of those visitors are potential Sunday school members. Three of them were my daughter-in-law's grandsons, who live in Tennessee and I know they won't be members any time in the near future. More ...
ROSALENE BASS
DAUGHTERS OF THE AMERICAN REVOLUTION
The DAR Micajah Pettaway Chapter met November 16, 2010, 10:00 A. M. for a coffee hour in Doubletree Inn Motel. After Regent Toni Wade welcomed everyone, she introduced her guest, Lisa Wade Stout.
Often Regent Toni Wade has attended Southern Nash High School ROTC Awards Programs to give out awards. She introduced CMSgt Scott Wedding, a ROTC instructor at Southern Nash. More ...
DEE LONG
PEACHTREE COMMUNITY NEWS
On the first Sunday in Advent, the candle of HOPE was lit by Beth Baines. The Advent scripture was read by Marta Whitehouse and Ann Browder. This is also the beginning of the Week of Prayer for International Missions. Pastor Whitehouse chose as his sermon topic, "God's Plan of Salvation" based on Genesis 3:15.
More ...
BARBARA HARDISON
RED OAK NEWS
Members and leaders of Girls in Action and Children in Action had an exciting time together on Saturday, Nov. 20 at the North Roanoke Baptist Association office in Dortches as they packed "red boxes" for the ladies at Fountain Correctional Center in Rocky Mount.
More ...
SUZY PEARCE
Thanksgiving Food Drive
The Student Government Association at Southern Nash Middle School collected non-perishable items from December 12-19th. This is the 3rd year the school has held a Thanksgiving Food Drive. This year they collected over 2,300 food items and it was all donated to Faith Christian Ministries in Nashville.
More ...

Missing out on dangerous toys of the past
It is inevitable every year, about the time you get tired of Thanksgiving leftovers, the Dangerous Toy News begins.
You know how it goes: some kid, some where, usually the one in the neighborhood who is known for licking wet paint or repeatedly getting foreign objects stuck up his nose, does something, uh, less than intelligent. You know, like eating the head off his little sister's baby doll or trying to take his handheld video game into the bath tub. More ...
Mike Brantley
"Tis the Season!
Well it's December 1st and that means I still have at least two weeks before I need to start my Christmas shopping. It also means I have at least two weeks to get myself into the Christmas spirit and with everything going on around here in the coming weeks, I shouldn't have any trouble. More ...
Amanda Clark
Backward Glances
This photo was originally published in The Graphic November 20, 1958. Personnel of the County Agricultural Stabilization and Conservation office and members of the County ASC Committee received a citation and a $25 check from the State ASC Committee and U.S. Department of Agriculture.
More ...
A PICTORIAL LOOK INTO THE PAST
Save some pets! Join us for dinner!
Join us, the Nash County Animal Friends, for Dinner and a Chat on Thursday, December 2 at 6 p.m., Langley's Town & County Restaurant in Nashville. We will be discussing how we can make a difference and save some pets. In 2009, there were 222 companion animals killed at the Nash County Animal Shelter. 1,580 cats and 1,084 dogs DIED. More ...
Letters to the Editor:
Commissioner thanks District Six
Thanks to you the newspaper for sticking to the issues in the November election for District six. I want to thank the people in the District for your support in the election. With the encouragement and support of the people of the District we won a very close election. It was a clean run campaign and I want to thank Doug for this. More ...
Letters to the Editor:

CAN I GET SOME ADVICE HERE? Northern Nash's Kendal Hamilton looks to Head Coach Corey Mercer for assistance during a match against Jacksonville as part of last Tuesday's action at the NNHS Wrestling Duals.

EARLY GAINS FOR NN
RED OAK -- Northern Nash began one of its most-anticipated wrestling seasons in school history a bit shorthanded last Tuesday.
But even without four starters -- who are part of the Knights' football team -- NNHS was still able to excel against some tough competition at the annual Northern Nash Duals at the NN Gymnasium. More ...
GEOFF NEVILLE, Graphic Sportswriter
Warriors Edge NNHS -- Again
WILSON -- Northern Nash saw its dream football season come to an end last Friday night as a last-minute comeback effort fell short in a third round 14-7 NCHSAA 3-A State Pplayoff loss to Wilson Hunt before some 3,000 fans at Warrior Stadium.
Hunt (12-2), the No. 1 seed and co-champion of the Big East with Northern (10-4), advanced to the East finals and will host Northern Guilford, which topped 35-10 to make it to the fourth round. It's the Warriors' first trip to the regional finals since 2004. More ...
CHARLES ALSTON, Graphic Correspondent
Nash Co. will play Saturday
MEBANE -- The Nash County Firebirds will continue defense of their state championship with a road semifinal matchup this Saturday against Mebane in the Statewide Athletics Committee Youth Football Tournament.
Kickoff is scheduled for 1 p.m. at the Eastern Alamance High School Football Stadium. Mebane is located between Hillsborough and Burlington -- not far off Interstate 85. More ...
Staff Reports
HIGH SCHOOL GRID SCORES
NASH COUNTY -- Listed are last Friday's results and this week's semifinal pairings for the North Carolina High School Athletic Association's State Football Playoffs: More ...
Staff Reports
Explosion Takes Tourney
WILSON -- The WYSA Wilson Explosion U15 Boys Soccer Club went undefeated while winning the championship of the Capitol Fall Classic tournament in Richmond, Virginia two weekends ago.
The Explosion team consists of players from Wilson and Nash Counties. More ...
Staff Reports
Battling Bishops split games in Virginia
WINCHESTER, VA. --Behind the hot shooting of junior Matt Dougherty, the men's basketball team of North Carolina Wesleyan College managed a two-game split at this weekend's 3rd Annual Southern Shootout hosted by Shenandoah University.
Dougherty poured in a career-high 31 points in last Saturday's 91-87 double overtime win over Mary Washington. More ...
Staff Reports
Lady Bulldogs win initial swim contest
ROCKY MOUNT -- Nash Central High School's girls swim squad kick off its 2010-11 season in style by winning the team crown at the first Big East Conference Meet last Monday afternoon at the Harrison Family YMCA.
The Lady Bulldogs racked up 101 points to best long-time powerhouse Wilson Fike (89). Rounding out the girls standings were Wilson Hunt (61), Rocky Mount (23), Northern Nash (18) and Southern Nash (14). More ...
Staff Reports
'Skate With The Canes' event is scheduled
RALEIGH -- Doug Warf, Senior Director of Marketing for the Carolina Hurricanes and Executive Director of the Kids 'N Community Foundation, has announced that tickets for the annual "Skate with the Canes" are on sale.
"Skate with the Canes" will take place Dec. 30 from 6:00-8:30 p.m. More ...
Staff Reports
ESCAPE NEEDED
Northern Nash's Xavier Anistead (right) tries to get out of the hold of a Jacksonvillle High School wrestler during action at last Tuesday n ight's Northern Nash Duals in Red Oak.
More ...

GAME ACTION
Northern Nash's T.J. Marshal tries to escape several defenders during the Knights' road loss at Wilson Hunt last Friday in the third round of the Class 3-AA State Football Playoffs. The contest was played in front of a huge crowd at Warrior Field.
More ...


Daniel Steinert

Cherry Hill concert set for Sunday, December 5
A mixture of light classics and seasonal jazz music will be featured in concert at 3 p.m. Sunday, Dec. 5 at historic Cherry Hill in the Warren County community of Inez.
Pianist Daniel Steinert will be returning for the fourth year in a row and will be joined by the husband-wife team of Brian Koser, soprano and saxophonist and his wife, Pamela, a soprano. It will be the Kosers third visit to Cherry Hill. More ...

WILLIAM JARMAN "BILLY" WILLIAMS
NASHVILLE - William Jarman Williams, 54, passed away, Thursday, November 25, 2010. He was born on December 2, 1955, in Nash County. Billy was the son of the late Earl and Rebecca Stallings Williams. He is preceded in death by his brothers Tim and Joe Williams. More ...

DEBRA BROWN HINES
ROCKY MOUNT - Debra Brown Hines, 57, of Washington, DC, and formerly of Rocky Mount, died on Monday, November 22, 2010, at United Medical Center in Washington, DC. More ...

REGINALD LAVON COOPER
Rocky Mount - Reginald Lavon Cooper, 43, of Lancaster, SC, and formerly of Rocky Mount, died on November 28, 2010 at his residence. More ...

A few notes from NPD Chief
Who thinks about the children? Our children are being killed at an alarming rate. All too often, AFTER one is killed, people come forth telling of abuse and neglect that they've seen or knew about. Who cares – parents, family, friends, neighbors, law enforcement, medical, DSS? Who cares enough or does enough to protect them? Do the names Shaniya Davis and Zahra Baker mean anything to you? More ...
Bill Creech, Nashville Chief of Police
ELY "EJ" TUCKER JR.
ROCKY MOUNT - Ely "EJ" Tucker Jr., 71, passed away, Monday, November 22, 2010. He was born November 19, 1939 in Nash County. He was the son of the late Ely Tucker Sr. and Zeffie Mitchell Tucker. EJ is preceded in death by his son James Tucker and three brothers; Bud, Steve, and Curtis Tucker.
More ...

WALTER "LEE" ROGERS
Walter "Lee" Rogers passed away on November 18, 2010 at the Britthaven Nursing Facility in Louisburg. He was born to the late Fred Rogers, Jr. and Rubie W. Rogers. Along with his parents, Rogers was preceded in death by his sisters, Christine Rogers and Dorothy Rawley. More ...

WILLIE HARRISON
ROCKY MOUNT - Willie Harrison, 72, of Rocky Mount, North Carolina, died on Tuesday, November 16, 2010 at his residence. More ...

MARY CAUDLE
ROCKY MOUNT - Mary "Boot" Caudle, 78, of Rocky Mount, North Carolina, died on Saturday, November 20, 2010, at Nash General Hospital. More ...

BARBARA ANN CAMPBELL
ROCKY MOUNT - Barbara Ann Campbell, 70, of Rocky Mount, NC, died on November 27, 2010 at Moses Cone Hospital in Greensboro. More ...

RONNIE EDWARD DRIVER, SR.
Ronnie Edward Driver, Sr. CET. age 88 passed away Saturday, November 27, 2010. He was born in Wilson County August 21, 1922 to the late Nathan and Addie Taylor Driver. More ...

JOHN "LIL MAN" BATTLE
NASHVILLE - Funeral services for John "Lil Man" Battle, 61, who died Saturday, Nov. 27, 2010, will be Saturday, Dec. 4 at 12 p.m., at St. John Missionary Baptist Church. Burial will follow in Oakland Cemetery with Rev. Herbert Scott officiating. More ...

ELIJAH RUFUS HOUSE, JR.
Elijah Rufus House, Jr., 55, of Bailey, passed away Sunday, November 28, 2010 in his home. He was born August 19, 1955 in Nash County. He was preceded in death by father, Elijah Rufus House, Sr. More ...

PATRICK "PAT" MANN
WHITAKERS - Funeral services for Patrick "Pat" Mann, 52, who died Saturday, Nov. 27, 2010 will be Friday, Dec. 3, at 1 p.m. at the Richardson Funeral Home Chapel. Burial will follow in Swift Creek Church Cemetery with Rev. Melvin Johnson officiating. More ...

GENSIE M. LYNCH
WHITAKERS - Funeral services for Gensie M. Lynch, 88, who died Thursday, Nov. 25, 2010 will be today (Wednesday, Dec. 1) at 2 p.m. at Pine Chapel Baptist Church. Burial will follow in Pine Chapel Memorial Gardens Cemetery with Rev. Robert Hedgepeth officiating. More ...

WILLIAM F. SPENCER
FRANKLINTON - Funeral services for William F. Spencer, 85, who died Monday, Nov. 22, 2010 will be Saturday, Dec. 4 at 2 p.m. at Faith Missionary Baptist Church. Burial will follow at Faith Baptist Church Cemetery with Rev. Kelvin Gregory Hall officiating. More ...