Subscribe/Access
Advertisements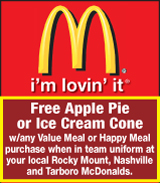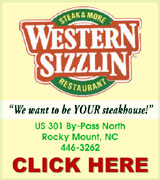 Sections
Member Options
Back

GRAND CHAMPION – Four-year-old Blair Batchelor displays her Grand Champion Ribbon she brought home from the NC State Fair.

Batchelor's pig wins Grand Champion
A four-year-old Nashville girl had the grand champion barrow at the NC State Fair recently, with her barrow, or pig, beating out about 100 others from all over the state.
Blair Batchelor not only brought home the grand champion ribbon but also brought home a $12,500 check after Harris Teeter purchased her pig. Batchelor's pig was the highest selling pig in the history of the NC State Fair. More ...
Amanda Clark, Graphic Staff Writer
Vigil planned for Red Oak Middle student
A vigil will be held for a Red Oak Middle School student who was injured during football practice in September.
Terry Pittman, an eighth grader at the school, was injured after he was hit during football practice on Monday, September 20. He fractured two vertebrae and has spinal damage. Pittman is still at Pitt County Memorial Hospital, where he continues to improve every day. More ...
Amanda Clark, Graphic Staff Writer
Swindell cleared of recent fines
A filing penalty issued to Senator A.B. Swindell by the NC State Board of Elections has been rescinded after the proper documentation was provided by Swindell's Treasurer.
The NC Board of Elections sent Swindell a letter notifying him of a penalty assessment in the amount of $500 for failing to report contributions to his campaign within the required 48-hour time period. Swindell received five separate contributions, totalling $10,000, on April 20 and May 3, 2010, according to the NC State Board of Elections. More ...
Amanda Clark, Graphic Staff Writer - 2 opinions posted
Downtown work begins November 8
Downtown Nashville will begin its transformation on November 8, when construction for the town's Downtown Redevelopment Project is set to begin.
Downtown business owners met with representatives from Narron Contracting last week to discuss how construction would progress through the holidays. Van Narron told business owners that there would be disruption to businesses during construction but that they would try to make it as minimal as possible. More ...
Amanda Clark, Graphic Staff Writer
Nash County Senior Center earns national accreditation
The Nash County Senior Center, or the NASH, recently became the third center in the State of North Carolina to receive national accreditation.
The National Senior Center Accreditation Program recognizes senior centers who have met the nine standards developed for excellence. Each of the standards serve as a guide for all senior centers to improve their operations and position themselves for the future. More ...
Amanda Clark, Graphic Staff Writer
Jones shares cancer story
Barbara Jones was diagnosed with breast cancer after her annual mammogram in October 1991. The disease would have otherwise gone undiagnosed had Jones not scheduled her yearly appointment.
Jones said when the doctor first called her after her mammogram, she didn't worry any. She said she hadn't had any of the signs that typically identify breast cancer. More ...
Amanda Clark, Graphic Staff Writer
CHARM VISITS LOWES FOODS
Youth from the Christian Homeschoolers Association of Rocky Mount, or CHARM, visited Lowes Foods in Nashville on September 23 to learn about the different types of food and visited each department in the store. Pictured above, Front End Manager of Lowes Bobbie Smith shows the youth the different types of fruits and vegetables during their visit.
More ...

LEGION VISIT
The 4th District of the NC American Legion met for business and fellowship on September 25 in Nashville. The meeting was hosted by Nashville Legion Post 293. During the meeting, "Walkin" Willie Taylor gave a presentation on what he was doing to bring attention and contributions to the American Legion. Post 293 Auxiliary provided the lunch.
More ...

Heritage Association gives to RMHS
The Rocky Mount High School Heritage Association has made a contribution of over $2,000 to the high school, it was announced today by Principal Leondus Farrow, Jr.
The organization was formed to highlight and celebrate contributions made by Rocky Mount High alumni, faculty and staff in the fields of government, business, sports, arts and sciences, and community investment. More ...

Nash Community College hires full-time grant writer
Nash Community College's Office of Institutional Advancement has named its first full-time grant writer. Annie Mayo began serving in the position in October. She will support Nash Community College by preparing and submitting grant applications for local, regional and national funding. More ...

POST OFFICE VISIT
Cub Scout Pack 76 Wolf Den visited the Nashville Post Office recently. Pictured on the front row, left to right, are Austin Harper, Austin Harrell, Brent Measamer, Aaron Dornseif. Back row: Trey Barker, Nashville Postmaster George Humphreys, Zak Bozelle and Whitaker Bennett. (Contributed photo)
More ...

BIRTH ANNOUNCEMENT
Charles and Jessica Shearin of Nashville are proud to announce the birth of their daughter, Layla Corinne Shearin, born July 6, 2010 at Nash General Hospital in Rocky Mount. She weighed 8 pounds 14 ounces and was 21 inches long.
Maternal grandparents are Deborah and Edward Brice of Wapwallopen, Pa., and Kenny and Anne Pierce of Nashville. More ...

Nash County youth receives L.R. Harrill 4-H scholarship
Students from across the state have received 4-H scholarships from the North Carolina 4-H Foundation to attend institutions of higher learning. During the recent State 4-H Congress held in Raleigh, the foundation awarded more than $78,000 in new scholarships. The total amount of 4-H scholarships awarded this year, including renewable scholarships, amounts to more than $130,000. More ...

Howell receives Eaglescout
Ryan "Matthew" Howell received the Eagle Scout Award recently. Howell, 18, of Greensboro is a member of Troop 68 of Jamestown and is sponsored by Jamestown Presbyterian Church. Howell has held the Assistant Senior Patrol Leader, Instructor, Troop Guide, Patrol Leader, Bugler, Den Chief, Chaplain's Aide positions while a scout. More ...

Live United
Ginny Mohrbutter, Director of the United Way, visits Nash Community College's Betsy B. Currin Child Development Center for a United Way campaign kickoff activity with a coloring lesson on how the United Way helps people in our community "Live United."
More ...

Red Oak News
Congratulations to George and Marilyn Boone on the recent birth of their twin grandchildren, Gretchen Elizabeth and Griffin Dean Boone! Parents are Fred and Ashley Boone.
The Adult 1-A Sunday School Class of Red Oak Baptist Church held a BBQ Sandwich sale on Saturday, Oct. 23. The class raised over $1100! All funds will be used to help families at Thanksgiving and Christmas. More ...
SUZY PEARCE
Ephesus News
Sunday morning service began with a special treat as Children's Choir members, Grace Crumley and Abby Legg, sang "I Am A Promise."
Student Pastor Dan Crumley read our scripture from John 6:59-71 which tells the story of disciples deserting Jesus. Pastor David Eidson's message from that scripture was "Will You Turn Away".
More ...
DEBBIE PHILLIPS
Beulah News
Sunday morning we had another great service at Beulah Church of Christ. Again, we missed Roger and Mary Parker, Darwell, Billy and Libba Daniels, Carolean Hyde, Jack Outlaw and others that I am sure I failed to mention. We were very glad to have Chris and Bre Matchem back with us after having some health problems and being out last Sunday. We were glad to have Gwen Hedgepeth and Mary Jane May visiting with us. More ...
WILMA ENROUGHTY
Mt. Zion FWB Church News
The Fall Festival Oct. 23 was a great success. Many children were present to enjoy the fun and good time. Robert and Amy Tyner were the chairman and co-chairman of this event. With the help of several other adults it was a success. We believe this is a good choice over Halloween. More ...
ROSALENE BASS
Peachtree Community News
For the past two Sundays, Pastor Whitehouse preached on the topic, "Connecting Life-the Eternal and the Temporal". It was based on Scripture from Ephesians 1:15-23. He said that the more time we spend with God, in prayer and Bible Study and trusting Him through life, the more your knowledge of Him will increase. The choir sang "Take My Life, Lead Me Lord." More ...
BARBARA HARDISON
Local representatives speak at Retired School Personnel meeting
The Edgecombe-Nash Retired School Personnel met at Braswell Memorial Library on October 12, 2010. President Laurette Lewis welcomed everyone to the meeting and acknowledged new members. Mary Williams, Vice President, read the devotion, "Not the Bible but the TV Guide" based on Proverbs 4:13. More ...
DEE LONG
BIRDHOUSE DONATION
Jennifer Assaff (center), the events manager from Raleigh for the Foundation for Fighting Blindness, received a bluebird house from Rocky Mount Kiwanis president Jon Wiggs (far right) and program chair Betsy Boddie (far left) at the October 14 luncheon meeting. Assaff discussed the various retina diseases, and promoted the 20th Western Classic and Barbecue fundraiser scheduled for October 23 from 3:00-8:00 p.m. at Rose Hill Conference Center.
More ...

MILITARY NEWS
Brown
Navy Seaman Bradly D. Brown, son of Cheryl A. and Reggie D. Brown of Rocky Mount, recently completed U.S. Navy basic training at Recruit Training Command, Great Lakes, Ill. More ...

Nashville's B&G Club goes swimming
On Friday, October 15, members of the Nashville Boys and Girls Club celebrated a Nash County Teacher workday by having a pool and pizza party at the Country Inn and Suites located on English Road in Rocky Mount. Pictured, Jazmon Mills relaxes in the pool.
More ...

Dr. Parrott receives Distinguished Service Award
Nash Community College President Emeritus Dr. J. Reid Parrott, Jr. will receive the 2010 Distinguished Service Award from the East Carolina University Alumni Association on Friday, October 22, 2010.
Dr. Parrott earned his Bachelor of Science degree in Social Studies in 1960 and Master of Arts degree in Education with a minor in History in 1962, both from East Carolina University.
More ...

NRMS, NCC host second annual Career and Technical Education open house
Over 800 eighth through twelfth grade students and parents attended the Second Annual Nash-Rocky Mount Public Schools and Nash Community College Career & Technical Education Open House at Nash Community College on October 7, 2010.
Eighty-six tables represented Nash-Rocky Mount Public Schools' classes, Nash Community College programs and other educational and business partners. More ...

No excuses folks! Get out and vote!
Finally, throughout all this bitter campaign season, there is at last one principle, one item, that Democrats, Republicans, Conservatives, Liberals, Libertarians, et al, can agree on – the most important aspect of democracy takes place next Tuesday.
It's Election Day. More ...
Mike Brantley - 2 opinions posted
We have to put a stop to childhood bullying
When I was a little girl, just entering elementary school, I had my first experience with bullying. It wasn't my last.
Yep, I was just a tiny little thing and an older kid kept pinching me and pulling my hair. I don't recall all the details but I know I went home with bruises on my arm. It was enough to upset my dad, who spoke with the principal soon after. She talked to this older girl and the physical bullying stopped. But the verbal bullying never did. I was terrified of this girl. Even as an adult working in a grocery store, when I saw this girl walk in, I cringed. More ...
Amanda Clark
Help us help Nash County animals
The Nash County Animal Friends would like for you to have our t-shirt. With only a $20 donation, we will give you a tee silkscreened with a nice dog/cat/heart design. We have purple, olive green and navy shirts in all sizes. We will use the donations to help us achieve our goal of being able to have the Nash County Animal Shelter open on Saturdays.
More ...
Letters to the Editor:
Still fighting to stop gas chamber
I first want to start off by saying I am not with any animal rights group concerning this situation. I am a concerned Nash County resident who along with many others in Nash, am appalled at the lack of compassion our county officials have for these poor animals there. More ...
Letters to the Editor:
Backward Glances
This photo was originally published in the May 14, 1970 edition of The Nashville Graphic. These students from Swift Creek High School won second place in the district judging contest held in Williamston and were eligible to participate in the state judging event at North Carolina State University. The team also won first place in the Nash-Edgecombe Federation Dairy Judging Contest.
More ...
A PICTORIAL LOOK INTO THE PAST

IN HOT PURSUIT. Southern Nash's Tristan Stallings (left) lunges for the ball along with teammate Luis Lewis (16) during last Wednesday's road matchup at Nash Central. In the middle is Central's Olsen Bunn (8).

FINAL PUSH FOR SN
ROCKY MOUNT -- With fourth place in the league and a state playoff spot already clinched for the Southern Nash Firebirds, it appeared as if Coach John Matthews' club had little to play for during last Wednesday afternoon's regular season boys soccer finale at Nash Central.
Central was celebrating its Senior Night, and the Bulldogs certainly wasn't to make the moment a grand occasion. More ...
GEOFF NEVILLE, Graphic Sportswriter

DOUBLE THE FUN. A pair of Southern Nash Middle School defenders team up to make a tackle during the Cobras' home victory Thursday afternoon against the Red Oak Tigers at Firebird Stadium on the campus of Southern Nash High School.

Cobras Put Clutches On RO
STANHOPE -- In theory, the 'Nash County Championship' is a mythical entity that is only part of a bigger picture as the county's middle schools tangle with area opponents on the football field.
Trying telling that to the Nash schools that compete against each other on that level. More ...
GEOFF NEVILLE, Graphic Sportswriter
Regionals staged in Nashville
NASHVILLE -- Inclement weather wasn't about to rain on the parade at the Class 1/2/3-A East Regional Girls Golf Tournament, which was held Monday at Birchwood Country Club.
A total of 70 competitors from 26 high schools took part in the event. More ...
Staff Reports
Volleyball season ends in Nash County
NASH COUNTY -- Nash County's volleyball teams had a limited run in the North Carolina High School Athletic Association Class 3-A State Playoffs as all three teams that qualified fell in first-round play last Saturday afternoon.
Big East Conference regular season champion Rocky Mount, the only one of the three county teams playing at home, had the best chance of winning as it took on Havelock, the No, 5 seed from the Coastal Conference to five games. More ...
CHARLES ALSTON, Graphic Correspondent
NCC hosts golf tourney
NASHVILLE -- The Twenty-First Annual Nash Community College Foundation Student Scholarship Golf Classic was held at Birchwood Country Club in Nashville on October 7, with 148 golfers participating.
The tournament raised over $29,000 for student scholarships. More ...
Staff Reports
Wesleyan picks up road win
MARYVILLE, TENN. -- North Carolina Wesleyan College's football team bounced back from last week's disappointing league loss to CNU with a 34-16 USA South road victory at Maryville College last Saturday, ruining the Scots' 2010 Homecoming.
The win leaves the Blue & Gold with a 4-3 overall record and 3-1 mark in conference action. More ...
Staff Reports
Knights edge Central
RED OAK -- By all accounts, Nash Central should have never been in the Big East Conference contest at Northern Nash last Friday night.
After all, the Knights had a solid 23-13 lead on the Bulldogs going into the fourth quarter.
But Nash Central rallied and sent the game into overtime at 23-all. More ...
CHARLES ALSTON, Graphic Correspondent
Nash County remains unbeaten
ROCKY MOUNT -- This past Saturday, the Nash County Parks & Recreation Firebirds varsity team traveled to Nash Central High School to challenge Rocky Mount at The Dawg Pound in Eastern North Carolina Football League action.
Nash County kept its unbeaten varsity campaign alive with a convincing 33-8 victory. More ...
Staff Reports
AROUND END
Red Oak's Anthony Silver takes the ball on a sweep play for the Tigers during their road loss last Wednesday at Southern Nash in Nash County middle school football action.
More ...

Nash Arts welcomes Will West home
Following are events scheduled at Nash Arts this fall. The center is located at 100 East Washington Street, downtown Nashville.
For additional information or tickets, call 252-459-4734.
Nash County's Got Talent Finals
Thursday November 4th & Friday November 5th at 7 p.m. $15 (2) day pass / $10 (1) day pass
More ...

"We The People" opens at Wesleyan
The Four Sisters Gallery of Self-Taught Visionary Art is a world-class unique collection of American Art. The artists who have made these curiosities have had no art training and have chosen for personal reasons to express their thoughts, their faith, their hopes and fears in various and often unconventional media. More ...

Billy Farmer exhibition starts Nov. 5
The Mims Gallery at NC Wesleyan's Dunn Center welcomes Billy Farmer back for an encore painting exhibition. Opening Friday, November 5, 7-9 p.m. with a party reception for the artist with refreshments and with the live jazz-light classical piano stylings of Butch El-Ramey, this exhibition will feature new watercolor and acrylic paintings by Farmer. More ...

Wesleyan student's solo art on display
Wesleyan Junior, Aaron Casteel has a solo art exhibition at the college's Dunn Center Civic Gallery. Casteel spent three years at Methodist College studying studio art before transferring to Wesleyan College. The assigned work in the Methodist art program is much like other art programs, but what distinguishes Casteel's artwork is his problem-solving vision and craftsmanship in handling his media. More ...

JIMMY BAKER, SR.
ROCKY MOUNT - Jimmy Baker, Sr., 71, passed away, Monday, October 18, 2010. He was the son of the late, Luther and Mattie Pridgen Baker. He was preceded in death by his wife Inez Baker, an infant baby girl Baker and three brothers, Albert, Dock and Shine Baker. More ...

SUSAN BEARD BUNN
Susan Beard Bunn, 63, passed away, Tuesday October 19, 2010. She was born March 14, 1947 in Rocky Mount. Susan was the daughter of the late John L. Beard and Myrtle R. Beard. More ...

WALTER BUNYON BOSWELL
ROCKY MOUNT - Mr. Walter Bunyon Boswell, age 83 passed away on Saturday, October 23, 2010, surrounded by the love of his family. He was born March 17, 1927 in Wilson County. More ...

ROY HICKS JR.
ROCKY MOUNT - Roy Hicks, Jr., 84, passed away, Saturday, October 23, 2010. He was born July 21, 1926 in New Hanover County. Roy was preceded in death by three sons, Johnny, Mike and Gary Hicks, two brothers, Sam and Norman Hicks, two sisters, Maggie Stallings and Annie Tanner. More ...

NATHANIEL WAYNE HINES
LOUISBURG - Nathaniel Wayne Hines, 26, passed away, October 20, 2010. He was born March 3, 1984 in Wake County, NC. More ...

EDITH HALE MOORE
CASTALIA - Edith Hale Moore, 83, passed away, Thursday, October 21, 2010. She was born July 30, 1927 in Franklin County. Edith was the daughter of the late, Lawrence Aaron and Annie Let Faulkner Hale.
More ...

MILDRED LANCASTER SHARPE
ROCKY MOUNT - Mrs. Mildred Lancaster Sharpe, 74, of Rocky Mount, North Carolina, died on Wednesday, October 20, 2010, at Nash General Hospital in Rocky Mount, NC. More ...

JOHNNY SMITH
BATTLEBORO - Mr. Johnny Smith, 80, of Battleboro, NC, died on Wednesday, October 20, 2010 at Guardian Care in Rocky Mount, NC. More ...

GEORGE WILDER
ROCKY MOUNT - Mr. George Wilder, 62, of Rocky Mount, departed this life on Friday, October 15, 2010 at Nash General Hospital in Rocky Mount, NC. More ...

RICHARD LEE DANCY
BATTLEBORO - Mr. Richard Lee Dancy, 50, of Battleboro, North Carolina, died on Friday, October 22, 2010, at his residence. More ...