Subscribe/Access
Advertisements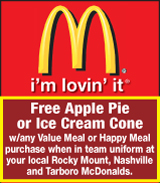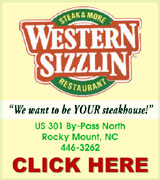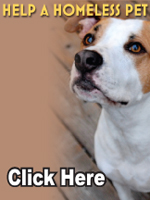 Sections
Member Options
Back
County kicks off Breast Cancer Month
Local women will share their experiences with breast cancer during a special poster campaign that starts this weekend.
Posters will be unveiled on Saturday, October 2 at Golden East Crossing Mall in Rocky Mount showcasing the 25 women featured in the campaign. More ...
Amanda Clark, Graphic Staff Writer
Newton files lawsuit against A.B. Swindell
E.S. "Buck" Newton, who is running against Senator A.B. Swindell for the District 11 Senate seat, has filed a defamation lawsuit against the senator, his re-election campaign and the NC Democratic Party.
The action was taken on Thursday afternoon following a press conference on the Wilson County Courthouse steps. More ...
Amanda Clark, Graphic Staff Writer

Suzane Weaver was named the Nash Rocky Mount Public Schools Teacher of the Year at a ceremony held last Tuesday at Rose Hill. Weaver is a music teacher at Red Oak and Swift Creek Elementary Schools.

Suzanne Weaver is NRMPS Teacher of Year
Suzanne Weaver is still in disbelief.
A week after being named the 2010-2011 Nash-Rocky Mount Public Schools Teacher of the Year, Weaver said the news is finally starting to sink in. More ...
Amanda Clark, Graphic Staff Writer
Rice hangs up his mailbag
Nashville's first letter carrier has hung up his mailbag.
Ronnie Rice, who has served as a carrier in Nashville for almost 40 years, will officially retire from the United States Postal Service on October 3. More ...
Amanda Clark, Graphic Staff Writer
Downtown project moves forward
Nashville's Town Council will likely issue a notice to proceed for the town's Downtown Redevelopment Project on Thursday during a special called meeting.
During a meeting last week among downtown business owners, Nashville Planning Director Gene Foxworth said prices for construction were almost finalized and once that was done, Nashville's Town Council could move forward with issuing the notice to proceed. More ...
Amanda Clark, Graphic Staff Writer
Hinton turns 100 years old
Terrific genes and a strong faith are two of the things Louise Hinton attributes to her mother-in-law's long, fulfilling life. At 100 years old, Mildred Hinton feels blessed.
Mildred celebrates her 100th birthday today at Breckendridge Retirement Center in Rocky Mount, where she has been since April 2009. More ...
Amanda Clark, Graphic Staff Writer
Health Department to partner with Library
The Nash County Health Department is partnering with the Town of Nashville Harold D. Cooley Library to bring free, valuable information for the citizens of Nashville and Nash County. All presenters are Health Educators with the Nash County Health Department. More ...


STUDENTS OF THE WEEK – High school seniors Nelson Moore (left) of Nash Central and William Smith (right) of Southern Nash were honored Sept. 23 as Students-of-the-Week by Rocky Mount Kiwanis Club.

Kiwanis honors local students
Danielle Cone of Southern Nash High School and Will Bass of Nash Central high School spoke to Rocky Mount Kiwanis Club on Thursday, Sept. 16, as honored Students-of-the-Week.
High school seniors Nelson Moore of Nash Central and William Smith of Southern Nash were honored Sept. 23 as Students-of-the-Week by Rocky Mount Kiwanis Club. More ...

Local Girl Scout receives Silver Award
North Carolina Coastal Pines has awarded Courtenay Paige Wells of Rocky Mount the Girl Scout Silver Award, which is the second highest achievement in Girl Scouting. This award symbolizes outstanding accomplishments and a commitment to excellence, and helps girls build skills, explore careers, gain leadership skills, and make a commitment to self-improvement. More ...

ENGAGED
Mike and Judy Bunn of Rocky Mount and Ronnie Cockrell of Castalia announce the engagement of their daughter, Shannon Nicole Cockrell of Holly Springs to Jeffrey Wayne Joyner of Raleigh, the son of Wayne and Frances Joyner of Rocky Mount. The wedding will take place Saturday, Nov. 6, 2010 at Living Faith Fellowship, in Rocky Mount.
More ...

Red Oak News
Several from Red Oak Baptist Church attended the North Roanoke Baptist Association Fall Meeting was held on Tuesday, Sept. 21 at Benvenue Baptist Church. Rev. Roy Porter called the meeting to order. The Community Choir with members from Oakdale, Proctor's Chapel, and West Edgecombe churches provided the music for the call to worship. More ...
SUZY PEARCE
Mt. Zion FWB Church News
We had 107 in Sunday school today and good attendance for Home coming. The pretty fall flowers were provided by the Woman's Auxiliary. Thank you. Bob Watkins requested prayer for his neighbor, Jerry Davis, who has been moved from Nash General to Duke. More ...
ROSALENE BASS
Military News
Navy Seaman Apprentice Montreal D. Taylor, son of Patricia A. Hales of Rocky Mount and Alex J. Taylor, of Temple, Ga., recently completed U.S. Navy basic training at Recruit Training Command, Great Lakes, Ill. More ...

Ephesus News
On Sunday morning, special music was provided by Ephesus Praise Band members, Dalton Barrett, Will Bolt, and Jordan Hagler, as they played and sang "Oh Happy Day".
Student Pastor Dan Crumley read our scripture from John 6:15-25. Pastor David Eidson's message was "Where is Jesus During the Storm?"
More ...
DEBBIE PHILLIPS
Beulah News
Important Announcement - Mark your calendar - This Friday night is the monthly fish fry at the Beulah Church of Christ Annex on Reges Rd. It begins at 5 p.m. and ends at 8 p.m. We look forward to seeing a big turn-out again this time. Last month was one of the largest we ever had. Thank all of you for your continued support and fellowship. More ...
WILMA ENROUGHTY
Who's hanging out with Elmo these days?
To put it like many of their guest stars would, "What the [expletive] was Sesame Street thinking?"
There was quite an uproar last week when Katie Perry, a well-known pop music star, made her appearance on the long-running children's television show, Sesame Street. It seems the disturbance was over the fact that Perry was wearing less than your typical prostitute, but to me, there was a larger issue at hand – pun intended. More ...
Mike Brantley
When did October get here?
It's hard to believe October is just a few days away. Wasn't yesterday August? Where did September go?
Nonetheless, whether you like it or not, October is here to stay, at least for 31 days.
Since it is almost October, we should start seeing signs of Christmas pretty soon. Stores are starting to put up decorations earlier and earlier so this year, I fully expect to see a Santa in a store window in October, probably right next to a goblin or ghoul for Halloween. More ...
Amanda Clark
NCASF can help you adopt from the shelter
Do You Want to Adopt a Pet? We Can Help.
Have you thought about adopting from the Nash County Animal Shelter, but since they are only open Mon-Fri, 1-4 p.m. for adoptions, you just can't get there? Well, we have the solution. More ...
Letters to the Editor:
There are benefits from Health Care Reform
There is understandably a lot of confusion and misinformation about Health Care Reform. Whether one agrees or disagrees with the Reform Bill, here is what is important to many people in our community: (a) we will no longer have to worry about being denied insurance coverage because of a pre-existing condition. More ...
Letters to the Editor:
Animals should not be used for entertainment purposes
I just want to say what a shame it is that our own local fair hires this sort of "entertainment." They are just sending the message that it's ok for people to profit from the abuse and torture of animals used for so called "entertainment". Most, if not all these animals are "trained" by using methods of such intense cruelty. More ...
LETTERS
Smear campaign won't change our minds
Senator Swindell, you have shown the voters your true colors.
You have blatantly distributed a story to the voters that is misleading and can be proven to be so. It is also very insulting to most of us that you feel we will believe this story and blindly go to the polls and place our votes for you. More ...
LETTERS
Backward Glances
Lucius Evans (right) congratulates the two winners in a model contest sponsored by Western Auto Associate Store in 1959. Gus Griffin (left) won first place with his model of the sailing ship, "Flying Cloud," and Larry High, Jr. was the second place winner with his model of an Army missile mounted on a truck. This photo was originally published in The Graphic July 30, 1959.
More ...
A PICTORIAL LOOK INTO THE PAST

BELL BREAKS AWAY. Nashville Hornets' junior varsity running back Kendrick Bell (with ball) heads off to a big gainer during last Saturday's road football game versus the North Edgecombe Little Warriors.

A Nashville Trifecta
LEGGETT -- Undefeated and on fire -- that's the story so far this season for the Nashville Hornets' junior varsity squad.
The Hornets have opened their 2010 campaign with a trio of consecutive victories against Eastern North Carolina Football League opponents. More ...
GEOFF NEVILLE, Graphic Sportswriter

BATTED DOWN. A North Edgecombe defender (right) knocks away a pass intended for Nashville's Zach Langley (44) in the end zone during last Saturday afternoon's varsity football game on the North Edgecombe High School campus in Leggett.

Nashville Edged By Warriors
LEGGETT -- The Nashville Hornets proved to be a scrappy bunch during their varsity matchup last Saturday afternoon against the Little Warriors from North Edgecombe.
But it didn't translate into a victory, as the Hornets were defeated for the third consecutive week in Eastern North Carolina Football League action. More ...
GEOFF NEVILLE, Graphic Sportswriter
Central surging on court
ROCKY MOUNT -- The surging Nash Central High School girls tennis squad took two matches last week, defeating Big East Conference rivals Southern Nash (9-0) and Rocky Mount (6-3).
Here are the results from those matches: More ...
Staff Reports

TWO AGAINST ONE. Northern Nash's Dara Robinson (right) attempts a kill over Bunn's Missy Kanuck (l) and Sara Green (center) during last Wednesday evening's high school volleyball event at the Bunn Dome.

Bunn Sweeps NNHS
BUNN -- Northern Nash stepped briefly out its Big East Conference volleyball schedule last Monday for a road toughie against an always-strong Bunn High School program.
Once again, BHS head coach Henry Jones has put together a solid contingent, but the Lady Knights were competitive in the match for the most part before eventually falling in three games at the Bunn Dome. More ...
GEOFF NEVILLE, Graphic Sportswriter
Wesleyan takes high-scoring shootout
RED OAK -- North Carolina Wesleyan College's football squad earned its first win of the 2010 season last Saturday afternoon, using two interception returns for touchdowns to down LaGrange College by a 35-24 at the Northern Nash Football Complex. More ...
Staff Reports

GIVING CHASE. Several Nash Central defenders try to track down Bunn quarterback Andre Davis (with ball) during last Friday night's non-conference football game at The Dawg Pound in Rocky Mount.

Wildcats Pull Away Late
ROCKY MOUNT -- Just like its previous game against Oxford Webb two weeks ago, Bunn saved its best for last during a non-league football showdown last Friday at Nash Central.
Versus Oxford Webb, the Wildcats collected the final 35 points of the outing en route to a pullaway victory. More ...
Staff Reports
Central spikers take on area squads
ROCKY MOUNT -- Nash Central High School volleyball was up and down in last week's matches.
On Monday, the Bulldogs went out of conference and won against a woeful Hertford County team. Tuesday they returned to Big East Conference play and got a win over Southern Nash, but then lost to league power Rocky Mount on Thursday. More ...
KENT WHEELESS, Graphic Correspondent
NNHS rolls past Raiders
RED OAK -- Everyone is happy in Death Valley, except Northern Nash's opponents.
The Knights won their third straight contest Friday night by beating visiting Southern Vance 49-14 to move to 4-2 on the season going into its bye week. More ...
CHARLES ALSTON, Graphic Correspondent
NCMS a football winner by forfeit
NASHVILLE -- The Nash Central Middle Trojans football team did not come out the way they were hoping in their home opener last Thursday afternoon.
The Trojans lost 26-16 to the Elm City Vikings as they could not get things together after a sluggish start. More ...
Staff Reports
QUENCHING HIS THIRST
It was a hot day for football last Saturday, as the Nashville Hornets took on North Edgecombe in 95-degree weather in Eastern North Carolina Football League action. Nashville's Austin Luttrell is shown taking a water break during the junior varsity game.
More ...

Nash Arts to award grassroot funds
Nash Arts is now accepting applications for Grassroots Arts Grant for fiscal year 2010-2011. The Grassroots Arts Program is state-funded through the North Carolina General Assembly and allotted through the North Carolina Arts Council to counties based on population. More ...

ELSIE SWANSON SYKES
NASHVILLE - Elsie Sykes passed away Thursday, September 23, 2010. Elsie was born on March 10, 1924 in Franklin County daughter of the late Walter and Geneva Swanson. More ...

NANNORA "PAT" SMITH
NASHVILLE - Funeral services for Nannora "Pat" Smith, 61, who died on Tuesday, Sept. 21, 2010 were Saturday, Sept. 25 at 3 p.m. at Mt. Vernon Baptist Church. Burial followed at Oakland Cemetery with Rev. Tyrone Jones officiating. More ...

THEODORE PIERCE
NASHVILLE - Funeral services for Theodore Pierce, 89, who died Sept. 20, 2010, were Sunday, Sept. 26 at 1 p.m. at St. John Baptist Church. Burial followed at New St. John Cemetery with Rev. Herbert Scott officiating. More ...

ELLA MAE WILLIAMS
ROCKY MOUNT – Mrs. Ella Mae Williams, 80, of Rocky Mount, passed away on Saturday, September 18, 2010, at her residence. More ...

EMOGENE SHERROD MURRAY
Emogene Sherrod Murray, 74, passed away Wednesday, September 22, 2010. She was born June 4, 1936 in Nash County. Emogene was the daughter of the late, Jimmy D. and Alma B. Lamm Sherrod. Emogene was preceded in death by her husband, James Ray Murray, son, Jimmie "Pete" Summerlin and step-daughter, Sheila Brown. More ...

ANTOINETTE BATTLE
ROCKY MOUNT - Antoinette Battle, died September 21, 2010. Funeral Services were Monday, September 27, 2010 at Church of Good Shepherd, 3:00 p.m. with the Rev. Beverly Huck officiating. Burial was at Northeastern Cemetery. Visitation was Sunday at Church of Epiphany from 4-7pm. Arrangements by Stokes Mortuary, Inc.
More ...

SIDNEY RANDOLPH COCKRELL
ROCKY MOUNT - Sidney Randolph Cockrell, 77, passed away, Wednesday, September 22, 2010. He was born April 27, 1933 in Nash County. He was the son of the late Sidney and Sallie Pridgen Cockrell. More ...

EDNA HOUSTON
Ms. Edna Houston, 78, of Warsaw, North Carolina, died on Monday, September 20, 2010 at Glen Care Health Center in Warsaw, North Carolina. More ...