Subscribe/Access
Advertisements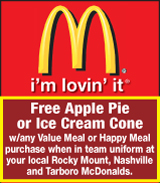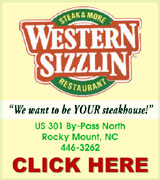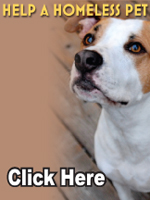 Sections
Member Options
Back
Board accepts low bidder for downtown project
Nashville's Town Council accepted Narron Contracting out of Middlesex as the low bidder for the town's Downtown Redevelopment Project at its meeting on Tuesday night. Nashville's Town Council will now have to officially award the contract to Narron before the project can move forward.
Bids were unsealed on Thursday, August 26, with six contractors placing bids. More ...
Amanda Clark, Graphic Staff Writer
County delays EMS project
Nash County Commissioners have delayed awarding a contract for a new Emergency Medical Services Building on the Nash Health Care campus.
Commissioners voted 4-3 on Tuesday during the board's regular meeting to delay the project and instead asked County Manager Bob Murphy and EMS Director Brian Brantley to review other, less expensive options. More ...
Amanda Clark, Graphic Staff Writer
County welcomes new Senior Center Coordinator
Christy Southall, a Rocky Mount native and Louisburg resident, is the new Senior Center Coordinator for the Nash County Senior Center.
Southall's first day was last Wednesday, September 1. More ...
Amanda Clark, Graphic Staff Writer
Red Oak sewer project nears completion
"The sewer project is going great," Mayor Alfred Wester announced at Monday night's regular business meeting for the Town of Red Oak. "It looks like construction is ahead of schedule."
The installation of the sewer lines is slated to be completed by February of 2011. However, if the weather holds, Mayor Wester hopes to see the project completed by the end of the year. More ...
Amelia Harper, Graphic Correspondent

Pictured is a rendering of what the proposed Women's Center at Nash Health Care will look like. The facility is expected to be complete in late 2013. (Contributed rendering)

Nash Health to build new ER, Women's and Heart Center
Nash Health Care is moving forward with addressing its top three needs.
A year ago, a strategic plan was unveiled that laid out nine needs, categorized into priorities. The urgent priorities included emergency services, cardiology and neonatology. A study was done to determine whether it would be better to build a larger hospital on site, off site or whether to expand onto the current one. More ...
Amanda Clark, Graphic Staff Writer
Former player writes book on retired coach
LOUISBURG -- Such are the limitless boundaries of J. Enid Drake's influence that a young boy he once displayed compassion toward — albeit almost 50 years ago — would return one day to become the print caretaker of Drake's magical life story. More ...
GEOFF NEVILLE, Graphic Sportswriter
New support groups available at NHC
Nash Health Care has launched two new support groups that will have their debut meetings in September: a lymphedema support group and a pregnancy loss support group.
Lymphedema is a condition that is caused by a blockage in the lymphatic system, which is an important part of the body's immune and circularly system. More ...

Solis Auto Body opens behind LBJ
Nashville's Chamber of Commerce welcomed Hernando Solis to town last week at a ribbon cutting for his business, Solis Auto Body and Collision.
Solis opened the auto body shop on May 27 behind LBJ Chevrolet at 100 Industrial Drive. More ...
Amanda Clark, Graphic Staff Writer

Smith

Nash men charged with vandalizing mailboxes
Two Nash County men were charged with vandalizing at least 10 mailboxes in a subdivision outside of Rocky Mount.
Owen Bernice Smith, 22, of Elm City and Evan Marquis Tyler, 23, of Rocky Mount, were both charged with vandalizing mailboxes in the Hunter Ridge Subdivision as well as damaging property at Union Missionary Baptist Church. More ...

Nash receives grant
Senator A.B. Swindell announced recently that Nash County will receive a grant of $780,000 from the North Carolina Department of Commerce's Division of Community Assistance. This Community Development Block Grant (CDBG) will be used for community revitalization off of West NC Highway 97 in the Mamie Lane Community. More ...

Donation
The Woodmen of the World, a Fraternal Organization who donates to non-profit organizations, donated $ 500 to The Stony Creek Volunteer Fire Department and Rescue Squad recently. This donation will be used to update equipment for its Search and Recovery Dive Team.
More ...

POOL TIME
Cooper Nelms gets ready to take a shot during a pool tournament at the Nash County Senior Center. The center held a men's pool tournament on last month and will have an Open Men's Pool Tournament on September 10, open to senior men from Nash and neighboring counties.
More ...

Criminal Justice Camp
The Nash County Sheriff's Office sponsored a Criminal Justice Camp in early August as part of 4-H camps this summer. As part of the camp, youth visited the Nash County Jail, Southern Police Canine and had a visit from the BAT Mobile, along with many other events. More ...

ENGAGED
Craig and Valerie Harper of Spring Hope announce the engagement of their daughter, Lauren Sue Harper, to Matthew Ryan Wester, the son of Brent and Leighann Wester of Rocky Mount. The wedding will take place on January 1, 2011 at Fellowship Church, Nashville.
More ...

Cox is reappointed to NC Medical Care Commission
Governor Bev Perdue announces the reappointment of Gerald P. Cox, of Rocky Mount to the North Carolina Medical Care Commission.
Gerald P. Cox, graduate of Morganton High School, he earned his degree in Business Administration from Kings College, Charlotte, NC. Cox is President and CEO of Autumn Corporation, which owns and operates skilled nursing and rehab facilities in North Carolina and Virginia, with over 3,000 employees.
More ...

SCHOLARSHIPS
West Mount Ruritan Club presents scholarships to Amanda Cobb, Hinson Neville, Ashley Cobb, Catherine Cobb, and Jamie Morris at their annual Veterans Day Celebration.
More ...

N.A.S.H. raises funds for autism awareness
Nearly 200 riders gathered their horses and camping equipment and headed to the Brinkleyville Hunting Club to participate in a 12-mile trail ride complete with a bag lunch to raise awareness of autism. The trail ride was sponsored by N.A.S.H. (Nash Autism Seeking Hope). The riders and horses came from all areas of North Carolina and some from as far as Virginia to raise funds for autism awareness. More ...

Peachtree Community News
On Sunday morning Peachtree Church folks were privileged to have Dr. Bill Wakefield return to fill its pulpit for the day. He led the worship hour. Accompaning him were his wife, Delcie. Their son, Dr. Phillip Wakefield and his wife, Jeannie and two of their children, Amy and Nathan came to report on their work in Indonesia. More ...
BARBARA HARDISON
Ephesus News
Our service began with the baptism of Becca Anderson, Rebecca Arnold, and Cynthia Carroll.
Special music was provided by Sarah Alford and Andrew Myers, with a song that they composed together, "The Cross."
Flowers for our service were given by Kitty, Josh, and Briana Robbins in memory of Snooks Robbins. More ...
DEBBIE PHILLIPS

Coopers Fire Department was the winner in this year's annual benefit softball tournament. (Contributed photo)

Softball tournament raises funds for Spring Hope firefighter
On Saturday, August 28, the Nashville Fire Department Auxiliary held its Seventh Annual Benefit Softball Tournament at Glover Park.
The tournament had five teams that participated: Nashville Fire Department, Momeyer Fire Department, Coopers Fire Department, Bailey Fire Department and Archors Lodge Fire Department in Johnston County.
More ...

Local Red Cross chapter moves to four day week
The American Red Cross Frederick E. Turnage Chapter office will be closed on Fridays beginning Sept. 1. This change comes as an overall standardization of Red Cross business hours throughout eastern North Carolina. Beginning Sept. 1, all Red Cross offices in the 28-county Eastern North Carolina region will be open from 8:30 a.m. to 4:30 p.m., Monday through Thursday.
More ...

Owens retires from VCPP
Betsy Owens is ending her professional career on September 30 when she retires as Executive Director of the Virginia, North and South Carolina sponsored Virginia Carolinas Peanut Promotions (VCPP).
More ...

Nash County Blood Drives for September 2010
Thursday, September 9 from 4 until 8 p.m. at Castalia Volunteer Fire Department, 11065 Lancaster Store Road, Castalia
Sunday, September 12 from 1 until 5 p.m. at First Baptist Church, 1029 Claude Lewis Road, Middlesex
Monday, September 13 from 3 until 7:30 p.m. at Nashville United Methodist Church, 209 E. Washington Street, Nashville More ...

United Way leaders prepare for 2010 campaign
United Way's campaign season is swiftly approaching! Surpassing the $1.2 million goal during the previous campaign season, United Way leaders are eagerly anticipating similar attainability for the 2010 season.
Chris Miller, Vice President of Fundraising and long-standing supporter of United Way, is spearheading this year's campaign.
More ...

Three memories of September 11, 2001
Christopher Lee Burford was from a little town "at the beach," as folks would say around here, called Hubert near Swansboro and close by to Emerald Isle.
Like so many young men and women, he decided his best course of action upon high school graduation was to join the military. Growing up near the water, it was no surprise he picked the Navy. More ...
Mike Brantley
Ready or not, we're now foster parents!
So, this weekend I brought home a furry guest. Yep, a new puppy, another pit bull puppy at that.
This puppy though, who is now known as Nash around my house, is just a temporary guest.
Last Wednesday night, my husband and I got to talking about the animals that were featured pets in The Nashville Graphic last week. More ...
Amanda Clark - 1 opinion posted
An Open Letter to General Assembly and Governor Bev Perdue
Here comes Earl and Governor Perdue declares a state wide emergency which triggers certain laws that affect all of us not only in our daily lives but in our business. One such law that is triggered is General Statute 14-288.7 which states, "It is unlawful for any person to transport or possess off his own premises any dangerous weapon (guns are defined as dangerous weapons for this purpose) ... In which a declared state of emergency exists." More ...
Letter to the Editor:

HERE'S A TIP. Southern Nash's Haley Wood (right) tries to send a ball over Louisburg's Robin Baker (left) during last Wednesday afternoon's non-conference volleyball showdown in Franklin County.

Southern Swept
LOUISBURG -- One night after dropping a tight Northern Carolina Conference match against Franklinton, the Louisburg Lady Warriors took out their frustrations on the Southern Nash Ladybirds.
Louisburg wrapped up a season sweep against the Ladybirds with a non-league decision last Wednesday at the LHS Gymansium. More ...
GEOFF NEVILLE, Graphic Sportswriter

QUICK TO THE BALL. (L to R) Franklinton's Norberto Modesto and Southern Nash's Miguel Salazar during last Tuesday's boys high school soccer matchup, which was staged at the Franklinton Recreation Park.

SNHS' Streak Ends
FRANKLINTON -- The upstart Southern Nash Firebirds, led by a speedy core of players, had rolled through the early portion of their schedule under legendary coach John Matthews -- until last Tuesday.
Southern soared ahead early by two goals, but host Franklinton displayed plenty of savvy by rallying for a 5-3 decision to mark the initial loss of the campaign for the Firebirds. More ...
GEOFF NEVILLE, Graphic Sportswriter

KEEP THOSE LEGS MOVING. Northern Nash's Tavis Richardson (with ball) grinds for extra yardage during last Friday night's home gridiron contest against the Tarboro Vikings at Death Valley.

NN's Heartbreaker
RED OAK -- Northern Nash's defense had its best showing of the season last Friday night against Tarboro. But its special teams ended up costing it a victory.
With the score tied at 7-all with eight seconds remaining and the Knights in punt formation at their own 10, Northern's center snapped the ball over his punter Jamrl Davis' head and through the end zone.
More ...
CHARLES ALSTON, Graphic Correspondent
Bishops win own tourney
ROCKY MOUNT -- In Sunday afternoon men's soccer action, the host Battling Bishops of North Carolina Wesleyan College took the 2010 Roger Taylor Fall Classic crown with a 1-0 shutout of New Jersey City College at Scalf Field.
Junior Arek Trochowski headed home the game's only goal in the 17th minute off a Mark Wielitzka cross, and freshman keeper Ville Tura did the rest in goal as the Bishops stayed perfect on the season at 3-0. More ...
Staff Reports
ENCFL set to kick off 2010 campaign
NASH COUNTY -- The Eastern North Carolina Football League will begin its 2010 season this Saturday with five games across the area.
The league will now feature 10 teams, with Wilson Youth-The SPOT and Wilson Beddingfield being added this fall. More ...
GEOFF NEVILLE, Graphic Sportswriter

In the above photo, class members pose with their certificates and belts during a recent belt testing session for the Young Champions Self-Defense Class, which is being sponsored by the Nash County Parks and Recreation Department.

Belt testing session held
NASH COUNTY -- The Young Champions of America is a national organization offering low-cost, high-quality martial arts instruction to children ages 4 to 18 through local towns, schools and organizations. 
The program emphasizes growing the student as a strong, well-rounded individual of mind first, and then body. 
The program holds true to the tradition that a martial arts student must excel in all aspects of their lives. More ...
Staff Reports
Central gets ready for Big East
ROCKY MOUNT -- In the last week before the start of Big East Conference volleyball season, Nash Central was on the road for two games and came home with two very different outcomes.
Last Tuesday, the Bulldogs made quick work of Hertford County and were back on the bus with a 3-0 victory for the long ride home from Ahoskie. It was the third win of the season for Nash Central. More ...
KENT WHELESS, Graphic Correspondent
Smokies slide past Mudcats
ZEBULON -- The Tennessee Smokies broke a 2-2 tie with a run in the top of the eighth to defeat the Carolina Mudcats 3-2 in front of a crowd of 6,871 fans at Five County Stadium on Sunday night.
Tennessee (43-26) broke a scoreless game in the top of fifth when Tony Thomas homered off Carolina starter, James Avery and the Smokies took a 1-0 lead. More ...
Staff Reports
JAMES HENRY BELCHER
ROCKY MOUNT – Mr. James Henry Belcher, 64, of Rocky Mount died on Saturday, September 4, 2010 at Kindred Hospital in Greensboro, North Carolina. More ...

GRACE ANN KEARNEY
ROCKY MOUNT – Mrs. Grace Ann Kearney Monroe, 60, of Rocky Moun died on Monday, September 6, 2010 at Nash General Hospital in Rocky Mount. More ...

ELMAS BRASWELL
WHITAKERS - Mr. Elmas Braswell, 58, of Whitakers, NC, passed away September 3, 2010 at Nash General Hospital in Rocky Mount.
More ...

LAURA JEAN BATTLE
ROCKY MOUNT – Mrs. Laura Jean Battle, 73, of Rocky Mount, died on Tuesday, August 31, 2010, at Hospice of Wake County in Raleigh, NC.
More ...

EARL BASS
Earl Bass, 82, passed away Sunday, September 5, 2010. He was born September 25, 1927 in Nash County. He was the son of the late Goodman and Alvarhada Manning Bass. More ...

ANDY RAY JOYNER
Andy Ray Joyner, 32, passed away, Saturday, September 4, 2010. He was born July 4, 1978 in Nash County. More ...

HORACE L. FELTON SR.
Horace L. Felton Sr., 87, passed away Friday, September 03, 2010. A native of Rocky Mount, he was the son of the late Shade and Lula Felton. He was also preceded in death by his wife, Louise G. Felton; son, Lee Felton; brothers, Marvin, Jake, Arky, Vernon, Donnie, and Gordon Felton; and sister, Eunice Fowden. More ...

SARAH FERRELL COBB
ROCKY MOUNT – Sarah Ferrell Cobb, 85 passed away Friday, September 3, 2010. She was born in Wilson County, June 12, 1925, daughter of the late W. R. and Ida Vaughan Ferrell. Mrs. Cobb was a member of Sharpsburg Baptist Church and was preceded in death by her husband Fred Ty Cobb in 1997. More ...

BALDY EDWARD RICHARDSON
HOLLISTER - Funeral services for Baldy Edward Richardson, 86, who died Saturday, Sept. 4, 2010, will be today, (Wednesday, Sept. 8) at 1 p.m. at Mt. Bethel Baptist Church. Burial will follow in the church cemetery with Rev. Linwood Richardson officiating. More ...

THOMAS "TOM" ALLEN HEDGEPETH
RED OAK - Thomas Allen Hedgepeth 70 passed away, Thursday, September 2, 2010. He was born in Nash County, on January 17, 1940. Tom was the son of the late Benjamin F. and Willie Mae Rouse Hedgepeth. He was preceded in death by brothers and two sisters, Evelyn H. Young and Polly H. Carper. More ...