Subscribe/Access
Advertisements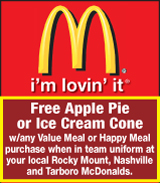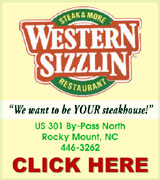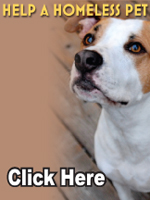 Sections
Member Options
Back
Local company still seeking funds to expand
It's been over a year since Atlantic Natural Foods first announced its plans to expand and add 70 new jobs over a three-year period. But today, the company is still looking for someone to provide them the money for that expansion.
Tim Carper, Operating Partner of Atlantic Natural Foods, said the company can't find anywhere to borrow the money from. And the few resources out there to help have guidelines that Carper said the company can't qualify for.
More ...
Amanda Clark, Graphic Staff Writer
Nashville man arrested for sexual assault
A Nashville man was charged with sexually assaulting a woman he abducted from a Nashville gas station last month.
According to the Nash County Sheriff's Office, Mark Anthony Johnson, of Pell Cabin Road in Nashville, allegedly kidnapped a 29-year-old woman, who is also a Nashville resident, from the Kangaroo gas station on Washington Street around 11:30 p.m. on Tuesday, May 11. The Graphic does not release the names of sexual assault victims. More ...
Amanda Clark, Graphic Staff Writer
GRADUATION 2010
During commencement exercises held on Saturday, June 12 for Nash-Rocky Mount Public Schools, over 1,000 seniors received diplomas. Seniors from Nash Central High, Northern Nash High, Southern Nash High and Rocky Mount Senior High all graduated on Saturday morning at 10 a.m. W.L. Greene held its commencement exercises on Friday, June 11. More ...

State budget cuts may put teaching jobs in jeopardy
"We are doing all we can to protect our employees," said Rick McMahon, Superintendent of the Nash-Rocky Mount School System. " We are cautiously optimistic."
However, the struggle is far from over, according to School Board Chairman Bob Jenkins. "We are waiting for the final budget from the state to determine if any teacher's positions will be cut," he said. More ...
Amelia Harper, Graphic Correspondent
Wallace is Scoutmaster of the Year
Two Nashville men were honored by the North Carolina American Legion on Friday during the Legion's annual conference award's ceremony.
William Wallace, a scoutmaster for Nashville Troop 76, received the Scoutmaster of the Year award. Wallace has served as scoutmaster since 1993 and was presented his award by the American Legion Department of North Carolina Commander Lou Cook. More ...
Amanda Clark, Graphic Staff Writer
Local man celebrates 101st birthday
Rudolph Smith loves to tell stories and at 101-years-old, he has plenty to tell.
Smith, who celebrated his 101st birthday on March 12, enjoys talking about his younger days growing up on a farm just outside of Red Oak. More ...
Amanda Clark, Graphic Staff Writer
Rocky Mount woman charged with trafficking
The Nash County Sheriff's Office recently arrested and charged a Rocky Mount woman with nine counts of trafficking opium/heroin derivative.
The Sheriff's Office received information on Tuesday, May 25 that 49-year-old Gloria Denise Jones of Rocky Mount would be in possession of liquid methadone. Jones was located and stopped by deputies. She was found to be in possession of two bottles of liquid methadone. More ...

Legionnaire Awards
Pictured above, James Ervin (center) was named the Legionnaire of the Year on Friday during a special ceremony. Pictured with Ervin is his wife Rachel (far left), who also received honors, and Department Commander Lou Cook (far right).
More ...


Pictured above is Huff with the poster he drew.

Cedar Grove student recognized by state Soil and Water
Jonathan Huff loves to draw so it was no surprise when he received a few snow days this past school year, he sat down and drew. Little did he know that his picture would receive state-wide recognition.
Jonathan was recently recognized by the North Carolina Department of Environment and Natural Resources Division of Soil and Water Conservation for his first place poster in the 2010 Poster and Essay Contest. More ...
Amanda Clark, Graphic Staff Writer
Bailey woman killed in accident
A Bailey woman was one of two pedestrians killed after being struck by a car last Sunday morning in Wilson.
The two women, Amie Marie Sullivan, 25, and Tiara "Nikki" Nichole Whitley, 22, were killed instantly when they were hit by a vehicle driven by Jimmy Vincent Coleman, 34, of Kenly. Sullivan was from Bailey. More ...

Castalia increases revenues through Verizon contract
Castalia commissioners brokered a new contract with Verizon wireless that will increase the town's cell tower revenues. In the past, the town agreed to rent the cell tower to Verizon for $1500 a month. However, Verizon recently requested adding three more antennae to the tower. More ...
Amelia Harper, Graphic Correspondent

Pictured is Lucky Loser Liz Lane, who won $1,000. Lane's name was drawn among all the non-winning tickets.

NFD Auxiliary Reverse Raffle nets $14,400
There were many winners at the Nashville Fire District Auxiliary's annual Reverse Raffle, held on Friday, June 4 at Nash Community College but six took home the big prize.
The auxiliary hosts the event each year as its major fund raiser. Proceeds from the event fund injury prevention, life safety and educational programs that directly impact the Nashville community. More ...

Red Oak closes street for church expansion
More than thirty Red Oak residents gathered at the town meeting on Monday to express their support for the closing of much of School Street between Church Street and Red Oak-Battleboro Road. Most of those present were from the Red Oak Baptist Church, which requested the closure in order to expand its facilities and erect a Family-Life Center. More ...
Amelia Harper, Graphic Correspondent
Graduation 2010 pics
Nash Central High School students (from L-R): Kiara Battle, Latasha Brinkley, Brittany Bridgers, Kentrell Thomas and Sierra Sweat. Graphic photo by Amanda Clark
More ...

Graduation 2010 pics, 3
Southern Nash graduates Jackson Wall and Taylor Walters have been friends since First Grade. Graphic photo by Jo Anne Cooper
More ...

Graduation 2010 pics, 6
Northern Nash graduates, left to right, Rema Atzer, Dekia Battle, Walter Asbell, Tanicqehan Arrington, and Zania Hroub. Graphic photo by David Hahula
More ...

Graduation 2010 pics, 7
Northern Nash graduates, left to right, front row, Phillip Griffin, Lauren Gaither, and Josh Griffin. Back row, left to right, Sean Foehner and Steven Garity. Graphic photo by David Hahula
More ...

ENGAGED
Mr. and Mrs. Robert Earl Dunn announce the engagement of their daughter, Beth Nicole Dunn of Spring Hope, to Dale Spencer Winstead of Nashville, the son of Mr. and Mrs. Ernest Dale
More ...

ENGAGED
Mr. and Mrs. Ray and Kathy Sherrod of Nashville announce the engagement of their daughter, Kristina Lynn Sherrod, to James Bryant Simpson, the son of Mr. and Mrs. David and Tina Manning of Nashville. The wedding will take place at 3 p.m. on October 10, 2010 at Shenandoah Baptist Church.
More ...

ENGAGED
Mr. and Mrs. Robert Louis Paszek announce the engagement of their daughter, Alyson Louise Paszek, to John Wharton Grimes, Jr., the son of Mr. and Mrs. John Wharton Grimes, Sr. of Washington. More ...

50TH ANNIVERSARY
Johnny and Mattie Daughtridge celebrated their 50th Wedding Anniversary on June 3, 2010. Before leaving on a trip to Myrtle Beach, S.C., they enjoyed a family gathering and meal at the home of their oldest son, Johnny Daughtridge II and wife, Marcia. They were married June 3, 1960 in Edgecombe County at Johnny's parents home.
More ...

Outstanding community service
West Mount Ruritan Club receives the honored Blue Ribbon Award for outstanding community service from District Governor Ron Reid (far left.) Accepting the award is past president of West Mount Ruritan Club, Gold Joyner. In attendance, also pictured, are Vernon Wallace, current president and Dennis Raper, past District Governor.
More ...


Nash Central High School student Forrest Brown is awarded a $10,000 four-year college scholarship, funded solely by State Employees' Credit Union. Presenting the scholarship to Brown is State Employees Credit Union local board member Charlie Tyson.

Nash County students earn college scholarships
SECU Foundation, funded solely by State Employees' Credit Union's (SECU's) membership, has presented a $10,000 four-year college scholarship to two Nash County students, Forrest Kent Brown, a senior at Nash Central High School and Heather Gabrielle Rogers, a senior at Southern Nash High School.
More ...

BIRTH ANNOUNCEMENT
Dax and Erin Joyner are proud to announce the birth of their son, Darcey James Joyner, born May 13, 2010 at Nash General Hospital in Rocky Mount. He weighed 8 pounds, 2 ounces and was 21 inches long.
Maternal grandparents are Roger and Susan Shanks of Marion, IN. Paternal grandparents are Larry and Ida Joyner of Nashville and Bill and Charlotte Quinn of Rocky Mount. More ...

Ephesus Community News
Pastor David Eidson introduced our candidate for Minister to Students, Dan Crumley, and his family. Pastor Dan's message in Word was "All In" from Luke 5:1-11, as he told the parable of the four fishermen called as disciples, how they doubted Jesus when He told them to let down the net for a catch after they had been fishing all day without luck during prime fishing time. More ...
DEBBIE PHILLIPS
NEW DIRECTOR
Luke Whitehead has been named the Director of Children's Ministries at Nashville United Methodist Church. Whitehead has a Bachelor of Arts in Communication from High Point University and is currently attending the School of Divinity at Campbell University. Last year, Whitehead visited Africa and shared his gifts with children there.
More ...

EASTER EGG HUNT
Indiya Revis participated in the Boys and Girls Club of Nashville's Easter Egg Hunt in April. (Contributed Photo)
More ...

Art show
Nash Community College Advertising and Graphic Design students displayed their work at an art show in the college's Brown Auditorium recently. Nearly 200 guests enjoyed viewing the artwork and speaking with students about their educational experience and future plans.
More ...

Red Oak Community News
Ladies from Red Oak Baptist Church attended the monthly Adopt-a-Dorm Bible Study at Fountain Correctional Center in Rocky Mount on Monday, June 7. Hazel Hill led the study. Others participating included Nell Boone, Audrey Pearce, Suzy Pearce, Marilyn Boone, and Jean Mellor. More ...
SUZY PEARCE
Brooklyn Community News
On Monday, June 7 at 7 p.m., Lena Sessoms of the Brooklyn Area Community Watch, Ted Davis of The Voices of Nashville and James McBride of the American Legion Post 293 of Nashville hosted a meeting at the O.D. Moore Building in Nashville to discuss Nashville's future plans. More ...
LENA SESSOMS
Locals compete in Special Olympics summer games
The 2010 Special Olympics North Carolina Summer Games concluded June 6 in Raleigh and Cary, ending a weekend of competition for nearly 1,500 athletes from across the state in aquatics, athletics, golf, gymnastics, powerlifting, softball and volleyball, according to Keith L. Fishburne, President/CEO of SONC.
More ...

Nash students named to WCU Dean's List
Two Nash County residents are among the 1,721 students named to the Dean's List at Western Carolina University for the Spring 2010 semester.
To qualify for the Dean's List, students must achieve at least a 3.5 grade point average out of a possible 4.0 on a regular semester's work of not less than 12 hours, excluding remedial courses, with no grade of D or F. More ...

A Father's Day gift you can't buy at a store
They used to say that Mother's Day was the busiest holiday for the post office and for the phone company.
They also used to say that Father's Day was the day the phone company saw the most "collect" phone calls.
Over the years, there have been all kinds of jokes about Father's Day, most not suitable for print. Maybe it has to do with how TV sitcoms have portrayed Dads the last couple of years — goofy, dumb nitwits who constantly have to be "saved" by the Mom. More ...
Mike Brantley
Congressman, why isn't government helping America's small businesses?
Dear Congressman Etheridge:
We are a small food business located in Nashville and Rocky Mount, NC. As of today we have invested in excess of $3 million into the business and today have more than $3 million in unencumbered assets in North Carolina. Over the past months we have worked with a number of local and state agencies to receive local support for federal or state financing, training programs, research and development funds, etc. More ...
Letters to the Editor:
A waste of the taxpayer's money
I read the article under bits and pieces of unbelievable news about the IRS $92 million renovations, which will include a reflecting pool and an art gallery, indoor gardens and a 7,000 square foot cafeteria and an amphitheater. More ...
Letters to the Editor:
My dad taught me some of life's most valuable lessons
You're never too old for your daddy.
That's probably the main lesson I've learned since I became an adult. But this is perhaps the first time I've actually admitted it. So Happy Father's Day dad. You were right. I was wrong.
When I was younger, I thought growing up would be so cool. I'd be on my own and have my own money, my own house, my own car, my own life. I wouldn't have to ask permission to do anything. More ...
Amanda Clark
Backward Glances
We found this photo in our 1967 archives. The photo may have been used in an advertisement sometime during the summer of '67, however we're not sure who this young fellow is or which store was having the sale, but he sure looks happy while he works!
More ...
A PICTORIAL LOOK INTO THE PAST
SHERROD SIGNS
STANHOPE -- Persistence and perserverance paid off for Southern Nash High School's John Sherrod in his quest to become a baseball player on the college level.
Sherrod scouted several schools online before finding Claflin University, a four-year school located in Orangeburg, S.C. More ...
GEOFF NEVILLE, Graphic Sportswriter
Regional squad is released
NASH COUNTY -- The North Carolina Soccer Coaches Association's Class 3-A Region 3 Girls Team for the 2010 spring season has a distinct Big East Conference flair.
Of the 16 players saluted, a whopping 15 of them competed in the Big East. The league also boasted the Region Coach of the Year (Rocky Mount's Drew Nick) and Assistant Coach of the Year (Northern Nash's Kristen Wesche). More ...
GEOFF NEVILLE, Graphic Sportswriter
Matthews to lead Southern boys
STANHOPE -- A familiar face will be the new boys soccer coach at Southern Nash High School this fall.
Long-time SNHS teacher John Matthews, who has guided the girls program the past two seasons, has been selected to also coach the Firebirds' boys. More ...
GEOFF NEVILLE, Graphic Sportswriter
Ric Makes Pick: Wesleyan
HENDERSON -- True post players have become a rare commodity in college basketball -- which is exactly why Ric Yarbrough was so intriguing to so many scouts from four-year schools.
After successful two-season stint at Vance-Granville Community College, Yarbrough, a 6-foot-6 center, has signed to continue his career at North Carolina Wesleyan College, which is located in Rocky Mount. More ...
GEOFF NEVILLE, Graphic Sportswriter
Central will host campers
ROCKY MOUNT -- Nash Central High School will host the Bulldog Basketball Camp from June 29-July 1.
The event will be held each day from 6-8 p.m. at the NCHS Gymnasium. Boys and girls in grades 3-9 are eligible to participate.
Campers who preregister will receive a free basketball. More ...
Staff Reports
NASH COUNTY REC REPORT
NASH COUNTY -- Here are updated results from the Nash County Parks and Recreation Department's youth softball and baseball schedules:
More ...
Staff Reports
SN honorees announced
STANHOPE -- Victoria Hardy and Andrew Gehring took home the top prizes at the recent Southern Nash High School Athletic Awards Ceremony.
Gehring, a three-sport standout, was saluted as SNHS' Male Athlete of the Year. A football/basketball/track and field letterman, Gehring has signed to play football at Wofford University. More ...
GEOFF NEVILLE, Graphic Sportswriter
Post 58 sweeps Wilson Post 13
ROCKY MOUNT - You might say Wilson Post 13 has suffered a twin killing from Rocky Mount Post 58 - literally.
Not only has Post 58 swept the Area I East regular season series with Post 13, its combo of twins Matthew and Thomas Berry (Rocky Mount High) provided the important ammo. More ...
CHARLES ALSTON, Graphic Correspondent
Central Bulldog 13Us now 7-2
On Thursday, June 10th, the 5-0 Nash Central Bulldog - 13U Babe Ruth Prep baseball team began the first of a 5-game series in as many days, playing at South West Edgecombe. The Bulldogs came away with a hard fought 9 inning 11-10 win. Leading 10-0 after in the bottom of the 5th inning, the Bulldog relievers gave up 10 runs before calling on ace Tyler King who silenced the South West bats for the remaining 4 innings. Left hander C.J. Devers pitched the first 4 innings allowing no runs and no hits.
More ...
Staff Reports
Lil' Dawgs Football Camp
The Lil' Dawgs Football Camp will be held at Nash Central High School June 21 – 23 from 9:00am – 12:00 pm for ages 8 – 14, grades 2nd – 8th
Cost: $40 Pre-registration (before June 11th) $45 on-site Registration

More ...

Big East Conference announces All-Conference baseball team
WILSON - With second-place team Wilson Hunt making it all the way the NCHSAA 3-A state championship series, the release of the Big East Conference All-Conference baseball team was delayed.
But Tuesday, the honorees were announced. More ...
CHARLES ALSTON, Graphic Correspondent
NASH COUNTY BLOOD DRIVES
Thursday, June 17 2010 from 12 until 6 p.m. at Englewood Presbyterian Church, 100 South Englewood Drive, Rocky Mount
Friday, June 18 2010 from 11 a.m. until 5 p.m. at Englewood Presbyterian Church, 100 South Englewood Drive, Rocky Mount
Tuesday, June 22 2010 from 9 a.m. until 11 p.m. at Boddie Noell, 1021 Noell Lane, Rocky Mount
More ...

PHILIP WAYNE WHEELER
Philip Wayne Wheeler, age 63, passed away on Wednesday, June 9, 2010. He was born December 4, 1946 in Wake County, son of the late Eli Derek Wheeler and Evelyn Young Wheeler.
More ...

DORIS C. PHELPS
ROCKY MOUNT - Funeral services for Doris C. Phelps, 77, who died Wednesday, June 9, 2010, were Monday, June 14 at 11 a.m. at Richardson Funeral Home Chapel. Burial followed at Gardens of Gethsemane Cemetery with Rev. Thomas E. McCullers officiating. More ...

JAMES A. BUNTING
NASHVILLE - Funeral services for James A. Bunting, 81, who died on Friday, June 11, 2010 will be today (Wednesday, June 16, 2010) at Bethlehem Baptist Church. Burial will follow in the Oakland Cemetery with Rev. Milton Batts officiating. More ...

BETTY ADELL POWELL
Betty Adell Powell, 86, passed away Thursday, June 10, 2010. She was born March 31, 1924 in Nash County, daughter of the late Julius Davis Powell and Lula Pope Powell. She was also preceded in death by Sister, Viola Vick; brother, Willie Powell; and nephew, Daniel Powell. More ...

DENISE RUSSELL ROCKWOOD
Denise Russell Rockwood, 42, passed away, Wednesday, June 9, 2010. She was born August 5, 1967 in Erie County, NY. She was preceded in death by her maternal grandfather Frederick Maedl and her paternal grandparents, Charles and Josephine Russell. More ...

ALLEN LAVERN BULL
Allen Lavern Bull, 55, passed away, Tuesday, June 8, 2010. He was born October 29, 1954 in Merced, CA. He was preceded in death by his father, Lester David Bull, Jr. More ...