Subscribe/Access
Advertisements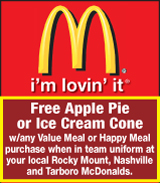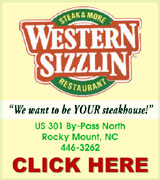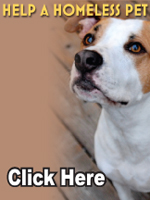 Sections
Member Options
Back

Scott Flood

Accident claims life of local senior
Eighteen year-old Randall Scott Flood was in the midst of his high school project, a senior preparing for graduation in just a few weeks when his life was cut short.
Flood, a senior at Nash Central High School, died Sunday afternoon at 6343 Rock Quarry Road in Elm City.
The quarry has depths up to 75 feet, and some areas as much as 135 feet. More ...

Property tax hike likely for Town of Nashville
Nashville is considering going up five cents on its property tax rate to help compensate for an error caused by Nash County.
Initial budget projections had the tax rate going up 3.5 cents, to 54.5 cents per $100 valuation. But at a budget retreat last week, Nashville Council Members discussed raising the rate as much as five cents. More ...
Amanda Clark, Graphic Staff Writer
CELEBRATING ARMED FORCES DAY
Members of the American Legion Auxiliary Unit 293 in Nashville placed American flags on the graves of fallen soldiers at Forest Hills Cemetery and Oakland Cemetery on Saturday in recognition of Armed Forces Day. Armed Forces Day recognizes soldiers who have served in all branches of the military. It is celebrated on the third Saturday in May. Pictured (L-R) Jacquelyn Alston, Louise Boddie and Ada Harrison place flags on graves at Forest Hill Cemetery. More ...

County Board wants more cuts in budget
Nash County Commissioners sent the county's proposed budget back to the drawing board last week, requesting a leaner budget with no utilization of fund balance.
County Manager Bob Murphy presented the $85.7 million budget to commissioners on Friday morning, during a recessed meeting. Murphy said the budget was essentially what was developed during a three-day work session with some minor tweaking. More ...
Amanda Clark, Graphic Staff Writer
Nashville Elementary student selected as student ambassador
This summer Grayson Rudder will go on the adventure of a lifetime.
The Nashville Elementary School fifth grader was one of a select few chosen as a People to People Student Ambassador. As part of that program, he will head to Australia this summer to learn about all things Australian.
Grayson, 11, was nominated anonymously for the program based on his academics. He was one of only forty students selected to participate in the program.
More ...
Amanda Clark, Graphic Staff Writer
Red Oak woman celebrates 100 years
Elizabeth Reges credits her faith with helping her make it to her 100th birthday.
Reges, of Red Oak, will celebrate 100 years today, but began celebrating the big day about a week ago.
Reges' son, Roger and his wife, Claudette, said a large party isn't planned for Reges. Instead, members of Reges' church, Red Oak Baptist Church, will be stopping in throughout the week of her birthday to wish her a happy birthday and members of Reges' Circle group stopped by last Monday to celebrate her birthday. In addition, Reges' family will have a small party. More ...
Amanda Clark, Graphic Staff Writer
FSA news
Suzanne Murray, County Executive Director of the Nash County Farm Service Agency (FSA), reminds heirs of land owners and former tobacco producers who held Tobacco Transition Payment Program (TTPP), also known as "Tobacco Buyout", contracts that those contracts must be transferred after the former holder's death. More ...

What's Happening at Cooley Library
"Any change, even a change for the better, is always accompanied by drawbacks and discomforts."
– Arnold Bennett (British novelist, playwright, critic, and essayist, 1867-1931)
Changes at the Harold D. Cooley library are starting to take shape. Already in place is the addition of wireless access for those in the community wishing to bring their own laptop to the library. Just stop by the circulation desk and ask staff for the logon instructions. More ...
Alana Fisher, Library Director
Peachtree Community News
On Sunday evening a large gathering of Peachtree folks shared a meal honoring their graduates. The Fellowship Hall was decorated for the occasion and "graduation cake" was served following the meal. Hostessing the event were Kathy Farmer and JoAnn Blankenship. Katie Tucker graduated from Nash Community College on Thursday with a LPN Certificate.
More ...
BARBARA HARDISON
Ephesus Community News
Senior Adult Day was observed at Ephesus on Sunday with lunch afterwards in the fellowship hall. Our guest speaker was Wendy Minton Edwards, who is from Spring Hope. She is the Eastern Regional Director for the NC Baptist Aging Ministry and Adjunct Professor in the Religion Department of Mount Olive College-Washington. She delivered our message in word, "Will You Marry Me" from John 14:1-3 (NIV). More ...
DEBBIE PHILLIPS
Red Oak Community News
Many enjoyed the annual Appreciation Banquet for the Radio Reading Service for the Blind on Tuesday, May 4 in Rocky Mount. There were approximately 50 in attendance including Hazel and Jeanette Hill, Al and Nell Boone, and Elizabeth Shearin from Red Oak. Hazel Hill is a board member and Nell Boone and Elizabeth Shearin volunteer as readers for the program. More ...
SUZY PEARCE
Beulah Community News
Please remember to mark your calendar for Sunday night, the 23rd at 6:00. At Beulah Church of Christ there will be a Gospel music event brought to us by the Royal Descendants of Goldsboro, N.C. They are truly an inspiring group of men. This concert is in the memory of Freddie Dunn, who really liked this group of singers. More ...
WILMA ENROUGHTY
Edgecombe-Nash Retired School Personnel learn about diabetes
The Edgecombe-Nash Retired School Personnel met Tuesday, April 13, 2010, 10:30 A. M. at Braswell Memorial Library. After President Laurette Lewis greeted everyone, Cary Umstead Davis was introduced.
For the devotion Reverend Raymond Privott read a poem titled "The Best Poem." More ...
Dee Long
Sworn in
Adam L. Baker (right) is sworn in as an attorney at law by Superior Court Judge for District 7A, Nash County, Quentin T. Sumner. Baker will practice at Christian E. Dysart Attorney at Law, PLLC in Raleigh. He is the son of Howard and Libby Baker of Nashville; the grandson of Tommy and Barbara Sasser of Nashville and Mrs. Howard Baker, Sr. of Spring Lake. Baker is a graduate of East Carolina University in Greenville and Sanford University in Birmingham, Alabama.
More ...

PUTTING OUT FIRES
Members of the Park Avenue Community Watch met on May 13 at Nashville's Fire Department, where they received fire extinguisher training. Members were given the chance to put out a controlled fire. Pictured, Donald Parker tries his hand at using a fire extinguisher.
More ...

Castalia appoints five new Planning Board members
Castalia commissioners appointed five members to the town's planning board, which, in recent months, has been combined with the town's board of adjustments. Castalia's planning board generally meets on the last Tuesday of each month and is now in the process of updating the town's zoning ordinances. More ...
Amelia Harper, Graphic Correspondent
Boys and Girls Clubs sponsor Father Daughter Social Dinner
Fathers and daughters, ages 13 to 18 are invited to attend a Father Daughter Dinner Social Friday Evening June 18, 2010 at the Gateway Convention Center from 6:30 to 10:00 p.m.
The evening includes Dinner, a DJ and dancing, a photo session with one free photo, and other surprises. More ...

Avent awarded
Janee' R. Avent, daughter of Max and Wanda B. Avent, Sr., of Rocky Mount and sister of M.J. Avent of Greensboro, has been awarded the Marian Pope Franklin Award for the Master's Cohort at the University of North Carolina at Greensboro. The Marian Pope Franklin Awards are given to students in the Department of Counseling and Educational Development. More ...

Price and Pannell unite in marriage at Ocean Isle
Christy Nicole Price and Robert Matthew Pannell were married Saturday, May 15, 2010 at Chateau De Chef, at Ocean Isle Beach. The officiating minister for the 5 p.m. ceremony was Rev. Horace Ward, grandfather of the bride.
The bride is the daughter of Mr. and Mrs. Craig Price of Nashville. She is the granddaughter of Rev. and Mrs. Horace Ward. More ...

ENGAGED
Mr. and Mrs. Michael S. Adams of Rocky Mount announce the engagement of their daughter, Jessica Dawn Adams of Rocky Mount, to Tommie Jacob Adkins of Enfield, the son of Mr. and Mrs. Jake Adkins of Enfield. Grandparents of the bride-elect are Mr. and Mrs. William (Bud) Turner of Enfield, and Mr. Joseph Strong of Monticello, Miss., and the late Mr. and Mrs. George Adams.
More ...

MILITARY NEWS
Navy Seaman Recruit Tyler W. Hadley, son of Brenda G. Hadley of Nashville, N. C. and David W. Hadley of Rocky Mount recently completed U.S. Navy basic training at Recruit Training Command, Great Lakes, Ill. More ...

Who gets to decide what is good for you?
It fell on me the other week to do part of the grocery shopping.
Of course, I had my instructions (list) and my budget (coupons). But, being the "creative type" that I am, I will sometimes deviate off the course laid before me to explore new avenues. More ...
Mike Brantley
Party chairman compliments Board of Elections staff
It is one of the ironies of public service that our government's employees usually make the headlines only when things go wrong. For that reason, most citizens in Nash County do not give it a second thought when we conduct our primary and general elections without a hitch.
More ...
Letters to the Editor:
Nashville should provide more parking to downtown
If you ever come to downtown Nashville and I hope that you do, you are aware of the town's parking woes.
There's very limited parking spots for people wishing to do business in downtown. There's even more limitations for those of us that work downtown. And those problems are about to get worse. More ...
Amanda Clark
Backward Glances
Dean Bunn and his brother John Terrell Bunn wave goodbye to summer vacation as another school year begins. This photo was taken at the end of the summer vacation. A similar photo was published in The Graphic August 31, 1967. They are the sons of Mr. and Mrs. John Bunn, Jr. of Nashville. More ...
A PICTORIAL LOOK INTO THE PAST

SAFE AT SECOND. Nash Central's Tiffany Macklin slides into second base for the Lady Bulldogs during last Thursday's victory over Wilson Hunt in the title game of the Big East Conference Tournament.

The Right Time
NASHVILLE -- For the Nash Central, everything seemed to be perfectly aligned in order for the Lady Bulldogs to claim their first-ever Big East Conference Softball Tournament championship.
Not only was Central playing its best softball of the season late in the campaign, but the Lady Bulldogs had a determined stopper on the mound in pitching ace Ashley Bone. More ...
GEOFF NEVILLE, Graphic Sportswriter

BASS MASTER. Nash Central High School's Xaviera Bass (far right) competes in the Girls 100 Hurdles event during last Saturday's Class 3-A East Regional Track and Field Championships at The Dawg Pound.

SN GETS THE POINT
ROCKY MOUNT -- Who says the little things don't matter at a track and field meet?
For Southern Nash, a few unexpected points here and there propelled the Firebirds to the boys team crown last Saturday at the Class 3-A East Region Track and Field Championships at The Dawg Pound on the campus of Nash Central High School.
More ...
GEOFF NEVILLE, Graphic Sportswriter

BIG STRETCH. Nash Central first baseman Mason Wallace (right) leans to bring in a throw for the Bulldogs during their baseball matchup last Friday at Eastern Wayne in the Class 3-A State Playoffs.

Solid Season Ends
ROCKY MOUNT -- Even though they dropped their first-round postseason game last Friday, there is no reason to feel sorry for the Nash Central Bulldogs.
Not when the Central baseball contingent loses just three seniors from a club that posted a 14-9 overall worksheet this spring under second-year head coach Jeff Mizelle. More ...
GEOFF NEVILLE, Graphic Sportswriter
Southern will host campers
STANHOPE -- Southern Nash High School will be hosting the annual Ladybirds Softball Camp on June 23-24 at Ladybird Field on the SNHS campus.
Ages 5-18 are welcome to participate. Cost is $25 per person, and the camp will run from 9 a.m.-noon each day.
More ...
Staff Reports
County Line keeps up with race thrills
ELM CITY -- Sticky, hot temperatures greeted everyone as they arrived at County Line Raceway for another Saturday night of racing action. Again, 80 cars signed in between all 6 divisions, evident that County Line Raceway is consistent in weekly car counts.
More ...
Staff Reports
Pirates win two of three games
ORLANDO, FLA. -- Nick Cicio tossed a complete game, allowing one run, while Shane Brown, Chris Duffy and Jonathan Griffin each hit home runs as the University of Central Florida salvaged game three of the Conference USA baseball series with East Carolina by a 14-1 margin in seven innings Sunday afternoon at Jay Bergman Field. More ...
Staff Reports
Ride For Knowledge scheduled
ROCKY MOUNT -- The 3rd Annual Jack Laughery Ride for Knowledge will be held on Saturday, May 22, 2010 at Rocky Mount Harley-Davidson.
The motorcycle ride is rain or shine. Registration will begin at 9:30 a.m. and the ride will begin at 11:30 a.m.
More ...
Staff Reports
Mudcats rally for a victory at home
ZEBULON -- The Carolina Mudcats (17 – 20) built a 6-1 lead on Sunday afternoon only to see it evaporate late in the game as the Jacksonville Suns (24-12) rallied to take a one run lead in the top of the ninth, before the Mudcats came up with a pair in the bottom half to win their fifth game in a row 8-7 in front 5, 328 fans at Five County Stadium in a Class AA Southern League baseball matchup.
More ...
Staff Reports

FEAR THE RAVENS. The Nashville Boys and Girls Club Ravens football squad went undefeated and won the league championship during action this spring under head coach Elliot Hansen.

Ravens fly to success
NASHVILLE -- Dedicated. That's the key word Coach Elliot Hansen uses to describe the Ravens football team at the Nashville Boys and Girls Club.
That dedication is what has led them to two championships. This season, which ended in mid-April, the Ravens finished 7-0, moving on to win the final championship game.
More ...
Amanda Clark, Graphic Staff Writer
KEEPING TRACK
Nash Central High School's William Bass (second from right) tries to chase down a Havelock runner during relay action last Saturday at the Class 3-A East Regional Track and Field Championships, which were held at The Dawg Pound.
More ...

LEAP OF FAITH
Southern Nash's Alea Singletary skies in a jumping event during last Saturday's Class 3-A East Region Track and Field Championships.
More ...

TIME TO CELEBRATE
Members of the Nash Central High School softball squad pose after winning the Big East Conference Tournament championship game last Thursday at Glover Park. (Submitted photo by Anthony Barham)
More ...

MAKING THE PLAY
Nash Central's Jordan Taylor (with ball) throws to first base as teammate Jalen Hendricks looks on during last Friday's state playoff showdown at Eastern Wayne HS.
More ...

GREASE IS THE WORD!
Nash Central High School students will present the play "GREASE" at the Imperial Centre in Rocky Mount May 20, 21 and 22 at 7 p.m. and May 23 at 2 p.m. Tickets are $5 in advance and $8 at the door.
Pictured above, Chris Powell is playing Kenickie and Peter Bowlin is playing Danny.

More ...

It's Gala time at Nash Arts!
Nash Arts is hosting its annual Gala fundraiser Friday June 11, 2010 from 6-10 p.m. at the Brown Auditorium, Nash Community College.
The event will feature art by local artists, heavy hors d'oeuvres, silent auction and entertainment by The Monitors.


More ...

JAMES YANCEY HUNTER, JR.
PHILADELPHIA, PA. - Funeral services for James Yancey Hunter, Jr., 81, who died Sunday, May 9, 2010 were Saturday, May 15 at 1 p.m. at Bethlehem Baptist Church in Easonburg. Burial followed in Rocky Mount Memorial Park with Rev. Milton Batts officiating. More ...

BESSIE ESTELLE PROCTOR
Bessie Estelle Proctor, 88, passed away Tuesday, May 11, 2010. She was born November 16, 1921 in Edgecombe, County. Bessie was the daughter of the late William and Katie Elizabeth Taylor Bottoms. She was preceded in death by her husband, Russell Howard Proctor; daughter, Peggy Whitley; brothers, William, Elisha, Richard, Callie, George, W.W., Sidney, and Norman; her sisters, Blooma Adams and Irene Evans. More ...