Subscribe/Access
Advertisements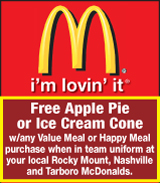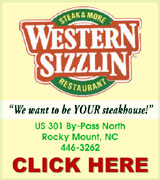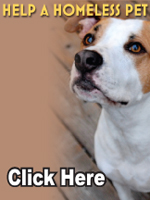 Sections
Member Options
Back

Jessica Evans

Castalia family thanks local responders
The Evans family has a lot to be thankful for this Thanksgiving.
Number one on their list is Nash County Fire and EMS.
A year ago, on November 17, 2008, the car Jessica Evans was driving was hit by a drunk driver on Eastern Avenue in Nashville.
There's very little about that night that Jessica remembers.
"It started out as a girl's night out but we didn't get as far as Nash," Jessica said. More ...
Amanda Clark, Graphic Staff Writer
AW - SHUCKS!
Kylee Herron, a fourth grader at Nashville Elementary School, tries her hand at shucking an ear of corn during Heritage Days at the Farmer's Market in Rocky Mount last Thursday. Fourth graders from each school in the county attend one of two days and visit several stations to learn how things were done "back then." This is the ninth year 4-H Heritage Days has been held.
More ...

Subdivision to ask for annexation
A subdivision just outside of Nashville is hoping to be annexed into the city limits, Nashville Town Manager Preston Mitchell told council members earlier this month.
In his manager's report, Mitchell said the town had received a letter of intent from the Sunnyfield Subdivision expressing their interest in being annexed into the city.
More ...
Amanda Clark, Graphic Staff Writer
County to look into ETJ agreement with towns
A Nash County Commissioner requested the county look into developing a policy related to municipalities and their extraterritorial jurisdiction, or ETJ.
Commissioner Wayne Outlaw made the request at the county's all-day retreat on Friday, November 13. Outlaw said he felt such a policy would allow more input into future annexations. More ...
Amanda Clark, Graphic Staff Writer

RIBBON CUTTING – North Carolina State Treasurer Janet Cowell looks on as Nashville Mayor Donald Street asks former Mayor Warren Evans to say a few words at a ribbon cutting held Monday at the new Town Hall facility.

Nashville celebrates new Town Hall
Nashville's Town Hall held a ribbon cutting and open house on Monday afternoon, with several distinguished guests coming out to tour the new facility.
The event began with a short ceremony that featured comments from Janet Cowell, the State Treasurer of North Carolina. Cowell was elected to the office in 2008 and is the state's 27th treasurer.
"It's nice to celebrate fun occasions, good news," Cowell told those in attendance. "I have tremendous respect for the work that goes on in the community."
More ...
Amanda Clark, Graphic Staff Writer
Nashville Habitat seeks land to build homes
Nashville's Habitat for Humanity is ready to build its ninth home for a deserving family.
It has the finances to build a home, volunteers ready to help and a list of applicants who want a new home.
Now all the organization needs is some land.
Habitat is looking for land to be donated or sold at a reasonable price in the Nashville area. Lynne Anderson, Secretary for Nashville's Habitat for Humanity, said, getting land donated helps keep the cost down for the homeowners. Any land that is donated would be tax deductible. More ...
Amanda Clark, Graphic Staff Writer
Checkpoint nets 78 violations including DWI charges
A DWI Checkpoint on Friday night resulted in 78 miscellaneous citations being issued, including seven DWI charges.
The checkpoint was held by Nashville's Police Department and headed up by Sgt. Jason Newsome. Ten other agencies assisted Nashville's Police Department in the checkpoint.
Nashville Police Chief Bill Creech said the checkpoint held Friday is a first of others to come.
"We want to do it least once a year, looking at maybe twice a year, doing one on this scale, getting the BAT mobile," Creech said. More ...
Amanda Clark, Graphic Staff Writer
Lamar continues in wife's fight against cancer
Wardlaw Lamar is hoping to pick up where his wife left off in the fight against cancer.
Lamar is working on a campaign to raise money for the UNC Lineberger Comprehensive Cancer Center for cancer research for all the people of North Carolina. Last year, thanks to the efforts of Lamar's wife, Susan, over $100,000 was raised during Paws for a Cause, a dog walk and animal parade.
More ...
Amanda Clark, Graphic Staff Writer
Nashville's Christmas Celebration is Dec. 5
The Nashville Children's Christmas Parade and Celebration is set for Saturday, December 5 in downtown Nashville and is still looking for one more sponsor.
The event will begin at 3:45 p.m. on December 6 and children 12 years old or younger are invited to come out with their decorated bikes, wagons, scooters, strollers or themselves and take part in this annual event.
More ...

Momeyer man requests hearing on text amendment
A Momeyer man came before Momeyer's Board last Monday morning requesting the board allow a text amendment so he can replace a garage on his property.
Jimmy Matthews told board members on November 9 that he wanted to replace an existing garage on his property at 5129 Momeyer Way. Matthews said the garage is in bad shape and needs to be replaced. Replacing it, he added, would improve the appearance. More ...
Amanda Clark, Graphic Staff Writer
Grant awarded to Castalia Fire Dept.
Insurance Commissioner and State Fire Marshal Wayne Goodwin announced that the Castalia Volunteer Fire Department was awarded a $9,200.44 grant through the 2009 Volunteer Fire Department Fund from the State of North Carolina.
The check will be mailed to Chief Robert Varnell to purchase needed equipment. The equipment is purchased using matching funds and must be approved by the Department of Insurance Office of State Fire Marshal. More ...

CRAZY HAIR DAY
After reading Crazy Hair Day by Barney Saltzberg, some students and teachers in kindergarten and second grade at Nashville Elementary also had "Crazy Hair Day" on Friday, September 25th. Pictured L-R is Ms. Martha Bissette and Ms. Jennifer Sanders with student Ethan Craig showing off their crazy hair.
More ...

Nashville man arrested for soliciting prostitution
A Nashville man was charged with soliciting prostitution after approaching a store employee and offering her money for sexual favors.
According to Nashville Police Chief Bill Creech, the man, Dennis Earl Mills of Womble Road, approached a store employee of L&L Food Stores and followed her around the store making sexual remarks to her. Creech said Mills allegedly offered the woman $300. Later, the man said he'd give her whatever she wanted for "15 minutes of her time." More ...
Amanda Clark, Graphic Staff Writer
NASHVILLE POLICE BRIEFS
ARRESTS
Kenneth Andrew Richardson - 10/27/09 - charged with city ordinance violations
Christopher M. Richardson - 10/27/09 - charged with mis. larceny
Tamerita Danette Hines - 10/27/09 - charged with driving while license revoked More ...

Adopt-A-Highway
Members of the St. Elmo Masonic Lodge #159 and Gaylor Chapter #654 Order of the Eastern Stars helped pick up trash during their Adopt-A-Highway trash pick up volunteer service on Red Oak-Battleboro Road on October 31. Pictured are Brother Walter Harper, Sister Gwen West, Sister Helen Wilkins and Brother Samuel Wilkns. Not pictured is Brother Tollie West, Jr. who took the photo.
More ...

Social Awareness Issues Seminar
Bertha S. Joyner Gleaner Branch #115 hosted a "Social Awareness Issues Seminar" on September 26 at St. John Baptist Church Fellowship Hall in Red Oak. Subjects discussed included teen pregnancy, violence, drugs and aids. Speakers were Mrs. Vanetta J. Silver, Nutritionist and Consultant of Warren County, Sis. Arjonah B. Balmer, Gleaner Co-Chair Supervisor of BSJBJ and Sis. Gwendolyn West, Gleaner Chair Supervisor of BSJBJ. Refreshments were provided by Gaylor Chapter #654 and Order of the East Stars of Red Oak. Pictured are some of the attendees of the seminar.
More ...

SINK OR SWIM
Second graders at Nashville Elementary celebrated a unit of study on Curious George in August. As a culminating activity, students in Mrs. Diane Day's class had "yellow day" in honor of the "man in the yellow hat" and also recycled newspapers by creating boats like Curious George. Students predicted whether their boats would sink or float. They floated! Pictured are students in their yellow shirts with their newspaper boats.
More ...

Eason is named 2009 Math Teacher of the Year
Gatsy Eason was recently honored as the Nash-Rocky Mount Public School System Outstanding Elementary Math Teacher for 2009 at the North Carolina Council of Teachers of Mathematics (NCCTM) Annual Conference held at the Koury Convention Center in Greensboro. Ms. Eason was singled out among math professionals for her level of expertise, commitment to her profession and dedication to her students.

More ...

Birth Announcement
Leary and Allison Winslow of Hertford are proud to announce the birth of their son, Nixon Clint Winslow, born September 23, 2009 at Chowan Hospital in Edenton. He weighed 9 pounds, and was 21 1/4 inches long.
Maternal grandparents are Crystal Brown of Nashville, and Frank Brown of Rocky Mount. Paternal grandparents are Ray and Kay Winslow of Hertford. More ...

50th ANNIVERSARY
On Thursday, November 26, 2009 Leslie R. "Teck" and Becky J. Bass will celebrate their "50th" Wedding Anniversary. The Wednesday night before, they will have dinner with their children and grandchildren. And on Thursday will leave for a trip to Myrtle Beach, S.C.
More ...

Nursing program is approved
The Associate Degree Nursing program and the Practical Nursing program at Nash, Edgecombe, Wilson, and Halifax community colleges have been approved by the North Carolina Board of Nursing.
On October 28 and 29, the N.C. Board of Nursing conducted a review of the programs, which occurs every eight years. The education consultants had no recommendations. More ...


Heston Gregory and Brittany Wind

4-H members earn ribbons
Local 4-H members participated in competitions at this year's State Fair.
Courtney Hyman, 13 years-old, received 10th out of 30 in Barrel Racing. (not pictured).

More ...

Coopers Ruritan of the Year is Wayne Horne
Wayne Horne was named the 2009 Coopers Ruritan of the Year at the club's annual appreciation banquet last Thursday evening.
The Ruritan of the Year award is given every year and is a special award because it's voted on by club members, said Stuart Lamm, who presented the award to Horne. Lamm said the Ruritan of the Year is someone who goes above and beyond his/her call of duty.
Pictured (above), Calvin Horne (far right) was presented a Certificate of Appreciation at the Coopers Ruritan Club's annual Appreciation Banquet for his service as the club president. Presenting the award is District Governor Dennis Raper (far left) and in the background is Zone Governor Herbert Joyner (center).
More ...
Amanda Clark, Graphic Staff Writer
Eagle Scout
Charles Ethridge, at left, presents a Boy Scouts of America license plate to David Fincher, at right,who recently earned his Eagle Scout rank.
More ...

Thanksgiving meal
Smithfields Chicken 'n Bar-BQ fed a Thanksgiving meal to around 45 youth from Nashville's Boys and Girls Club Monday afternoon at the restaurant. Pictured on the front row (L-R) are Boys and Girls Club members Shakeira Hedgepeth and Jeniya Thomas. On the back row (L-R) is Tony Orr, Area Director for the Boys and Girls Club, Members Jazmon Mills, Dekalon Stample and Quante Downey, Natalie Rodriguez, Site Coordinator for Nashville's Boys and Girls Club, Teri Collie, Operations Manager at Smithfields and Jim Stewart, General Manager at Smithfields.
More ...

Indian traditions
Students in Ms. Diane Day's second grade class made story vests after the class discussed Indian traditions. Each student wrote his/her Thanksgiving story on the back of the vests. The students also made headbands to go along with the vests, all in preparation for Thanksgiving. Pictured on the bottom row (L-R) is Mallory Roughton and Jasmine Grice. On the back row (L-R) is Griffin Wingfield, Alex Skogec and Carter Luper.
More ...

Red Oak Community News
Preschoolers, children, and adults traveled to North Africa during the International Mission Study on Wednesday, Nov. 18 at Red Oak Baptist Church. Each group learned about missionaries serving in North Africa and the many ways they are reaching out to the lost in that area. They also understood the importance of the Lottie Moon Christmas Offering and how it supports our missionaries. The preschool study was led by Barbara Sue Edwards, children's study was led by Audrey and Suzy Pearce, the youth study was led by Judy Bass, and the adult study was led by Jimmy Bass. More ...
SUZY PEARCE
Annual Lighting of Wesleyan is Dec. 1
North Carolina Wesleyan College's Fourth Annual Lighting of Wesleyan will be bigger and brighter than ever before when the college "lights up" on Tuesday, December 1, at 5 p.m.
This year's attractions will include more than 200 lighted Christmas displays that in past years have decorated the home of Pace and Ben Winstead on Wimberly Drive in Rocky Mount. The Winsteads have moved their "Wimberly Wonderland" to Wesleyan's campus for the 2009 Christmas season because of a family health issue, and their collection will be displayed every evening between 5 – 10 p.m. from December 1 through January 3.
More ...

Peachtree Community News
On this Sunday before Thanksgiving, the Peachtree Folks gathered to thank God for their many blessings. Pastor Whitehouse chose as his topic, "Our God is a Father--A New Way of looking at God". This was based on Matthew 6:9. He also referenced Luke 15:11-32- the familiar story of the prodigal son. God still loves us even when we turn our back on Him. He is always ready to welcome us with His love. More ...
BARBARA HARDISON
Mt. Zion FWB Church News
Brother Bob Watkins welcomed everyone to Sunday school and reported 83 in attendance including one visitor. We appreciate Barbara Morgan playing the piano for Sunday school. We are blessed with musicians. Sandra Manning is our regular piano player, who plays for church and sometimes for Sunday school. Mozelle Batchelor is our church organist and choir director. Robin May plays for Sunday school at times. Ina Jones fills in when needed like Wednesday night or Sunday night or at other times when needed. We thank God for these ladies and their willingness to play for the glory of God. More ...
ROSALENE BASS
Ephesus Community News
Pastor David Eidson welcomed everyone to worship on Sunday morning as we begin celebration of the Thanksgiving holiday. He asked everyone what they were thankful for and got a wide variety of answers. We should be thankful that God loves us and for the privilege of studying His word.
More ...
DEBBIE PHILLIPS
Make a Thanksgiving list, you might be surprised
It's been a tough year, let's face it.
There are those of us who have lost loved ones. Some have lost jobs; some have fear they may lose them anytime. The economy is uncertain. For some, health is uncertain. Many question — at least politically — where our country is headed.
This could bring a person to a pretty rough place, mentally. More ...
Mike Brantley
So many things to be thankful for
As many of you read this, I'll probably be in the office getting nothing done because I'm too busy thinking about Thanksgiving.
Today is the day before Thanksgiving.
It's a day that seems to drag by, possibly because it's a day I tend to not eat a whole lot so that I can leave room for all the turkey I'm going eat on Thursday!! More ...
Amanda Clark
Make those Black Friday dollars work at home!
'Tis the season to express our gratitude for all we have, giving thanks for family, friends, good health and for our community.
I'm sure we all, at times, take for granted the simple things in life. I know I do.
A recent conversation brought up how hard folks had it during the Great Depression.
Black Thursday, 1929, ignited a decade of extremely hard times. During this conversation it was shared with me how families lost their farms, people lost jobs and some couldn't even feed their children. The unemployment in some areas of the country hit 50 percent.
More ...
Jo Anne Cooper
Backward Glances
This photo was contributed by Frances Floyd of Nashville. Ms. Floyd believes the photo was taken in 1934 of this first grade class at Nashville Elementary.
More ...
A PICTORIAL LOOK INTO THE PAST

CREATING A SPLASH. Nash Central High School's Kaitlyn Beal competes in a freestyle event during last Wednesday's Big East Conference Swim Meet, which was held at the Harrison YMCA in Rocky Mount. (Graphic photo by Geoff Neville)

BACK IN THE WATER
ROCKY MOUNT - The newfangled version of the Big East Conference met for the first time in the pool this season -- and a familiar standby finished at the top in both the boys and girls standings.
Long-time powerhouse Wilson Fike claimed first place in both team categories, while Wilson Hunt was second at the meet, which was staged at the Harrison Family YMCA in Rocky Mount. More ...
GEOFF NEVILLE, Graphic Sportswriter

CHASING HIM DOWN. With an official looking on, a Mebane runner tries to escape Nash County's Mike Protillo during last Saturday's semifinals of the Statewide Athletics Committee Football Playoffs at Eastern Alamance High School.

Nash County Flies Into Finals
MEBANE -- By anyone's estimation, the Nash County Firebirds have a relatively new youth football program.
But it hasn't taken long for the Firebirds to soar toward a high level -- the highest of all, in fact.
After shredding through a trio of opponents in the Statewide Athletics Committee Football Tournament, Nash County will host the championship match on Dec. 5. More ...
GEOFF NEVILLE, Graphic Sportswriter
Wrestling campaign kicks off
ROCKY MOUNT -- Nash Central High School's wrestling squad opened regular season action last Wednesday with a 41-33 victory against the Smithfield-Selma Spartans.
Results from the match were as follows:
More ...
Staff Reports
Birds move into the third round
WILSON -- Life is full of second chances -- unless you're a member of a high school football team.
Because of the compacted schedule, prep gridiron squads rarely get an opportunity to avenge an earlier defeat.
But Southern Nash has now had that chance this season season. And the Firebirds have gotten the job done each time. More ...
GEOFF NEVILLE, Graphic Sportswriter
East Carolina announces baseball class
GREENVILLE -- Eleven high school seniors have committed to play baseball at East Carolina University in 2011, head baseball coach Billy Godwin announced last Friday.
The latest group of prep standouts will enroll at ECU in the fall of 2010 and will take the diamond for the Pirates in 2011. More ...
Staff Reports
Godwin contract extended by ECU
GREENVILLE -- East Carolina University has announced an extension of head baseball coach Billy Godwin's contract, which will secure his position through the 2014 season.
The new agreement, approved last Friday by the University's Board of Trustees and announced by ECU Director of Athletics Terry Holland, will add three years to his existing contract that was set to expire June 30, 2011.
More ...
Staff Reports
NC Wesleyan's season ends in playoffs
DOVER, DEL. -- North Carolina Wesleyan College's football squad saw its stellar season come to an end last Saturday afternoon in the opening round of the 2009 NCAA Division III Playoffs as the Battling Bishops (8-3) fell to 3rd-ranked and top-seeded Wesley College by a 55-23 score.
NCWC held a 17-13 advantage late in the first half, but the Wolverines (11-0) countered with 28 unanswered points to pull away for the victory. More ...
Staff Reports
SIMPLY AMAZING
Nash County's Tahj Deans (right) makes this spectacular grab in the end zone for the Firebirds during last Saturday's playoff victory over Mebane at Eastern Alamance HS.
More ...

GOOD KNIGHT
A Northern swimmer competes in a freestyle event for the Northern Nash High School Lady Knights during last Wednesday afternoon's Big East Conference Swim Meet at the Harrison Family YMCA. Fike took first place in both the boys and girls standings.
More ...


2nd Place Duane Hollis

Local artists compete in Nash County's Got Talent
The fourth annual Nash County's Got Talent brought out 15 different artists with a variety of talent to perform Thursday night at Nash Arts. On Friday, the top 10 performed again and in the end, three were named winners.
Erin Strickland and Ronnie Ezzell were the first place winners, winning $1,000.
"I was surprised," Strickland said. "I didn't think we were going to get up there." More ...

DONALD SHERROD
SANDY CROSS– Donald Sherrod, 71, passed away Tuesday, November 17, 2009. He was born August 24, 1938 in Nash County, son of the late Hassell and Gracie Sherrod. More ...

ROBERT "BOBBY" GLYNN
Robert "Bobby" Glynn Long, 56, passed away, Sunday, November 15, 2009. He was born July 14, 1953 in Fairfield County; SC. More ...