Subscribe/Access
Advertisements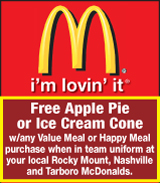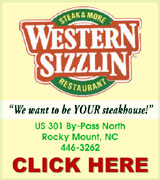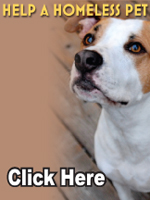 Sections
Member Options
Back

Gonzalez

Two arrested for kidnapping
The Nash County Sheriff's Office, with assistance from the State Bureau of Investigation and other law enforcement agencies, have arrested two men in connection with a kidnapping that occurred last Wednesday night.
In a press conference on Monday afternoon, Nash County Sheriff Dick Jenkins said two men, posing as Nash County Officers, entered the home of Angel Mendoza-Valdovinos on Langwood Way in Rocky Mount around 6:30 p.m. last Wednesday. The men escorted Mendoza-Valdovinos out of the home. Jenkins said the man's wife told the Sheriff's Office that the men had badges and handcuffs. More ...
Amanda Clark, Graphic Staff Writer
Schools request $417,000 less from counties for 09-10
At their Monday work session, the Nash-Rocky Mount Schools (NRMS) board approved next year's local current expense budget of $25,882,558 to request from Nash and Edgecombe counties, $417,000 less than this year's budget. The board will approve the actual 2009-10 local current expense budget in the next school year once the counties have made their decisions.
Although costs for everything are going up, NRMS superintendent Rick McMahon said, this local budget request comes in significantly less than this year's, "which is reasonable and fair." He said after his talks with the county managers, their hope is to get to these budget figures for next year. More ...
Michele A. Cruz, Graphic Correspondent - 1 opinion posted

Pictured above, Thomason's family stands with a wreath that was placed in his memory. From (L-R) is son Rick Thomason, daughter-in-law Sandra, wife "Shorty," and granddaughter Heather Perguizi.

Thomason is honored
A little rain didn't stop members of the Joint Veterans Committee from honoring a Nashville man on Monday for his many years of service in World War II and the Korean War, but also to the Town of Nashville.
Jack B. "Tommy" Thomason, a Master Sergeant in the United States Army, was honored Monday morning during the Committee's monthly celebration, which honors deceased veterans. The Joint Veterans Committee is comprised of The Marine Corps League Detachment 1262 as well as American Legion Posts 110, Post 173, Post 293, Post 58 and VFW Post 2057 of Rocky Mount, DAV Chapter 55. More ...
Amanda Clark, Graphic Staff Writer
Castalia Board makes changes to ordinances
Castalia commissioners held a public hearing last week in order to discuss several changes to the ordinances of the town. The public hearing was held in conjunction with the town's regular business meeting on Tuesday, April 7. Three main issues were addressed in the ordinance changes: issues relating to the planning board and board of adjustments; issues related to price increase for fees in the town; and issues related to changes mandated by the state. More ...
Amelia Harper, Graphic Correspondent
Relay for Life works towards $275,000 goal
Fifteen years ago, Relay for Life began in Nash County with 33 teams and a goal of raising $90,000. This year, 74 teams will participate in Relay, raising money to meet a $275,000 goal.
Sherry Harris, who is serving as co-chair of Relay for Life, has been participating in Relay since its inception in Nash County. She said the event has grown tremendously in the past 15 years.
Two hundred luminaries were purchased during the first Relay event. Last year, there were 1,600. This year, Harris said that many had already been purchased. More ...
Amanda Clark, Graphic Staff Writer
Weldon man found guilty of robbing man at gas station
A Weldon man was sentenced to at least 24 years in jail after robbing a man in the parking lot of Griffin's in Red Oak.
The incident occurred on May 6, 2008. According to Lt. Pat Joyner, of the Nash County Sheriff's Office, Travis Jamal McFadden, Larry M. Chambliss and Leon R. Scott approached a green Ford Expedition and asked 25-year-old Waverly Burgess, of Hollister, for directions. As Burgess was giving directions, Joyner said one of the men demanded Burgess' wallet. When Burgess refused, McFadden shot him in the left shoulder. More ...

Former police officer is indicted
A former Rocky Mount Police Officer was indicted by a grand jury for tampering with evidence.
The Rocky Mount Police Department received allegations of misconduct by Officer Korrin Terrell Lofton in mid-to-late November 2008. An internal investigation was then conducted by the Rocky Mount Police Department's Professional Standards Unit.
Based upon the criminal investigation of Lofton, the case was brought before a grand jury. Last Monday, a True Bill of Indictment was brought against Lofton for altering, destroying or stealing criminal evidence, which is a Class I Felony. The department would not comment further on what case Lofton was charged with tampering in. More ...

4-H Meat Animal Show and Sale
The 72nd Annual Eastern Carolina 4-H Meat Animal Show was held April 7 and 8 in Tarboro with over 200 4-Hers participating in the various shows.
4-Hers from Nash, Edgecombe and Halifax Counties come out each year to participate in the annual event. Mark Hucks, Agricultural Extension Agent for Nash County, said the number one goal of the show and sale is to teach the youth life skills.
Hucks said Jim Butler, a former Extension Livestock Specialist who continued helping 4-Hers even after his retirement, said it best. More ...
Amanda Clark, Graphic Staff Writer
Four finalists are announced for NEER 2009 Entrepreneur of the Year Award
NASH COUNTY – B. Mayo Boddie, Sr., Chairman of the NorthEastern Entrepreneur Roundtable (NEER) has announced the names of the four finalists for the 2009 NEER Entrepreneur of the Year Award.
"We received over 15 qualified nominations for this year's Entrepreneur of the Year Award competition. Our selection committee had a difficult time narrowing our finalist list for this honor, but we believe we have selected four outstanding candidates," commented Boddie. More ...

Red Oak Community News
The Baptist Men's breakfast was held on Sunday, April 19.
The North Roanoke Senior Spring Fellowship is planned for May 12 at Union Baptist Church. Cost is $6 per person. The program will begin at 11:30 AM and features Janet Harllee, Christian speaker and entertainer. Lunch will include BBQ (pork and chicken), slaw, potato salad, rolls, apple pie, tea, water, and coffee. Anyone interested should contact Nell Boone by April 22. More ...
SUZY PEARCE
Ephesus Community News
On Sunday morning, Pastor David Eidson welcomed everyone, especially visitors and returning members, to worship and observe the Lord's Supper. More ...
DEBBIE PHILLIPS
Beulah Community News
We had another great day at Beulah Church of Christ on Sunday. We had a good attendance, several visitors, and the church was filled with beautiful flowers. Frances Dunn and family shared the flowers in loving memory of Freddie Dunn who recently passed away. Sunday school began at 9:45 followed by church service at 11. One visitor I want to mention was Johnnie Ray Hicks who grew up in our church. His son was with him also. He now lives in Virginia and is the brother of Barbara and Shirley Jane Ricks. More ...
WILMA ENROUGHTY
Mt. Zion FWB Church News
I was not able to attend Sunday school or church today, so I am writing my article from the tape that Brother Elza Manning brought to me and from the bulletin. Brother Elza is very faithful in his ministry of taking tapes to the sick and shut ins. Thank you for your faithfulness. More ...
ROSALENE BASS
Relay for Life News
WWW.NASHRELAY.ORG
•Relay for Life Event- April 24-25, 2009
Paint the County Purple: The American Cancer Society will "Paint the County Purple" in celebration of its annual Relay for Life event. Businesses and residents can show their support in the fight against cancer in many ways. In efforts to "Paint the County Purple" the following departments have agreed to tie purple ribbons on all their vehicles and/or buildings during the month of April: City of Rocky Mount Fire and Police, Nash County Emergency Services, Sheriff and Fire Marshall's office, Red Oak Fire, Town of Nashville Fire & Police, and Whitakers Fire. More ...

Horne serves as Page for Senator Swindell
RALEIGH - The North Carolina Senate was honored recently to have Benjamin Robert Horne, a student at Nash Central High School, serve as a Page. He is the son of Bob and Denise Horne of Nashville. Benjamin was sponsored by Senator Albin B. Swindell and appointed by the Senate President Pro Tempore, Marc Basnight. More ...

Tea parties, Obama and other stuff
The Soapbox Staff has managed to keep quiet lately about things political, but alas, the siren is calling.
The Tax Tea Parties of last week, President Obama's globetrotting, the antics of Notre Dame and other assorted things and goings-on are just more than a rabble-rouser can let go.
Let's take them in small bite-sized pieces ... More ...
Mike Brantley
State shouldn't cut early childhood education budgets
It's no secret that the United States is in an economic mess right now. Municipalities all over the world are facing revenue shortfalls and are having to be creative, in essence, to balance budgets. Right here in North Carolina, the General Assembly is looking at things to cut to make ends meet. Some of these cuts bother me.
Both the House and Senate have passed policy and budget provisions which will significantly affect early childhood education programs. If there's one place North Carolina needs to be making cuts, it's not in early childhood education. More ...
Amanda Clark
Current NC annexation statutes, like that of slavery, infringes upon of our rights as citizens
Dear Editor,
North Carolina's current annexation statutes have many of the same attributes that the slavery laws of years gone past. After becoming a nation it took over 80 years for the nation to realize that slavery was not right and infringed upon the rights of a group of the nation's citizenry. This nation went to war over states rights and along with it came the rights of those in slavery. The end of that war brought an end to slavery except in the North Carolina statutes dealing with annexation. More ...
Letters to the Editor:
SCORE volunteers help small businesses
Dear Editor:
April 19 – 25, 2009 is National Volunteer Week. The purpose of this week is to recognize and celebrate the efforts of volunteers at the local, state and national levels. This year's theme is "Celebrating People in Action." One volunteer group that demonstrates this spirit is SCORE. More ...
Letters to the Editor:
Williams' World
STANHOPE - Northern Nash doubled its pleasure during a key girls soccer victory Monday against NEW-6 Conference foe Southern Nash.
When the clubs met earlier in the season, the Lady Knights struggled offensively against the defense-first Ladybirds, collecting just a pair of goals as part of a 2-0 conquest.
Scoring proved to be easier this time around as senior whiz Kimberly Williams potted two goals and assisted on another as Northern Nash rolled to a 4-0 decision. More ...
Geoff Neville, Graphic Sportswriter
Southern Shines In Home Victory
STANHOPE -- Because of Spring Break, Louisburg was missing five starters -- and had only the minimum of 11 players -- for last Thursday's road, non-conference girls soccer showdown at Southern Nash.
The host Ladybirds weren't in the best of shape, either, as three starters were unavailable because of a Beta Club event, including midfield standout Hannah Brock.
Despite the absences, Southern Nash was able to tally three goals in the opening half en route to defeating the Lady Warriors by a 4-0 margin at the SNHS Soccer Field. More ...
Geoff Neville, Graphic Sportswriter
Heroics resume on links
WILSON -- Only one proposition is scarier than meeting the Wilson Fike Golden Demons on the golf course.
That would be trying to defeat Fike on its home layout.
The rest of the NEW-6 Conference tried -- and failed -- in that attempt as the league, following a one-week absence, resumed its schedule last Wednesday at Willow Springs Golf Course.
The host Golden Demons, who are the defending Class 3-A State Champion, ran away with the match by accumulating just 300 strokes -- which totals to just 75 shots per scorer. More ...
Staff Reports
Northern drops two on court
RED OAK -- After taking time off for Spring Break, the Northern Nash High School boys tennis squad returned to action last week with a pair of NEW-6 Conference matchups.
On Tuesday, the Knights were defeated 6-3 by the Rocky Mount Gryphons.
Two days later, Northern Nash dropped a close 5-4 contest to Wilson Fike.
Northern is now 10-5 overall to go with a 4-4 league mark. A non-conference event this Monday at Bunn was cancelled. More ...
Staff Reports
The Repeat Defenders
STANHOPE -- Last Thursday provided a Magnificent Seven Moment for the Southern Nash High School boys tennis squad.
The tradition-rich Firebirds wrapped up their seventh consecutive league championship with a 7-2 team title over NEW-6 Conference rival Rocky Mount at the SNHS Courts.
Southern Nash, coached by long-time mentor Brad Joyner, remained undefeated on the season with the conquest against the Gryphons. More ...
Geoff Neville, Graphic Sportswriter
NC Wesleyan claims conference tournament
BURLINGTON -- Top-seeded North Carolina Wesleyan beat Shenandoah twice on Sunday to win the USA South Conference Tournament championship at Burlington Athletic Stadium.
After winning the first game to force a deciding contest, the Bishops knocked off the Hornets 6-2 to earn the title and an automatic berth into the NCAA Division III Tournament. More ...
Staff Reports
NASH COUNTY REC LEAGUE RESULTS
NASH COUNTY -- Listed are early-season results and standings for the Nash County Parks and Recreation Department's softball/baseball leagues: More ...
Staff Reports
East Carolina drops two of three on road
NEW ORLEANS, LA. -- Conrad Flynn struck out a career-high eight batters and Jeremy Schaffer blasted a three-run home run as Tulane (22-17, 5-7) took game three of the Conference USA baseball series 4-3 against No. 17 East Carolina (28-12, 10-5) on Sunday at Greer Field inside Turchin Stadium.
Flynn improved to 4-3 on the season after allowing three runs (all earned) on seven hits with a walk. Nick Pepitone picked up his sixth save of the season after working 1 2/3 innings allowing one hit. More ...
Staff Reports
Mudcats win home opener
ZEBULON -- Juan Francisco and Sean Henry homered, while Dallas Buck won his second straight start as Carolina won its 2009 home opener 12-3 over first-place Huntsville before 2,788 fans at Five County Stadium in a Class AA Southern League baseball matchup.
Buck (W, 2-0) littered seven hits over six innings as the Mudcats (5-6) snapped a four-game losing streak. Buck's only turbulence was third inning trouble, however with the Stars (5-6) loading the bases with one out and already a run in, Vinny Rottino grounded into a double play, one of a franchise-tying five turned by Carolina. More ...
Staff Reports
Canes fall in overtime
RALEIGH -- Two streaks ended Sunday night as the New Jersey Devils defeated tha Carolina Hurricanes in overtime Sunday night to take a 2-1 lead in their best-of-seven National Hockey League Stanley Cup Playoff series.
The Devils, losers of their past six playoff games at the RBC Center, used an overtime goal by Travis Zajac to exorcise their postseason demons and pull out a 3-2 decision.
The Hurricanes' home playoff streak over New Jersey came to a sudden end less than five minutes into the overtime period as Zajac sent a rebound past Carolina goalie Cam Ward. More ...
Dave Buck, Graphic Correspondent
Battle signs with Queens
ROCKY MOUNT -- Perhaps the worst game of Rocky Mount senior forward Dyonna Battle's career came in the championship game of the Nash County Christmas Tournament back in December.
Battle was 0-for-16 from the floor and made one free throw for a 1-point effort in a 14-point loss to Nash Central. She was so upset with her performance that she had to be consoled by her parents, Gail and Donnell, afterward.
She knew she could do better. She knew she had to do better. More ...
Charles Alston, Graphic Correspondent
Knights win NEW games
RED OAK -- Playing back-to-back NEW 6 baseball contests didn't bother Northern Nash at all last week.
The Knights pulled off consecutive conference victories on back-to-back nights to get into the swing of things in the league race.
After seeing its league contest with visiting Southern Nash last Tuesday postponed due to rain, the Knights were forced into facing the Firebirds at home on Friday -- one day after making a trip over to Nash Central. More ...
Charles Alston, Graphic Correspondent
Nash Arts Denim & Diamonds Gala is set for May 15
NASHVILLE – Nash Arts will hold its annual spring fundraiser, the Denim & Diamonds Gala, Friday, May 15 at the Rose Hill Conference Center, just outside of Nashville on Highway 58. The event begins at 6:30 p.m.
This annual event is a major fundraiser for Nash Arts. This year's Gala will include entertainment by The Monitors and Nash County's Got Talent finalists.
There's still time to become a sponsor of the event and to purchase tickets.
Tickets are $40 per person. For more information call 252-459-4734 or email Shelly@nasharts.org
More ...

Nash Arts Schedule
Nashville Showcase
Cadillac Sky
Thursday, April 23rd; reception 7 p.m., showtime 8 p.m., $25 general admission / $20 Nash Arts members, *Costs include beverages & heavy hors d'oeuvres More ...

NC Boys Choir to perform at Rocky Mount church
The North Carolina Boys Choir will be presented in concert on Friday, May 1, 2009 at 7:30 p.m. at West Haven Presbyterian Church, located at 1001 West Haven Blvd. at the corner of Hammond Street in Rocky Mount. This is the last in the 2008-2009 West Haven Presbyterian Church Music Series. The concert is free and open to the public. More ...

CURTIS ALLEN RICH
BUTNER - Curtis Allen Rich, 65, a native of Nash County, died Wednesday, April 15, 2009 at his home. More ...

ROBERT G. STONESIFER
Robert G. Stonesifer, 90, passed away on Monday, April 20, 2009. He was born in Berryville, VA February 8, 1919 to Fannie Chapman and Charles Stonesifer. He was predeceased by his wife, Grace C. and son Thomas. He is survived by a sister Betty and her husband James Mayhew of Parkville, MD and nephew, Ray Clopton of Henderson. More ...

MAMIE SMITH
GREENSBORO - Mamie Smith, 86, formerly of Middlesex, died Thursday, April 16, 2009 in Greensboro. More ...