Subscribe/Access
Advertisements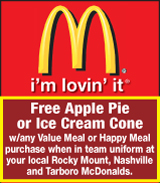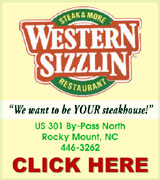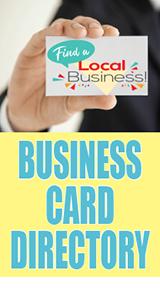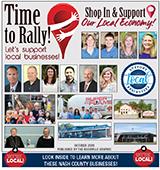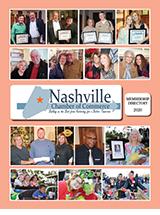 Sections
Member Options
Back

Brake

Nashville teens arrested for break-ins
Two Nashville teens were arrested last week in connection with a rash of break-ins over the past month. Additional arrests are pending.
According to Nashville Police Chief Bill Creech, the break-ins have been occurring during the day in residential neighborhoods in town.
"We have had several B&E's in the last several weeks," Creech said. More ...
By Amanda Clark, Graphic Staff Writer - 1 opinion posted
Spring Hope man charged in murder of Franklin Co. man
A Spring Hope man was one of three arrested in the murder of a Franklin County man during an attempted break-in on July 3.
Ibin R. Williams, 21, of Spring Hope, was charged with first-degree murder in the shooting death of 29-year-old Corey Wardell Mann. Mann's body was found in a ditch on Ferrell's Bridge Road in Franklin County, just a few hundred feet from his home.
Darius J. Horton, 17, of 1419 Schloss Road, Franklin County and Quandrea D. Wilson, 18, of 64 Tranquility Drive, Franklin County, were charged with accessory after the fact. More ...
By CAREY JOHNSON, Special to The Graphic
VISITING THE UNITED STATES
Four youth from Belarus have been participating in swim meets with Nash Rec while staying with local families. The Belarussian children visit the US each year for medical care and hospitality. The children receive medical care, dental care and eye care. Each was directly or indirectly affected by radiation from the Chernobyll nuclear plant accident in 1986. Pictured (L-R) is Mark Bresiv, Kristina Yakimiva, Luba Karobka and Natasha Sirvakava. More ...

Police search for man who robbed L&L store
Nashville Police are looking for a man who robbed L&L late Friday night.
According to Police Chief Bill Creech, two employees, a clerk and a manager at L&L Food Stores, located near Birchwood at 1001 E Washington Street, were closing the store around 11:30 p.m. The manager left the store with a bag of money for the bank deposit and got into the driver side of a van that was waiting to pick her up. A male passenger was in the van waiting for her. Creech said when the manager got into the van, she placed the money bag in between the seats when a guy came up to the passenger side window and asked for a light from the male passenger. When he was given a lighter, the suspect jumped through the window and grabbed the money bag. Creech said the manager reached over and grabbed the bag but the suspect wrestled it away from her and fled on foot toward Cavalier Homes. More ...
By Amanda Clark, Graphic Staff Writer
Middlesex man arrested for marijuana operation
A marijuana operation was discovered during a search of a Middlesex home last Monday.
Officials with the North Carolina Probation and Parole and the Nash County Sheriff's Office conducted a search of 9533 Stoney Hill Church Road in Middlesex on Monday, July 21. During the search, investigators found a sophisticated indoor marijuana operation which was active and in the process of producing marijuana plants. Forty-two marijuana plants were seized along with 110 grams of marijuana and one gram of powder cocaine.The street value of the seized narcotics was around $101,000. Over $700 was also found as well as a large amount of drug paraphernalia used to grow marijuana. More ...
By Amanda Clark, Graphic Staff Writer - 1 opinion posted
Nashville Fire postpones annual Firefighter's Day
Due to high gas prices and the wildfires in Hyde County, Nashville's Fire Department has cancelled its sixth annual Firefighter's Day.
According to Nashville Fire Chief Tim Pope, a lot of participation in Firefighter's Day comes from the east and departments have been battling the Evans Road Fire for over a month, which spans Washington, Hyde and Terrell Counties. More ...
By Amanda Clark, Graphic Staff Writer
WHERE'S THE MAMA BIRD?
An afternoon of yard work led this photographer to a nest of baby birds crying out for their mother. Obviously it was getting close to dinner time. More ...

2008 Alzheimer's Memory Walk set
On October 4, 2008 the Luncheon Pilot Club of Rocky Mount will again partner with the Eastern North Carolina Alzheimer's Association to sponsor the 2008 Nash-Rocky Mount Alzheimer's Memory Walk at Nash Community College. More ...

Cummins to purchase equity stake in CDC
Cummins Inc., (NYSE: CMI) announced recently that it has concluded its joint ventures with CNH Global N.V. (CNH) and Iveco N.V., two Fiat Group companies. Under the new agreement, Cummins will purchase CNH's equity stake in Consolidated Diesel Company (CDC) and will sell its interest in the European Engine Alliance.
CDC, which is located in Whitakers, N. C., will become a wholly-owned entity of Cummins Inc. Cummins entered the highly successful joint venture with Case Corporation in 1980, and has produced more than 2.7 million mid-range engines. Cummins will purchase CNH's 50 percent interest in CDC. More ...

Twelve arrested in phase two of "Operation Heat Wave"
In a continued effort to get rid of drugs and related crimes, the Rocky Mount Police Department arrested 12 last week as part of phase two of "Operation Heat Wave."
Twenty Rocky Mount residents were arrested in June as part of phase one.
"Operation Heat Wave" is an undercover drug operation by the Street Engagement Team identifying individuals selling and supplying drugs in open-air drug markets in the City of Rocky Mount. This operation developed criminal cases on these individuals over several months. More ...
1 opinion posted
Nashville resident is UNC Pembroke grad
A Nashville resident recently recieved a degree from the University of North Carolina at Pembroke during commencement ceremonies held on May 3.
Hillary Leigh Helms, of Nashville, was awarded the degree of Bachelor of Science in Athletic Training. More ...

Morris, Jones wed
Jennifer Lee Morris and Bradley Craig Jones were married Saturday, June 14, 2008 at Red Oak Baptist Church, Red Oak. The officiating minister for the 5 p.m. ceremony was Reverend Rucker Preston Burnette. More ...

BIRTHS
Adam Blake Collier
David J. and Melanie Collier, of Nashville are proud to announce the birth of their son, Adam Blake Collier, born July 17, 2008 at Nash General Hospital, in Rocky Mount. He weighed 9 pounds, 2 ounces and was 22 inches long. More ...

Peachtree Community News
Sympathy is extended to the family of Bobby Browder Sr. who passed away on Monday, July 21 following a long illness. His funeral was held on Wednesday at Peachtree Church. He was laid to rest in the Church Cemetery. More ...
By BARBARA HARDISON
Mt. Zion FWB Church News
We had 89 in Sunday School, including one visitor. We welcome everyone to study God's word together. Brenda Watkins read the Scripture verse for today. More ...
By ROSALENE BASS
Ephesus Community News
We want to welcome all of you people that are not in church. We have a seat for you and the plan of Salvation so that you can be saved and prepare for heaven and eternal life with God. More ...
By LOTTIE LOU DICKENS
My favorite Bible verse
Here is my favorite Bible verse. "I have been crucified with Christ; and it is no longer I who live, but Christ lives in me; and the life which I now live in the flesh I live by faith in the Son of God, who loved me and gave Himself up for me" (Galatians 2:20). More ...
By Dennis Prutow
Beulah Community News
Attention: Friday night from 5 to 8 is our monthly fish fry at the Beulah Church of Christ Annex on Reges Rd. We always look forward to seeing everyone there for great food and fellowship. Thank you for all your support in the past and we hope to see you Friday night. More ...
By WILMA ENROUGHTY
Nashville BPW attends state conference
Nashville Business and Professional Women recently attended the North Carolina BPW State Conference in Asheville.
The club received several awards during the event, including a Friends of the BPW Foundation Award and a BPW/USA Foundation Award for giving $17.50 per member to Foundation. The club also received second place for the BPW/NC Foundation Award. More ...

Races to benefit memorial scholarships
Two local education scholarships that honor the late Richard J. "Rick" Ford, Jr., founder of Ford's Colony in Rocky Mount, will grow larger from the proceeds of 10K and 5K races to be held along the golf paths at Ford's Colony on Saturday, September 13. More ...

Eaton Corporation donates to Southern Nash Middle
Diversified industrial manufacturer Eaton Corporation recently announced that its hydraulics facility in Middlesex has donated $10,000 to Southern Nash Middle School (SNMS) to enhance hands-on technology available to students and staff and to increase the quality and accessibility of computer resources for SNMS students. More ...

NCC holds engineering week
Engineering Week, an annual event at Nash Community College, was held June 16-20th. The week provided local middle school and high school teachers, counselors and career development counselors an opportunity to "test-drive" NCC Engineering courses in order to inform their students about what the College has to offer. More ...

Dirtbike accident sends Mount Airy man to Pitt Memorial
A 25-year-old Mount Airy man was taken to Pitt County Memorial Hospital after falling off a dirtbike on Rose Loop Road in Nash County.
According to Trooper Steven Dail, of the NC Highway Patrol, Joseph Sturlin was traveling east on Rose Loop Road when he attempted to do a wheelie and flipped off the bike and landed on his head. Dail said Sturlin was with other ATV riders but was on the dirtbike alone. More ...
By Amanda Clark, Graphic Staff Writer
Don't trust that check in the mail warns Attorney General Cooper
RALEIGH – Don't fall for counterfeit check scams that use the promise of sweepstakes winnings or work as a secret shopper to try to steal your money, Attorney General Roy Cooper warned recently.
"The promise of easy money can be tempting, especially during these tight times," Cooper said, "But instead of making you any money, these scammers will take your money." More ...
1 opinion posted
No, I'm not sick or drugged, just a parent of three
I don't know why people say the things they say sometimes.
After all, I've walked into groups of people recently, said "Hey," and gotten these three responses:
1. "Wow, Mike, you're really getting some gray [hair] there, aren't you?"
2. "Hey, I'm liking the salt-and-pepper look there."
3. "Dude, you look tired. Are you sick? I mean, you really look tired." More ...
Mike Brantley
A bridesmaid's duties can be fun, especially on the day of the wedding
Aren't weddings fun??
Over the next two weeks, I will be in two weddings, both as a bridesmaid. I feel pretty special being asked to be a bridesmaid because it's a title I take pretty seriously. After all, I don't wear dresses for just anyone.
But still, I enjoy being a bridesmaid because I get to basically sit back and watch the brides go almost insane trying to plan their big day. You can't plan a wedding without some sort of drama. I know because I've been there. More ...
Amanda Clark
A Plot Thickening
ROCKY MOUNT - Potential plot lines will be abundant this Saturday when four solid squads convene to determine the 2008 Nash-Halifax Swim League Championship at the Roanoke Rapids Aquatic Center.
Will Westridge -- enjoying its finest season in recent history -- cap off an undefeated campaign with a title?
Will perennial power and defending title holder Nash Rec rise to the top again, despite being unable to conquer Westridge in regular season action? More ...
From Staff Reports - 1 opinion posted
Nash Rec Attempts To Defend Crown
NASHVILLE -- Showing that it expects to be a factor at this weekend's Nash-Halifax Swim League Championships, Nash Rec closed regular season action last Thursday with an impressive home victory against Roanoke Valley.
Nash Rec, coached by Emily Brown and Max Sherard, outlasted RV by a 465-436 margin at the Nash Rec Pool.
Nash Rec hopes to defend its league title Saturday beginning at 9 a.m. at the Roanoke Rapids Aquatic Center More ...
From Staff Reports
RM coach selected into Hall
CHAPEL HILL -- Former Rocky Mount boys basketball coach Richard Hicks was one of eight people announced Monday to be inducted into the North Carolina High School Athletic Association Hall of Fame.
Hicks, currently a resident of Durham, will join such N.C. preps sports notables as Charlie Adams, the late Bil Bost, Ken Browning, Mac Morris, Jan Stanley, Tim Stevens and Bill Widgeon as members of the Hall's 22nd class. More ...
By Charles Alston, Graphic Correspondent
Southern practices targeted
STANHOPE -- Southern Nash High School will open fall sports practices on the following dates:
• Football -- Aug. 1 from 6-8:30 p.m.
• Girls Tennis -- Aug. 4 from 3-5:30 p.m.
• Boys Soccer -- Aug. 4 from 6-8:30 p.m.
• Cross Country -- Aug. 4 from 6:30-8:15 p.m.
• Girls Golf -- Aug. 4 from 6-7 p.m. (at The River Golf and Country Club in Bunn)
• Volleyball -- Aug. 4 from 3-5 p.m. More ...
From Staff Reports
Carolina Mudcats move into top slot
ZEBULON -- Andy Jenkins hit a three-run homer to lead the Carolina Mudcats into first place of the Northern Division with a 5-1 series-opening win over the Jacksonville Suns at Five County Stadium on Sunday afternoon in a Class AA Southern League baseball matchup.
Jenkins, who caught on Saturday night and threw out all three Huntsville basestealers, started at first base, batted clean-up and walloped a one-strike pitch from Jesus Rodriguez (L, 1-3) against the left field scoreboard to open up a 4-0 lead. More ...
From Staff Reports
County Line Raceway crowns more winners
ELM CITY -- Dusty skies did not keep James Batten of Rocky Mount from clear sailing to the checkered flag in the Late Model feature for the win last Saturday night at County Line Raceway.
Wade Ferrell, also from Rocky Mount, would take the win in Thunder & Lightning division.
Michael Webb of Elm City took the win of the Pure Stock Four Cylinder class. More ...
From Staff Reports - 1 opinion posted
HERBERT DONALD SKINNER
Herbert Donald Skinner, 86, passed away, Monday, July 28, 2008. He was born April 5, 1922 in Nash County. Herbert was the son of the late, George Duffie and Mollie Inscoe Skinner. He was preceded in death by his first wife, Erlene Skinner and a daughter, Trudy Skinner, one brother and four sisters. More ...

SAMMY KAY ADCOX
BATTLEBORO – Sammy Kay Adcox, 65, passed away on July 23, 2008. Sammy was born on February 20, 1943 to the late Robert E. and Katie Watson Adcock of Battleboro. Brothers: Bob, Floyd, and Melvin Adcox and sisters: Mary Catherine Collins and Billie Dove Farmer preceded him in death. More ...

WILLIAM JEROME "BIG WILL" COFIELD
William Jerome "Big Will" Cofield, age 38, passed away July 20, 2008. Funeral services were held Friday July 25, 2008 at 1:00 p.m. at Yeshunwa Temple, in Wallace with Apostle Davelon R. Carr officiating. Burial followed at Gardens of Gethsemane. More ...

FRANK "BILLY" HINES SR.
Frank "Billy" Hines, Sr., age 73, passed away on Tuesday, July 15, 2008. Funeral services were held on Saturday, July 26, 2008 at 1:00 p.m. at the Hunter-Odom Funeral Service Chapel with the Rev. Richard Battle officiating. Burial followed at Gardens of Gethsemane. More ...

OLIVIA COOPER LINZY
Olivia Cooper Linzy, 88, passed away July 20, 2008. The funeral service was held at 2:00 p.m. on Saturday, July 26, 2008 at Marks Chapel Baptist Church with the Rev. Douglas Leonard officiating. More ...

HOMER KEITH "SAM" SLOAN JR.
ZEBULON - Homer Keith "Sam" Sloan Jr., age 59, passed away on Tuesday, July 22, 2008. Funeral services were held on Saturday, July 26, 2008 at 12:00 noon from the White Oak Baptist Church with Rev. Harvey Jones officiating. Burial followed in the Taybron family cemetery. More ...

ELSIE MAE BENSON
May 31, 1913 – July 20, 2008
NASHVILLE - Elsie Mae Benson, 95, passed away July 20, 2008. She was born May 31, 1913 in Castalia, NC daughter of the late A.A. Drake and Claire Christine Collins. She grew up in Spring Hope, NC where she attended Spring Hope School and graduated with honors as valedictorian of her senior class. She graduated from East Carolina College and Atlantic Christian College. More ...