Subscribe/Access
Advertisements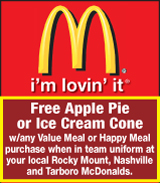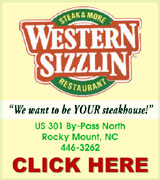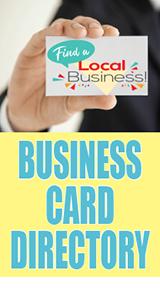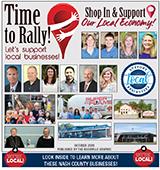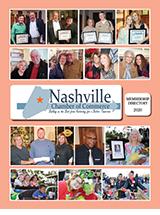 Sections
Member Options
Back
It's Youth Day Time!
Glover Park will be full of energetic youth this Saturday as the Third Annual Athletic Youth Day will be underway.
The event, sponsored by Brooklyn Community Watch, Cooperative Extension and Nash County 4-H, will be held from 9 a.m. until 2 p.m. More ...
By Amanda Clark, Graphic Staff Writer
Nashville approves Wendy's final plat
Nashville's Planning Board held a special called meeting last Tuesday to approve a final plat for a property that could soon be the home of a Wendy's restaurant. Nashville's Town Council also met following the Planning Board meeting to approve the plat so the developer could move forward.
Though the land has not been sold to Wendy's yet, Nashville Mayor Donald Street confirmed Wendy's was trying to locate on a lot next to the ABC Board building on Eastern Avenue. The holdup has been due to access issues by the ABC Board. With the final plat approved, Street said the process can move forward. More ...
By Amanda Clark, Graphic Staff Writer
Murphy USA robbed early Friday morning
Two men and a woman were arrested after allegedly robbing Murphy USA on Eastern Avenue early Friday morning.
According to Police Chief Bill Creech, two men entered reportedly the store around 6 a.m. on Friday. One man went to the candy aisle while the other grabbed a snack cake and proceeded to the register. Creech said when he got to the register, he allegedly jumped over the counter to grab the cash drawer. The clerk on duty ran out of the store screaming for help. Creech said two witnesses saw the woman scream and then saw two white males run out of the store. The men got into a gray SUV and left the scene. More ...
By Amanda Clark, Graphic Staff Writer
School Board asks county for go ahead of new high school
The Nash-Rocky Mount Schools (N-RMS) board and superintendent were invited to an informal meeting with the Nash County board of commissioners (BOC) and managers Monday night to discuss capital projects needs. The board of education (BOE) emphasized the immediate need for moving forward on the new high school project, asking commissioners to allow the school system to expend $1.5 to $2 million in architectural plans. More ...
By Michele A. Cruz, Graphic Correspondent
Nashville National Guard prepares for deployment
Nashville National Guard members will soon leave for Louisiana to prepare for a deployment to Iraq. On their last day in Nashville, a special prayer event will be held for both members and the community.
Ted Davis, who was a member of Nashville's National Guard for 20 years, said he discovered the group would be deployed and wanted to do something for them. More ...
By Amanda Clark, Graphic Staff Writer
Board approves special use permit for Farmer's Market in downtown
The Farmer's Market is back in Spring Hope's downtown after commissioners voted to grant a temporary special use permit during its regular meeting Monday night.
The Chamber of Commerce began the Farmer's Market in early June in downtown Spring Hope. At the board's June meeting, downtown merchants expressed concern over the lack of parking in downtown while the farmer's market was going on. It was also brought up that the Farmer's Market was not an accepted use in the Central Business District and as a result was not allowed in downtown. More ...
By Amanda Clark, Graphic Staff Writer
W.L Greene principal retires with 30 years at N-RMS
"Cherish the victories."
In his six years as principal at W.L. Greene Alternative School, Danny Braxton has lived by that motto. Instead of focusing on bad behavior, Braxton believes in cherishing the positive things his students accomplish.
As he prepares to retire from W.L. Greene and Nash-Rocky Mount Schools, Braxton will continue to remember the motto that played a part in helping students succeed. More ...
By Amanda Clark, Graphic Staff Writer
DOT Board awards contracts for two bridge replacements
The N.C. Board of Transportation recently awarded a $1.4 million contract for two bridge replacements in Nash County. The contract was awarded to C.C. Mangum Co. of Raleigh and work on both replacements is scheduled to begin as early as Aug. 4, with final completion by Dec. 31. More ...

NC agriculture cost share funds are available
Nash Soil and Water Conservation District expects to receive its cost share allocation from the state for nonpoint source pollution control from agriculture activities. These funds are available to assist farmers to install conservation practices which help decrease the amount of sediment, nitrogen, phosphorous, chemicals and other pollutants in the surface and ground waters of the state. Currently there are limited additional funds available for agriculture drought response in North Carolina. More ...

NOTICE
The Nashville Fire Department will be conducting a child passenger safety seat inspection August 23 from 9 a.m. - 3 p.m. at Wal-Mart in Nashville. More ...

Hodge finalist in National American Miss NC Pageant
Billie Charlene Hodge, age 9, has been chosen as a state finalist in the National American Miss North Carolina Pageant to be held August 8, 2008 at the Embassy Suites Resort in Concord, North Carolina. The pageant is held for girls ages 7 - 9. More ...

Cedar Grove Terrifc Kids announced
Cedar Grove Elementary School celebrated its Terrific Kids and Citizenship Awards for the last six weeks on June 5. Nashville's Kiwanis Club sponsors the Terrific Kids program. One student from each class is chosen by their classroom to receive a Terrific Kid and Citizenship Award, which is based on excellent character traits. The Kiwanis Club gave each Terrific Kid a goody bag filled with a framed certificate and different goodies, including a Wal-Mart gift card. More ...

UNC-G graduates and honor students
Chancellor Patricia A. Sullivan has announced that 3,037 undergraduate students earned Dean's List honors and 1,307 students were named to the Chancellor's List at The University of North Carolina at Greensboro during the Spring 2008 semester, including Nash County residents. More ...

Local student receives national honor
The National Society of High School Scholars (NSHSS) recently announced that Northern Nash Senior High School student Wesley Rose from Rocky Mount has been selected for membership. The Society recognizes top scholars and invites only those students who have achieved superior academic excellence. The announcement was made by NSHSS Founder and Chairman Claes Nobel, a senior member of the family that established the Nobel prizes. More ...

Military Briefs
Army Pvt. Glenda C. Richardson has graduated from basic combat training at Fort Jackson, Columbia, S.C. More ...

Parents concerned about N-RMS program for gifted students
Are academically and intellectually gifted students getting enough funding and attention in the public schools? Are gifted students all receiving the same opportunities at every school? These were some of the questions brought by parents to the Nash-Rocky Mount Schools (N-RMS) board at their last meeting in June. More ...
By Michele A. Cruz, Graphic Correspondent
First annual PBS Golf Tournament is a success
Nash-Rocky Mount Public Schools recently held the first annual PBS golf tournament at Birchwood Country Club to raise awareness of Positive Behavior Support (PBS). PBS is a state-wide initiative to address the behavioral and discipline systems needed for successful learning and social development of students. More ...

NRMPS holds summer 2008 Technology Camp
Technology is fun! That was the consensus opinion of 28 NRMPS teachers and students at the conclusion of the 2008 Technology Camp recently held at the W. L. Greene Technology Lab. More ...
Contributed
Mt. Zion FWB Church News
Our choir sang "Only Believe" for the call to worship. Pastor Rogerson welcomed everyone and prayed the invocation. Hymns of worship were "Tell It To Jesus" and "Give Of Your Best To The Master". Our choir special was "Mansion Over The Hilltop". More ...
By ROSALENE BASS
Red Oak Community News
Roger and Eileen Shanks have returned home following a two week vacation visiting family and friends. They visited their son, Jeff, at his retirement home in Pickens, SC. Also visiting was his son, Ben, and his family from Wichita, KS and niece, angela and husband, Kyle from Brevard, NC. More ...
By SUZY PEARCE
Peachtree Community News
Romans 12: 2 was the scripture passage that Pastor Whitehouse chose as the basis for his sermon on Sunday morning. His topic was "Gain the World and Lose Your Life" One of the points in his sermon is that moral compromises often begin with a tiny step in the wrong direction. More ...
By BARBARA HARDISON
Beulah Community News
If you were not at Beulah Sunday night, you really missed a great time. The "Heavenly Sunrise" quartet brought us a great sermon in songs. Their singing was beautiful and the songs were really inspirational. We had a large turn-out and everyone enjoyed the singing and also the refreshments after the program. Thank each of you who attended. Please come and worship with us again. You are always welcome. More ...
By WILMA ENROUGHTY
Lewis re-elected VP of Moles
Mole Martha H. Lewis of the Rocky Mount Chapter was re-elected National Vice President of the Moles at their recent 58th Annual Conclave held in Washington, D.C. The Moles, incorporated in 1950, is an organization which cultivates fellowship among its members while being mindful of the charge to serve the community - to participate in civic, political and service projects and affairs to enhance the welfare of life. Mole Martha has consistently demonstrated her commitment to The Moles with impeccable service as National Financial Secretary as well as serving on several committees on the national level. One of her major duties as Vice President will be serving as Chairman of the Board of Directors. More ...

Marley Fund is seeking felines for calendar photos
GREENVILLE — Proud cat owners still have a chance to make their beloved pet a star, but time is running out quickly.
The Marley Fund is looking for actual pet cats to grace the pages of the 2009 full-color calendar, but the deadline for photo and story submissions is July 31. Unlike other calendars featuring cats, this one is unique because, each year, it features actual household pets, and helps support a worthy cause. More ...

Ephesus Community News
Bill Brantley presented the message on Sunday morning during the worship hour. Bill did an excellent message on "How To Become A Better Church". He praised the Ephesians as we show love for one another and even without a pastor we're united in love and spirit. More ...
By LOTTIE LOU DICKENS
Richardson is recipient of Outstanding Alumni Award
Nash Community College is proud to announce that Dr. Brucie Ogletree Richardson is the recipient of the 2008 Nash Community College Outstanding Alumni Award. This award recognizes the achievements of past graduates and provides inspiration for current students of Nash Community College. Dr. Richardson was chosen as the outstanding alumnus because of her contributions as an educator and Halifax County native who has improved the educational opportunities for the Haliwa-Saponi community. More ...

More economics, and Mikenomics
Astute readers of this column — as well as those who are just stute — may have caught something missing in last week's column.
In my cutting and pasting and trying to get the column down to fit the allotted space, some of my revisions got sent to Mac eternity.
It would appear to some — and by some, I mean those who can do math — that the implication was that with 300 million people and $300 million, each person in America could get $1 million. More ...
Mike Brantley
A lot of great things are happening around town
Stay tuned into The Graphic, we'll keep you informed
Make sure to keep your eyes and ears open in Nashville or else, you just might miss something. There's a lot going on or at least a lot of rumors of things going on.
I've heard for weeks, possibly months, that Wendy's was going to locate here but we don't print news based on hearsay so since we couldn't prove it, we couldn't print it. If we could, we'd be doing stories on all sorts of things coming to town. But nonetheless, the thought of a Wendy's in town was very exciting to me because I really like Wendy's. Well, in all honesty, there's really not a fast food joint I don't like but I can actually go to Wendy's and eat fairly healthy so that is why I say I really like Wendy's. More ...
Amanda Clark
Helms represented true conservatism and truth
Dear Editor:
When Jesse Helms passed on, the era, I feel, of true conservatism ended.
Before Jesse Helms was elected U.S. Senator from North Carolina, he was a Sunday teacher of his Bible class at the church he attended in Raleigh. More ...
Letters to the Editor - 3 opinions posted
Backyard Rivalry
NASHVILLE - Nash Rec scored its second consecutive victory over backyard rival Birchwood during a Nash-Halifax Swim League showdown last Thursday at the Nash Rec Pool.
Nash Rec piled up 573 points, compared to 297 for visiting Birchwood.
Nash Rec is now 2-2 overall for the summer, while Birchwood dropped to 0-4.
This Thursday, Nash Rec will travel to Roanoke Valley, and Birchwood will host Westridge. Both events are scheduled to begin at 5 p.m. More ...
From Staff Reports
Post 58's campaign completed
RED OAK -- Several Nash County Post 58 American Legion baseball games were postponed or cancelled in the final days of its regular season.
That lack of competition down the stretch may have cost Nash County in the postseason.
New Bern Post 24 posted consecutive 5-1 defeats on Nash County last Thursday and Friday to knock it out of the first round of the American Legion Area I Eastern Division playoffs. More ...
By Charles Alston, Graphic Correspondent
Tennis Standouts Sparkle At Jamboree
SNOW HILL -- The Nash County Blue and Red Tennis Teams traveled to Greene Central High School on July 8 to play doubles in the Down East Jamboree.
Playing for the Red Team were #1 Chris Sawyer/Jimmy Haden, #2 Haley Smith/Dylan Crumpton and #3 Christian Davis/Maggie Braswell.
All three Red Teams finished with a record of 1-2. Playing for the Blue Team were #1 Randi Price/Kaley Price and #2 Adam Ward/Bryson Willaims who finished with a record of 2-1 and the #3 team of Megan Bailey/Katie Beaman finished with a 1-2 record. More ...
From Staff Reports
Wesleyan will host campers
ROCKY MOUNT -- North Carolina Wesleyan College will host a high school soccer camp from July 28-Aug. 1.
Camp times will be from 5:30-8:30 p.m. each day at Scalf Field on the NCWC Campus in Rocky Mount.
The camp sessions will be supervised by members of the NCWC men's team staff, along with other experienced college coaches. More ...
From Staff Reports
Barnes commits to Wake
ROCKY MOUNT -- Rocky Mount's Whit Barnes knows what he'll be doing on Wednesday, Feb. 8, 2009.  The senior offensive lineman will be signing a national letter-of-intent to play football for Wake Forest University.
Barnes verbally committed last week to play collegiately for the Demon Deacons in the fall of 2009. Not since 1993 has a Rocky Mount football player signed with Wake (offensive lineman Doug Marsigli). More ...
By Charles Alston, Graphic Correspondent
Goodwin to play in AFLAC game
COLUMBUS, GA. --  A record-setting year for Rocky Mount High School baseball player Brian Goodwin just keeps getting better.
The Gryphon center fielder, a rising senior, has been selected to play in the AFLAC All-American Game at Dodger Stadium in Los Angeles on Saturday, Aug. 9. The game will be broadcast on Fox Sports Net at 3 p.m. EST. More ...
By Charles Alston, Graphic Correspondent
Summer fun at The Children's Museum & Science Center
The Children's Museum and Science Center is open 10:00 a.m. to 5:00 p.m. Tuesday through Saturday, and from 1:00 p.m. to 5:00 p.m. on Sunday. The museum is closed to the visiting public on Monday. The Children's Museum and Science Center is a Division of the City of Rocky Mount Parks and Recreation Department. More ...

TONY WHITAKER
SPRING HOPE – Tony Whitaker, age 43, passed away Thursday, July 3, 2008. He was born in Washington, DC to Glennie Linda Whitaker and the late Freddie L. Whitaker. More ...

EFONISE "AL" BLACKWELL
SPRING HOPE - Efonise Blackwell, age 69, passed away Sunday, June 29, 2008. He was born March 17, 1939 in Franklin County to the late Roy and Mardeci Blackwell. More ...