Subscribe/Access
Advertisements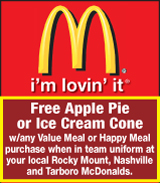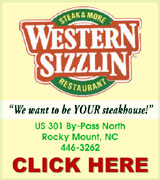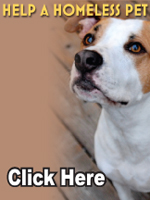 Sections
Member Options
Back
Nashville to see increase in revenue for 2008-2009
Nashville's Town Council met last Wednesday to discuss the town's proposed $7 million budget.
The 2008-2009 budget shows a significant increase in revenue due to the arrival of Wal-Mart and Fawn Electronics. However, Town Manager Preston Mitchell warned council members not to expect the budget to show such an increase every year. More ...
By Amanda Clark, Graphic Staff Writer
Nashville teen drives tractor to senior prom
On Saturday, just hours before his senior prom, Blake Harper was outside his Nashville home shining up a John Deer tractor. With help from a few friends and his dad, Woody, the tractor soon looked brand new and ready to ride.
A few hours later, Blake hopped in the tractor in a black tux with a camouflage vest and tie and rode off into the sunset to pick up his date, Cameron Thomas. After a nice dinner, the two began the ride to Nash Central High School. More ...
By Amanda Clark, Graphic Staff Writer - 4 opinions posted
Spring Hope discusses potential fee increase
Spring Hope's Board will hold the last of three budget workshop meetings next week to discuss changes to its proposed $1 million budget.
Town Manager John Holpe told board members the proposed $1,057,610 budget shows a three percent cost of living increase as well as a potential merit pay increase. More ...
By Amanda Clark, Graphic Staff Writer
School Board to raise athletic rental fees
The Nash-Rocky Mount Schools (N-RMS) board discussed raising its rental fees for athletic use at their work session Monday night. Mark Strickland, N-RMS special assistant for auxiliary services, said in his 11 years with the system, the fees had never been increased, and it is time to look at them in comparison with other school systems' fees and regulations. More ...
By Michele A. Cruz, Graphic Correspondent
Friends of the Library to host Ladies' Luncheon
Nash County women will get the royal treatment on Saturday, May 31 as Friends of the Harold D. Cooley Library host the first annual "Ladies Lunch for the Library."
The luncheon will be held at the Cooley Manor, at the corner of Washington and First Street in Nashville. More ...
By Amanda Clark, Graphic Staff Writer
Fowler, Winstead wed
Cherie Michele Fowler and Russell Bryan Winstead were united in marriage, at 5:00pm, April 12, in a double ring ceremony. The service was held at Hunterdale United Church of Christ in Franklin, Virginia. More ...

Daughety, Adkins marry
Caroline Brandon Daughety of Nashville and Bobby Jo Adkins of Enfield were united in marriage in a private ceremony on Saturday, May 3, 2008 at Lakeside Baptist Church by Dr. Jody C. Wright. More ...

Brantley is nominated to attend NYSP
Briana Dawn Brantley, of Spring Hope, has recently been nominated to attend the National Young Scholars Program (NYSP) to be held at Wake Forest University in Winston-Salem this summer. More ...

Unrue receives Barton scholarship
WILSON, N.C. – Kathryn Elizabeth Unrue, a transfer from Nash Community College, is the recipient of a Transfer High Honors Scholarship at Barton College. The renewable scholarship will cover $3,000 of tuition for the year. More ...

Nashville student honored by Armed Services
A Nashville 12th grader was recently honored by the Armed Services YMCA (ASYMCA), the nation's leading nonprofit organization supporting the families of junior enlisted military personnel.
Andrew Votipka, 17, received honorable mention in the eleventh- and twelfth-grade category of its annual essay contest, sponsored by Lockheed Martin. Winners were announced at a luncheon on Capitol Hill in Washington, D.C. More ...

Trailblazers attend Junior Historian convention
The Tar Heel Junior Historians held their annual state convention at the NC Museum of History in Raleigh on April 25, 2008.  About 500 students from all over the state attended.  The "Trailblazers" of the Christian Homeschool Association of Rocky Mount, comprised of homeschoolers in grades 4-12 did very well representing their group.  They enjoyed many workshops about World War II and the Early Exploration of North Carolina.  More ...
Contributed
Swamp Stompers compete in NC State Envirothon
The Swamp Stompers Envirothon team from the Christian Homeschool Association of Rocky Mount participated in the NC State Envirothon competition on April 25-26, 2008, at Cedarock Park in Alamance County.  The Envirothon is a two-day event with training on Friday afternoon and the competition on Saturday morning.  The High School team members were:  Seth Bauguess, Nathaniel Hartsell, Emmette Cousins, Misty Varnell, and Joshua Peede.  Alternates were Ana Stillings and Jake Fatheree.  Their advisors are Karen Cousins and Jim Hartsell. More ...
Contributed
Brooklyn Community News
The DEPC vision is to ensure that all children are prepared for school upon entering kindergarten and we believe that every child deserves a quality education. The Community Voices and Community Fellows are the grassroots organizations for the DEPC, meaning we aquire information and take it back to educate our community. More ...
By LENA SESSOMS
Red Oak Community News
A baby dedication was held at Red Oak Baptist Church on Sunday, May 9. Babies dedicated included Oliver Anderson, son of Lee and Kelly Anderson; Isaiah Upchurch, son of Jim and Rachel Upchurch; and Landon Worrell, son of Jeremy and Rebecca Worrell. More ...
By SUZY PEARCE
Beulah Community News
The senior citizens at Beulah Church enjoyed a really nice luncheon on Saturday in the fellowship hall. It was sponsored by the Ladies' Aid. We want to thank those who worked so hard to prepare food, decorations, bingo prizes and serve the food. Most of us are senior citizens. Those who helped make it a success were Julia Wheeler, Sonnie Wheeler, Amy West, Daniel West, Mary Lee Bass and Trey West. I hope I didn't miss anyone. Again, thank you all and may God bless you for making the day special for us "older" members. More ...
By WILMA ENROUGHTY
Mt. Zion FWB Church News
The pretty, colorful flowers for today were given by Ronald and Martha Bass. Thank you.
The Sunday school lesson was interesting and encouraging for us as Christians. More ...
By ROSALENE BASS
Peachtree Community News
The folks at Peachtree were tired but happy on Friday Evening when they finished the BBQ plate sale. The men did a good job of cooking the barbecue – it was very tasty. The women enjoyed the fellowship as they worked to prepare plates to go out. The camaraderie among all who participated was outstanding. The support of all those who purchased plates, and otherwise supported the event, is greatly appreciated. More ...
By BARBARA HARDISON
Ephesus Community News
Sunday was observed as Senior Adult Day at Ephesus Church. We had a special day and we enjoyed every minute of it. The choir sang some of our favorites, and the children's sermon reflected upon the seniors that Kay Bolt remembered when she was growing up in Ephesus Church as she presented the sermon, and it was good. More ...
By LOTTIE LOU DICKENS
Little known stories for Memorial Day
With Memorial Day approaching "early" this year, the Soapbox always wants to recognize those veterans who gave their lives not only in wars, but who died in peacetime in the service of their country.
And, while we know that Veteran's Day is really the time to honor those who served and survived, we still would like to say "Thank You" to all who have donned the uniform in support of this great country. More ...
Mike Brantley
Member of ministry disagrees with town's decision to remove trailer
Dear Editor,
Last week the Nashville Town Board of Adjustment upheld the decision from the Nashville planning staff to remove the trailer used for shipping excess clothing from the Faith Christian Ministries property on Washington Street. This decision could force us to dump 20 to 25 "tons" annually of excess clothing in the landfill. In addition we would lose the $400 per trailer load we receive for recycling the used clothing. More ...
Letter to the Editor:
Reality check – it's time for the first high school reunion
Oh, the good old days of high school. I remember them with a touch of fondness but more so, with a whole lot of happiness because I'm done and will never have to enter those halls again. At least, that's what I thought.
Recently, I received information that my 10-year high school reunion was coming up. My first reaction was denial. There's no way I've been out of high school ten years. But it is true and the reality of it makes me shudder. Time sure does fly when you get older. More ...
Amanda Clark - 2 opinions posted
NN Is On A Roll
RED OAK - Name your score, and the Northern Nash Lady Knights were winners during last Friday's rain-shortened contest against Rockingham County in the second round of the Class 3-A State Fast-Pitch Softball Playoffs.
Whether it was 2-0 or 5-0, it didn't matter to the Lady Knights. As long as they survived to play another day. More ...
By Geoff Neville, Graphic Sportswriter
Northern edged in playoffs
RED OAK -- Northern Nash saw its 2008 baseball season come to a close last Tuesday at home as the Knights fell 2-0 to South Johnston in their NCHSAA 3-A second-round playoff encounter.
South Johnston pitcher Jerry Glover allowed the Knights just three hits in the contest -- singles by Jeremy Proctor, Steven Moore and Wesley Joyner. More ...
From Staff Reports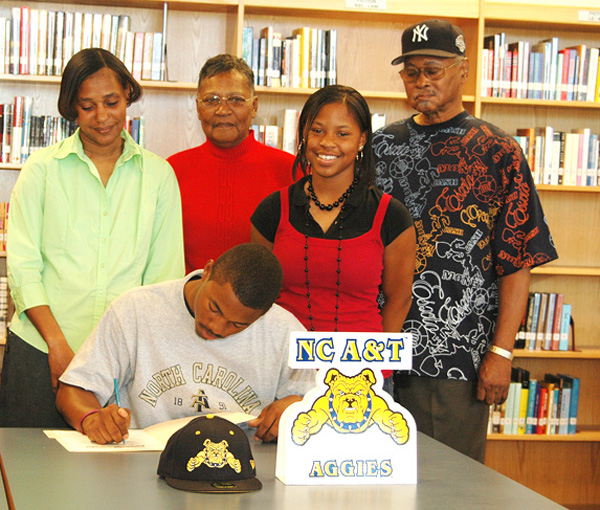 X MARKS THE SPOT. Nash Central High School's Xavier Macklin signs a letter-of-intent to continue his baseball career at North Carolina A&T University in Greensboro, as family members look on.

Central signees find four-year homes
ROCKY MOUNT -- When Chris Huffman accepted the Nash Central High baseball coaching position in the off-season, he couldn't ask for better players to help him usher in the new era than Xavier Macklin and Alex Pearce.
Four-year veterans of the program, Pearce and Macklin continued their career-long excellence as seniors, helping the otherwise-young Bulldogs to a fourth-place tie in the NEW-6 Conference diamond standings. More ...
By Geoff Neville, Graphic Sportswriter
NN golfer takes 3rd at tourney
FOXFIRE VILLAGE -- Northern Nash's Daniel Claytor took third place at the annual Class 3-A Boys State Golf Tournament, which was held last Monday and Tuesday at the Foxfire Resort and Country Club's East Course.
Claytor tied for the second spot with Gastonia Forestview's Harold Varner, but was defeated on the first hole of a sudden-death playoff. More ...
From Staff Reports
Southern's Langley wins at state meet
GREENSBORO -- Southern Nash's Laura Langley and Nash Central's Jasmine Williams met one final time at the high jump pit last Friday.
This time, a state championship was on the line.
Langley had been topped by Williams in recent conference and regional competition, but the SN star was able to get the job done when it counted the most at the Class 3-A State Track and Field Meet on the campus of North Carolina A&T University. More ...
From Staff Reports
Coghlan a key in Mudcats' road victory
HUNTSVILLE, ALA. -- Chris Coghlan had three hits including his second home run of the season to lead the Carolina Mudcats past first-place Huntsville 8-3 on Sunday afternoon at Joe Davis Stadium in a Class AA Southern League baseball contest.
Coghlan singled home John Raynor in the first, then capped his afternoon with a solo blast against reliever Juan Sandoval in the ninth as Carolina (25-19) clawed to within five games of the Northern Division-leading Stars (30-14).  More ...
From Staff Reports
RM Gryphons keep on winning in state playoffs
ROCKY MOUNT -- This bunch of Gryphons just isn't ready for its season to end. Rocky Mount's baseball team has now reached the fourth round of the NCHSAA playoffs for the first time since 1996.
Senior Chris Berry, in just his second varsity start, pitched a three-hitter in leading the Gryphons to a 3-1 3-A playoff win over South Johnston last Saturday evening. The game was originally scheduled for Friday, but a short, but heavy rain just before game time made Gryphon Stadium's infield unplayable. More ...
By Charles Alston, Graphic Correspondent
Spring Concert at Cherry Hill is Sunday
If you enjoy piano music –– especially pieces evoking Paris of the 1920s –– then Cherry Hill in Warren County is where you'll want to be Sunday afternoon, May 25, beginning at 3 p.m.
A spring concert titled "Andrew Willis and Friends" will present a program that is a preview of the 2008 Focus on Piano Literature of Paris in the 1920s that will be featured at the University of North Carolina's Greensboro Campus June 5 to 7. (More information about that program is available on the web at uncg.edu/mus/focus More ...

Farmer - Morrison exhibit opens at Dunn Center
The Mims Gallery at Wesleyan College is host to a special art exhibition and sale of the Farmer - Morrison Collection from May 16-August 3. Co-hosted by Wesleyan and the Farmer-Morrison Curator Katherine Hyatt Creekmore there will be a reception for the collectors Friday, June 20 from 7-9 p.m. with a complimentary wine bar and live piano music by Butch El Ramey. More ...

HATTIE PEARL THORN
Hattie Pearl Thorn, of Castalia passed away on Sunday, May 18, 2008 at her home. Funeral arrangements are incomplete at this time. More ...

EARL HERNDON
Earl Herndon passed away on May 10, 2008 at Wake Medical Center after a brief illness. He was born May 9, 1958, the son of Virginia Herndon and the late Roosevelt Herndon Jr. More ...

FRANCES HORNE
Frances Horne, age 83, passed away on May 13, 2008. Funeral services were held May 19, 2008 at Mount Olive Baptist Church at 1:00 p.m. with the Rev. George Battle officiating. Burial followed at the Gardens of Gethsemane. More ...

DELYLA MITCHELL HARRIS
Delyla Mitchell Harris passed away on May 14, 2008. She was born on April 20, 1948 in Orange, NJ. She was the daughter of the late Thomas Mitchell and Viola Byrd Mitchell. More ...

LOLA MAE COOPER
Lola Mae Cooper, age 89, passed away May 13, 2008. Funeral services were held at 2:00 p.m. May 16, 2008 at Union Hill Baptist Church with Rev. John Neal officiating. Burial followed at Spring Hope Memorial Gardens. More ...

PATTY MARIE "FLORINE" VANHOOK
Patty Marie "Florine" Vanhook, 66, passed away Tuesday, May 13, 2008. Graveside services were held at 3:00 pm Wednesday, May 14, 2008 at Red Oak Cemetery. Arrangements are entrusted to Johnson Funeral and Cremations-English Road. More ...

CHARLIE CLEVELAND SLEDGE JR.
LOUISBURG - Charlie Cleveland Sledge Sr., 82, passed away Tuesday, May 13, 2008 at his home. He was born June 3, 1925. The Sledge family are of English descent. Mr. Sledge was the son of the late Paul Alfred and Annie Wood Sledge, and was a native of Franklin county. More ...

COLUMBUS "BO" SAVAGE JR.
Columbus "Bo" Savage Jr., age 75, passed away May 12, 2008. Funeral services were held May 17, 2008 at Hunter-Odom Funeral Service chapel with Pastor Dorothy Lee Greene officiating. More ...

MR. WILLIAM McKINLEY "KENT" HILL
"Kent" entered his sleep on May 17,2008 at Nash General Hospital, Rocky Mount, N.C. born February 15, 1955, to Mrs. Essie Lee Harrison Hill and the late Mr. William C. Hill. His grandmother, Mrs. Corine Harrison and sister, Mrs. Gail Hill Daniels preceded him in death. More ...

ANNIE GAY DICKINSON BASS
Annie Gay Dickinson Bass, 82, passed away, Wednesday, May 14, 2008. She was born February 27, 1926 in Nash County. She was the daughter of the late James and Cornelia Pridgen Dickinson. Annie Gay was a member of Momeyer Baptist Church. She loved her family and traveling. She especially enjoyed working in her yard. She was preceded in death by her husband, Milton C. Bass, grandson, Reagan Moss, granddaughter, Jessica Bass, two brothers and two sisters. More ...