Subscribe/Access
Advertisements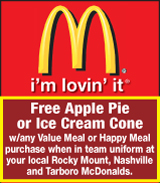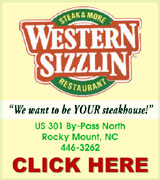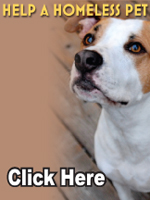 Sections
Member Options
Back
Coopers area to pursue regional park
A new organization is up and running in the Coopers community and its first order of business; raising money for a new park.
The Coopers Community Development Corporation was officially formed last Thursday night during a meeting of the Coopers Ruritan Club, including citizens from the West Mount and Macedonia communities. More ...
By Amanda Clark, Graphic Staff Writer - 1 opinion posted
Election officials urge citizens to cast vote early
Nash County election officials are urging voters to come out and vote early for this year's primary elections.
Elections Director Whitney Davis said long lines are expected at this year's May 6 election. She encourages voters to take part in the early voting, which began on April 17 and will end on May 3. More ...
By Amanda Clark, Graphic Staff Writer
Child abuse victims remembered
Nash County's Department of Social Services sponsored a Child Abuse Ceremony Friday morning to remember the 34 children who were killed in 2006 at the hands of their parents or caregivers. The ceremony included special music and remarks from District Court Judge William G. Stewart. In addition, each child's name was called and flowers were placed in a vase in their memory. In 2005, 37 children were killed. 2006 is the first year the number did not increase. Pictured above, Deputy Elizabeth Cahoon, of the Nash County Sheriff's Office places a flower in remembrance of one of the 34 children killed in 2006. More ...

School Board approves projected 08-09 budget
The Nash-Rocky Mount Schools (N-RMS) board approved the system's $26.5 million local current expense and $2.2 million capital outlay budgets for 2008-09 at their regular meeting Monday night.
The school system's projected current expense budget is an increase of about 3%, an addition of over $662,000, from the 2007-08 school year. This budget includes an 8% increase for teachers and a 5% increase for classified staff. More ...
By Michele A. Cruz, Graphic Correspondent
Red Oak Fire Department celebrates 50 years
On May 14, 1957, members of the Red Oak community began soliciting donations to purchase its first fire truck. Just three days later, the department had raised $10,000, just enough to buy the truck which would be the start of Red Oak's Fire Department. Today the department still thrives, with over 20 members. Recently, the department celebrated it's 50th Anniversary with a special banquet and open house. More ...
By Amanda Clark, Graphic Staff Writer
Nash Arts to hold annual fundraiser, Denim & Diamonds, May 2nd
NASHVILLE - Nash Arts will hold its annual premier fundraising event, the Denim & Diamonds Gala, Friday night, May 2 at the Rose Hill Convention Center just outside of Nashville.
The evening will include food, drinks and a silent auction, plus live entertainment provided by The Tar River Swing Band along with performances by Nash County's Got Talent finalists When Stars Fall and David Kirkland. More ...

Avent is presenter at conference
Janee' R. Avent, daughter of Max and Wanda Avent of Rocky Mount, was a presenter at the 22nd Annual National Conference on Undergraduate Research held recently at Salisbury University in Maryland.
Avent, a student at the University of North Carolina at Chapel Hill majoring in Psychology, presented a poster display titled "Real Mothers, Real Feelings, Real Talk." More ...

ENGAGED
Michael and Lisa Chappell of Nashville announce the engagement of their daughter, Amanda Leigh Chappell, also of Nashville, to Daniel Lee Hicks of Whitakers. He is the son of Sylvia Long of Rocky Mount and the late Mike Hicks. The wedding is planned for June 14, 2008 at Corinth Baptist Church. More ...

Brake graduates municipal course
Chapel Hill — Cynthia Brake, Human Resources Officer/Town Clerk, Town of Nashville, has successfully graduated from the 2007-2008 Municipal Administration Course of the School of Government, University of North Carolina at Chapel Hill. More ...

English, Rackley wed
Ava Gray English of Rocky Mount and Jason Daniel Rackley of Nashville were united in marriage on April 5 at Sunset Avenue Baptist Church in Rocky Mount. More ...

Nash County Relay for Life News
The Relay for Life event is this weekend, April 25 and 26 at the Rocky Mount Athletic stadium.
Survivor, Luminary, and torch forms are available on website www.nashrelay.org More ...

Nashville scouts host annual Pinewood Derby
On March 29, 2008 Cub Scout Pack 76, sponsored by the Nashville United Methodist Church, hosted the annual Pinewood Derby. This year's event included over 30 different scouts racing the traditional Pinewood Derby cars.
Aaron Finch, a member of Webelos I, was awarded the Best in Show for the third year in a row.
The rest of the results of the days racing activities are as follows: More ...

Beulah Community News
We had another great service at Beulah Church of Christ on Sunday morning. Sunday school began at 9:45 a.m. Church services began at 11 a.m. Kenneth Massengale, elder, presided over communion. Men at the table were Roger Parker, William Enroughty, Mickey Matthews and Jim Walker. More ...
By WILMA ENROUGHTY
Peachtree Community News
There was a good crowd who turned out on Saturday Morning to take part in the Highway Clean up. According to Bob Bunn, Building and Grounds Chairman, they were finished in two hours. This included the time they spent on weeding the landscape around the church, as well as picking up trash along the highway. More ...
By BARBARA HARDISON
MILITARY BRIEF
Army Cpl. Anthony R. Hinnant Jr. has returned to Alaska after being deployed to Iraq in support of Operation Iraqi Freedom. The soldier is assigned to the 1st Squadron, 40th Cavalry Regiment, a subordinate unit of the 4th Brigade Combat Team (Airborne), 25th Infantry Division at Fort Richardson, Anchorage. More ...

Ephesus Community News
The Ephesus musical revival starting on Wednesday night with Zion Stone, Thursday, Douglas McLaurin, Friday night was Melody Brown and Saturday night was Linda Ripken and they were all good and then on Sunday was the Ephesus choir members and they presented a beautiful musical as Patrick Snipes, trombone solo, Jackson Wall, string bass solo adult and Brennan Snipes on the trumpet, Jenny and Terry Alford, adult choir with Jenny Alford solo, Michaela Bauer with Mary Jane Bauer at the piano. More ...
By LOTTIE LOU DICKENS
Mt. Zion FWB Church News
Bob Watkins, our new superintendent of Sunday School has begun having someone read or recite one of their favorite Bible verse during assembly. Ina Jones shared Ephesians 2:8, "For by grace are ye saved through faith; and that not of yourselves: it is the gift of God." Our attendance was down. Some are sick, but we pray they will be back next Sunday. Mary Coppedge provided the pretty purple irises for the sanctuary. Thank you. More ...
By ROSALENE BASS
Red Oak Community News
Madgie Macklin and family were treated with a visit by her nephew, Tim Shearin and his wife, Lynn and children Katie and Michael of Rock Hill, SC on Friday. April 11. Tim is the son of the late Emery Shearin, Madgie's brother. More ...
By SUZY PEARCE
George's BBQ Sauce featured in cooking magazine
George's Original BBQ Sauce came out on top in the May 2008 issue of Every Day with Rachael Ray magazine, a popular cooking and lifestyle magazine by syndicated TV host Rachael Ray.
It is featured in a section of the magazine called Big Bite, in which different food categories and brands are blind tested for the best tasting overall. More ...
Contributed
The Soap Box annual pork barrel spending report
It is that time again.
With politicians all around us clamoring for change, one thing has most certainly not changed — how our tax dollars are wasted.
Every year, the Soapbox shares with you the findings of the watchdog group known as Citizens Against Government Waste (CAGW). They publish a Pig Book every year which highlights wasteful government spending, most commonly known as 'Pork Barrel Spending.' More ...
Mike Brantley
Help Nash County take part in finding a cure by attending Relay for Life
This weekend, hundreds will come out and participate in Nash County's Relay for Life event. It's an opportunity to raise awareness, to celebrate survivors and most importantly, a chance to give hope that one day, a cure for cancer will be found.
There's a good chance that cancer has affected each and every person in Nash County in some way. It may have been through a spouse, a sibling, a parent, a friend or just an acquaintance but there's a lot of people that know someone that has fought cancer. More ...
Amanda Clark
Local pharmacist responds to proposed prescription co-payment increases
Dear editor,
I read with great interest and intent your recent editorial on "Prescription Copays Expected to Rise". You are 'dead on target' with your assumptions regarding increasing copays. For years the insurance industry has, with great intention, been imposing increasingly higher copays on their clients….and patients will see this trend continue with a vengeance into the future. More ...
Letter to the Editor:
NC Is Demon-Ized
ROCKY MOUNT -- Nobody disputes the fact that the Wilson Fike Lady Demons are the queens of NEW-6 Conference girls soccer -- and far beyond.
Not only has Fike built a league dynasty, but the Lady Demons have developed a tradition that extends far beyond the boundaries of the NEW-6. More ...
By Geoff Neville, Graphic Sportswriter
NEW-6 Mastery
RED OAK - Southern Nash's upgraded defensive stance -- along with a philosophical one from Northern Nash head coach Joe McCarthy -- helped keep last Wednesday's NEW-6 girls soccer showdown close for the first half.
SN decided to accentuate effective positioning on defense following a one-sided loss to Rocky Mount two days earlier. More ...
By Geoff Neville, Graphic Sportswriter
Bulldogs strong on the track
ROCKY MOUNT -- Nash Central High's boys track and field team always has one eye on the finish line -- and the other eye on the postseason.
The Bulldogs, coached by veteran mentor Brian Winham, have gained a penchant in recent years as being a strong late-year squad. That's a trend most coaches aspire for, and one that Winham has been able to achieve since taking over NC's program. More ...
By Geoff Neville, Graphic Sportswriter
RM, Leggett stop Knights
RED OAK -- Rocky Mount's Jim Leggett tied a school record for career pitching victories with a classic performance.
The four-year starter hurled a three-hit, complete-game shutout at Northern Nash last Thursday evening in posting a 4-0 win in the NEW 6 Conference battle. Rocky Mount has swept Northern in three contests this season. More ...
By Charles Alston, Graphic Correspondent
NEW net campaign resumes
NASH COUNTY -- After taking a one-week hiatus for Spring Break, the NEW-6 Conference boys tennis schedule resumed last Tuesday afternoon with three key matchups.
Here are the results from those contests: More ...
From Staff Reports
RM holds winter sports ceremony
ROCKY MOUNT -- For the first time in many years, Rocky Mount High School recognized its winter sports athletes in a separate awards ceremony recently in the school's main gym.
In past years, the winter and spring sports awards were held in a combined event in the latter part of the school year. More ...
By Charles Alston, Graphic Correspondent
Maybin's late heroics lift the Carolina Mudcats
ZEBULON -- Big-time prospect Cameron Maybin hit a two-run, pinch-hit homer in the bottom of the ninth to lift Carolina past the Tennessee Smokies 5-4 in the series opener at Five County Stadium in a key Class AA Southern League baseball contest. More ...
From Staff Reports
GUITARS & FRIENDS
Nash Arts welcomes a group of talented friends back to its venue this month. The Guitars and Friends show is at 7 p.m. on April 26 at the center. Tickets are $12 for non members and $10 for members. Members of the group include (not in standing order) leader, J.D. Joyner, David Mull and wife Linda, Randy Davis, David Lewis, Mitch Miles, Sandy Alvin, and Champ St. Amand. The group offers a unique blend of muscians showcasing outstanding talent. For more information about this event call 252-459-4734. More ...

NCC comedy is tonight and Thursday night
The Nash Community College Drama Club and Culinary Arts Program will present Charley's Aunt, a comedy by Brandon Thomas. The performance will be held on Wednesday, April 23 at 7:00 pm in the Business & Industry Center's Brown Auditorium at Nash Community College. Note this performance will include the show only and costs $3.00 for students, faculty and staff and $5.00 for the public. More ...

MCARTHUR BRYANT
ROCKY MOUNT - McArthur Bryant, 48, died Wednesday, April 16, 2008. Funeral services were April 22 at Saint Paul Baptist Church, Rocky Mount. Burial followed at Gardens of Gethsmane. More ...

KERRY ANN PATTERSON
CASTALIA - Kerry Ann Patterson, 33, passed away Friday, April 18, 2008. Funeral service will be Monday, April 21, 2008 at 11:00AM in the Chapel of Cornerstone Funeral Home . More ...

GERALDINE C. PERRY
Nashville – Geraldine C. Perry died Wednesday, April 16, 2008. Funeral services were held April 20 at the Richardson Funeral Home chapel. Burial followed in the new Saint John Church Cemetery. More ...

LOUISE WILSON
Nashville – Louise Wilson, 87, died Sunday, April 20, 2008 in Nash General Hospital. Funeral services will be held on Friday, April 25 at 11 a.m. from Castalia Missionary Baptist Church with Rev. Timothy Arrington officiating. Burial will follow in Oakland Cemetery. More ...

FRANK W. "FUZZY" JONES
Frank W. "Fuzzy" Jones, 58, died Saturday, April 19. Funeral services will be held on Saturday, April 26 at 1 p.m. from the Galatia AME Church with Rev. James Shears officiating. Burial will follow in the Oakland Cemetery. More ...

LINDA OSTERHOUDT
Linda Osterhoudt, 80, passed away, Sunday, April 20, 2008. She was born February 29, 1928 in Nash County. She was the daughter of the late, Jesse Lee and Nannie Belle Jones Toler. Linda was a member of Calvary BaptistChurch. She loved her family and church. She was preceded in death by her husband, Clifford William Osterhoudt and a brother, Albert Toler. More ...

WESLEY B. SMITH
Wesley B. Smith, 83, passed away Saturday, April 19, 2008. He was born May 4, 1924, in Nash County. He is preceded in death by his wife, Lorine R. Smith and son-in-law, Dennis H. Pittman. He was a longtime faithful member of Calvary Baptist Church. More ...