Subscribe/Access
Advertisements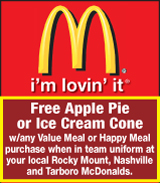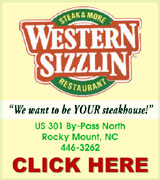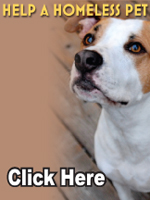 Sections
Member Options
Back
Bowling trial moved to Pitt County
The murder trial for Mark Bowling will be moved to Pitt County, Superior Court Judge Quentin Sumner ruled Thursday morning.
Bowling is accused of first degree murder in the shooting death of his wife, Julie Bowling. Julie was found shot to death in the couple's garage in December of 2006. Bowling's alleged mistress, Rose Vincent, admitted to pulling the trigger but said she was encouraged to do so by Bowling, who said it was the only way for them to be together. More ...
By Amanda Clark, Graphic Staff Writer - 1 opinion posted
Castalia plans to hire maintenance employee
Castalia Commissioners are planning to hire a new part-time employee in the next fiscal year to help handle the growing maintenance needs of the town. Commissioners voted to add the position at the March town meeting. However, they are currently evaluating ways to provide the equipment needed to do the job. More ...
By Amelia Harper. Graphic Correspondent
Spring Hope celebrates new Municipal Building
Spring Hope's new municipal building represents the town's motto well: "Honoring the Past, Building the Future." On Friday afternoon, town employees, dignitaries and residents celebrated that future with a special dedication ceremony for the town's newest facility. More ...
By Amanda Clark, Graphic Staff Writer
Red Oak Board updates parks, utilities progress
Red Oak Commissioners gave updates on the progress of plans for the town's improvement at the regular April meeting Tuesday. Mayor Alfred Wester said the town could expect delays on both the park and water and sewer plans, but that both were progressing. More ...
By Amelia Harper, Graphic Correspondent
Nashville Board looks at skill development plan
A skill development program, whose ultimate goal will be to improve services in town, was presented to Nashville Town Council members at its regular meeting last Tuesday night.
Town Council members agreed last year to budget funds to hire a consultant for a skill development plan. The town put aside $5,900 in the 2007-2008 budget to hire Gary Wiggins, who began working on the plan in September 2007. The plan was specifically tailored for the Town of Nashville. More ...
By Amanda Clark, Graphic Staff Writer
Frazier says operating stores is part of life
On a country road just outside of Nashville, Madeleine Frazier sits with her Sheepdog Sugar inside her craft store. On Monday, Tuesday and Wednesday, she operates one store. On Thursday, Friday, Saturday and Sunday, she operates a similar store across the street. But you can visit both anytime.
Madeleine Frazier is used to running a store. Having been raised in the small-town store life, the business isn't new to her. More ...
By Amanda Clark, Graphic Staff Writer
Downtown accident causes power outage
An early morning accident left Nashville residents without power for several hours.
According to Lt. Ray Goodwin, of Nashville's Police Department, a vehicle struck a pole at the corner of First and Washington Street around 6:30 a.m. Tuesday morning. The accident caused three power line poles to break. More ...
By Amanda Clark, Graphic Staff Writer
Woodcock and McKeel wed
Natalie Anne Woodcock and Cameron Blake McKeel were united in marriage in an afternoon ceremony at Lakeside Baptist Church April 5, 2008. The Rev. Billy Arrington officiated the 4:30 p.m. ceremony. More ...

New members inducted into Gamma Beta Phi
Nash Community College's Chapter of Gamma Beta Phi (GBP) recently inducted its new members for the 2007-2008 academic year.
Pictured on the front row seated (L to R) are: Mary E. Richardson of Whitakers, Christina Earp of Lucama and Lorie W. Jones of Pinetops. More ...

Middlesex resident voices concern over park location
A Middlesex man came before Nash County's Board Monday morning to complain about the proposed location of a park in the Bailey/Middlesex area.
Keith Murray, of Stone Heritage Road in Middlesex, said he was speaking on behalf of the citizens of Stone Heritage Road and the surrounding areas concerning a proposed 100-acre park. More ...
By Amanda Clark, Graphic Staff Writer
Fisher participates in leadership program
Bobby Joe Fisher, Vice President of the North Carolina Soybean Producers Association, participated in Part II of the American Soybean Association (ASA) Leadership At Its Best program in Washington, D.C.. More ...

MILITARY NEWS
POPE
Marine Corps Pvt. Carl L. Pope, Jr, son of Johanna I. Pope of Norfolk, Va. and Carl L. Pope of Battleboro, recently completed 12 weeks of basic training at Marine Corps Recruit Depot, Parris Island, S. C. designed to challenge new Marine recruits both physically and mentally. More ...

NRMPS recognized by Rocky Mount Area United Way
Nash-Rocky Mount Public Schools and the NRMPS Board of Education was recently recognized by the Rocky Mount Area United Way for outstanding support during the 2007-08 United Way Campaign by Ginny Mohrbutter, United Way Executive Director, and Brenda Lewis, Board President. NRMPS increased overall contributions to United Way and its agencies by 10.8 percent, adding $54,563 to this year's United Way campaign. More ...

Red Oak Community News
White Oak Baptist Church hosted the North Roanoke Baptist Association Spring Meeting on April 1. Moderator Waymouth Allen called the meeting to order and Rev. Ray Bynum of White Oak gave a welcome. More ...
By SUZY PEARCE
Mt. Zion FWB Church News
It was good to study about Daniel, a man of strong spiritual conviction, in Sunday school today. There will be more to follow about Daniel and his three friends. I love studying all the Bible, but the Old Testament stories give us so much Bible history and the biographies of famous men and women. I praise God for his word and all these facts of history and stories of so many lives that were lived for him. Let us strive to be men and women of faith and courage today in our world. More ...
By ROSALENE BASS
Beulah Community News
We want to thank all our friends for your attendance and support at our monthly fish fry last Friday night. We also want to say thank you for understanding the price increase from $7 to $8 per plate. We regret having to go up, but our cost of supplies has gone up quite a bit also. More ...
By WILMA ENROUGHTY
Peachtree Community News
Last week was a week of wonderful April showers. The ponds are filling up. The trees and flowers are in full bloom. The air is full of pollen and many folks are sneezing. Spring is finally here. More ...
By BARBARA HARDISON
The Soap Box list of alternative tax ideas
Okay, by now most of you have heard there is an election next month.
I'll say that I've come to conclusion about the Presidential race. And that conclusion is that I'm not sure I'd want anyone to be President who was fool enough to run for President. More ...
Mike Brantley
State lottery isn't living up to its promises
Representatives of Nash County have been hard at work getting information out to the public regarding the May 6 election which has a proposed sales tax increase on the ballot.
If it passes, shoppers of Nash County will pay an additional 1/4 cent on the dollar for purchases. The sales tax rate is currently 6.75 percent, the new rate would move to 7 percent. More ...
Jo Anne Cooper
Top Cat For SN
STANHOPE - Southern Nash's Laura Langley has quickly soared to new heights -- literally -- during her high school track and field career.
After not competing in the sport as a freshman, Langley joined the SN track squad as a 10th-grader -- and made an instant impact. More ...
By Geoff Neville, Graphic Sportswriter
Gryphons grab first in NEW-6
ROCKY MOUNT -- In a battle for the outright lead in the NEW 6 3-A Conference baseball race, the team that took the most advantages of the other one's mistakes was the victor last Thursday evening at a rainy Gryphon Stadium.
Rocky Mount scored two runs in the first inning thanks to two Wilson Fike errors to go on to a 3-1 triumph to stay unbeaten in NEW 6 play (10-3, 4-0). More ...
By Charles Alston, Graphic Correspondent
Action Continues At Soggy RM Tourney
ROCKY MOUNT -- Heavy rains in the Twin County area washed out the opening day of the 2008 Rocky Mount Baseball Invitational Saturday, so the three-day, nine-game event was compressed into a two-day, nine-game affair as play began Monday morning under cloudy, gray skies, a light drizzle and temperatures in the high 40s.
Atypical mid-April weather for this area, to say the least More ...
By Charles Alston
Nash Co. standouts honored
NASH COUNTY -- Several Nash County prep performers have earned spots on the North Carolina Coaches Association 2007-08 All District 3 squad.
Rocky Mount sophomore Tashawn Mabry was selected as the District 3 Boys Player of the Year.
Here is a complete list of the District 3 honorees: More ...
From Staff Reports
Mudcats fall vs. BayBears
MOBILE, ALA. -- The Mobile BayBears capitalized on seven Carolina walks shutting out the Mudcats 5-0 at Hank Aaron Stadium Sunday afternoon, handing Carolina its first loss of the season in a Class AA Southern League baseball matchup. More ...
From Staff Reports
Wesleyan successful on diamond
ROCKY MOUNT -- The Battling Bishops of North Carolina Wesleyan celebrated 2008 Parent's Day on Sunday by turning in a doubleheader sweep of Shenandoah University in USA South baseball action at Bauer Field.
Wesleyan earned a 10-6 victory in game one and a 5-4 victory in game two. With the two wins, the Bishops improve to 23-9-1 on the season and finish conference play at 9-3 thanks to three consecutive league sweeps. The Hornets now stand at 17-14 overall, 5-5 in league action. More ...
From Staff Reports
ECU earns two of three at So. Miss
HATTIESBURG, MISS. -- Justin Bristow worked eight innings allowing three runs with seven strikeouts, while freshman Trent Whitehead drove in four runs as No. 24 East Carolina took the rubber match against No. 20 Southern Miss 11-3 at Pete Taylor Park Sunday afternoon. More ...
From Staff Reports
Rewind show is April 15
Nash Arts will showcase finalists from the past two seasons of Nash County's Got Talent in a special Rewind Show April 15.
The night, Nash County's Got Talent Rewind, will provide local entertainers a chance to once again showcase their talent, but this time in a non-competitive way. More ...
By Amanda Clark, Graphic Staff Writer
WILLIAM EARL COOK, SR.
ROCKY MOUNT - William Earl Cook, Sr. 69, passed away Saturday, April 5, 2008. He was born in Nash County, May 27, 1938. More ...

WAYNE FARRELL
NASHVILLE – Wayne Farrell, 70, of Nashville passed away on Wednesday, April 2, 2008. He was born in California on August 14, 1937 to the late John Edward and Etta Olive Kincaid Farrell. More ...

MARVIN L. "BABY RAY" HARRISON SR.
WHITAKERS – Marvin L. "Baby Ray" Harrison, 55, died Thursday, April 3, 2008. Funeral services will be held on Friday, April 11 at 2 p.m. at Social Union Baptist Church with the Rev. Melvin Johnson officiating. Burial will follow in the New St. John Baptist Church cemetery. More ...

MARIAN HARRIS HUGHES
ROCKY MOUNT - Marian Harris Hughes, 73, passed away April 2, 2008 . She was the daughter of Hiram Joseph Harris and Hazel Williams Harris of Rocky Mount. She was preceded in death by her son, Richard Wayne Hughes and parents. More ...

DELOISE "JEAN" JONES
ROCKY MOUNT – Delois "Jean" Jones, 51, died Sunday, April 6, 2008. Funeral services will be held on Friday, April 11, 2008 at 1 p.m. from Union Hill Baptist Church with the Reverend Samuel Blunt officiating. Burial will follow in the Oakland Cemetery. More ...

BOBBY LEWIS LYNCH
ROCKY MOUNT – Bobby Lewis Lynch, 60, died Saturday, March 29, 2008. Funeral services were held April 5 at Pleasant Grove Baptist Church with the Rev. Linda Taybron officiating. Burial followed in the church cemetery. More ...

KENNETH WAYNE MEDLIN
Kenneth Wayne Medlin, 41, passed away, Monday, March 31, 2008. He was born January 15, 1967 in Nash County. He was preceded in death by his father, Max Medlin. More ...

WALLY D. SHEARIN
LOUISBURG – Wally D. Shearin, 43, died Thursday, April 3, 2008 at Franklin Regional Medical Center. Funeral services were held April 6 in the chapel of Spring Hope Funeral Home. Burial followed in Spring Hope Memorial Gardens. More ...

VELMA WHITLEY SNIPES
ROCKY MOUNT – Velma Whitley Snipes,89, of Rocky Mount, NC died Friday, March 28, 2008. A memorial service was held on Saturday, April 5, 2008 at Morton Memorial Presbyterian Church at 2:00 pm. Friends visited with the family at 1:00 pm in the church fellowship hall. More ...

PEGGY JONES TAYLOR
CASTALIA – Peggy Jones Taylor, 61, Castalia, passed away Monday, April 7, 2008. Funeral service will be held 11:00 AM Thursday at Gillfield Baptist Church. Woods, NC. Burial to follow in church cemetery. Arrangements by Carlton L. Gray Funeral & Cremation Service. Raleigh, NC. More ...

MARY SHERROD WILKES
Mary Sherrod Wilkes, 87, passed away, Monday, March 31, 2008. She was born July 15, 1920. She was the daughter of the late Tommy and Betty Boone Sherrod. More ...