Subscribe/Access
Advertisements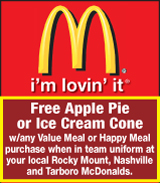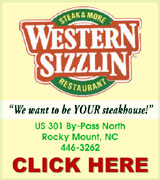 Sections
Member Options
Back
Nashville group honors Dr. King
The life and legacy of Dr. Martin Luther King, Jr. was celebrated in Nashville at an annual community breakfast.
The event, sponsored by the Nashville Willing Workers organization, has been held for over five years. Carolyn Williams, President of the Willing Workers, said the club has no plans to stop the annual event, which pays tribute to King. More ...
By Amanda Clark, Graphic Staff Writer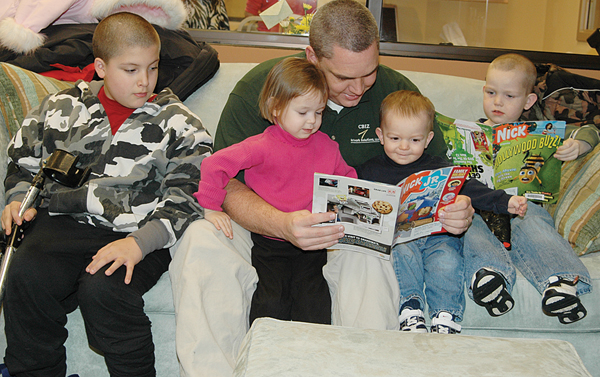 Kevin Jones (center) reads to his kids last week during the grand opening of Nashville's Harold D. Cooley Library. The library opened in its new location on Church Street. Pictured (L-R) is Keith, Courtney, Garrett and Gavin Jones with dad Kevin.

Cooley Library opens
Nashville's Harold D. Cooley Library is back in business.
The library has been closed since October 1 to move into its new facility on Church Street. The Town of Nashville announced plans to move the library to the former Joyner's Grocery in May of 2006.
A ribbon cutting and grand opening celebration were held on Thursday, January 17. The library opened at 9 a.m. and Library Director Melissa Mills said traffic was steady throughout the day. More ...
By Amanda Clark, Graphic Staff Writer
Nashville seeks relief from annexation rule
Nashville's Town Council is looking to pursue an exemption to the 10 percent satellite annexation law.
Town Manager Preston Mitchell told council members during their annual retreat last week that over the past year, he had been researching what the town needed to do to become exempt. The board expressed interest in the issue during the council's retreat last year. More ...
By Amanda Clark, Graphic Staff Writer
Nashville receives clean audit report
The Town of Nashville received a clean audit report during the town council's retreat last week.
The audit report, presented by Scott May, of May and Place, highlighted the town's finances for the fiscal year 2006-2007. May told council members the report showed no irregularities. More ...
By Amanda Clark, Graphic Staff Writer
Program provides H.O.P.E. for area youth
Some kids just need a little bit of hope and one local organization is giving them just that and more.
The H.O.P.E. program, or Helping Our People Excel, originated out of Castalia Baptist Church and aims to help local youth excel in academics. Joanne Moore, President of the organization, said the program was started simply to fill a need. More ...
By Amanda Clark, Graphic Staff Writer
Younger is nominated for Military Academy
Congressman Walter B. Jones (R-NC) announced his nomination of Northern Nash High School student Codie Younger to the United States Military Academy. Codie is the son of Cole and Kim Younger of Nashville, North Carolina. More ...

RELAY FOR LIFE NEWS
The Early Bird Kick-off at Calvary Baptist Church January 17, 2008, was filled with Nash County Relayers old and new. If this meeting was any indication of the participation from our Nash County friends and families, then our 2008 Relay will be the best yet. To date, 51 teams have registered and more are expected. Way to go Nash County! We are well on the way of meeting our goal of $267,400. More ...
By PEGGY WINSTEAD
First toy drive is a success
NASH COUNTY — The Southern Gentlemen's Club at Southern Nash High School recently conducted their first annual toy drive to assist families with sick children over the holidays and throughout the new year. More ...

MILITARY NEWS
Navy Reserve Seaman Recruit Kelli N. Royals, daughter of Gloria J. and William T. Royals, of Red Oak, recently completed U.S. Navy basic training at Recruit Training Command, Great Lakes, Ill. More ...

ENGAGED
Charlie and Renee Stewart of Rocky Mount announce the engagement of their daughter, Crystal Renee Stewart, to Marshall Wayne Sullivan. The groom-elect is the son of Marshall and Debbie Sullivan of Nashville. A May 24 wedding is planned at Parkwood Baptist Church in Rocky Mount. More ...

Barker, Basile join local United Way
The Rocky Mount Area United Way is pleased to welcome Shannon Barker and Melissa Basile.
Barker joined the RMAUW in August 2007 as the Community Impact Coordinator. A veteran of the United States Air Force, Barker came to the RMAUW from Time Warner Cable in Rochester, NY where she helped them raise $90,000 for their local United Way. More ...

Peachtree Community News
Sunday Morning turned out to be sunny and bitterly cold. Our expectations of snow, which the weather man had been predicting for about a week, were crushed. One fellow remarked that he had made a special trip to the store just to purchase sugar so that he could make his snow cream. He was sorely disappointed that he didn't have any snow so that he could stir up the delicacy. Wonder how many people can recall making snow cream? More ...
By BARBARA HARDISON
Beulah Community News
I hope everyone is staying inside as much as possible. Most of us were disappointed because we didn't get the snow that had been predicted, especially the children. Most small children in this area have never seen enough snow to even make a snowman. Of course most of us older people were really glad the predictions were wrong. At Beulah we were thankful to be able to have church services on Sunday. More ...
By WILMA ENROUGHTY
Red Oak Community News
Women in Action of Red Oak Baptist Church met on Jan. 17 at the home of Jean Mellor. Members also participated in a mission action project which included collecting and donating new or gently used shoes to people in the Appalachia region of West Virginia. More ...
By SUZY PEARCE
Mt. Zion FWB Church News
We had 94 in attendance for Sunday school, including two visitors and one new member. Welcome to everyone. We hope you enjoyed studying God's word with us. Come again. More ...
By ROSALENE BASS
Ephesus Community News
On Sunday, the weather outside was delightful, cold and some needed melted water. God is so good and we are so grateful to have and know him. More ...
By LOTTIE LOU DICKENS
Brooklyn Community News
More than 20 years ago, a group of faithful and concerned citizens came together to form the Brooklyn Area Community Watch (BCW) of Nashville. Tonya Evans was one of the named original members. Goodrich Rainey was the first president, followed by the current president, Lena Sessoms, in 2005. More ...
By LENA SESSOMS
May all your dreams come true in Disney
If you read last week's column, you remember I took the advice of my therapist and "shared" my experiences of me and my wife taking a 7-year-old (Holly), a 2-year-old (Kent) and an 8-month-old (Lowell) on an extended road trip.
The first part of the trip was business, with the second part being a stop at Disney World. We covered the highlights of the trip itself last week with a promise (or threat) of the details from Disney planned for this week. More ...
Mike Brantley
Library is open for business!
Nashville's Cooley Library is officially open and from what I've heard, it has already become very busy with numerous patrons visiting the new facility.
A ribbon cutting ceremony was held Thursday at the official opening of the library and town council chambers. I was delighted to see so many people from the community showing their support of the facility by coming out to the event even in the cold rain. More ...
Jo Anne Cooper
Who said snowdays are fun?
I remember very vividly the good ole' days of snow. Though they were seldom and few, I do remember a time or two where my hometown got a couple of inches of snow. Since this weekend, Nash County was teased with the possibility of a good old snow, I thought I'd share some of my past snow memories, in attempts to encourage the snow gods to give us a little this year. More ...
Amanda Clark
"High School Musical" workshop starts soon at Carolina Kids Theatre
Carolina Kids Theatre is currently holding registration for a "High School Musical" workshop. Children, ages 4 - 18, will perform a choral medley of choreographed songs along with short highlighted scenes from both High School Musical I & II. The participants will be divided into separate age groups. As the musical numbers are assigned to the individual groups, featured performers will be selected from each group to perform the principal roles and solos available. (Basically this means there will be a Gabriella, Sharpei, etc. from the ages 4 - 9 group, the 10 - 14 group, the 15 and above group - and possibly a homeschool group if there is enough interest to form it's own cast). More ...

New exhibition opens Children's Museum & Science Center
A new traveling exhibition will take visitors on an interactive journey through the hidden world of microbes. "Microbes: Invisible Invaders ... Amazing Allies" uncovers what microbes are (bacteria, viruses, fungi and protozoa--"germs" to most people), explores a history of infectious diseases and shows how researchers fight infection worldwide. Kid-friendly technology highlights hands-on activities, interactive displays featuring virtual reality and 3-D animation, theatrical sets and special effects that all bring microbes to life. More ...

WILLIAM THOMAS BATCHELOR, JR.
William Thomas (W.T.) Batchelor, 86, passed away, Thursday, January 17, 2008. He was born October 18, 1921 in Nash County. He was the son of the late William Thomas Batchelor and Mary Della Edmondson Batchelor. Mr. Batchelor was an avid horseman and always enjoyed talking to others who shared his love for horses. He was also a loving husband, father and grandfather. More ...