Subscribe/Access
Advertisements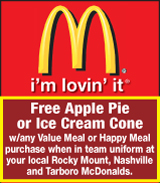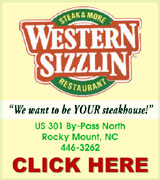 Sections
Member Options
Back
Council discusses sale of property on Washington St.
Nashville's Town Council discussed the sale of property on Washington Street Tuesday afternoon at a called meeting. Council members were all in agreement to move forward with selling the property, though no action was formally taken. A closed session was held Tuesday night during the board's regular meeting to discuss the issue further with the town's attorney Elizabeth Fairman. More ...
By Amanda Clark, Graphic Staff Writer
CVS Pharmacy may build in downtown
A new business looking to locate downtown may help provide up to one million dollars in grant money for the Town of Nashville.
CVS Pharmacy has already purchased property on the corner of Alston and Washington Street, where Nashville Fast Trax and Canal Wood are located. It is now trying to purchase a piece of property the town owns next to Canal Wood. An official offer of $385,000 was made for the piece of property by Redd Realty Services, out of Franklin, Tennessee. More ...
By Amanda Clark, Graphic Staff Writer
FIRST COTTON BLOOM
FIRST COTTON BLOOM 2007 - Seth Jordan holds the first cotton bloom found on Rich Farms in Castalia. Seth is three-years-old and is the son of Ray and Lisa Jordan, and the grandson of John and Dorothy Rich. Seth says he may want to be a farmer when he grows up since he spends a lot of time with his grandfather on the farm. The Nashville Graphic has held a long-time tradition of offering a free one-year subscription for the first bloom of the season brought to the newspaper. More ...

County approves formation of Water and Sewer District
Nash County's Board approved the formation of the Central Nash Water and Sewer District during their regular meeting Monday morning, paving the way for a plan that will extend water service to a majority of southern and central Nash County. More ...
By Amanda Clark, Graphic Staff Writer
CASTALIA'S JULY 4TH
The town of Castalia will host its annual Independence Day Celebration Wednesday including a car show at 9 a.m., the annual patriotic parade at 2 p.m. followed by entertainment all afternoon and fireworks later in the evening at 9:15 p.m. More ...

Taylor's Store Road bridge to be replaced
A bridge on Taylor's Store Road will be replaced in the coming year, according to Wendi Johnson, Division Construction Engineer with the North Carolina Department of Transportation. More ...
By Amanda Clark, Graphic Staff Writer
Local educator is selected
Kelsey Jones, Kindergarten teacher at Red Oak Elementary School, was chosen to be a member of the North Carolina Kindergarten Teacher Leader Initiative: "The Power of K" by the North Carolina Department of Public Instruction. More ...

Trailblazers attend annual convention
The Annual Tar Heel Junior Historian Convention was held at the NC Museum of History in Raleigh on April 27. Among the over 850 students and advisors from across the state in attendance were the "Trailblazers," a group of middle and high school students from the Christian Homeschool Association of Rocky Mount. More ...

Boundary issue resolved between counties
NASHVILLE — Edgecombe County Schools (ECS) Board of Education approved proposed changes to the systems' attendance boundary that Nash-Rocky Mount Schools (N-RMS) approved last month, as set forth by the Edgecombe County Board of Elections. Mark Strickland, N-RMS special assistant for auxiliary services reported ECS' approval to the N-RMS board at their meeting last Thursday night. More ...
By Michele A. Cruz, Graphic Correspondent
Nash County Health Department offers free mammograms to area women
NASHVILLE -Nash County Health Department (NCHD) can provide free mammograms to qualifying women!
According to the Center for Disease Control (CDC), breast cancer is the most commonly diagnosed cancer and the second leading cause of death among all women in the United States. In 2004, Nash County had a female breast cancer incidence rate of 178.9, much higher than the states average of 141.3. More ...

Veterinary team honored as employees of the month
RALEIGH – Agriculture Commissioner Steve Troxler recently recognized 13 employees of the N.C. Department of Agriculture and Consumer Services' Veterinary Division with Employee of the Month honors for their efforts to protect North Carolina's poultry industry. More ...

Students help keep America beautiful
Keep America Beautiful of Nash & Edgecombe Counties recently announced the winners of the "Students for Recycling" Program as part of the Great American Cleanup events held in Nash & Edgecombe counties. The following participating schools collected plastic bottles/containers from April 2 - May 31: Red Oak Elementary School, Williford Elementary School, and Northern Nash High School. More ...

Debutantes to attend Ball in September
RALEIGH – Roland Harris Vaughan III, president of the Terpsichorean Club of Raleigh, announced recently that invitations have been issued to the 81st annual North Carolina Debutante Ball. The event will be held in Raleigh on Sept. 6, 7 and 8. The formal presentation of young women from across the state will highlight the weekend festivities. More ...

Locals graduate from Barton
WILSON – Two hundred and fifty-three Barton College seniors received diplomas on May 20 during the school's 105th annual commencement exercises. Participating in the ceremony were students who completed their baccalaureate degree requirements in December 2006 and May 2007, as well as candidates who expect to fulfill requirements over the summer. More ...

COLLEGE BRIEFS
Erin Griffin of Rocky Mount was awarded a BA in Theatre during spring commencement exercises at Anderson University in Anderson, South Carolina. More ...

State's population is projected to grow by 50 percent, ask legislators to support our future
Our State legislature is grappling with a projected North Carolina "population tsunami" of four million additional people between 2000 and 2030 for a total population of twelve million, or a fifty percent increase. That will make our great State of North Carolina the seventh most populated state, ahead of both Michigan and Ohio, up from the current national ranking of tenth. Such a population increase will nearly equal South Carolina's current population of four million. More ...
Letters to the Editor:
Fourth of July, a birthday party for America
Fireworks used to scare me. They were loud and I could never figure out where they were coming from. More importantly, I could never figure out where they went once they exploded in the air. I was always scared they'd fall on my head. But still, each year, I'd venture out with my dad to witness the spectacle of July 4 in Greenville. It truly isn't July 4 without fireworks, no matter how scary they are as a kid. More ...
Amanda Clark
Backyard Rivalry
NASHVILLE -- Some teams claim to have a backyard rivalry, but it's actually true with the Nash Rec and Birchwood swim programs.
The clubs' respective pools are located just a few hundred yards away from each other along the outskirts of the Birchwood Country Club Golf Course. More ...
From Staff Reports
Post 58 a victor on diamond
ROCKY MOUNT - Nash County Post 58's players couldn't wait to take a break from the heat and hit the beach for the first time this summer.
But Kerr Lake and Benson Post 109 felt their wrath before they donned swim trunks. More ...
By Charles Alston, Graphic Correspondent
Nash Rec continues summer tennis schedule
NASHVILLE - The Nash County Parks & Recreation Tennis Team, coached by Randy Price, has competed in several recent matches.
On June 19, Nash Rec played a match at Kinston County Club. KCC won 6-3. Individual winners for Nash County in singles were Josh Harris (8-2), Randi Price (8-4) and Gabe Branch (8-5). Haley Smith, Adam Glover and Kaley Price also participated in this event. More ...
From Staff Reports
Carolina's stalwarts selected
ZEBULON - Four Carolina Mudcats were named to the North Division All-Star team, the Southern League announced last week.
RHPs Gaby Hernandez, Scott Nestor and IFs Lee Mitchell and Chase Lambin were named to the club, which will take on the South Division All-Stars on July 9 in Pearl, Miss., at Trustmark Park. More ...
From Staff Reports
Wilson Fike edges RM in Wachovia standings
CHAPEL HILL - Wilson Fike, despite having Rocky Mount nip at its heels all year long, held on to first place in the year-long Wachovia Cup race for overall sports supremacy in the NEW 6 Athletic Conference. More ...
By Charles Alston, Graphic Correspondent
THOMAS LEE RADFORD
Thomas Lee Radford, 70, a retired Mechanic for Harriett Henderson Cotton Yarn, passed away Tuesday, June 26. He was born in Nash County. More ...

GERALDINE LANGLEY BUNN
Geraldine Langley Bunn, 79, died June 28, 2007 at UNC Memorial Hospital with her children by her side. She was born October 16, 1927 in Nash County. She was the daughter of the late Percy and Lissie Davis Langley. She was preceded in death by her husband John Dean Bunn, Jr. of fifty-eight years; brother, Linwood Langley and daughter-in-law Sonya Bunn. More ...

DERVY ALLEN
Dervy Lee Allen, 72, died Saturday, June 30, 2007. Funeral services will be held at 2 p.m. on Saturday, July 7 at the Church of God of Deliverance Church, 140 E. Goldleaf St. in Rocky Mount with the Rev. Mark Dickens officiating. Burial will follow in Pineview Cemetery. More ...