Subscribe/Access
Advertisements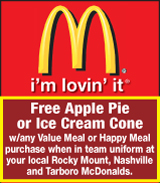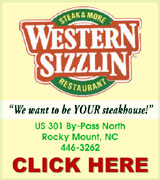 Sections
Member Options
Back
Personal Pies to soon open in Nashville
A pie business will soon call Nashville home.
Personal Pies will open in a few weeks at the former Nashville Hardware location on Eastern Avenue. Owners Richard and Lisa Joyner and Jim and Barbara Jones said they are excited about the opportunity to offer fresh pies to Nash County residents. More ...
By Amanda Clark, Graphic Staff Writer
Murphy dies at 72 years of age
A Nashville woman and former Supervisor of the Nash County Board of Elections passed away last Tuesday after a battle with cancer.
Rose Anna Batchelor Murphy, 72, died Tuesday, May 22 after fighting cancer for several years. More ...
By Amanda Clark, Graphic Staff Writer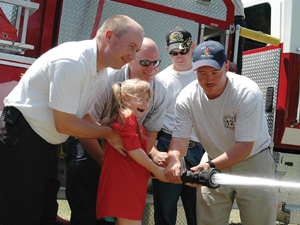 Laney Dorsey gets a lesson in spraying the fire water hose from Red Oak Firemen on Friday afternoon. Laney rode in a fire truck from Smith's Red and White to her new Dortches home.

Laney's wish is granted
When asked what their number one wish would be, most six-year-old girls would probably wish for a trip to Disneyworld or some other far away land. But for six-year-old Laney Dorsey, her Disneyworld consists simply of riding in a fire truck and just about anything to do with firemen. On Friday afternoon, Laney got her Disneyworld. More ...
By Amanda Clark, Graphic Staff Writer
Spring Hope may adjust utility rates
The Town of Spring Hope is looking to revise their utility rates in order to tackle improvements to its water and sewer system.
At its May 21st meeting, Town Manager John Holpe said there were around $1.5 million in projects that the town needed to take on over a three-year period. The improvements include sewer rehabilitation work and new water lines. More ...
By Amanda Clark, Graphic Staff Writer
Farmers Market gears up for summer season
You don't have to travel far to pick up fresh fruit and vegetables. The Rocky Mount Farmers Market has everything you need to stock your kitchen full of the freshest produce around.
Gearing up for its summer season, Manager Jimmy Winters said the Farmers Market is a busy place on Saturdays. Local farmers come out and sell their best produce. The summer season is the perfect time to get your butter beans, corn, field peas, tomatoes, snap beans and okra. More ...
By Amanda Clark, Graphic Staff Writer
NCSU announces honor students
North Carolina State University Chancellor James Oblinger announced that 5,672 undergraduate students earned Dean's List honors at NC State during the spring 2007 semester. More ...

Boys & Girls Club scholarship charity event is June 6
The Boys & Girls Clubs of Nash/Edgecombe Counties are preparing for the first annual Ambassador's Scholarship Charity. The annual charity event known as Steak -n- Burger, after running for Fourteen Years, is being phased out and replaced with a more adult oriented charity event. More ...

N-RMS seniors named teaching fellows
The North Carolina Teaching Fellows scholarship program recently announced the names of the 2007 scholarship recipients. Eleven Nash-Rocky Mount Public School students received this prestigious scholarship award valued at $26,000. More ...

Vanity zip codes could be in our future
The New York Post is reporting that the U.S. Postal Service, which just recently raised rates, may have a new source for funding.
Follow the lead of Department of Motor Vehicles everywhere, the USPS is apparently considering issuing vanity zip codes. More ...
Mike Brantley
Letter to editor demonstrates bigotry
After reading the letter to the editor in the Wednesday, May 16, 2007, edition of the Nashville Graphic, I was outraged that the single problem a local man deemed worthy to write to the newspaper editor about was the evils of homosexuality. More ...
Letters to the Editor:
NN One Win Away
PIKEVILLE - The pitching of two D-I hurlers has carried C.B. Aycock's baseball team all year long. The Falcons had the luxury of saving their No. 1 pitcher Garrett Davis for the money game of the NCHSAA 3-A East Regional series Saturday. Davis, you might say, ended up robbing the bank. More ...
By Charles Alston, Graphic Correspondent
NN Rallies For Win
RED OAK -- Harnett Central's baseball team had been giant killers all throughout the NCHSAA 3-A playoffs.
One-by-one, the Trojans knocked off higher seeds Rocky Mount, Rockingham County and South Granville -- all on the road. Northern Nash looked like another upset victim going into the bottom of the fourth inning of its fourth-round matchup with the boys from Angier. More ...
By Charles Alston, Graphic Correspondent
Northern set to host links event
RED OAK -- To help get the extra things his program needs, first-year Northern Nash head football coach Chad Smith is helping spearhead the First Annual "Fighting Knight Football" Superball Golf Tournament – a fundraiser set for Thursday, June 14, at Birchwood Country Club in Nashville. More ...
From Staff Reports
Alston steps down at NC
ROCKY MOUNT -- It's the most bittersweet decision Stacey Alston has ever made.
The only head baseball coach Nash Central has every had has resigned from that post effective last week. Alston, who was an assistant at Southern Nash before coming over to Nash Central when the school opened in 2002, said it was the toughest decision he's ever had to make. But in the end, more time for his family and his career had to come first. More ...
By Charles Alston, Graphic Correspondent
T-C wraps up baseball season
NASH COUNTY -- The Tri-Community baseball program has wrapped up another successful season.
Here is a list of award recipients for the spring: • Cody Goff -- MVP of the Sandy Cross team • Marques Taylor -- MVP of the West Mount team • Trey Wells -- MVP of the Sharpsburg team • Kyle Taylor -- MVP of the Oak Level team • Mack Bales -- Recipient of the Harvey Lee Joyner Award (presented by league umpires for sportsmanship) • Kyle Taylor and Stephen Thompson -- Co-Tournament Most Valuable Players • Oak Level team -- Regular season champions • Sharpsburg team -- Tournament runner-up • Oak Level team -- Tournament champions More ...
From Staff Reports
Pirates to play in UNC's Regional
GREENVILLE -- The East Carolina baseball team will makes its 22nd NCAA Regional appearance and eighth in the last nine years after earning a No. 2 seed in the Chapel Hill Regional in this year's NCAA Baseball Championships. More ...
From Staff Reports
Mudcats roll to road win at Mobile
MOBILE, ALA. -- Chase Lambin drove home the tie-breaking run in the 11th inning as Carolina rallied past Mobile on Memorial Day afternoon 8-5 at Hank Aaron Stadium in a Class AA Southern League baseball matchup. More ...
From Staff Reports
STATE BASEBALL PLAYOFFS
CHAPEL HILL -- The schedules have been set for the 91st annual edition of the North Carolina High School Athletic Association's state baseball championship series. More ...
From Staff Reports
JOSEPH O. WILLIS
Joseph O. Willis died Sunday, May 27, 2007. He was born on Oct. 13, 1930 in Wayne County and resided in Nashville. He was the son of the late Walter Benton and Ada Ennis Willis. More ...

CHARLES JOHN GOLSBY
ROCKY MOUNT – Charles John Golsby, 83, died Sunday, May 20, 2007. Funeral services were held on Saturday, May 26 at Pleasant Grove Baptist Church with the Rev. Linda Taybron officiating. Burial followed in the Pleasant Grove Church cemetery. More ...

JOYCE WOOD BYRD
WILSON – Joyce Wood Byrd, 66, died Tuesday, May 22, 2007. Funeral services were held on Friday, May 25 at First Baptist Church. Burial rites were accorded by the Eastern Star at Maplewood Cemetery. She was preceded in death by a son, Ed, who died March 30. More ...

ROSA TITUS ALSTON
ROCKY MOUNT – Rosa Titus Alston, 62, died Thursday, May 24, 2007. Funeral services were held Sunday, May 27 at St. John Baptist Church with Dr. J.B. Woodhouse officiating. Burial followed in New St. John Cemetery. More ...

GUS EDWARD LEONARD
Gus Edward Leonard, 71, passed away Tuesday, May 22, 2007 at Nash Grove Manor. Arrangements are entrusted to Johnson Funeral and Cremations, 661 English Road, Rocky Mount, NC 27804. More ...