Subscribe/Access
Advertisements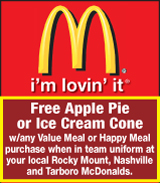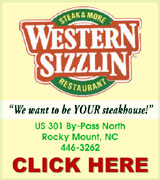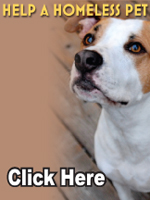 Sections
Member Options
Back
Wright remains mayor pro tem
Councilman Frank Wright will remain Nashville's mayor pro tem until next year's municipal election the board decided during a special called meeting Thursday night.

At the board's regular December meeting, Mayor Warren Evans swore in Councilman Donald Street as mayor pro tem, despite concerns from council members that the action was not following the town's charter. Evans said he had been choosing the mayor pro tem for the past 15 years and felt it was his duty to do so. Councilman Wright said the council should vote on the next mayor pro tem. The mayor pro tem acts in the event the mayor is absent. More ...
By Amanda Clark, Graphic Staff Writer
Dr. Liverman celebrates fifty years of service
It's Wednesday afternoon and Nashville's Dr. Joseph Liverman is enjoying his day off making calls to patients. In these calls, he informs patients of their test results, good and bad. Come Thursday, Dr. Liverman will have made those calls for 50 years in Nashville. Many will say Dr. Liverman is unique. He lives, breathes, eats and sleeps his career. He's a doctor but to many, he's much more. More ...
By Amanda Clark, Graphic Staff Writer
Nashville Fire receives grant
For the second straight year, Nashville's Fire Department has received a grant through the Volunteer Rescue/EMS fund.

The matching grant, totalling $48,409.49, isn't your average grant. There are many requirements that must be met in order to apply for the grant. More ...
By Amanda Clark, Graphic Staff Writer
Momeyer Ruritan honors members
chary Hinton received top honors last Monday night at the annual Momeyer Ruritan Club Ladies Night Banquet as he received the Tom Downing Award.

Hinton was one of the first officers of the Momeyer Ruritan Club when it first organized in 1964. He has 30 years of perfect attendance. Ruritan National Director Wayne Outlaw presented Hinton with the award. More ...
By Amanda Clark, Graphic Staff Writer
The long awaited, Soap Box predictions for '07
Admit it, you know you look forward to it.

It's time once again for the Soapbox Predictions for the New Year. Our research team spends minutes looking into our cubic zirconia ball — there's been belt-tightening at the Soapbox — so we can give you a month by month breakdown of what's going to happen in 2007. More ...
Mike Brantley
Meeting Dr. Liverman
If there's anything Nashville has to be thankful of, it's Dr. Joseph Liverman.

I've heard a lot about Dr. Liverman but had never personally met him until last week. I wasn't sure what to expect and have to admit, I was a little nervous. More ...
Amanda Clark
Thank you Dr. Liverman
Nashville icon Dr. Joseph Liverman will celebrate his 50th anniversary of practicing medicine in Nashville this week.

Our ace reporter Amanda Clark interviewed Liverman last week, meeting him for the first time. When she returned to the office, she was overwhelmed of the level of commitment he has to his patients. She couldn't believe that he spends his evenings, weekends and days off communicating with patients, giving them information about test results. More ...
Jo Anne Cooper
Last-Minute Win
RED OAK -- Few moments on the basketball court can be as helpless as watching an opponent's potential game-winning shot soar through the air.

Northern Nash's girls had to experience that moment last Wednesday during a home, non-conference matchup against the Tarboro Lady Vikings.

Not just once, but twice.

More ...
By Geoff Neville, Graphic Sportswriter
NN boys continue to surge
RED OAK -- Following an 0-5 start, Northern Nash boys basketball coach Rick Ruffin gathered his players at a practice session and gave them a blunt assessment of their progress.

"I told them that we were better than this,'' Ruffin said. "We had been in a lot of close games, but couldn't but a full game together. We've had difficulty holding leads. More ...
By Geoff Neville, Graphic Sportswriter
Smith becomes head grid coach for Northern
RED OAK -- December has become a very special month for Rocky Mount assistant football coach Chad Smith.

Last December, his wife Hannah gave birth to their first child, son Hunter.

This December, he received another special gift -- the opportunity to be a head coach. More ...
By Charles Alston, Graphic Correspondent
Wachovia standings released
CHAPEL HILL -- Listed are the Top 10 in each classification (through the completion of fall sports) for the North Carolina High School Athletic Association's Wachovia Cup all-points championship: More ...
From Staff Reports
SN Splits Versus Bunn
BUNN -- In order to defeat the Bunn Ladycats this season, opponents must put together four solid quarters of basketball.

Three wasn't good enough last Tuesday for the Southern Nash Ladybirds.

Controlling the tempo most of the way while avoid BHS' trademark full-court press, the Ladybirds trailed by only three points heading into the final stanza. More ...
By Geoff Neville, Graphic Sportswriter
RM salutes fall sports stars
ROCKY MOUNT -- Rocky Mount High announced its fall sports award winners during a ceremony held Dec. 18 at the school's auditorium. More ...
By Charles Alston, Graphic Correspondent
Hertford County rolls to win
AHOSKIE -- Last Thursday's matchup between Hertford County and Rocky Mount was supposed be a tune-up for Christmas tourney play this week.

The Bears ran like a finely-tuned engine, while the Gryphons just spilled oil. More ...
By Charles Alston, Graphic Correspondent
JOHN W. "TED" LEE
ROCKY MOUNT - John Winstead Lee, 75 died Wednesday, December 20, 2006. He was born in Nash County, September 21, 1931, son of the late John Raymond Lee and Florence Winstead Lee. More ...

FAYE COOPER REESE
ROCKY MOUNT, NC- Faye Cooper Reese, 70, died Monday, December 18, 2006. A native of Nash County, she was born August 3, 1936, daughter of Artest Cray and Rada Cockrell Cooper. She was a retired kindergarten teacher from Nashville Elementary School. In addition to her parents, she was preceded in death by her brother, Allen Cooper, and her sisters, Melba Batchelor and Dorothy Evans. More ...

WESLEY RAY "PAPA" MANNING
CASTALIA, NC - Wesley Ray "Papa" Manning, 80 died Monday, December 18, 2006 with his family at his side.

He was born October 17, 1926 to the late Jack and Embra Matthews Manning. More ...