Subscribe/Access
Advertisements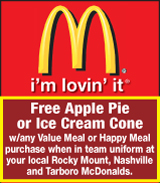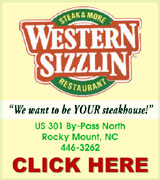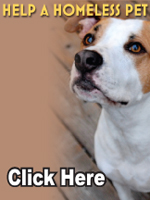 Sections
Member Options
Back
Town adopts speed hump policy
Nashville's Town Council adopted a speed hump policy during their meeting last Tuesday night that will set criteria when placing the humps in neighborhoods. More ...
By Amanda Clark, Graphic Staff Writer
Castalia looks at Nash County water option
Castalia commissioners have scheduled a special called meeting on Monday, October 23rd in order to go over proposals concerning the possibility of connecting to the Nash County water supply. According to comments made by Mayor Elene Leonard at the October regular business meeting, the town may also be choosing an engineering firm for the project at the special called meeting. More ...
By Amelia Harper. Graphic Correspondent
Junior Heifer Show
The annual Junior Heifer Show was held Friday at the Rocky Mount Fairgrounds. Cole Strickland (right) took ribbons home for Grand Champion and Reserve Champion in the Dairy Heifer competition. More ...

Spring Hope offices to move to Main Street
Spring Hope Commissioners voted Monday to rent a new temporary location to house the town's police department and administrative offices while the construction of the new building is in progress. The interim location will be in the former Animal Shack located at the corner of Main Street and Pine. According to Town Manager John Holpe, these offices will move to the new location sometime between November and December. More ...
By Amelia Harper, Graphic Correspondent
Pumpkin festival draws thousands
Overcast skies and threats of rain didn't dampen the spirits of Pumpkin Festival visitors Saturday. Thousands showed up at Spring Hope for the 35th Annual Festival to enjoy the traditional parade, listen to music, stroll through craft booths and taste some of the delightful festival food. More ...

State names five "Schools of Progress" in N-RMS
All Nash-Rocky Mount Schools (N-RMS) high schools made their expected 2005-06 growth standard as determined by the State Board of Education's ABCs program, even though the state raised the targets. Middle College High went one step further and attained their high growth standard for 2005-06. As a result of these achievements, NRMS high school instructors will receive incentive awards and certificates. More ...
By Michele A. Cruz, Graphic Correspondent
Local band releases album
A local band will release its first full-length album Saturday at a CD release party in Rocky Mount. More ...
By Amanda Clark, Graphic Staff Writer
Bobbitt of Momeyer attends Leadership Summit
WASHINGTON, D.C. – Joseph R. Bobbitt of Momeyer recently attended the Senate Leadership Summit for Young Professionals in Washington, D.C. The two-day conference provided a forum for more than 300 young professionals from across the nation to discuss a range of legislative issues with senior members of the United States Congress and nationally recognized policy experts. The conference participants were nominated to attend by their member of Congress. More ...

Deadline to register for ACT is November 3
College-bound high school students can take the ACT college admission exam on Dec. 9, the next national test date. The deadline for postmark or online registration is Nov. 3. The late registration deadline is Nov. 16 (an additional $19 fee is required for late registration). Students can get registration materials from their high school counselor or they can register online on ACT's student Web site (www.actstudent.org). More ...

N.C. State Fair starts Friday
Final preparations are under way for the 2006 N.C. State Fair, which is set for Oct. 13-22, and things are shaping up for plenty of fun-filled family activities, livestock competitions and displays, and the ever-popular buffet of food choices. More ...

NCC welcomes new faculty
Nash Community College is pleased to announce that Wes Bell and Mark Marand recently joined the faculty for the 2006 fall semester. More ...

Who said Hurricane season has been quiet?
We may be heading down the hump of hurricane season here in North Carolina, but in my house, we are nowhere near being free of storms.

That's because Hurricane Kent — brewing for 18 months — is on the loose. More ...
Mike Brantley
Shhh....it's a secret....Cliff Joyner is 50 today!
Just in case you missed the hint in last week's Graphic, today, October 11, 2006, is Cliff Joyner's 50th birthday. His staff has secretly been working on a surprise celebration that will take place today from noon until 6 p.m. at the store. Refreshments will be provided and of course the opportunity to wish Cliff a happy birthday along with all of the traditional jokes of turning the big 5-0. More ...
Jo Anne Cooper
NEW Matchup
ROCKY MOUNT - Nash Central's finish trumped Southern Nash's start during a key NEW-6 Conference soccer matchup last Monday on the NC campus.

Despite falling behind by two goals to start the contest, the Bulldogs would rally in the second half to secure a 7-3 decision over the stunned Firebirds. More ...
By Geoff Neville, Graphic Sportswriter
Bulldogs rebound with win
WILSON - A week off may have been just the thing the Nash Central Bulldogs needed.

Coming off a stinging loss to Bunn for their first loss of the season two weeks before, the Bulldogs emerged from their open date by pasting home-standing Wilson Fike 31-13 last Friday evening in the NEW 6 Conference opener for both squads. More ...
By Charles Alston, Graphic Correspondent
Big-Play Firebirds
RED OAK - Yard by yard, Southern Nash has carved out a reputation as a grind-it-out, power football team over the past few seasons.

But the Firebirds turned to big plays to secure a 28-0 road victory at Northern Nash during Monday's NEW-6 Conference opener for both squads. More ...
By Geoff Neville, Graphic Sportswriter
Wesleyan unbeaten in soccer
ROCKY MOUNT - The North Carolina Wesleyan College Battling Bishop men's soccer squad celebrated 2006 Senior Day with a 7-0 USA South win over Shenandoah University last Saturday at Scalf Field on the Wesleyan campus. More ...
From Staff Reports
LILLIAN MOORE EASON
Lillian Moore Eason, 93, died Wednesday, October 4, 2006. She was born July 4, 1913 in Halifax Co. She was the daughter of the late John Henry and Lula Grey Moore. She was preceded in death by her husband William Jasper Eason, a daughter and two grandchildren. More ...

DELORES 'BECKY' BOBBITT
CASTALIA – Delores "Becky" Bobbitt, 41, died Wednesday, Oct. 4, 2006. A memorial service was conducted Sunday, Oct. 8, at the Spring Hope Funeral Home. More ...

ANNIE LOUISE MAY JOYNER
ROCKY MOUNT - Annie Louise May Joyner, 82, died Tuesday, October 3, 2006. She was born in Nash County, August 30, 1924 daughter of the late Troy Young May and Annie Hendricks May. More ...