Subscribe/Access
Advertisements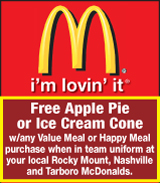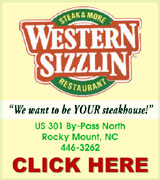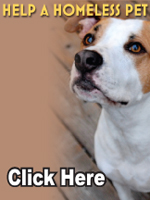 Sections
Member Options
Back
NRMS may use eminent domain to acquire land
NASHVILLE — Nash-Rocky Mount Schools' attorney Wardlaw Lamar advised the board that it might have to use its power of eminent domain to complete its land purchase for the new high school in Rocky Mount. The landowners have refused the board's offer for purchase of this property. More ...
By Michele A. Cruz, Graphic Correspondent
Red Oak may have to pay more for roads
Mayor Alton Wester began the Monday's regular business meeting by informing Red Oak Commissioners that he had both good news and bad news about the proposed highway expansion projects for the town. The good news, he said, was that North Carolina Department of Transportation officials had informed him that they could begin construction on the remaining projects as early as next week. The bad news, he added, was that they wanted the promise of another $125,000 from the Town of Red Oak before they could do it. More ...
By Amelia Harper, Graphic Staff Writer
Local youth celebrate Nash County 4-H Week
Nash County's Board proclaimed October 1 through 7 as 4-H Week in Nash County during their regular meeting Monday. National 4-H Week also takes place this week.

According to Assistant Extension Agent Sandy Hall, 4-H Week is a way to promote 4-H and get youth more involved. "It's to promote 4-H and see what we have to offer you," Hall said. More ...
By Amanda Clark, Staff Writer
Community mourns loss of former town businessman
Nashville residents are mourning the loss of a local businessman who passed away last week.

LaVern Plys Freeman, who founded Freeman's TV/Appliance, died last Wednesday of complications from a massive stroke. He was 87. More ...
By Amanda Clark, Graphic Staff Writer
NRMS names principal, teacher of the year
Red Oak Middle School's Connie Bobbitt was honored as Principal of the Year during a special ceremony at the Rose Hill Conference Center last Tuesday night. Winstead Elementary's Cindy Barnes was named Teacher of the Year. More ...
By Amanda Clark, Graphic Staff Writer
Big Cheese Cafe opens for business in Nashville
The Big Cheese has arrived in Nashville.

The pizza restaurant, located on Washington Street next to Taco Bell, celebrated its grand opening and ribbon cutting last Thursday afternoon. More ...
By Amanda Clark, Graphic Staff Writer
Nash County Sheriff speaks to Coopers Ruritan members
One of the biggest problems in today's society has become gang activity and Nash County citizens shouldn't assume we're immune to it happening here. That's part of several issues Nash County Sheriff Dick Jenkins discussed with Coopers Ruritans at the club's September meeting. More ...
By Jo Anne Cooper, Graphic Publisher
Jabberwock Steering Committe hosts tea
The Jabberwock Steering Committee of the Rocky Mount Chapter of Delta Sigma Theta Sorority hosted an invitational tea for select junior and senior girls from area high schools. Their parents and guardians were also present. More ...

Auditions for A Christmas Carol
Auditions are scheduled at Nash Arts for a presentation of a traditional "Christmas Carol" on Wednesday October 11 and Thursday October 12 from 7 to 9 p.m.. More ...

Nash County's Got Talent
Nash Arts is looking for some talent in its own backyard! The first annual Nash County's Got Talent Competition is coming soon. Now is the time to register, then take your talent to the Nash Arts Center for auditions on November 6 and 7. More ...

Soap Box fan mail
It has been quite some time since we emptied out the mailbox and published some of the mass volumes of mail which arrive at Soapbox headquarters via The Nashville Graphic.

So, here we go: More ...
Mike Brantley
Citizen to miss neighbor, Mrs. Faison
Goodbye Mrs. Faison.

Today Nashville lost one of its treasures. Mrs. Eloise Faison, after being a resident of Nashville and the Nashville vicinity for most of the past century, is moving to Hingham, Massachusetts, to live with her daughter, Julianne. Mrs. Faison, a retired public school teacher and a very popular citizen, will be missed by everyone. More ...
Letters to the Editor:
A Double Dipper
WILSON - Nashville's journey to Wilson County proved to be double trouble for host Rock Ridge during Eastern North Carolina Football League action last Saturday.

The visiting Hornets surged to a pair of impressive victories on the campus of Wilson Hunt High School. More ...
By Geoff Neville, Graphic Sportswriter
Northern slides by Wildcats
BUNN - Host Bunn controlled the proceedings in the beginning and end during last Thursday's non-conference, boys soccer showdown against Northern Nash. More ...
By Geoff Neville, Graphic Sportswriter
RM football coach saluted by former school
BOONVILLE -- A two-story press box/concession building and a field house are just two reminders of the impact B.W. Holt had on Starmount High School during his tenure as head football coach and athletic director. More ...
By Charles Alston
The Scots stop NCW in four OT
MARYVILLE, TENN. - Maryville College amassed 21 unanswered points in the fourth quarter and used a Justin Price 2-point conversion to steal a 50-48, four-overtime victory over USA South opponent North Carolina Wesleyan in front of a capacity crowd at MC's Honaker Field last Saturday. More ...
From Staff Reports
'Birds roll past Warriors
STANHOPE - Few losses in recent Southern Nash football history were as painful as the one the Firebirds suffered over three weeks ago at Wilson Beddingfield. More ...
By Geoff Neville, Graphic Sportswriter
GINA MARIE ALECCA QUICK
NASHVILLE - Gina Marie Alecca Quick, 48, died Thursday, September 29, 2006. She was born in Portsmouth, VA, August 26, 1958 daughter of Michael Joseph Alecca and the late Mary Ellen Hughes Kelly. More ...

ROBERT JOSEPH MANLEY
NASHVILLE – Robert Joseph Manley, 61, died Sunday, Sept. 24, 2006. Funeral services were held at 1 p.m. on Saturday, Sept. 30, at Pleasant Grove Baptist Church. Burial followed in the church cemetery. More ...

ELBERT DANIEL (DAN) THARRINGTON
DORTCHES - Elbert Daniel (Dan) Tharrington, 68, passed away Tuesday, September 26, 2006. He was born on June 24, 1938 in Nash County, son of the late Zollie Daniel Tharrington and Minnie Irene Moore Tharrington. He was preceded in death by his wife, Miriam Abbott Tharrington. More ...

JAMES "JIMBO" LAWRENCE PRICE, JR.
ROCKY MOUNT - James "Jimbo" Lawrence Price, Jr. passed away Thursday, September 28, 2006. He was born on May 13, 1928 in Nash County, son of the late James Price, Sr. and Maude Dickens Price. More ...