Subscribe/Access
Advertisements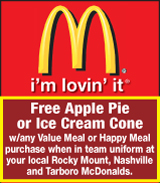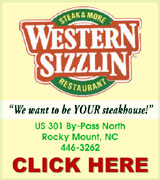 Sections
Member Options
Back


Burgess

Chase leads to gunfire
A Nashville woman stole a deputy's patrol vehicle last Tuesday night and led officers on a chase that ended with the woman allegedly being shot by a Nashville police officer.

According to reports from the Nash County Sheriff's Office, 29-year-old Rose Marie Augerlovoie-Burgess, of Robbins Lane, was picked up by a deputy on outstanding warrants for breaking and entering and unauthorized use of a motor vehicle. More ...
By Amanda Clark, Graphic Staff Writer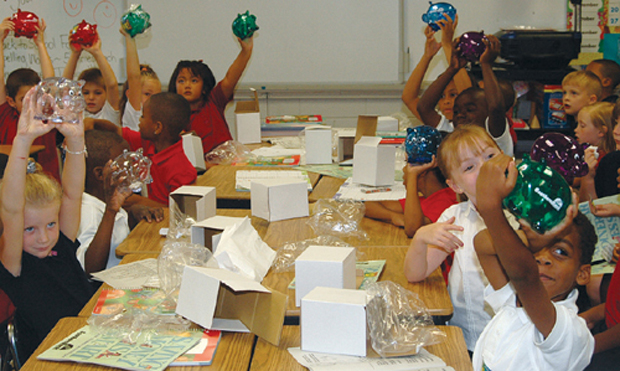 First graders at Cedar Grove Elementary School show off piggy banks given to them by Lisa Wells, Nancy Bullard and Vanessa Whitaker of Southern Bank.

Area students head back to school
Nash-Rocky Mount School staff received a little motivation before the official start of school but this year, they received the tips from one of their own. More ...
By Amanda Clark, Graphic Staff Writer
NCC announces academic excellence recipients
Nash Community College recently announced that Haywood (Wood) Perry and Judy Watson are recipients of the 2006 North Carolina Community College System Academic Excellence Award. The Academic Excellence Award is given to North Carolina community college students that exhibit outstanding scholastic achievements. More ...

MILITARY BRIEFS
Army Pvt. Ricky T. Morris II has graduated from basic combat training at Fort Jackson, Columbia, S.C. More ...

Friday is deadline to apply for ECFC grants
East Carolina Farm Credit recently announced that they are accepting grant applications through their corporate-giving program, the Fund for Rural North Carolina. Grants are available up to $5,000 per organization for programs specifically benefiting farmers and rural residents. Applicants can request funding in one of the four focus areas: Education, Environment, Technology, or the Quality of Rural Life. More ...

Local man is named one of top ten volunteers
A Nashville resident was recently named one of top ten tax volunteers in the state. Colonel Dennis Nielsen, the local coordinator for Tax Aide in Rocky Mount and Spring Hope was named one of the top ten volunteers in the state who contributed beyond expectations to the program. He received an award from Governor Mike Easley. More ...

Looking for the French at Target
School's back in, summer's almost over and there's a tropical storm brewing and headed for the Atlantic Coast. Yep, it must be Labor Day weekend. Seems like we can always count on a tropical storm or hurricane to pay us a visit on or near the holiday weekend. More ...
Jo Anne Cooper
A Brittany Battle
WILSON - Eighteen games filled the docket of a busy day at the annual Brittany For The Boys Soccer Showcase last Saturday at Gillette Park.

Few of the matchups, however, were as exciting as Southern Nash's showdown against Class 1-A powerhouse North Johnston. More ...
By Geoff Neville, Graphic Sportswriter
Bulldogs a winner over SSS
SMITHFIELD -- Two games, two victories.

Certainly, the Nash Central High football team has gotten off to a strong start. More ...
From Staff Reports
'Dogs Fall At Brittany
WILSON -- Nash Central got off to a great start during its match against Wilson Beddingfield at The Brittany For The Boys Soccer Tournament, which was held last Saturday at Gillette Park. More ...
By Geoff Neville, Graphic Sportswriter
Northern wins first VB match
ROANOKE RAPIDS -- Northern Nash opened its prep volleyball season last Wednesday with an impressive 24-26, 25-22, 25-23, 25-22 conquest at Roanoke Rapids High School. More ...
From Staff Reports
Nash County second at World Series
WILSON -- For a second consecutive year, a Nash County 14-year-old Babe Ruth Baseball team has gone to the World Series final -- and finished second. More ...
By Charles Alston, Graphic Correspondent
IRENE H. HINTON
NASHVILLE - Irene H. Hinton, 73, died Monday, August 28, 2006. She was born on August 8, 1933 in Nash County, preceded in death by her parents Ransom Horner and Eula Stallings Horner, along with her husband Earl Hinton. More ...

ELSIE JOHNSON SHERROD
NASHVILLE -Elsie Johnson Sherrod, 91, died Friday, August 25, 2006. She was born in Nash County, June 10, 1915, daughter of the late Julius Johnson and Mary Bone Johnson. More ...

BESSIE MORTON "MIMI" ELLEN
DORTCHES- Bessie Morton "Mimi" Ellen, 95, died August 22, 2006. She was born March 15, 1911 in Rocky Mount to Julius Edward and Annie Hewitt Morton. More ...

VIOLA BLANCHARD PINKERTON
Viola Blanchard Pinkerton, 63, of Nashville died Sunday, Aug. 27, 2006 at Nash General Hospital. Graveside services will be held at 2 p.m. on Friday, Sept. 1, at Cedarwood Cemetery in Roanoke Rapids with the Rev. Butch Lewis officiating. More ...

MICHAEL LAWRENCE TART
ROCKY MOUNT – Rev. Michael Lawrence Tart, 54, died Monday, Aug. 28, 2006. A memorial service will be held at 11 a.m. today (Aug. 30) at Wheeler & Woodlief Funeral Home. Family and friends are invited to the interment at Prospect Free Will Baptist Church in Dunn at 2 p.m. More ...

GERALD SYKES
ROCKY MOUNT - Gerald Sykes, 71 died Saturday, August 26, 2006. He was born in Nash County, September 8, 1934 to the late Edgar Cornelious Sykes and Minnie Batchelor Sykes. More ...

Joel Gorham Lindsey
Joel Gorham Lindsey, 62, passed away August 28, 2006. He was born in Nash Co. He was the son of the late William Haywood and Maggie Taylor Lindsey. Joel attended Macedonia Baptist Church. He served his country proudly in Vietnam. He was a blessing to those who really knew him and a loss to those who didn't. Joel was a loving and supporting father, brother, grandfather, and devoted husband and soul mate. He was always forgiving and never judgmental and will truly be missed by family and friends. He was preceded in death by his sister Kay Winstead. More ...

Waneta "Cookie" Bowman Slater
Waneta Bowman Slater, 81, went home to be with her Lord and Savior on August 24, 2006. She was born July 4, 1925 in Knoxville; TN. Cookie had always worked as a waitress in the area restaurants. She worked the last fifteen years for Walnut Café until she retired in 1984. Cookie loved watching the Atlanta Braves and stock car racing. More ...