Subscribe/Access
Advertisements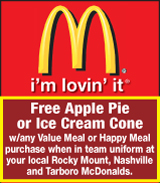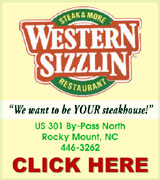 Sections
Member Options
Back
Alberto causes flooding
Areas of Nashville were underwater Thursday morning as Tropical Depression Alberto quickly brought five inches of rain to the area Wednesday. More ...
By Amanda Clark, Graphic Staff Writer
Relay members receive awards
A 17-year cancer survivor was the guest speaker at the 2006 Relay for Life of Nash County wrap up event Friday night at Englewood Baptist Church in Rocky Mount. More ...
By Amanda Clark, Graphic Staff Writer
Bailey family receives help from Angel Flight program
Medical bills can be a financial burden to any family. Add to that the rising costs of gas and a weekly visit to the doctor and even the wealthiest of families will have trouble getting by. Angel Flight North Carolina is helping one Nash County family ease some of the burden by providing transportation to Shriner's Hospital in Greenville, South Carolina. More ...
By Amanda Clark, Graphic Staff Writer
Castalia looks at future water and sewer options
Castalia Commissioners met with engineers and a council of government representative last Wednesday to discuss expanding the town's water and sewer. Mayor Ellene Leonard attended the special meeting, along with Commissioners James Alston and Eva Rice. Dennis Patton, Director of Planning and Development Services for the Council of Government was also present. More ...
By Amanda Clark, Graphic Staff Writer
Hedgepeth opens second insurance office in Nashville
Nationwide is expanding services in Nashville by offering another location to serve its clients. The new location, located in the Nashville Commons shopping center, celebrated its grand opening on Tuesday, June 13. More ...
By Amanda Clark, Graphic Staff Writer
Everything has a positive side, even Wal-Mart
Since it seems that everyone except, apparently the public relations department at Wal-Mart — knows that Wal-Mart is planning to put a store in Nashville, it seems like this would be a good time to talk about it. More ...
Mike Brantley
Team leaders seek volunteers for historic day
We are volunteer team leaders for Climb For Cancer, an organization that is bringing Americans together to fight cancer. (see www.50-50-1.com) A very special and historic event has been planned and we need your help to make it work. The goal is to have one person at the summit of each of the highest peaks in each of the fifty states on June 24, 2006! This is all to help fight cancer with sponsorship. More ...
Letters to the Editor:
Busy Times For Post 58
ROCKY MOUNT - Veterans of the Legion Baseball circuit will say that the season, which begins in May and continues through the unbearable summer heat, can be compared to a marathon, and not a sprint. More ...
By Geoff Neville, Graphic Sportswriter
Omaha owns the Nash Rec Major League title
NASHVILLE -- After his team captured the regular season championship, Omaha coach Tony Engrassia wanted to cap off the campaign in style with a Nash Rec Major League Tournament championship. More ...
From Staff Reports
Nash Rec will host signups
NASHVILLE -- Nash Rec will be sponsoring a fall baseball program, with signups scheduled for Aug. 14-18 from 8 a.m.-4 p.m. and Aug. 19 from 9 a.m.-noon at the Glover Park Fieldhouse. More ...
Sports Shorts
Braswell, Waldrep named All-State
DURHAM -- The accolades keep coming in for Rocky Mount sophomore pitcher Ryan Waldrep, while Northern Nash's Bryan Braswell added one more to end his high school career. More ...
From Staff Reports
County coaches saluted at event
ROCKY MOUNT -- Northern Nash track coach Russell Weinstein and Nash Central girls basketball coach Terri Cash were among several area individuals who were honored by SEAM, Inc. (Sport, Evangelism and Mission) at the organization's "Night of Champions" ceremony held recently at First Baptist Church. More ...
By Charles Alston, Graphic Correspondent
SUSAN RHEA VICKREY
SALISBURY – Mrs. Susan Rhea Vickrey died Saturday, June 17, 2006. She was born Dec. 16, 1948 in Beaver, Ohio, to the late Wayne and Evelyn Rhea. More ...

CORNELIA ADAMS
ROCKY MOUNT – Cornelia B. Adams, 82, died Saturday, June 17, 2006. She was born Aug. 4, 1923 in Nash County, the daughter of the late John Neal and Georgia Myrtle Avent Davis. She was the widow of Hubert J. Barnes, Mark R. Ruffin and William Adams, and was also preceded in death by her sisters, Annie Mae Anderson and Mary Taylor. More ...

EDMOND BULLARD
NASHVILLE – Edmond Rudolph Bullard Sr., 72, died Tuesday, June 13, 2006. He was born in Nash County on July 27, 1933, son of the late Charles Smith Bullard and Flossie Myrtle Knight Bullard. More ...

ANNIE SHEARIN
ROCKY MOUNT – Annie Belle Hall Shearin, 79, died Friday, June 16, 2006, at Moore Regional Hospital in Pinehurst following an extended illness. Formerly of Rocky Mount, she resided in Raeford. More ...

LARRY THOMAS CARY
ROCKY MOUNT- Larry Thomas Cary, 86, died Tuesday. June 13, 2006. He was born September 4, 1919 in Wilson County son of the late Octavious Cary and Maggie Wells Cary. More ...