Subscribe/Access
Advertisements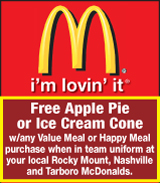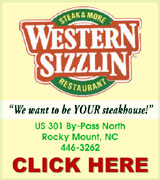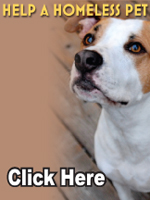 Sections
Member Options
Back
Home invasion suspects caught
The final two suspects in a early morning home invasion were arrested Tuesday morning in Edgecombe County, thanks to the combined efforts of the Nash County Sheriff's Department, the NC Highway Patrol, Alcohol Law Enforcement and the State Bureau of Investigation. A total of five suspects were charged in connection with the invasion and are in custody. More ...
By Amanda Clark, Graphic Staff Writer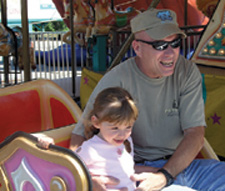 Nashville resident Mike Pressley and his grand-daughter Caroline Roach, 3, ride the merry-go-round at this year's Annual Blooming Festival. (Graphic photo by Amanda Clark)

Planners say Blooming Festival is huge success
Just as the 10th Annual Blooming Festival was wrapping up, the festival committee was already jotting down notes on how to make next year's even better. "The planning has already somewhat started," said Committee Co-Chair Cindy Puckett. "We'll kick into high gear after we're rested up." More ...
By Amanda Clark, Graphic Staff Writer
Library plans concern citizens
After announcing proposed plans for Nashville's Cooley library and town hall last week, some citizens think the two should swap places so the library will be more accessible to students. More ...
By Amanda Clark, Graphic Staff Writer
Castalia to fill board seat
Castalia Mayor Ellene Leonard did not comment last week on the recent passing of Town Commissioner and former mayor Margaret Patterson. However, she did say that "regrettably, there is a vacancy on the board to fill." She explained that the General Statutes demand that the current town board appoint someone to fill the post of Margaret Patterson, who was herself appointed to fill the seat left vacant by the resignation of former town commissioner Jennifer Pernell. More ...
By Amelia Harper, Graphic Correspondent
County looks at $.05 tax increase
In a recessed meeting Monday morning, the 2006-2007 budget was presented to Nash County board members. The $82.7 million budget calls for a $.05 increase in the ad valorem tax rate, an increase some commissioners weren't willing to immediately accept. More ...
By Amanda Clark, Graphic Staff Writer
Nashville council adds career development to town budget
Nashville's Board unanimously authorized Town Manager, Preston Mitchell, to add a $9,500 career development assessment bonus for all Town of Nashville employees to the 2006-2007 fiscal year budget during a workshop meeting Tuesday afternoon. More ...
By Amanda Clark, Graphic Staff Writer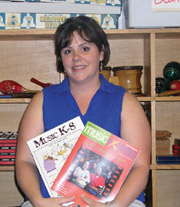 Mandy Bailey

Teacher is published author
A Nashville Elementary teacher is now a published author in two national music magazines. Music teacher Mandy Bailey published the articles, titled "The String Family" and "Egg 'Beat'ers," in two separate magazines this year. "I thought it was something worth sharing," Bailey said of the articles. "The hardest part was bringing it down to their (the kid's) level." More ...
By Amanda Clark, Graphic Staff Writer
Wal-Mart rumors continue in Nashville
Wal-Mart could soon be rolling back prices in Nashville, as plans for the Supercenter are said to be underway. Though Wal-Mart officials would not confirm the locating of the store here, sources say neighbors surrounding the proposed site have received blueprints detailing the layout of the store. More ...

WL Greene students receive awards
WL Greene School held its Award's Day on Tuesday, April 25. Students were presented certificates for good attendance, A and A/B Honor Roll as well as highest average and most improved for each subject. More ...

Grocery store to be renovated for new Nashville town hall
Proposed plans for Nashville's new town hall call for renovations to 5,000 of the 11,000 square feet of Joyner's Grocery on Church Street. The remaining 6,000 square feet will be used for storage, according to Town Manager Preston Mitchell. More ...
By Amanda Clark, Graphic Staff Writer
Town council has its building priorities backwards
Last week's news of the plans for Nashville's library, town hall and police department has brought mixed emotions to many folks across town. I have considered the proposed plans, trying to look at all sides, but honestly I am not satisfied with the council's decisions. More ...
Joanne Cooper
Joyner family thanks Nashville for support
Recent newspaper articles have revealed that the town of Nashville plans to purchase our building and land on Church Street, insuring that the town hall remains downtown where it rightfully should. Our decision to sell, while bittersweet, is the right move for our family at this time. Throughout our 50 years in business, the Joyner family has truly been blessed by the loyal patronage of our friends/customers, a great family of dedicated and talented coworkers and the support of many long-time suppliers. More ...
Letters to the Editor: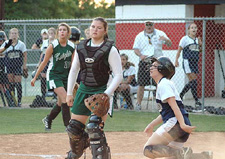 Northern Nash catcher Melissa Williams isn't very happy as another Fike run crosses the plate during last Friday's NEW-6 Conference Tournament championship game at Southern Nash's Ladybird Field. (Graphic photo by Geoff Neville)

Those Dandy Demons
STANHOPE - Northern Nash's young softball team could easily use Wilson Fike as a barometer for future success. Certainly, in a few seasons, the Lady Knights, loaded with freshmen, would love to occupy the lofty level that Fike currently holds in the NEW-6 Conference. More ...
By Geoff Neville, Graphic Sportswriter
Next Stop: States
STANHOPE -- Northern Nash's storybook boys track and field season has only one chapter remaining. Will it be a thrilling ending for the Knights? More ...
By Geoff Neville, Graphic Sportswriter
Wesleyan will host camper
ROCKY MOUNT -- North Carolina Wesleyan College in Rocky Mount will be hosting a pair of girls camps this summer. Offerings are as follows: More ...
Sports Shorts
Nash County baseball clubs ready for postseason action
CHAPEL HILL -- About this time last year, Nash Central baseball coach Stacey Alston was packing away his team's uniforms. Al Carter at Northern Nash was putting away his scorebook. Rocky Mount's Pat Smith was cleaning the dugouts at Gryphon Stadium and Southern Nash head coach Jeff Flowers was hanging up the keys to the John Deere. But not this year. More ...
By Charles Alston, Graphic Correspondent
Firebirds nab NEW-6 diamond title
PINETOPS -- Some baseball coaches would just assume see conference tournaments go the way of the dinosaur - and disappear. They say it's a waste of time and pitching staffs get depleted for the postseason. But you might get an argument about that from Southern Nash's Jeff Flowers. More ...
By Charles Alston, Graphic Correspondent
ARTHUR BARNES
NASHVILLE – Arthur Glenn Barnes, 71, died Saturday, May 13, 2006. He was born in Johnston County to the late Walter J. and Flossie Bass Barnes., He was preceded in death by his wife, Helga Treasure Barnes; sisters Fannie Leigh Nines and Christine Lewis; and brothers Chester, Joseph, Walter Jr., George and Robert Barnes. More ...

ANNIE LOU BOBBITT PARTIN MILLS
Annie Lou Bobbitt Partin Mills passed away on Wednesday, May 10, 2006 at Mayview Convalescent Center. Her family would like to thank all of the wonderful caregivers at Mayview for their loving care during her stay with them of over 16 years. We would also like to give special thanks to her brother and sister-in-law, C.B. and Lottie Lee Tutor, and Faye Cherchas and Bobbie Best for their years of devoted care and love. More ...