Subscribe/Access
Advertisements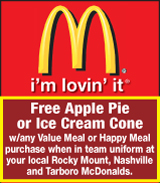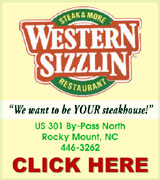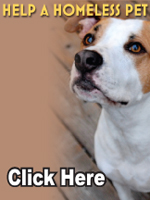 Sections
Member Options
Back
Developer withdraws rezoning request


A developer wanting to build an apartment complex on Western Avenue has withdrawn his request.
Michael Hurt, of Hurt, LLC, came before Nashville's Town Council on Tuesday night to instead request a public workshop be held to allow suggestions for property he owns at 608 Western Avenue.

More ...
AMANDA CLARK, GRAPHIC STAFF WRITER
Dortches mayor passes away


The Town of Dortches is mourning the loss of its mayor.
Kirby Brown, who served the town for over 40 years, passed away last Friday, August 28.
Brown was first elected to the Dortches Board of Commissioners in 1978. He served in that capacity until 2002, when he was elected as the mayor of the town.

More ...
AMANDA CLARK, GRAPHIC STAFF WRITER

Nash County Senior Center volunteers and staff enjoy a game of chair volleyball last Wednesday at the annual Volunteer Appreciation Social at Ennis Park.

Nash salutes volunteers


The Nash County Senior Center hosted its annual Volunteer Appreciation Social last week without the usual fanfare but with just as much appreciation for the volunteers that keep the center going.
The event was held at Red Oak's Ennis Park to comply with social distancing requirements.

More ...
AMANDA CLARK, GRAPHIC STAFF WRITER
Castalia board member resigns


The town board of Castalia voted to accept the resignation of Commissioner Carlyle Hall at their regular monthly meeting on Tuesday. Hall resigned by email on August 25, to be effective August 31. Mayor James Alston said the reason for his resignation was so that he could focus and "uphold his church responsibilities and duties." Hall is pastor at Castalia Baptist Church.

More ...
ESSICA SMITH, GRAPHIC CORRESPONDENT
COVID-19 cases climb in Nash County


Restrictions for some North Carolina businesses have been lifted, allowing them to open but for others, restrictions will remain in place, Governor Roy Cooper announced on Tuesday.
Cooper announced that the state will move into phase 2.5 starting on Friday, September 4 at 5 p.m.

More ...
AMANDA CLARK, GRAPHIC STAFF WRITER
Nash County EMS unveils new look


Nash County EMS recently unveiled a new, more modern graphic design for its ambulances.
EMS received the first of four ambulances with the new design last month.
Scott Strufe, EMS Director for Nash County Emergency Services, said three of the four new ambulances are remounts, where the box part is taken off the ambulance and everything is refurbished and repainting and put back on.

More ...
AMANDA CLARK, GRAPHIC STAFF WRITER
NASH COUNTY SHERIFF'S OFFICE REPORTS
A disclosure of private images was reported on 8/27/20 at 1027 Bloomery Road, Bailey
A missing person was reported on 8/28/20 at 11748 Crooked Swamp Road, Whitakers
A simple assault was reported on 8/26/20 at 1916 Creek Lane, Rocky Mount
More ...
NASHVILLE POLICE REPORTS
INCIDENTS
A larceny was reported on 8/26/20 at 1210 Eastern Avenue
A larceny by employee was reported on 8/27/20 at 1169 Eastern Avenue
More ...
A trip through Heaven's grocery store


"For God's gifts and his call are irrevocable. Blessed is the man whose sin the Lord will never count against him." (Romans 11:29, 4:8)
My sister sent me a poem entitled, "Heaven's Grocery Store", by Ron DeMarco. The moment that I read it, I knew that it belonged on our refrigerators or in our Bibles to remind us of God's love for us.

More ...
MIKE RUFFIN
Intersections: God and Life


If you read my article last week, you'll know that I promised a Part two and if you didn't catch the article last week, just email me at Carlylehall65@gmail.com.
As we've been studying the book of Exodus at Castalia Baptist Church, we've learned so much. We've seen the power and providence in Moses's life. We have been reminded that God has a purpose and plan for Moses, and we're being challenged to consider His plan and purpose for our lives.

More ...
CARLYLE HALL
SANDY CROSS NEWS


Sandy Cross United Methodist Church enjoyed service inside the sanctuary this past Sunday. The service can be viewed on the church's Facebook page. The children enjoyed their virtual Sunday School lesson "Moses - A Baby and a Bush".
Vaughan's Chapel continues to enjoy their Sunday morning service in the sanctuary at 11 a.m. each week.

More ...
EMILY SILLS
Luke's Word for the Week


September Greetings Fellow Followers! I pray this month is, for you, a month of peace, wonder, and joy as you live as a child of God.
This week we are looking at Acts 11. It's an important text when we consider the whole argument about bad things happening, or going in the wrong direction, with the "Why?" questions of life.

More ...
LUKE WHITEHEAD
PEACHTREE COMMUNITY NEWS


We at Peachtree Baptist Church continue to meet for church service only.
The sanctuary flower arrangement Sunday was presented to glorify God by Fran and Bob Bunn in loving honor of their grand-daughter Linnea (LuLu) Rene' Mink on the occasion of her 20 birthday and entering her freshman year of college.

More ...
FRAN BUNN
Heroes Field of Honor set for September 11th


A rural field on Highway 97 will become a place to honor heroes next weekend, as the "Heroes Field of Honor" is set to be held.
The event is the first for this area and will include a display of 250 American flags, which will fly in formation to honor those who have and are putting their lives on the line every day.

More ...
AMANDA CLARK, GRAPHIC STAFF WRITER
Debu-Ette Club of Rocky Mount presents seniors
The Debu-Ette organization of Rocky Mount, like many other organizations, had to pause its presentation event for seniors due to social distancing rules.
However, the young ladies have rendered four years of community service and commitment to the Debuette Club. Through serving their community, each girl developed the leadership qualities needed in civic and social activities.
More ...
Nash County Animal Friends' Notebook


Do It Right - If you find a pet and take to the Shelter, you should do it within a short time, if you cannot find the owner quickly. Remember, when you find that pet, legally you need to report right away. Owners are looking for that pet. A stray is just an owned lost pet. When a stray is taken to the Shelter, they are kept for three business days, then they will be available for adoption.

More ...
CAROL VIERELA
Nash salutes volunteers, pics 2
Ashley Winstead (left), Senior Services Supervisor, presents Bethany McKnight (right) of the Nash County Senior Center with the Project Lifesaver Volunteer of the Year Award.
More ...
Political ads, embedded bias already tiring


It's early, barely September, and I'm already tired of political ads.
And they are just getting started.
I see them on the air, hear them on the radio, see them all over social media. I even get them in the mail.

More ...
Mike Brantley
Your voice can truly make a difference


Last week was an impressive example of how the voices of citizens can indeed make a difference in their community - and play a role in how their community develops in the future.
And this week even more so tells me that YOUR voice counts.

More ...
Jo Anne Cooper
Backward Glances


This photo originally published in The Nashville Graphic on June 19, 1958. Savings bonds of $25 each were presented to five school bus drivers by J.A. Barnes (left) of Lucama, field safety representative of the Department of Motor Vehicles. Looking on at the right is L.S. Inscoe, county superintendent of schools.

More ...
A PICTORIAL LOOK INTO THE PAST

AMBER JOYNER AT NORTHERN NASH STATE TITLE REUNION (FAR LEFT)
Nash County Success Stories
FORMER ATHLETIC STANDOUTS EXCEL IN CAREERS: AMBER JOYNER
In the span of six years, Amber Joyner enjoyed the good fortune of playing under two of the area's most respected coaching legends -- Grover Battle (Northern Nash High School girls basketball) and Sheilah Cotten (Louisburg College softball).
So when Joyner decided that coaching and teaching were going to be her career choices, she certainly had a nice learning blueprint to reflect upon.
More ...

NORTH CAROLINA WESLEYAN COLLEGE ALUM ADRIAN MOORE

Moore Returning To Wesleyan


ROCKY MOUNT -- North Carolina Wesleyan College Head Men's Basketball Coach John Thompson has named former player Adrian Moore, as an assistant Ccoach, replacing Michael Mosley, who spent 7 years with the Battling Bishops.
North Carolina Wesleyan's Male Student-Athlete of the Year in 2017, Moore, a 2018 graduate, was named USA South All-Conference in 2016, 2017, and 2018, while receiving All-Academic recognition the same three seasons.

More ...
Staff Reports
Football game is changed


RALEIGH -- In conjunction with the Atlantic Coast Conference office, North Carolina State University and Virginia Tech have agreed to move their previously scheduled football season opener to a common bye week.
The contest, originally scheduled for Sept. 12 in Blacksburg, will now be played on Sept. 26.

More ...
Staff Reports
White transfers to Louisburg


LOUISBURG -- Eric Lee's preference for recruiting local talent to his Louisburg College softball program received an unexpected push last week.
That's when Lee received a phone call from Caroline White's family, saying that the former Bunn High School standout flamethrower was unhappy at Virginia Wesleyan College.

More ...
GEOFF NEVILLE, Times Sportswriter