Subscribe/Access
Advertisements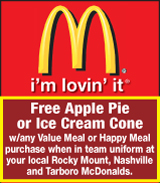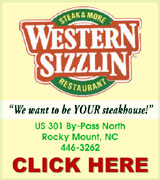 Sections
Member Options
Back
Nashville announces new director


A recreation center supervisor for the City of Roanoke Rapids has been hired to lead the Town of Nashville's newly revamped parks, recreation and cultural resources department.
The town announced the hiring of Koy Worrell last Thursday.
Worrell has served as the Recreation Center Supervisor for the City of Roanoke Rapids since 2016.

More ...
AMANDA CLARK, GRAPHIC STAFF WRITER
Nash receives funds to boost broadband


Nash County was one of 11 counties that will receive expanded internet access, Governor Roy Cooper recently announced.
CloudWyze will receive $817,822.50 to enable to the company to continue extending the existing network throughout the county.
The funding is part of a total of $10.2 million in grants awarded as part of the 2019-2020 Growing Rural Economies with Access to Technology, or GREAT, grant.

More ...
AMANDA CLARK, GRAPHIC STAFF WRITER

Pictured above is homemade pear preserves canned by Nash County resident Sylvia Batchelor who said lids and jars are very difficult to find in Nash County.

Is it 1975 all over again?
Canning lids shortage reminds extension agent of the 70s


I hold cloudy memories of the 1970s. I remember that decade being aesthetically challenged, but what I most clearly remember is Barney Miller and mutton chops. I know weird, huh? Well it was a weird time, I was a young kid and I lived in NYC.
What I don't remember is the Great Canning Jar Lid Shortage of 1975, again I was a kid and no one in my family canned at the time so it wasn't really on my radar. It was on Mary Burgles' radar and she was more than a little peeved!

More ...
Debbie Stroud / Area Specialized Agent Consumer and Retail Food Safety
Another charged in Whitakers
The Nash County Sheriff's Office has made an arrest in the homicide of 30-year-old Jerome Lynch.
Taquan Devon Stokes, 26, and Adarius Deonte-Ray Johnson, aka "Kush," were both arrested last week and charged with first degree murder. Johnson was also served an outstanding warrant by the Rocky Mount Police Department for firearm by a convicted felon.
More ...
Coopers to build new Ruritan building near fire dept.


The Coopers Ruritan Club is building a new meeting spot that will better serve the community.
Construction is slated to start on the new facility, which is located on Volunteer Road next to the Coopers Fire Department, at the end of September.
A groundbreaking will be held on Saturday, September 19 at 10 a.m.

More ...
AMANDA CLARK, GRAPHIC STAFF WRITER
Kinston man charged with Old Carriage Road murder
The Nash County Sheriff's Office has charged a Kinston man with the murder of William Jerome Lee.
Hermon Leon Best, 34, was arrested on Tuesday, August 18 and charged with first degree murder and first degree burglary.
Lee, 32, was found unresponsive with a gunshot wound by a family member around 2:09 a.m. on Thursday, August 13 in his home in the 3100 block of North Old Carriage Road.
More ...
Nash reports continued increased COVID-19 cases


Five months ago, North Carolina made headlines for hitting the 500 mark in the number of positive COVID-19 cases being reported. Today, the state is reporting over 155,000 cases.
Nash County Health Director Bill Hill said those numbers should prove to residents that the virus is not something to be taken lightly.

More ...
AMANDA CLARK, GRAPHIC STAFF WRITER
NC Governor Cooper announces appointments
Governor Roy Cooper announced several appointments to boards and commissions recently, including local residents.
Cooper appointed Johnny T. Bass, of Elm City, as a public member to the North Carolina Addictions Specialist Professional Practice Board. Bass is a contract treasurer for a West Virginia coal mining company based in Raleigh. Bass formerly worked with the US Bankruptcy Court as an examiner for Chapter 11 matters for 18 years.
More ...
NASH COUNTY SHERIFF'S OFFICE REPORTS
A warrant service was reported on 8/21/20 at 10043 E NC 97, Rocky Mount
An assault on a female, resisting arrest/hinder and delay, assault on an LEO were reported on 8/20/20 at 1022 Macedonia Road, Spring Hope
A larceny of a firearm was reported on 8/17/20 at 11442 N US 301, Whitakers
More ...
NASHVILLE POLICE REPORTS
INCIDENTS
A damage to state property was reported on 8/21/20 at 1030 Eastern Avenue
A resisting arrest was reported on 8/17/20 at 1847 S First Street
More ...
Crisis always brings us closer to God


We have a friend who had a near-fatal accident several years ago. She was returning home from a church outing in moderate rain when her mini-van began to hydroplane. The vehicle plummeted down a steep embankment, turning over several times. She, and the teenagers who were with her, escaped serious injury in spite of the circumstances.

More ...
MIKE RUFFIN
Intersections: God and Life


At Castalia Baptist Church we've been studying the Old Testament book of Exodus. As I've been preaching through this fascinating book, I'm struck by Moses life and how much I identify with him.
Moses had some miraculous experiences with God. God protected his life as a baby, provided for him by making a way for his mother to nurse him as he resided in Pharaoh's home, and protected his life after he had murdered an Egyptian.

More ...
CARLYLE HALL
Luke's Word for the Week


Last week in our time together I made the suggestion that going too far in asking the question "Why?" could lead us down a slippery slope. Please know, I am not against asking the question, "Why?" - we note that Jesus asked this. My concern is that it can deceive us and lead us in paths, not of righteousness, but deception. Towards the end of the article I noted two Scripture passages (John 9 & Acts 11) that we will briefly look at and see that when bad things happen, we must learn what questions to ask. Let's go.

More ...
LUKE WHITEHEAD
SANDY CROSS NEWS


Sandy Cross United Church enjoyed "Drive-In" worship service on Sunday morning. The children enjoyed a virtual Sunday School lesson "Singing For God Like Paul & Silas".
Hacia El Reino opened service with announcements and prayer. Brenda Diaz led worship followed by the afternoon message from Pastor Julio Diaz.

More ...
EMILY SILLS
PEACHTREE NEWS


We at Peachtree Baptist Church continue to meet for church service only.
The sanctuary flower arrangement Sunday was presented to glorify God by Tanya Pitts in loving memory of her Husband, Harry N. Pitts and her parents, Willard and Mary Winstead.

More ...
FRAN BUNN
Nash County Animal Friends' Notebook


SO SAD... Not too long ago, someone found four puppies in a ditch, only two survived. They were in such sad shape, it was thought maybe parvo. However, they tested negative. Why were they so sick and why did they die? Intestinal worms. Round worms and hookworms were draining their little bodies of blood and nutrition. They suffered. For just a few dollars for wormer, they could have lived a healthy life. However, they weren't wanted.

More ...
CAROL VIERELA
More to be concerned about than "the virus"


Rioting and violence continue in a few major cities.
At least three state universities have moved all classes online and told students to leave the dorms.
There is a double hurricane on the way to the United States in a year where our state alone has had storms and an earthquake.
The Democrats had their convention last week and the Republicans take their turn this week. That's too many scary movies for me in a short amount of time.

More ...
Mike Brantley
We all will be mighty thirsty in the desert!


You may have never heard the term "news desert," - and I hope you don't. Trust me, you don't want to become familiar with what it truly means to the well being of YOUR community.
A news desert refers to a community that is no longer covered by a newspaper. Doesn't sound too devastating - until you experience what happens when there is no unbiased coverage of what your local governments are doing.

More ...
Jo Anne Cooper
Backward Glances


This photo first appeared in The Nashville Graphic on July 24, 1958. Mrs. Hazel Valentine, Nashville Postmaster, is shown displaying a sign showing new postal rates which were to go in effect August 1, 1958. Under the new schedule, regular letters required a four-cent stamp and air mail letters required a seven-cent stamp.

More ...
A PICTORIAL LOOK INTO THE PAST
Nash County Success Stories
FORMER PREP STANDOUTS EXCEL IN CAREERS: ADAM GREINER
Tennis, at its core, can be a lonely, solitary endeavor, filled with insular motivation, diligent solo practice sessions and results that can unfold at a painfully slow place.
Much of the work involved comes behind-the-scenes, alone, without roars of approval and encouragement. Matches, especially on the high school level, are mostly attended by a sparse group of family members and friends.
More ...
Nash County Success Stories
FORMER PREP STANDOUTS EXCEL IN CAREERS: BRIAN BATCHELOR
One chance meeting. One well-timed phone call. One quick snuffing out of a youth-induced pity party by an adult mentor.
All of those split-second scenarios can change a life forever. And in the case of Brian Batchelor, that's exactly what happened.
Batchelor was a star football player at Southern Nash -- good enough to earn a gridiron scholarship to the College of William and Mary after graduating from SNHS in 1997.
More ...
Golf tourney is scheduled


NASHVILLE -- The Nash Community College Foundation is planning its 31st Annual Student Scholarship Golf Classic.
Players will have a choice of a morning or afternoon tee time on, October 1 or 2.
The tournament will be held at Benvenue Country Club in Rocky Mount. Proceeds from the tournament support scholarships for students attending Nash Community College.

More ...
Staff Reports