Subscribe/Access
Advertisements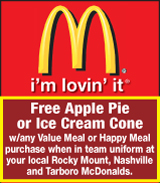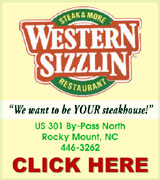 Sections
Member Options
Back
Hope for the best, prepare for the worst
TRAINING - Nashville's Fire Department staff and volunteers trained Monday night in downtown Nashville to establish positioning of the department's new ladder truck if ever needed for the downtown buildings or the courthouse. The truck was stationed in the middle of the street within reach of the nearest hydrant and the reach of the ladder was measured for future placement should there be a need.
More ...
Red Oak oks Christmas events


The Town of Red Oak is moving forward with hosting its annual Christmas Festival and Parade.
Commissioners voted unanimously on Monday night to continue with the event, which is set for Saturday, November 28.
Town Clerk Tracy Shearin said the town had a successful, yet socially distanced July 4th event and hopefully by the time the Christmas event comes around, the state will have moved out of phase two.

More ...
AMANDA CLARK, GRAPHIC STAFF WRITER
Nashville to mull derelict building rules


Nashville's Downtown Strong Advisory Board for the Municipal Service District (MSD) is reviewing a draft of an ordinance which could give the town the authority to handle the outcome of derelict commercial or industrial properties.
Advisory Board Chairperson Dylan Bunch said at July's meeting that some programs successfully encourage partnerships to purchase dilapidated buildings for the purpose of repairing for resale...

More ...
JO ANNE COOPER, GRAPHIC PUBLISHER
Middlesex five-year old shot, killed
A five-year-old Middlesex boy was shot and killed at his father's Wilson home while playing outside on Sunday afternoon.
Wilson Police were called to a shooting in the 5100 block of Archers Road just after 5:30 p.m. on Sunday, August 9.
Cannon Hinnant was reportedly playing outside his father's home when he was shot in the head. Hinnant was taken to Wilson Medical Center, where he died.
More ...
Mittie Mae Richardson turns 100 Years Old!


Mittie Richardson has lived a lot of years, 100 to be exact, and according to her pastor, she's also put a lot of living into those years.
Richardson, of Hollister, celebrated her 100th birthday on Saturday, August 8 at Autumn Care. Due to COVID-19 restrictions, Richardson wasn't able to celebrate with family the way she had hoped but Autumn Care made sure she still celebrated.

More ...
AMANDA CLARK, GRAPHIC STAFF WRITER
Covid numbers soar in Nash


A Nash County man in his late 80's has become the 14th COVID-19 related death.
The man, who reportedly had underlying health conditions, died on August 10 from complications associated with the virus.
"Our deepest and most sincere condolences are extended to the family and care staff of this patient," said Bill Hill, Nash County Health Director.

More ...
AMANDA CLARK, GRAPHIC STAFF WRITER
NCPS holds community information meetings


Nash County Public Schools hosted two community information meetings to provide parents with a better understanding of how the upcoming school year will work.
The sessions were held on Monday morning, August 10 and Tuesday evening, August 11 and aired on the school system's YouTube channel.
The hour and a half session included a 45-minute presentation on what Plan C is, which the school system will begin the school year under on Monday, August 17.

More ...
AMANDA CLARK, GRAPHIC STAFF WRITER
Nash County approves process for delinquent utility bills


Nash County Commissioners adopted a plan last week to address delinquent water and sewer utility customers.
Nash County suspended utility disconnects and late fees for water and sewer customers in mid-March in response to the anticipated impact of COVID-19 on utility customers.

More ...
AMANDA CLARK, GRAPHIC STAFF WRITER
Nashville seeks drainage solutions


Nashville's Town Council was presented with options that will potentially help alleviate flooding in one Nashville neighborhood.
Kevin Varnell, of Stocks Engineering, came before council members last week to discuss a drainage improvement project at Windy Oak Drive and Laurel Spring Drive.
The town contracted with Stocks Engineering at a cost of $12,400 to study the drainage in the area.

More ...
AMANDA CLARK, GRAPHIC STAFF WRITER
WATERMELON KINGS
The Nash County Farmers Market held its watermelon contest Saturday.
In the youth division Joseph William Smith (above) of Brantley's Home Nursery grew a watermelon that weighed in at a whopping 44.46 pounds. The watermelon is almost as big as Joseph!
More ...
NASH COUNTY SHERIFF'S OFFICE REPORTS
A felony maintaining a vehicle/dwelling/place for a controlled substance, posession with intent to sell and deliver cocaine and possession of drug paraphernalia (not marijuana) was reported on 8/5/20 at 101 Brown Drive, Rocky Mount
Buying/receiving stolen property was reported on 8/7/20 at 10516 Lancaster Store Road, Castalia
More ...
Filing ends for school board


Filing has ended for the Nash County Public Schools Board of Education and only one seat will be contested in the upcoming elections.
The District 1 seat currently held by Doneva Chavis will face opposition as Chavis has filed for re-election and will face newcomer Roy G. Garner, of Battleboro.
The other five seats have just one candidate running, with incumbents running for four of the seats.

More ...
AMANDA CLARK, GRAPHIC STAFF WRITER
Spring Hope Chamber news
The Spring Hope Chamber of Commerce recently hosted a reverse raffle, "Spring Hope Strikes Back," in efforts of raising $10,000 in grant funds for local businesses affected by COVID-19. The drawing was held Saturday. Pictured above, Spring Hope Chamber President Karen White and former president Allen Barbee, work to pull tickets during the event. Winners of a four-way split were Amy Noland, Michael Ward, Marshal Whitehurst and Magdalene Bartholomew.
More ...
Castalia welcomes new commissioner


Sadie Atkinson was sworn in as the newest commissioner at the regular monthly meeting of the town board of Castalia on Tuesday.
The board made several decisions at the August meeting. The board voted to switch insurance providers from Farm Bureau to the NC League of Municipalities. The board also voted to allow a particular individual to complete attorney-initiated community service through the town - possibly doing park maintenance or collecting litter from roadsides.

More ...
JESICA SMITH, GRAPHIC CORRESONDENT
Farm Market Summary August 3-7, 2020


North Carolina's egg prices were steady on small, lower on the balance when compared to last week. Supplies of extra large were heavy, large fairly heavy, while medium were moderate to meet a moderate demand. The North Carolina weighted average price quoted Thursday, August 06, for small lot sales of delivered, cartoned, grade "A" eggs was 91.10 for Extra Large, 87.02 for Large, 53.92 for Medium, and 47.00 for Small eggs.

More ...
Contributed by FEDERAL - STATE MARKET NEWS SERVICE, DIVISION OF MARKETING - NCDA
Northern Nash grad wins Georgia-Pacific Scholarship
William Wright, a recent graduate of Northern Nash High School in Rocky Mount, has been selected as a recipient of a Georgia-Pacific Foundation Employees' Children Scholarship.
William is the son of Austin Wright, who works at Georgia-Pacific as a procurement forester for the Emporia Plywood facility.
More ...
Harper joins NCWC admission team
NC Wesleyan recently welcomed Kerri Harper as Admissions & Advising Coordinator for its Wilmington and Brunswick campuses. In this role, she will be responsible for participating in recruiting events and presentations, advising and counseling students on major and minor requirements, and promoting the Adult Studies Program at community colleges, churches, civic organizations and businesses.
More ...
Harper earns Master of Science Degree in Nursing
Ashley Harper, of Rocky Mount, has earned a Master of Science Degree in Nursing - Leadership and Management (RN to MSN) degree from Western Governors University (WGU). The online, nonprofit university has graduated over 190,000 students from across the country since its inception in 1997.
WGU has recognized 7,734 undergraduate and 5,254 graduate degree recipients who have completed their degrees since April 1, 2020.
More ...
God's forgiveness is complete


The other night I awoke from a bad dream. It seems I had wronged someone and was now defending myself in court. The rub was that I was not in court because of what I did, but rather for what I had not done.
I couldn't believe what was happening. The harder I tried to convince the judge of my innocence, the deeper in trouble I found myself.

More ...
MIKE RUFFIN
Luke's Word for the Week


The Bible has a holy habit of revealing things to us as we have ears to hear what the Spirit wants us to hear. Pandemic or no pandemic, riots or no riots, we, fellow followers, need ears to hear at all times. The prophet Jeremiah recorded the words of the Lord, that to have ears yet not hear is to be foolish and senseless (Jeremiah 5:21).

More ...
LUKE WHITEHEAD
SANDY CROSS NEWS


Cooper's Elementary School celebrated the custodians this past week for all of their hard work during the summer. They have made sure everything in the school is clean and sanitized before staff returns to school to start the virtual learning program.
Christian Fellowship Church is enjoying a new message series entitled "Windows & Gates."

More ...
EMILY SILLS
PEACHTREE COMMUNITY NEWS


With all of these difficulties around us, we at Peachtree, members, family, and friends met Sunday to praise our Lord for all He does for us, especially during these difficult times. We pray that he will continues to bless and protest us, because without His blessings where would we be? Praise God. He is all powerful. (Fran).
The sanctuary flower arrangement Sunday was presented to glorify God by Joan and Ray Eason in loving memory of her father, Raymond Rackley, on the occasion of his birthday.

More ...
FRAN BUNN
NCC presents 2020 Outstanding Alumni Award to 2015 grad
Nash Community College has selected Desiree Dolberry as its 2020 Outstanding Alumni Award recipient.
Desiree graduated from NCC in 2015 with an Associate in Applied Science in Advertising and Graphic Design, with honors. During her time at NCC, she maintained a 3.8 cumulative GPA.
More ...
Legendary North Carolina writer leaves a legacy
My mama and I were both voracious readers when I was growing up. However, we never got to meet many writers -- just two that I can recall.
One was Roy Wilder Jr. of Spring Hope, a local character who found some national success with his book, You All Spoken Here.
And then there was longtime News and Observer columnist Dennis Rogers.
More ...
We can never be too prepared or over trained!


Just after dark Monday night I heard fire trucks pull into downtown, which isn't unusual. Typically they're headed over to the jail for either a first responder call or due to a fire set in the jail.
But the sound was a bit different, and I could tell there were multiple engines. When I stepped out the door, I saw the entire downtown blocked off by trucks.

More ...
Jo Anne Cooper
Backward Glances


1958 CHAMPIONS - This photo first appeared in The Nashville Graphic on July 17, 1958. The 1958 champions of Church Baseball League. The squad, representing the Elm Grove Community, had a season record of 10 wins and no losses.

More ...
A PICTORIAL LOOK INTO THE PAST
Progress made at NC Wesleyan


Hayden Bay, the company responsible for installation of the dome of the new Indoor Sports & Education Facility at North Carolina Wesleyan College, recently began mounting and assembling the mechanical systems for the building.
Crews broke ground on the project in early February.

More ...
Staff Reports
Tobs cancel remainder of season


WILSON -- The Wilson Tobs Baseball Club regrets to announce the cancellation of the remainder of its 2020 game schedule due to team members testing positive for COVID-19.
The health and safety of the organization's staff, coaches, players, fans and community has been the priority from the beginning.

More ...
Staff Reports