Subscribe/Access
Advertisements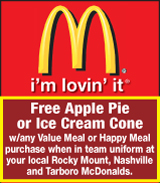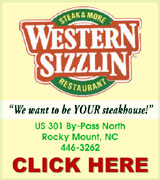 Sections
Member Options
Back
Wastewater treatment fees could be off


The Town of Nashville thinks the City of Rocky Mount is overcharging the town for treatment of its sanitary sewer wastewater.
Town Manager Randy Lansing and Public Works Director Lee Brown told council members on Tuesday night at the board's regular meeting that they feel the flow meter was mis-calibrated in January. However, Brown added that the problem really goes far beyond that.

More ...
AMANDA CLARK, GRAPHIC STAFF WRITER
Spring Hope cancels 49th Pumpkin Festival
Due to COVID-19 concerns, the Spring Hope Chamber of Commerce has canceled the 2020 Spring Hope National Pumpkin Festival. This is the first recorded time the festival has been canceled since it began in 1971.
A statement from the festival director was released Monday night, "Tonight's announcement is not what any of us associated with the Festival had hoped.
More ...
State to determine fate of Nash early voting dates


The State Board of Elections will be deciding Nash County's early voting schedule after the local board couldn't come to an agreement.
The Nash County Board of Elections met last week and were unanimous in the four early voting locations but were unable to agree on weekend times, Nash County Elections Director John Kearney said.

More ...
AMANDA CLARK, GRAPHIC STAFF WRITER
Nash County distributes PPE to local farmers


Nash County Cooperative Extension is almost halfway through delivering personal protective equipment, or PPE, to farmworkers throughout the county.
Nash County was one of 31 counties selected to receive the first delivery of PPE from the North Carolina Department of Health and Human Services (NCDHHS) to prevent and respond to COVID-19 outbreaks among the agricultural workforce.

More ...
AMANDA CLARK, GRAPHIC STAFF WRITER
Citizen complains about firearm training


A local woman came before Nash County Commissioners on Monday asking them to look into what she says is illegal firearms training near her house.
Dorothy Battle, who lives on Taylors Store Road, told commissioners that every weekend all she hears is the constant sound of gunfire and explosions. Battle said the gunfire is constant over the weekend, five to eight hours a day.

More ...
AMANDA CLARK, GRAPHIC STAFF WRITER
Long-standing ramp team seeks help


A local ministry isn't letting anything keep them from continuing their mission of helping others.
Community Christian Service, also known as the "ramp guys," has already built 25 handicapped ramps this year, despite the limitations of COVID-19, aging volunteers, extreme heat and most recently, the theft of all their lumber.

More ...
AMANDA CLARK, GRAPHIC STAFF WRITER
Spring Hope to allow auto repair in central business district


An ordinance regarding regulating automotive repair businesses has been approved by Spring Hope commissioners.
Harold Denton, owner of Denton Auto on Pine Street, originally requested the change in the ordinance to allow automotive repair shops within the Central Business Zoning District.

More ...
KENDRA JONES, GRAPHIC CORRESPONDENT
NCSO seeks information on missing teens
The Nash County Sheriff's Office is looking for two teenage girls who have been reported missing.
According to the sheriff's office, 14-year-old Cassidy Page and 13-year-old Coburn Harmony left the Children's Home in Middlesex on July 26.
"We do not suspect any type of foul play, we believe she is simply a runaway," said Major Eddie Moore.
More ...
School Board at odds to fill District 11 seat


The Nash County Board of Education could not come to a unanimous decision on who would fill the vacant seat of Ann Edge.
Only one person turned in an application to fill Edge's seat, which was left vacant after Edge passed away in April.
Sharonda Bulluck, of Rocky Mount, was the lone applicant to offer to fill the seat. Sharonda is also running for Edge's District 11 seat in the upcoming election.

More ...
AMANDA CLARK, GRAPHIC STAFF WRITER
Nash County joins Triangle Regional Partnership
Nash County recently became the 12th county to join the Research Triangle Regional Partnership (RTRP), a regional economic development organization in central North Carolina.
The RTRP's primary mission is to market and promote the triangle region of North Carolina nationally and internationally.
More ...
Nash County Public Schools begin August 17th


Students in the Nash County Public School System will start back school online on August 17.
The Nash County Board of Education voted last Wednesday night to start the school year virtually for a few weeks before slowly merging into a more hybrid plan that would combine remote learning with in-person learning.

More ...
AMANDA CLARK, GRAPHIC STAFF WRITER
NASH COUNTY SHERIFF'S OFFICE REPORTS
A damage to real property, felony breaking and entering and larceny after a breaking and entering was reported on 7/28/20 at 12352 Oak Avenue, Bailey
A possession of marijuana 1/2 to 1 1/2 ounce and possession of marijuana paraphernalia was reported on 7/30/20 at 13206 S NC 231, Middlesex
A drunk and disruptive was reported on 7/29/20 at 1390 Nick Coley Road, Whitakers
More ...
Nash County Public Schools open under plan C


Student online instruction begins:
•August 6: Early College and CITI High
•August 17: All Students (While NCPS is in Plan C, NCPS Virtual Academy students will receive instruction and support through their base schools' teachers and staff, with a robust live and personalized learning experience as planned for NCPS Virtual Academy.

More ...
Source: ncpschools.net
Play It SAFE ONLINE
Exercise caution when sharing information like your name, address, phone number, and other personal data online. Check with a trusted parent or teacher before sharing private data.
More ...
Tips for effective remote learning
An increased reliance on virtual home instruction has many students rethinking their organizational strategies and daily school schedules. Learning at home is different from being in a traditional classroom environment, but with some effective strategies, students can persevere without missing a beat.
More ...
A recipe for a good prayer life


Several years ago I flew to New York for a business meeting. It was a flight I will never forget.
For me, the aisle seats are the most comfortable seats on an airline. And since I had a two-hour flight, I asked the travel agent to reserve an aisle seat for me.
We boarded the plane and I quickly found my seat.

More ...
MIKE RUFFIN
Luke's Word for the Week


Hi Fellow Followers. Welcome to Part 3 of our series, "Considering Our Ways in 2020". It will be most helpful if you read Parts 1 and 2 which were published in the July 16th and July 23rd editions of The Nashville Graphic.
For those in favor of the "all roads lead to the same place" theology, their thoughts come crumbling down because of the word, "Emmanuel". God with us.

More ...
LUKE WHITEHEAD
RED OAK NEWS


Congratulations to proud Great-Grandmother, Jean Mellor, with the birth of her great-grandaughter! River Azalea Wollman was born on July 30 weighing 8 lbs. 2 oz. and was 21 inches long. Proud parents are Logan and Veronica. The family lives in Virginia Beach, VA.
Renovations continue at Ennis Park which include a new veteran's memorial, upgraded playground, and also a Little Free Library.

More ...
SUZY PEARCE
SANDY CROSS NEWS


Sandy Cross United Methodist Church held drive-in service on Sunday. Pastor Eric Packard gave the morning message. The service can be viewed on the church's Facebook page. The children had a virtual Sunday School lesson entitled "A Tent For God".
Kingdom International Church opened service with VBS announcements by Amy Worrell. Minister Steve Massey gave testimony and other announcements.

More ...
EMILY SILLS
Intersections: God and Life


According to Genesis 6:5-8, the ancient world was so filled with wickedness and evil that God was grieved and sorry He had made mankind. Therefore, He decided to blot out every living creature on earth. But in the midst of all the corruption, Noah "found favor in the eyes of the Lord" and was rescued from the destruction of the flood (v. 8). Our world today is also filled with sin and corruption, and as Christians, we are called to walk as Noah did--in the favor of God.

More ...
CARLYLE HALL
PEACHTREE COMMUNITY NEWS


We are still restricted from social contact and it seems like this will go on longer. I personally feel all of this is absolutely necessary to contain this virus. With sickness still on the rise, with more and more people dying, and violence is past belief. With all of these difficulties around us, we at Peachtree, members, family, and friends met Sunday to praise our Lord for all He does for us, especially during these difficult times.

More ...
FRAN BUNN
Nash County Animal Friends' Notebook


Heat kills dogs. If you have an outside dog, not only is it the law, it is humane to have shade. If you have a kennel, make sure that the entire top is covered by a tarp at least. A dog house doesn't give enough shade and actually can become very hot inside. When I kenneled dogs in the summer, not only did I cover the top, I had tarps on the side that the sun hit the most. Also make sure there is plenty of water and a fan doesn't hurt either.

More ...
CAROL VIERELA
It's important to be heard


Dear Editor:
The VOICE of Nashville, Inc. would like to remind the citizens of Nashville to remember to vote this election. Voting is a privilege of this nation as a citizen we should do. To be a part of the process of electing all officials that serve Nash County. Also all other ninety nine counties and the other forty nine states.

More ...
LETTERS TO THE EDITOR
Community Christian Service seeks volunteers and donations
Dear Editor:
Community Christian Service has served this community since 1989 building handicapped ramps to help those with limited mobility. The ministry started in the back yard of Bob Joyner's residence in Nashville. We are grateful that as the ministry grew, the Oak Level Ruritan Club met the need by erecting a shop for us allowing the ministry to move to their property.
More ...
Backward Glances


This photo was originally published in The Nashville Graphic on May 22, 1958. Coopers High School graduates pose for a photo along with the class mascots. W.B. Raper, president of Mount Olive Junior College, was the commencement speaker. The class had 37 graduates.

More ...
A PICTORIAL LOOK INTO THE PAST

GEORGIA DAVIS-BROWN / SOUTHERN NASH HIGH SCHOOL / Class of 2002
Nash County Success Stories
FORMER PREP STANDOUTS EXCEL IN CAREERS: GEORGIA DAVIS-BROWN
Even when she was a little girl, Georgia Davis-Brown seemed destined for a career in athletics.
When you are the daughter of a successful coaching parental duo, things sometimes simply work out that way over time -- beginning at a very young age.
"I remember being five years old driving to away football games on Friday nights,'' Brown said. "We didn't have (GPS) back then, so you looked for the lights of the stadium when you got into a town. That was how you found out where to go. All these years later, I still have great memories of that.''
More ...

ANTHONY LUCAS / NASH CENTRAL HIGH / Class of 2006
Nash County Success Stories
FORMER PREP STANDOUTS EXCEL IN CAREERS: ANTHONY LUCAS
Anthony Lucas vividly remembers a trepdation-filled trip down Old Carriage Road back in 2002 as a freshman attending the first-ever day of classes back in 2002.
"It was a new school, so we didn't really know what to expect,'' Lucas said. "I think everyone was nervous. It's interesting to look back and think that we were the first four-year graduating class at Nash Central. We were all there when it opened.''
More ...

JASON GAY / NORTHERN NASH HIGH SCHOOL / Class of 2007
Nash County Success Stories
FORMER PREP STANDOUTS EXCEL IN CAREERS: JASON GAY
Like many college students, Jason Gay wasn't sure what he wanted to do professionally upon graduation -- though the answer had been standing right beside him going back to his days as a baseball player for the Town of Nashville Recreation League.
But a chance meeting with then-Wilmington New Hanover High School football coach Kevin Motzinger at a golf outing almost one decade ago would permanently alter the path of Gay's career direction.
More ...