Subscribe/Access
Advertisements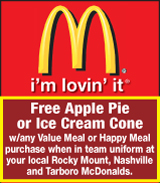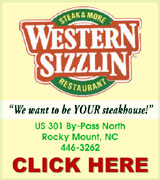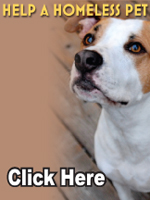 Sections
Member Options
Back
NRMS celebrates top educators


COVID-19 may have canceled the annual Teacher of the Year Celebration for Nash-Rocky Mount Schools but the school system still found a way to honor educators.
This year, district leaders were able to coordinate a YouTube premiere video that announced the top educators for the 2020-2021 school year.
Typically, the school system hosts a special event at Rose Hill Conference Center to honor educators. However, the normal celebration over a meal and awards ceremony had to be canceled due to COVID-19 restrictions on mass gatherings.

More ...
AMANDA CLARK, GRAPHIC STAFF WRITER
No serious injuries in 3-car wreck


No serious injuries were reported after a three vehicle accident on Friday, June 12.
According to the North Carolina Highway Patrol, two vehicles entered the intersection of Oak Level Road and West Old Spring Hope Road at the same time, causing a collision.

More ...
AMANDA CLARK, GRAPHIC STAFF WRITER
Four-lane expansion offers upgrade options


The Town of Nashville is making plans to upgrade water and sewer along Eastern Avenue.
Council members met last Thursday to discuss the potential of increasing the size of the water main to 16 inches while work is underway to four-lane the portion of Eastern Avenue between Nashville to Rocky Mount.

More ...
AMANDA CLARK, GRAPHIC STAFF WRITER
Rainfall causes flooding


Nash County roadways experienced flooding after heavy rainfall over several days this week.
On Wednesday morning, Nash County Sheriff's deputies assisted in the rescue of an elderly couple whose vehicle had been swept away. Nash County Communications notified the Sheriff's Office of a stranded vehicle on Seven Paths Road.

More ...
AMANDA CLARK, GRAPHIC STAFF WRITER
COVID-19 UPDATE
Nash passes 300 mark


Nash County has surpassed the 300 mark in the number of positive COVID-19 cases being reported.
As of Wednesday morning, June 17, Nash County Health Director Bill Hill said the county was reporting 303 positive cases.
Hill reported six new cases overnight from Tuesday into Wednesday morning.

More ...
AMANDA CLARK, GRAPHIC STAFF WRITER
Nash County man, former SBI agent, pens book
A Nash County resident and former agent with the State Bureau of Investigation (SBI) has published a book about the agency he once worked for.
James A. Bailey recently published a "History of the North Carolina State Bureau of Investigation." The non-fiction book includes extensive details regarding early agents' backgrounds, education, law enforcement training as well as the investigations into some cases.
More ...
Nash to administer $200K COVID funds to municipalities


Nash County Commissioners have established a special revenue grant project ordinance for Covid-19 grant funding and related expenditures.
Commissioners approved the grant project ordinance for the funding on Monday during the board's regular second meeting of the month.
Nash County Finance Director Donna Wood said there were three funding sources related to COVID-19 grants.

More ...
AMANDA CLARK, GRAPHIC STAFF WRITER
Nash UNC donates cloth masks to cancer center
Back in late March, Nash UNC Health Care had requested community donations of masks and other medical supplies due to a shortage of personal protective equipment, or PPE. Community members, businesses and faith based organizations donated many supplies including an abundance of medical grade masks, as well as hand-made cloth masks.
More ...
Serving locally
COVID-19 canceled summer plans for the Appalachian Service Project (ASP) Ministry Team from Nashville United Methodist Church but the ministry found a way to serve locally instead. The ASP team has been participating in the mission trip for over 50 years, joining thousands of other volunteers from other states to work on homes near the Appalachian Mountains. In May, team members helped with a landscaping project and this week, the 52 volunteers who were slated to be on the mission trip helped work on homes of local families. Pictured above, team members work to put down mulch at the Nashville home.
More ...
Nashville's library receives tech grant from state


The State Library of North Carolina recently announced that Nashville's Harold D. Cooley Library was a recipient of the 2020-2021 Library Services and Technology Act (LSTA) grant.
Cooley Library was approved for funding in the amount of $15,867. The Town of Nashville will provide a $5,289 match.

More ...
AMANDA CLARK, GRAPHIC STAFF WRITER
Castalia approves cell tower rental agreement


There was no public at the regular meeting of the town board of Castalia on Tuesday.
The meeting lasted a little over an hour, with a little less than half the time spent in a closed session to discuss personnel matters.
When the open session resumed, it was announced that the board had discussed the timing of Mayor James Alston's disclosure of his receipt of a letter from Fullerton Engineering.

More ...
JESSICA SMITH, GRAPHIC CORRESPONDENT
Elks Lodge settles in at new location in Nashville


Rocky Mount Elks Lodge 1038 officers were sworn in recently at their new home in Nashville.
The Birchwood Country Club property in Nashville was purchased by the Rocky Mount Elks Lodge earlier this year.
The Exalted Ruler, Michael Davis of Elks Lodge 1038, said he was honored and proud that the Elks are making their new location in Nashville.

More ...
Contributed
Duff is named NC Wesleyan President
Dr. Evan D. Duff has been named the eighth President of North Carolina Wesleyan College. The announcement came early this month from Dr. Dan Crocker, Chair of the Board of Trustees for the College.
Duff was appointed as Acting President by the Board of Trustees on June 10, 2019 and later accepted a two-year contract as Interim President.
More ...
Nash County Animal Friends' Notebook


Biting...
Even the best natured and gentle dog may bite, if certain things happen. I know this very well, since I have one that bites. He is scared of nail trimming, brushing or a surprise touch. His fear came from being a puppy mill dog, isolated with little human contact until he was several years old. We had to use a muzzle on him initially, but time went by, he has became trusting.

More ...
CAROL VIERELA, NASH COUNTY ANIMAL FRIENDS
Christians must forgive themselves


Did you know that there is now agreement among scientists that the very fear of a certain disease, such as cancer, may have a lot more to do with why we get it than we ever suspected? God has known that since he breathed life into us and tried to teach us that very lesson through the life of Job. Isn't it strange that while science and religion fight to convince us that no common ground exists on which they may stand, science has proven that God's word was right all along?

More ...
MIKE RUFFIN
Intersections: God and Life


When the apostle Paul wrote to the believers in Thessalonica who were suffering under Roman domination, he told them, "Pray without ceasing" (1 Thess. 5:17). Paul was not saying that we should continually mumble prayers every minute of the day. "Without ceasing" means a continuous recurrence. Prayer isn't constant, but it recurs frequently throughout the day. Unceasing prayer is a way of life, not an occasional occurrence prompted by trouble or a quick addition at the end of the day. God wants us to focus our attention on Him consistently.

More ...
CARLYLE HALL
SANDY CROSS NEWS


Pastor Julio Diaz gave the message at Hacia El Reno on Sunday afternoon followed by a fellowship meal.
The Holy Grounds Café re-opened at Christian Fellowship on Sunday morning with the special being ham biscuits. Pastor Daniel Parker gave the morning message in the series "Essential" and the King's Kids had a virtual lesson that afternoon. Graduates were also recognized in the morning service.

More ...
EMILY SILLS
Bold Prayers: Search me


Prayer is designed as a direct line of communication with our Maker to obtain that which is within his good and perfect will. Prayer is a weapon against the present spiritual forces of evil and an aid for disciples of Jesus Christ to live into the transformed, sanctified life to which they have been called.
I say we aim not to satisfy the enemy by allowing prayer to be intimidating to us but rather we aim to satisfy our Lord and use the gift of prayer to its fullest potential, praying bold prayers and trusting the Spirit to move in ways greater than we can even ask or imagine.

More ...
KAITLYN STOCKS
RED OAK NEWS


Plans are currently in the works for the Family Freedom Celebration in Red Oak on Sunday, June 28 at 7:00 pm - 9:30 pm! The celebration is sponsored by the Town of Red Oak and the Faith Community and will be held on the Red Oak Baptist Church grounds. Come enjoy fun, fellowship, and fireworks! There will be no food served this year but everyone is encouraged to picnic while socially distancing themselves from other guests.

More ...
SUZY PEARCE
PEACHTREE COMMUNITY NEWS


A message from Pastor Gene Whitehouse of Peachtree Baptist Church.
I quoted a scripture in my sermon yesterday, "Expect Jesus to Come!" from John's gospel: "By this all men will know that you are My disciples, if you have love for one another" (John 13:35).

More ...
FRAN BUNN
Norwood named NCC Small Business Center Director
Nash Community College has named Tierra Norwood as Small Business Center Director following the retirement of former director, Theresa Peaden.
Prior to joining the college, Norwood served as program associate at the North Carolina Department of Commerce where she worked with the Main Street and Rural Planning Center staff to create strategic economic development plans for communities receiving services through a new initiative, Downtown Strong.
More ...
NC Wesleyan announces new addmissions counselor
North Carolina Wesleyan College has announced its new Admissions Counselor, Ashley Anderson.
Ashley began on June 1 and will represent the College in the local territories of Nash, Edgecombe, Wilson, Franklin and Halifax counties, as well as Wake county private schools, starting in August 2020.
More ...
What do statues and memorials really represent?


To paraphrase -- and perhaps butcher -- the words of William Shakespeare, I'll say this about the growing trend of vandalizing, destroying, tearing down and moving statues and memorials that is gripping the country: I'm not here to praise or denounce the statues, I'm here to inform.
As many readers know, the Rocky Mount City Council has voted to move the Confederate statue that has stood near Rocky Mount Mills since 1917.

More ...
Mike Brantley
Regardless of your opinions, its best to keep kindness on the forefront


I think it's safe to say that 2020 is a year that will go down in the books.
What makes me a bit uneasy is that it's only mid-June so we still have six months left to go.
In dealing with coverage of COVID-19, Nash County Health Director Bill Hill has constantly said "it's going to get worse before it gets better."

More ...
Amanda Clark
Pastors team up to foster change


Dear Editor: Since before the founding of America, systematic racism has played an integral role in the enslavement, oppression, and murder of Black people. Ahmaud Arbery, Breonna Taylor, and George Floyd, juxtaposed with the racial inequities revealed due to the deadly COVID-19 pandemic, illuminated the continued precarious lot of Black people in America.

More ...
LETTERS TO THE EDITOR
Backward Glances


This photo was taken in 1958 of Raley Chevrolet which was located in downtown Nashville. The building later became home to Nashville Fire Department. The building was torn down in 1996 to make room for Nash County's Claude Mayor Jr. Administrative Offices building. (Graphic photo)

More ...
A PICTORIAL LOOK INTO THE PAST
McCarthy Returning To Northern


RED OAK -- Talent isn't the only necessary intangible when building a consistently successful high school boys soccer program.
Other factors come into play, such as continuity and a veteran leader as a head coach.
Both of those aspects have been missing at Northern Nash High School over the past three campaigns after the legendary Joe McCarthy retired following the 2017 boys season.

More ...
GEOFF NEVILLE, Graphic Sportswriter

Senior Hobart Brantley (with ball) was outstanding at Faith Christian School in football, baskeball and baseball. Brantley has signed a letter-of-intent to join the diamond program at North Carolina Wesleyan College. (Photo by Bradley Photography)

PATRIOT PERFECTION


ROCKY MOUNT -- Last Tuesday was indeed a special day on two fronts for Faith Christian School seniors Logan Ayers and Hobart Brantley.
Not only was the Dynamic Duo saluted as FCS' Athletes of the Year for the 2019-20 season, they also announced their intentions to continue their athletic careers on the four-year collegiate level.

More ...
GEOFF NEVILLE, Graphic Sportswriter

MORE EXCITING ACTION FROM HALIFAX SPEEDWAY

ACTION-PACKED


LITTLETON -- After taking the previous weekend off, fans and drivers were back at Halifax County Motor Speedway last Saturday as excitement was high among fans, drivers and track personnel.
Six races were on the card, and the I-95 Late Model Challenge was getting ready to take place in front of a large crowd sitting eager with anticipation.

More ...
CHANCE PUCKETT, Correspondent
Wolfpack backstop is tabbed


RALEIGH -- North Carolina State University baseball's Patrick Bailey heard his name called last Wednesday night in the first round of the 2020 Major League Baseball (MLB) Draft, as he was selected as the 13th overall pick to the San Francisco Giants.
Bailey becomes the 10th Wolfpack player selected in the first round of the MLB Draft (total includes secondary phase).

More ...
Staff Reports
Bishops earn USAS honors


ROCKY MOUNT -- The USA South Athletic Conference has released its 2019-2020 Academic All-Conference Team.
This past season produced a record 1,702 honorees. North Carolina Wesleyan College ranked 5th in the conference with 119 honorees.
A student-athlete must have earned a 3.30 GPA in each of the two semesters of a given year to be eligible.

More ...
Staff Reports
Parks and Rec update


NASH COUNTY -- Here is an update from the Nash County Recreation & Senior Services Department with updated openings and offerings:
The following parks that are operated and maintained by Nash County Parks & Recreation were open for public usage as of June 1.

More ...
Staff Reports
State's top high school athletes are honored


CHAPEL HILL -- The North Carolina High School Athletic Association has announced the winners of the Female and Male Athletes of the Year for the 2019-2020 School Year.
The award is in its 35th year and winners receive the Pat Best Memorial Trophy.

More ...
Staff Reports
MAKING IT OFFICIAL
(L to R) Faith Christian School seniors Logan Ayers (William Peace University) and Hobart Brantley (North Carolina Wesleyan College) sign with their respective four-year schools as part of a signing ceremony last week at the FCS Gymnasium in Rocky Mount.
More ...