Subscribe/Access
Advertisements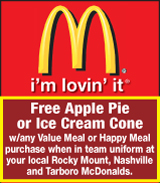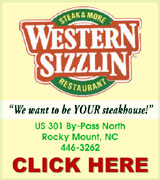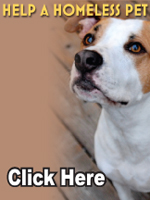 Sections
Member Options
Back
Small pharmaceutical picks Nashville


A pharmaceutical company will be the first tenant to locate in the West Nashville Commerce Park on Cooke Road.
The North Carolina Rural Infrastructure Authority recently approved 17 grant requests to local governments totalling over $6.5 million. The Town of Nashville was one recipient of the grants, receiving $250,000 to support the reuse of the 10,000 square-foot building where Asterra Labs plans to locate.

More ...
AMANDA CLARK, GRAPHIC STAFF WRITER
Nashville town planner resigns from post


The Town of Nashville is looking for a new planning director.
Julie Spriggs will wrap up her time with the town on May 8. Spriggs has taken a planner II position with the Town of Rolesville.
"It's a little closer to where I live," Spriggs said.

More ...
AMANDA CLARK, GRAPHIC STAFF WRITER
Senior center director faces embezzlement charge


Nash County Senior Services Director Michele McKnight is facing charges of financial card fraud and embezzlement.
McKnight was arrested on Monday, April 20 and released on the same day. She received a $5,000 secured bond.
According to warrants obtained, McKnight used a county-issued credit card to buy personal items off of Amazon. The value of the property purchased was over $3,500.

More ...
AMANDA CLARK, GRAPHIC STAFF WRITER
COVID-19 cases continue to rise in Nash County


Nash County has seen over a dozen new cases of the COVID-19 virus since Friday.
Nash County Health Director Bill Hill reported on Tuesday that there were now 72 confirmed positive cases of the Coronavirus, or COVID-19.
"We had a fairly active weekend," Hill reported.
Of those 72, 12 have recovered, 53 are isolated and five are in the hospital.

More ...
AMANDA CLARK, GRAPHIC STAFF WRITER
Social distancing birthdays
Local residents are finding creative ways to follow social distancing recommendations while celebrating family traditions such as birthdays.
Pictured above, Clara Danforth of Nashville celebrates her 13th birthday visiting her grandmother, Betty Cochrane. The two spent time together though separated by a glass door.
More ...
Demo takes place for playground


Church on the Rise in Nashville is planning to build a playground at the corner of Washington and Barnes Streets.
The church recently had the large building on the corner torn down to make way for the playground.
Planning Director Juile Spriggs said the church got a demo permit to tear the building down, which had sat vacant for years.

More ...
AMANDA CLARK, GRAPHIC STAFF WRITER
Wesleyan to honor grads via virtual celebration
North Carolina Wesleyan College's spring commencement ceremony was originally scheduled for April 25. With ongoing concerns related to the COVID-19 pandemic, the College announced on March 23 that the ceremony would be postponed until December 5, 2020. Graduate candidates for April, August, and December will be able to participate in the December 2020 ceremony.
More ...
Nashville town employee charged with larceny


A Town of Nashville employee was charged with misdemeanor larceny after taking a woman's wallet last month.
According to Nashville Police Chief Anthony Puckett, a Nashville resident was at the car wash in Nashville vacuuming her car out when she laid her wallet down. Puckett said the resident went back to get her wallet it was gone.

More ...
AMANDA CLARK, GRAPHIC STAFF WRITER
NASHVILLE POLICE DEPARTMENT REPORTS
INCIDENTS
A breaking and entering in an auto and a larceny was reported on 4/12/20 at 309 Aubrei Court
A possession of a controlled substance in a prison/jail was reported on 4/12/20 at 222 W Washington Street
More ...
NASH COUNTY SHERIFF'S OFFICE REPORTS
A misdemeanor breaking and entering and felony possession of a schedule III controlled substance was reported on 4/18/20 at 1469 Corinth Road, Nashville
A larceny of auto accessories was reported on 4/15/20 at 2325 Old Mill Road, Rocky Mount
A damage to personal property was reported on 4/17/20 at 242 S Oak Street, Whitakers
More ...
NCWC is semi-finalist in annual Ethics Bowl
The 9th Annual Ethics Bowl, a debate competition hosted by the North Carolina Independent Colleges and Universities (NCICU), asks students to compete over a selected topic. Out of 22 North Carolina private colleges, North Carolina Wesleyan College placed in the semifinals.
This year's topic explored Ethics in the Agriculture. The final question asked, "What ethical responsibilities does the United States have to support the agricultural industry in securing the qualified workers that it needs?" Other questions covered topics such as genetically modified and/or gene edited food.
More ...
NCWC provides care packages to students
In an effort to assist students and support those on campus, Wesleyan provided care packages Friday, March 20 with help from local churches and organizations. Packages included snacks, drinks and other food items for students to take back to their residence halls.
NC Wesleyan currently has approximately 200 students remaining on campus to finish the semester via remote instruction.
More ...
We salute the Class of 2020: SOUTHERN NASH HIGH SCHOOL
You were born at a time our nation was rising to the challenge of becoming its best and rebuilding after 9-11. You're now a senior, getting ready to celebrate the beginning of the rest of your life. Your generation was destined to become something truly great. And you are! Your new journey will soon begin, and you are ready for all the great things to come. We salute you!
More ...
NCC employees kick off virtual story time
In celebration of the Week of the Young Child April 13-17, 2020, Nash Community College employees kicked off a "virtual storytime" with children enrolled at the NCC Betsy B. Currin Child Development Center. Through the HiMama app, center staff share videos of NCC employees reading their favorite children's book with NCC's youngest students.
More ...
Nash County Animal Friends' Notebook


PARVO KILLS ~ Parvo is a highly contagious viral infection. If you add to that intestinal worms, double whammy. These are two things that dog owners can do themselves, if they cannot afford to go to a vet, although that is best. Places like feed stores have the vaccines and wormer. Parvo disease is spread from dog to dog mainly through exposure to feces of sick dogs.

More ...
CAROL VIERELA
The healing power of prayer


When I was a small child, my family watched Oral Roberts on television every week. In the early years of his ministry, Roberts conducted healing services and won notoriety nationwide for the miracles that God performed.
I remember one particular Sunday morning at the end of his program when Roberts encouraged his viewers to reach out in faith if someone was in need of healing in their home.

More ...
MIKE RUFFIN
Intersections: God and Life


Do you, like myself, find that you pray more fervently and passionately during difficult times? If there is one thing the Covid-19 pandemic has convicted me about, it is the reality of my prayer life. Don't misunderstand me, I do pray. However, as I examine my prayers I have to ask if prayer is a way of life. Am I really prayerfully dependent in my walk with God?

More ...
CARLYLE HALL
SANDY CROSS NEWS


Pastor Dr. Daniel Moss of Kingdom International Church gave the Wednesday night online Bible study entitled "Worship - Your Relationship With God & Its Vital Necessity In Your Church".
This past Sunday at KIC, the "drive-in" service was opened with giving honor to Israel.

More ...
EMILY SILLS
Luke's Word for the Week


This is part 1 of a 3 part series I have written concerning our most unusual Easter this year.
I saw a neighbor on Easter Sunday and they commented to me from across the street, "I hope your Easter has been great!" I immediately thought to myself, "my Easter was fine."

More ...
LUKE WHITEHEAD
PEACHTREE COMMUNITY NEWS


A message from Pastor Gene Whitehouse of Peachtree Baptist Church.
"Sheltering in place" is tiring. Deeply tiring. Most of the time we're meant to be with someone, to go somewhere, to accomplish something. And now all that is a lot harder. It's as if we're all wound up and then ... nothing. Our emotional and spiritual muscles are tense and tired.

More ...
FRAN BUNN
Ride to Cure Cancer is postponed until September
The V Foundation for Cancer Research's Victory Ride to Cure Cancer presented by Braswell Family Farms, announced that the one-day charity cycling event, previously scheduled for May, will take place on September 5, 2020. After careful consideration of the ongoing COVID-19 developments, the event was postponed to ensure the health and safety of riders, volunteers and everyone involved.
More ...
NCC donates PPE equipment
Nash Community College officials delivered donations of personal protective equipment (PPE) to Nash UNC Health Care and Nash County Emergency Services on Friday, March 27, 2020.
"As healthcare employees and first responders care for patients amidst the Coronavirus pandemic, this is the least we can do to support them in this time of crisis," NCC President Lew Hunnicutt said.
More ...
Bethel Heroes Chapter 636
Bethel Heroes Chapter 636 of the United Daughters of the Confederacy welcomes new member Judy Anderson. Presenting her certificate were Edith Whitby, President and Donna Boykin, Registrar of Bethel Heroes She is the descendant of James Daniel Armstrong, who served in Company F 3rd 40th State Troops, North Carolina Artillery, CSA.
More ...
Corona quarantine presents a lot of oddities


As we head into a month of "lockdown" over COVID-19, Coronavirus, Chinese virus, or whatever else you want to call it, it seems the general population is getting ... um, restless.
That's to be expected. We are an on-the-move society. Everyone is busy all the time.

More ...
Mike Brantley
A valuable lesson learned outside of the classroom


There have been a handful of times in my life as a wife and mother where I desired to stay at home.
Around five weeks ago, I was somewhat given that chance, although it was a bit forced.
At first, I was a little excited, I mean a teeny, tiny bit excited. I'd get to spend more time with my family, get to try my hand at teaching, get to stay home more.

More ...
Amanda Clark
Thank you front line workers


Dear Editor: We offer words of gratitude and praise to all our dedicated and committed caretakers, hospitals, law enforcement, EMS, 911, fire and rescue departments, food suppliers, childcare providers, local government, and all those that keep us informed as how and what to do to stay safe.

More ...
LETTERS TO THE EDITOR
Episode leaves Navy with a black eye


Dear Editor: Acting Secretary of the Navy, Thomas Modly, jumped the gun when he fired the popular skipper of the USS Theodore Roosevelt without a proper investigation first.
Modly then took the added step of flying to Guam to personally address the crew and explain why the Captain had to go.

More ...
LETTERS TO THE EDITOR
Backward Glances


This photo was taken of the Nashville United Methodist Church Men's Sunday School Class sometime between the early to mid 1980s. Steve Brown submitted the photo, pointing out his father near the right-hand end on the third row, standing in front of Joe Wilson, former long-time owner of The Nashville Graphic until 1984.

More ...
A PICTORIAL LOOK INTO THE PAST
In Their Own Words
seniors, coaches reflect on potential end to season
Alexis Ricks
As everyone is aware, this school year is one that will go down in the history books.
This year has been one like no other. As a senior, walking through the doors at Northern Nash on my first day of my senior year, I had so many hopes and dreams.
This was surely to be the best year of my life so far. I was supposed to make memories that would last me a lifetime.
More ...
In Their Own Words
seniors, coaches reflect on potential end to season
Scott Collie
When the North Carolina High School Athletic Association made the decision to suspend the spring 2020 athletic season, it brought a premature end to a season
I had looked forward to for a very long time. I have been coaching for 24 years, and this may have been the most complete team I have ever coached.
My team and I had been waiting for this season to begin since May 10, 2019 -- the night our season ended with a disappointing loss to Harnett Central in the second round of the state playoffs.
More ...
In Their Own Words
seniors, coaches reflect on potential end to season
Willie Langley
I have always loved playing at Guy Smith Stadium in Greenville.
Over 20 years ago, when I started first started coaching at the Babe Ruth level, I received the honor of being able to Coach the Nash County All-Star team.
I had a pitcher named Tanner Eason from SouthWest Edgecombe. He struck out 19, however, Ryan Graple from Greenville Rose struck out 20. We lost that game 2-1 in 10 innings.
More ...
NASCAR offering kids' activities


CHARLOTTE -- The NASCAR Hall of Fame has launched SPARK!, an online education platform that offers weekly racing-themed lesson plans and project-based learning experiences for students in elementary through high school.
The NASCAR Hall of Fame is not only a top attraction in Charlotte, but also an important educational resource for schools, hosting thousands of students a year for field trips.

More ...
Staff Reports
Griffith joins NC Wesleyan staff


ROCKY MOUNT -- North Carolina Wesleyan College head men's basketball coach John Thompson and Director of Athletics Aaron Denton have announced the hiring of NCWC alum Justin Griffith as the new assistant men's basketball coach for the Battling Bishops.
"We are thrilled to have Justin join our staff," said Coach Thompson. "He is an outstanding coach and a great addition to our team. The fact that he is family, a member of championship teams here, part of our tradition, makes this very exciting."

More ...
Staff Reports