Subscribe/Access
Advertisements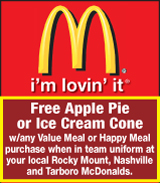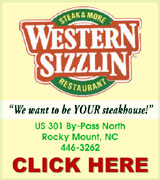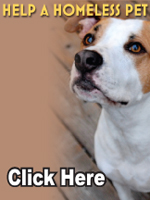 Sections
Member Options
Back
NRMS to receive COVID-19 funding
The Nash-Rocky Mount School System is set to receive $582,022 in assistance to help with COVID-19 related issues. The State Board of Education (SBE) and the North Carolina Department of Public Instruction (DPI) will establish a new $50 million flexible allotment for public school units to address COVID-19-related expenses.
More ...
Nash reports more COVID-19 cases


North Carolina residents are being asked to stay at home as much as possible over the next month.
Governor Roy Cooper announced Executive Order 121 on Friday, March 27, which enacts a statewide stay-at-home order.
The order went into effect on Monday, March 30 at 5 p.m. A few hours later, Nash County reported it's seventh and eighth cases of the Coronavirus, or COVID-19. On Tuesday morning, March 31, Nash County was sitting at eleven positive cases being reported.

More ...
AMANDA CLARK, GRAPHIC STAFF WRITER
Town of Nashville adds precautions to protect staff


The Town of Nashville is taking steps to prepare for the Coronavirus, or COVID-19, pandemic.
Nash County has nine confirmed cases of the virus, as of Tuesday, March 31 but Nash County Health Director Bill Hill said last week that it was alarming North Carolina is seeing as many as 100 cases a day.

More ...
AMANDA CLARK, GRAPHIC STAFF WRITER
NNHS CAR PARADE
Northern Nash High School students held a car parade Monday afternoon driving by to wave at their teachers. Teachers were standing, at a distance from each other, around the circle cheering on their students to stay strong. Pictured waving back is teacher, Kate Bortner. Schools will remain closed until May 15 due to the threat of COVID-19.
More ...
COVID-19 puts hold on town's parks and rec plan


Nashville's Town Council is continuing to hold off on making any firm decisions regarding the future of the town's parks and recreation department.
All parks and recreation services for the Town of Nashville have now been put on hold due to the Coronavirus. The position of Parks, Recreation and Cultural Resources Director will soon be open as Director Marguerite Bishop resigned for a teaching assistant with Nashville Elementary School.

More ...
AMANDA CLARK, GRAPHIC STAFF WRITER
Nashville youth does her part to help!


A Nashville girl is using some of her time at home to make face masks for local nurses.
Teagan Horst, 10, was recently lead to make masks after hearing a neighbor talk about how masks and other supplies were limited for healthcare workers.
"Teagan was too afraid to ask her herself so she asked me if that was something she could do," Teagan's mom, Maranda Horst, said. "She is very efficient with the sewing machine."

More ...
AMANDA CLARK, GRAPHIC STAFF WRITER
Thanking and encouraging
Bethany Tant, Katelyn Edmondson, Jamie Edmondson and Faye Tant strolled around Nashville last week thanking and encouraging local businesses, law enforcement, fire and public services by leaving encouraging chalk art in front of their buildings.
More ...
Hospital announces tighter visitor restrictions
Nash UNC Health Care has announced tighter visitor restrictions, in an effort to further limit the spread of COVID-19 and to preserve personal protective equipment (PPE) as much as possible.
Effective Monday, March 30th, Nash UNC will no longer allow visitors for patients on isolation precautions. This also applies to patients in the Emergency Department who are being evaluated for respiratory symptoms. Exceptions will be made in the Pediatric Emergency Department and Women's Center.
More ...
Deputy Health Director says retail rumor is unfounded


Officials with the Nash County Health Department say rumors of residents continuing to work in local retail stores with the Coronavirus (COVID-19) are unfounded.
Deputy Health Director Trey Wright said anyone that is even tested for the virus has to immediately go into isolation until results come back.
Wright added that many large retailers, such as Wal-Mart and Sam's Club, have their own emergency operations centers as well as protocols to follow for incidents like this.

More ...
AMANDA CLARK, GRAPHIC STAFF WRITER

BAKER
Traffic stop nets large meth bust in Nash County
A large amount of methamphetamine was seized on Thursday during a traffic stop.
Members of the Nash County Sheriff's Office Governor's Highway Safety Team conducted a traffic stop on March 26 on I-95. The vehicle was occupied by a male and female and was traveling from New York to Rocky Mount.
More ...
NASH COUNTY SHERIFF'S OFFICE REPORTS
A non-support of an illegitimate child was reported on 3/17/20
A seat belt violation was reported on 3/16/20
A driving while license revoked not impaired was reported on 3/16/20
More ...
Spring Hope license plate agency now offers additional services
The Spring Hope License Plate Agency is now selling licenses for hunting and fishing as well as boat registration and titles.
The agency began offering the new services on Friday, March 27.
The N.C. Division of Motor Vehicles opened the Spring Hope office last April at 123 South Ash Street. The office is operated by the Spring Hope Chamber of Commerce.
More ...
PEACHTREE COMMUNITY NEWS


A message from Pastor Gene Whitehouse of Peachtree Baptist Church. It doesn't matter what we think about the coronavirus. But it matters forever what God thinks. He is not silent about what he thinks. Scarcely a page in the Bible is irrelevant for this crisis.
Our thoughts and voice are like grass. God's thoughts are like granite. "The grass withers, and the flower falls, but the word of the Lord remains forever" (1 Peter 1:24-25). God's words in these times are not only true and wise; they are also precious and sweet.

More ...
FRAN BUNN
RED OAK NEWS


It's spring! A time of change from bare trees to trees with bright green leaves. Bushes giving way to colorful azalea blooms with bees buzzing around. Of course, grass is now green and growing as well!
Even during this time of change in our lifestyles with this virus, there are still ways to continue to appreciate the beauty and hope of spring.

More ...
SUZY PEARCE
Is the end really near?


My adult daughter texted me this week and said, "I think the Lord is coming back". I replied, "All of this is in the Bible; and the Bible says it's going to get worse. I pray that all of my children's hearts are ready, or will be, before it's too late."
Did you ever think it could get any worse than it is today? What's going on has literally separated families from each other. How can you profess to be a Christian and not see satan's fingerprints all over what is happening?

More ...
MIKE RUFFIN
Luke's Word for the Week


Recently, I heard author Lacey Finn Borgo, a Christian author and teacher, speak and I was struck by her remarks concerning our imaginations. She noted that adults often inform her that they no longer have an imagination or that they simply do not imagine any longer. To which she replied, well what is worry then? Is worry not our imagination imagining the worst...and don't you worry - therefore, don't you imagine?
Whoa.

More ...
LUKE WHITEHEAD
SANDY CROSS NEWS


School staff have been working hard behind the scenes at Coopers Elementary School, Southern Nash Middle School and Southern Nash High School. Thank you so much for your efforts to keep students supplied with lessons needed while learning from home.
Kingdom International Church is live-streaming their Wednesday night and Sunday morning services on Facebook and You Tube. KIC Aftershock youth pastors Grant McGlothlin and Josh Reason are also live-streaming on Wednesday nights at 7 pm on the KI Aftershock Facebook page.

More ...
EMILY SILLS
NNHS CAR PARADE, pics 1


Northern Nash teacher Susan Leonard encourages students as they drive in a car parade at the school Monday.

More ...
Graphic photos by Jo Anne Cooper
NNHS CAR PARADE, pics 2
Northern Nash teacher Beth McIntryre and her daughter, Carson, wait for the car parade to begin Monday holding a sign to to display.
More ...
It's time to step back, and then step forward


My family worked in the yard on Saturday.
It was a nice day. Warm, but not hot.
It's still early enough in the season that weeds and poison oak aren't everywhere, although the ants seem to be back in force for the third year.
We mostly worked in what used to be the chicken and goat pastures on our small country plot. It brought back some good memories.

More ...
Mike Brantley
It's time to make a decision about parks and rec


The Town of Nashville recently allowed the county to take over field athletics for its parks and recreation program. Since that time, there's been a lot of back and forth about what will come out of the program now but nothing has actually been done.
Now, the leader and only full-time staff member of the department is leaving. I'm a bit worried if anything will come of recreation at this point.

More ...
Amanda Clark
Standing apart - but we need to pull together


This week brings even tighter restrictions to combat the spread of COVID-19. The entire state is under a mandatory stay at home order as of 5 p.m. Monday, March 30th.
Essential businesses listed in the order may still operate. You're not completely confined to your home. You can still leave your home to get food, medicine or other essential needs.

More ...
Jo Anne Cooper
Backward Glances


This photo was submitted by Mildred Granny Barwick.
She is pictured with her Sunbeams at Camp York, S.C.
Ms. Barwick said the photo may have been taken in the late 60s. She listed some of the names including Angela Stokes, Wendy Colbert, Shannon Lancaster, Gerotte Colbert, and Melissa.

More ...
A PICTORIAL LOOK INTO THE PAST
In Their Own Words
seniors reflect on potential end to careers:
Elisabeth Collie
When I was younger, all throughout elementary school I would go to summer camps.
These camps would range to ones about cooking, golf, art and softball.
I wasn't sure of which activity would be the one that I fell in love with, if there would even be one at all.
I think this all changed for me when I went to my first Ladybird Softball Camp held at Southern Nash High School.
More ...

SOUTHERN NASH HIGH SCHOOL LONG-TIME FRIENDS AND TEAMMATES (L TO R) CARRIGAN EWERS AND ELISABETH COLLIE
In Their Own Words
seniors reflect on potential end to careers:
Carrigan Ewers
At first when I heard that the season was delayed, I didn't believe it.
I just couldn't mentally process that my senior season might be cut short.
I remember hearing that season was delayed until April 6 and I really didn't think anything of it -- it hadn't sunk in yet and all I knew was that it was Game Day the next day.
More ...

NASH CENTRAL HIGH SCHOOL SOCCER STAR MALLORY ROUGHTON
In Their Own Words
seniors reflect on potential end to careers:
Mallory Roughton
It is said, "Oh you'll get 'em next time" or "there will be more games".
Well, eventually, there are no more games and it has come to an end.
Normally, this end is thought out and you are celebrated and congratulated on all your great accomplishments.
There is that natural flow to the season from beginning to end, and you get that sense of closure as you finish high schoo land look toward what is to come.
More ...
In Their Own Words
seniors reflect on potential end to careers:
Kamden Johnson
I'm Kamden Johnson of Northern Nash High School -- my spring sport was Track and Field.
I've been doing this since my freshman year, I honestly used to hate track to begin with and used to ask myself 'Why am I here?'.
Over time, the sport really grew on me and I think it was really because of my teammates and how I started to become better at it.
What really solidified my love for it was when we won the Class 3-A East Regionals my sophomore year and finished sixth as a team in the state.
More ...
In Their Own Words
seniors reflect on potential end to careers:
Chance Puckett
Through two Class 3-A Big East Conference matches, our golf team at Northern Nash High School had already performed above expectations.
With four seniors on the team, and many different younger players that brought lots of talent to the course, I was extremely excited to see how the season would unfold four our group of guys, and around the rest of the conference.
However, we had no clue what was in store.
More ...