Subscribe/Access
Advertisements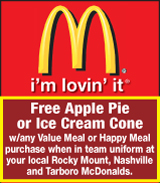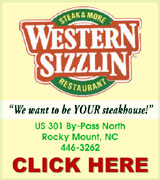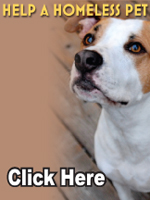 Sections
Member Options
Back
Nash County freezes Sheriff's funds


Nash County Sheriff Keith Stone said recent actions taken by Nash County Commissioners are hindering the work of his department.
Nash County Commissioners put a freeze on spending at the Sheriff's Office, asking that all purchases be pre-approved by the Nash County Manager and Nash County Finance Director.

More ...
AMANDA CLARK, GRAPHIC STAFF WRITER
NRMS now in compliance with class size legislation


All kindergarten through third grade classes in the Nash-Rocky Mount School District are now in compliance with legislation requiring smaller class sizes.
The legislation will go into full effect by the 2021-2022 school year and allows schools to gradually decrease class sizes each school year.
The average required for the 2018-2019 school year was 20 with the number decreasing to 19 in the current school year and 18 for the 2020-2021 school year.

More ...
AMANDA CLARK, GRAPHIC STAFF WRITER

Anne Richardson (front row far left), her family and other volunteers with Helping Hands Outreach Ministry stand with youth who received a bicycle, toys and clothes during a special Christmas giveaway event on December 21.

Nashville woman continues Christmas bicycle tradition


Forty-one bicycles sat in the yard of Anne Richardson on Saturday morning, December 21.
The bikes had been checked over, cleaned and polished and sat waiting for their new owner.
This the third year Richardson and her ministry, Helping Hands Outreach Ministry, of Nashville, have provided bikes to those in need for Christmas.

More ...
AMANDA CLARK, GRAPHIC STAFF WRITER
Spring Hope woman charged with assault
Franklin County sheriff's deputies charged a woman with assault following a knifing.
Deputies responded to a home in the 200 block of Clearwater Lane just after 3:15 a.m. on December 21 to find a man suffering from a stab wound to the back.
The man's injuries were not life-threatening.
More ...
Middlesex shooting leaves one injured
The Nash County Sheriff's Office are investigating a shooting that occurred Saturday morning during a birthday party.
Deputies responded to a residence at 11260 Cedar Lake Court in Middlesex around 1:40 a.m. on Saturday, December 28.
Upon arriving, deputies were informed that a birthday party had been going on when an altercation broke out between several people at the party.
More ...
Flag raising ceremony honors veterans


The Joint Veterans Committee of Nash and Edgecombe Counties honored the service of two Nash County men during a flag raising ceremony.
During the ceremony, which is held every month on the third Saturday at the Veterans Memorial at Jack Laughery Park in Rocky Mount, a flag was lowered and presented to the family of Franklin D. Vickers, SSgt Army National Guard. The flag had flown over the park in honor of Vickers since the last ceremony in October.

More ...
AMANDA CLARK, GRAPHIC STAFF WRITER
Flag presentation
Joint Veterans Committee Honor Guard member Dave Sannes (at right) presents a flag to Sandra Ferguson (at left), the daughter of Franklin D. Vickers, SSgt. Army National Guard, during a flag raising ceremony. The flag flew over the Veterans Memorial at Jack Laughery Park in honor of Vickers before being retired and presented to his family.
More ...
Empowering Youth and Families Program celebrates graduates
A graduation ceremony was recently held for the second cohort of the Empowering Youth and Families Program.
The program is a 12-week program for parents and youth ages 10 to 14. The program's purpose is to empower families to better combat the opioid crisis.
The ceremony including a dinner and a recap of the highlights from the fall program.
More ...
Chamber winners
Nashville's Chamber of Commerce held its annual holiday ticket sale fundraiser over the Christmas season. Pictured above, Kevin Taylor won the $500 prize. Lisa Hattaway (left) won the $100 prize. Chris Bissette (not pictured) won the $250 prize. Pictured right is Amy Beasley, the chamber treasurer.
More ...
Nashville man receives scholarship
Luke Eason of Nashville, NC, has received a $4,000 scholarship from Bridgestone Americas for the 2019-20 academic year. Luke, a freshman majoring in history at Barton College, is the son of Lisa Eason and Gregory Eason of Nashville.
The scholarship was distributed by the Independent College Fund of North Carolina (ICFNC), an arm of North Carolina Independent Colleges and Universities.
More ...
Christmas Eve shooting sends man to hospital
A Christmas Eve shooting in Bailey sent one man to the hospital and law enforcement are seeking the suspect.
Nash County Sheriff Deputies were called to the 8300 block of Old Smithfield Road in Bailey around 7:45 p.m. December 24 in reference to an individual being shot.
More ...
NASHVILLE POLICE REPORTS
INCIDENTS
A warrant served was reported on 12/20/19
An assault on a female and assault inflicting serious bodily injury/strangulation was reported on 12/16/19 at 125 Wheeless Circle
More ...
MB Hubbard Elementary honor rolls
Nash-Rocky Mount Schools has released its Honor Roll lists for the first semester of the 2019-2020 school year.
The following students at MB Hubbard Elementary School made the A or A/B Honor Roll.
More ...
Wise men went back "another way"


"And when they were come into the house, they saw the young child with Mary his mother, and fell down, and worshipped him: and when they had opened their treasures, they presented unto him gifts; gold, and frankincense, and myrrh. And being warned of God in a dream that they should not return to Herod, they departed into their own country another way." (Matthew 2:11-12)

More ...
MIKE RUFFIN
Intersections: God and Life


Jesus is not only the most important person who ever lived, but He's also the most controversial. Throughout history, people have hated Him, ignored Him, loved Him, and died for His sake. Two thousand years ago Jesus walked out of a carpenter's shop to begin His ministry, and since then, an increasing number of people have followed Him.
There is none like Jesus.

More ...
CARLYLE HALL
Word for the Week


Have you ever walked to the bathroom or kitchen in the middle of the night and stumped your smallest toe on something? You knew the way by heart, so you thought your eyes didn't need the light. You planned to gain your bearings by feeling for the familiar, even if you fumbled a bit. Although you were half asleep, pain from catching that tiny toe was big enough to bring you to your knees, instantly opening your eyes.

More ...
NICHOLE HUFF
Cooper appoints Blackwell
Governor Cooper recently announced new appointments to boards and commissions across North Carolina.
"Our boards and commissions make important decisions that impact people's lives, and I'm grateful that these dedicated North Carolinians are using their expertise to serve our state," Gov. Cooper said.
More ...
SANDY CROSS NEWS


Sandy Cross News (for publication in the January 2 issue)
Christian Fellowship Church had their final 2019 Wednesday night Bible study service on 12/18 with the continuing message theme "The Gift."
CFC Fusion Youth had their Christmas party on 12/18 with lots of snacks and fun games.

More ...
EMILY SILLS
Christmas cards delivered
Penny McLain, her daughter Zoe and grandson Hunter recently spread the Christmas spirit by honoring law enforcement heroes. They delivered hand decorated Christmas cards to the Edgecombe County Sheriff's Department. The inside of each card was personalized with pictures made from hand, fingers, and foot prints of her children and grandchildren.
More ...
Detention officer training
Nash Community College recently announced the achievement of employees from Johnston, Franklin, Warren and Nash County Sheriff's Offices who recently completed detention officer training. Governed by the North Carolina Sheriffs' Education and Training Standards Commission and the North Carolina Criminal Justice Education and Training Standards Commission, the certification course includes 178 hours of instruction designed to train qualified participants to work as officers in detention facilities.
More ...
Local to lead Community Relations at Nash UNC
A Nashville resident has been named the Director of Community Relations at Nash UNC Health Care.
Kirby Slade has worked for Nash UNC for 18 years, primarily in Information Systems. He will take over for Reverend Richard Joyner, who will be retiring from his community relations role and chaplaincy work in June. Slade will work closely with Joyner until his retirement.
More ...
Daughters of the American Revolution
Gay Chatham (at left) was presented a flower arrangement by Janet Bethune (at right) in appreciation for being the guest speaker for the October meeting of Micajah Pettaway-Halifax Resolves chapter of the Daughters of the American Revolution. Gay is the DAR District VIII president.
More ...
Highway Patrol promotes 66 to new positions
The North Carolina State Highway Patrol proudly awarded 7 civilian and 59 sworn members new ranks today during a promotional ceremony held at Colonial Baptist Church in Cary. The event began with an invocation provided by Pastor Steve Stadtmiller, followed by the national anthem, performed by Symone Spencer.
"As you carve out your professional legacy, do not stop evolving.
More ...
STEP brings engineers into schools
STEP, the Strategic Twin-Counties Education Partnership, recently hosted a series of Lunch with an Engineer with area high school students. STEP is an educational nonprofit whose mission is to help create a talent pipeline through collaboration within public schools, community colleges, and employee sectors. STEP has been in existence since 2012.
More ...
We are in time warp time of the year


I'll admit I've always been a fan of time travel stories.
My boys are at the age where the idea of time travel comes up from time to time. One of them mentioned a story they'd seen the other day about a guy in Iran who claims to have invented a time machine.

More ...
Mike Brantley
Will 2020 slow down, or are we just getting started?


It's hard to believe another year has come and gone but 2020 is officially here!
I was glad to bid 2019 farewell, if I must be honest. It wasn't the greatest year for me personally or for my family but we learned a lot of lessons and are ready to take on 2020 and show it who's boss!

More ...
Amanda Clark
Nash County needs a new jail


Nash county consists of townships, farm lands, home developments, exclusive estates, single and double-wide modular homes, plank board housing, giant and small industries. Nash County crime jurisdiction encompasses I-95 to 301 to 64 East and West and the railroad tracks that separate Nash and Edgecombe Counties.

More ...
LETTER:
Backward Glances


This photo was found in The Nashville Graphic's September 1970 archives. These three young men were apparently newspaper delivery boys posing for a photo. If you can identify any, please call us 252-459-7101.

More ...
A PICTORIAL LOOK INTO THE PAST
A TWO-DAY FLURRY


BUNN -- If the chief goal of a holiday tournament is to get a team ready for the rigors of the remainder of the season, it was Mission Accomplished for the Northern Nash High School boys basketball squad at the annual Bunn Christmas Tourney.
In the span of 24 hours, the Fighting Knights experienced a pair of grueling, challenging tests that will undoubtedly make them a better team once Big East Conference play begins next week.

More ...
GEOFF NEVILLE, Graphic Sportswriter

HERTFORD COUNTY, NORTHERN NASH ALL-TOURNAMENT SELECTIONS

NNHS Wins Title-Game Thriller


ROCKY MOUNT -- It would be an understatement to use the word 'crazy' to describe Northern Nash's meeting with Hertford County in the boys championship game of the annual Nash County Christmas Tournament.
Northern Nash, coached by veteran skipper Henry Drake, rolled to an early 18-point lead in the first half of action.

More ...
Staff Reports
SN nabs third at tourney


ROCKY MOUNT -- It's become almost an inevitability every winter that the Southern Nash High School boys basketball team will spend much of the campaign trying to play catch-up when compared to its opponents in the always-competitive Big East Conference.
That's because the Firebirds usually don't have their full roster until sometime in December, thanks to the immense success of the school's football program.

More ...
GEOFF NEVILLE, Graphic Sportswriter

NORTHERN NASH'S JADAYSIA HEDGEPETH

Battle's club finishes 4th


ROCKY MOUNT -- Everything seemed to be going as planned for the Northern Nash Lady Knights at the annual Nash County Christmas Tournament -- until a late Hertford County 3-pointer found its way through the basket on a pair of occasions.
Certainly, the Lady Knights appeared to be on the verge of wrapping up a third-place victory over the Lady Bears twice, but Hertford made a clutch trey each time.

More ...
GEOFF NEVILLE, Graphic Sportswriter
NCWC takes third position


BROOKLYN N.Y. -- The North Carolina Wesleyan College men's basketball team rolled to a 100-70 win over D'Youville College (NY) in the consolation game of the Medgar Evers' DeCosta Classic in Brooklyn on Sunday to claim third place.
Senior forward A.J. Frye led the Bishops with a team and season-high of 32 points on the day along with 8 rebounds, 7 assists and a block in the win as he was named to the All-Tournament team. Fellow senior Mitch Layton also set a career high with 20 rebounds along with his 8 points in the victory.

More ...
Staff Reports

VICTORY LANE. Nash Central's Isaiah Miller drives the lane for two points during last week's victory over Wake Christian at the John Jacobs Christmas Classic.

Flashes Shown


ROCKY MOUNT -- The main themes of Nash Central's up-and-down boys basketball season to date were all on display during last Friday's meeting with Wake Christian in second-round action of the annual John Jacobs Christmas Tournament at Cleveland High School in Johnston County.
The young Bulldogs, with only one senior starter, played well and executed their offensive responsibilities well during a dominant first period.

More ...
GEOFF NEVILLE, Graphic Sportswriter
LEGENDS OF THE GAME
BUSY TIMES. (L to R) Nash County Athletic Directors (l to r) Joey Keefe (Northern Nash), Robbie Kennedy (Southern Nash) and Kyle Bain (Nash Central) were hard at work during the recent Nash County Christmas Tournament. Not pictured is Rocky Mount AD Mike Gainey.
More ...
BOARD BATTLE
Northern Nash's Jadaysia Hedgepeth (left) tries to garner a rebound during the third-place game at the Nash County Christmas Tournament at Nash Central's The Dawg Pound.
More ...