Subscribe/Access
Advertisements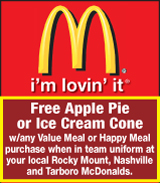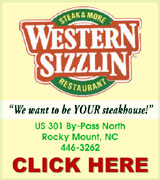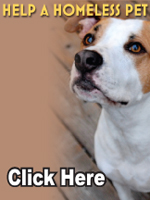 Sections
Member Options
Back
Board to decide athletic merger fate


Nashville's Town Council will soon meet to make a final decision on whether the town will partner with Nash County to provide athletics to residents.
The Advisory Board for the Nashville Parks, Recreation and Cultural Resources Department is recommending they do.
The advisory board met on Monday night and unanimously voted to propose to town council that Nash County take over field athletics from the town.

More ...
AMANDA CLARK, GRAPHIC STAFF WRITER
Breaking News
Armed robbery suspect detained
Nashville Police quickly apprehended a man Tuesday morning after an armed robbery was reported at Hardee's on East Washington Street.
The report came through just after 9 a.m.
Nashville Police continue to seek information in murder case

Nashville Police are continuing to seek information that will lead to the arrest of the person or persons responsible for the death of Marquise Perry.
Perry, 27, of 1847 First Street, Nashville, was reportedly shot and killed at his Oak Tree Apartment home on November 14 during an armed robbery.
More ...
NASHVILLE CHRISTMAS 2019
Nashville's Chamber of Commerce hosted its annual Children's Christmas Parade on Saturday, December 7th. Children decorated their bikes, wagons, scooters and even themselves to march down Washington Street as part of the parade.
Four winners were selected for having the most creatively decorated entries. Following the tree lighting, Santa made an appearance and took time to hear the children's wishes. Pictured above, Santa talks to Michael and Elizabeth Lyle (sitting) and their older brother Jason Lyle.
More ...
Nashville hires library director
The Town of Nashville announced this week that a new Library Director has been hired.
Tikela Robinson Alston will begin in her new role on Tuesday, December 10.
Alston will take over for current director Emily Enderle, who announced to the town in September that she would be leaving her position in December due to her husband, who serves in the United States Air Force, being stationed overseas.
More ...
Board of Elections seeks poll workers


The Nash County Board of Elections is looking a few good workers for the 2020 elections.
Nash County Board of Elections Director John Kearney said they will probably use a total of 200 workers but at least 40 computer-savvy people are needed.
Kearney said there is such a shortage for computer-literate helpers, they are using students.

More ...
AMANDA CLARK, GRAPHIC STAFF WRITER
Nash County Extension staff earns state accolades


Nash County Cooperative Extension staff were recently recognized for their achievements and service to the community at the annual State Extension Conference.
The conference was held in late October in Raleigh and offered continuing education for those involved in cooperative extensions all over the state.
A highlight of the evening, however, was the Extension Awards Banquet, where the achievements and service of staff is recognized.

More ...
AMANDA CLARK, GRAPHIC STAFF WRITER
Nashville Town Council votes to remove vehicle for public health


A derelict vehicle has been considered a public nuisance and will be removed, Nashville's Town Council decided on Monday afternoon.
Nashville's Town Council met for a called meeting on December 9 to discuss the vehicle, which has been sitting idle in the yard of 831 Brake Street.
Nashville Planning Director Julie Spriggs said the vehicle has probably been in the yard for many years. The vehicle has not moved since at least 2012.

More ...
AMANDA CLARK, GRAPHIC STAFF WRITER
Nash hires economic developer director


Nash County Commissioners were introduced to Andrew "Andy" Hagy, who on January 1 will begin in his new role as the Economic Development Director for the county.
Nash County Manager Zee Lamb said the position received a lot of interest.
"We had over 70 applicants," Lamb

More ...
AMANDA CLARK, GRAPHIC STAFF WRITER
Rocky Mount woman receives 45 month sentence for identity theft
A Rocky Mount woman was sentenced to 45 months in prison for stealing from her in-laws.
United States District Judge James C. Dever III sentenced Elizabeth Williamson, 55, of Rocky Mount, to 21 months in prison for bank fraud and 24 months in prison for aggravated identity theft, to run consecutive for a total of 45 months.
More ...
Spring Hope Elementary Honor Rolls
Nash-Rocky Mount Schools has released its Honor Roll lists for the first semester of the 2019-2020 school year.
The following students at Spring Hope Elementary School made the A or A/B Honor Roll.
More ...
NASH COUNTY SHERIFF'S OFFICE
An assault with a deadly weapon, assault on a female, communicating threats was reported on 12/1/19 at 3938 Green Pastures East
An overdose, possession of heroin and maintaining a place for a controlled substance was reported on 12/1/19 at 11082 Kevin Lane
A failure to heed a light or siren was reported on 12/1/19 on I-95 Southbound at the 145 mile marker
More ...
Red Oak literacy program shows progress in reading
A literacy program offered at Red Oak United Methodist Church and 11 other North Carolina United Methodist congregations is showing promising results in helping early readers avoid the learning loss that can happen over the long school break.
According to new data from this past summer, students across all sites together made significant gains in reading and language abilities.
More ...
Southern Nash Middle School Honor Roll
Nash-Rocky Mount Schools has released its Honor Roll lists for the first semester of the 2019-2020 school year.
The following students at Southern Nash Middle School made the A or A/B Honor Roll.
More ...
PEACHTREE COMMUNITY NEWS


It was an exciting Sunday at Peachtree as the member welcomed many visitors to the Peachtree.
Sunday's sanctuary poinsettia arrangement was presented to glorify God in loving memory of Jeff Nelson by his parents Dorothy and Bill Nelson.

More ...
FRAN BUNN
SANDY CROSS NEWS


At Kingdom International Church on 12/1, the service was opened by youth pastor Steve Massey with announcements, prayer, and offering. The Praise Team gave 2 selections. Pastor Daniel Moss continued with prayer and praise the rest of the service and gave a short exhortation "The Same Power That Raised Jesus From The Dead Lives In YOU".

More ...
EMILY SILLS
Are you religious or are you Christian?


"I do not sit with deceitful men, nor do I consort with hypocrites." (Psalms 26:4)
When my wife and I met, it didn't take long for me to realize that her faith was very important to her. "You're pretty religious, aren't you?," I asked her on our first date. I'll never forget her answer: "No, I'm not religious at all. I'm a Christian."

More ...
MIKE RUFFIN
Word for the Week


Winter Solstice marks the longest night of the year. It traditionally falls just days before Christmas Eve, between December 20 and 23, with its earliest observations dating back to the stone age. Although pagan cultures celebrate this winter holiday differently worldwide, for many Christians the Longest Night has become a time to reflect on extended darkness in our lives.

More ...
NICHOLE HUFF
RED OAK NEWS


Red Oak Baptist Church had a great International Missions Emphasis on Wednesday, December 4. Pastor Chris and Tammy Fowler, former International Mission Board missionaries to India, shared information, pictures, and experiences they had while on the mission field in India. They worked with the people and shared the gospel with them for over 3 years and India still has a special place in their heart.

More ...
SUZY PEARCE
Intersections: God and Life


We are living in the "now" generation. Whatever we want, we can often find a way to get it immediately. This could be good if it's a legitimate and pressing necessity, but it can also be dangerous if what we desire is not something God wants for us. The problem with "have it now" thinking is that we don't pause to consider the consequences of our actions.

More ...
CARLYLE HALL
Award recipients
Regina Moseley (center) was presented the Jean Woodley Balance Award at the state conference in October. Pictured with Moseley is Dr. Rosalind Dale, Associate Dean and Extension Administrator for NC State Extension (far left) and Dr. Richard Bonanno, Director of NC State Extension (far right) (Contributed photo)
More ...
The end of an era: couch goes to the dump


Sunday was a day of mixed feelings.
The last surviving piece of furniture from the legendary "Body Oils Collection" was taken out of my house and hauled to the dump.
It was a large beige loveseat -- that was the original color, anyway -- and it was long past its better days. It was grungy and torn and sagging, held together in places by zip ties.

More ...
Mike Brantley
Elf on the Shelf certainly requires some "spirit"!


There's never, ever a dull moment in my home.
Even when my kiddos are sleeping, there's strange and magical things going on. Sometimes the strange things are one of my boys talking in their sleep.
The magical things happen to be when they are sleeping in the same bed and just happen to accidentally snuggle. As brothers, they enjoy fighting more than they do snuggling!

More ...
Amanda Clark
Backward Glances


This photo originally published in The Nashville Graphic on November 26, 1970. The Nashville Girl Scouts entertained residents at the Nash Board Home. The girls, dressed as Indians and pilgrims, put on a Thanksgiving skit, performed Indian dances and presented residents with Indian beads they had made.

More ...
A PICTORIAL LOOK INTO THE PAST

TIME TO CELEBRATE. Members of the Southern Nash High School football program celebrate after last Friday night's victory over Eastern Alamance in the Class 3-A Eastern Regional Final at Firebird Stadium.

ONE WIN AWAY!!!


STANHOPE - Continue to do what you do best.
That's the advice coaches of deep postseason football runs usually offer to coaches who aren't necessarily used to being in that pressure-packed situation.
It's also a sound strategy -- one that the Southern Nash Firebirds were more than happy to utilize en route to making their first-ever appearance in the state championship game.

More ...
GEOFF NEVILLE, Graphic Sportswriter
SN IS ''ALL IN''


RALEIGH -- All In.
Two simple words, one complex mission to bring several communities together for a common cause.
Since its inception in the late 1960s, Southern Nash, despite all of its successes and school pride, has experienced a bit of an identity problem.

More ...
GEOFF NEVILLE, Graphic Sportswriter
Coaches honored at NCSU


RALEIGH -- Between the rigors of the Eastern Regional Finals and the State Championship Games, 16 head football coaches from across the state exhaled a bit Monday at Carter-Finley Stadium to take part in a press conference for the upcoming North Carolina High School Athletic Association State Finals.
Each of the head coaches from the 16 remaining schools in four subdivided classes met with media members and relived their joys from the road to the finals -- and what they expect this Saturday.

More ...
GEOFF NEVILLE, Graphic Sportswriter
Huge week for Knights


RED OAK -- After knocking off county rival Nash Central to begin its 2019-2020 campaign, Northern Nash's boys basketball team turned its focus to a five-game stretch over the course of five school days, beginning with a home matchup against North Pitt last Wednesday -- and ending with an away contest against the Panthers this Tuesday.

More ...
CHANCE PUCKETT, Correspondent

BALANCING ACT. An off-balance Randall King scores inside for Red Oak Middle against opponent Edwards.

Red Oak's Tall Tale


RED OAK -- For all of their recent successes, including a one conference championship and two runner-up finishes over the past three years, the Red Oak Middle School boys basketball team has been void of one key intangle.
Size.
But that is changing this season as the Tigers are looking for yet another strong campaign in the competitive Tri-County Conference.

More ...
GEOFF NEVILLE, Graphic Sportswriter

RED OAK MIDDLE'S ISABELLA DAZA

Lady Tigers should be strong again


RED OAK -- Effective once again.
That should be the story of the 2019-20 Red Oak Middle School girls basketball team as the Lady Tigers look for another quality campaign under the direction of long-time skipper Russell Rouse.

More ...
GEOFF NEVILLE, Graphic Sportswriter
Mudcats offering ticket packages


ZEBULON -- The Carolina Mudcats are once again have announced another exciting new ticket package with the release of the all-new Grand Slam mini plan featuring five guaranteed souvenir giveaway items and a box seat ticket to five pre-selected souvenir giveaway nights scheduled throughout the upcoming 30th anniversary season of baseball at Five County Stadium.

More ...
Staff Reports
STATE FOOTBALL GRID SCHEDULE


NASH COUNTY -- Here is the schedule for this weekend's North Carolina High School Athletic Association State Football Championships:

More ...
Staff Reports
Wooten relishes a second chance


RALEIGH -- December 14, 2002.
That's a date Mark Wooten will always remember, though not for the best of reasons.
On that day 17 years ago, Wooten was a member of the Northern Nash High School football team, which lost a heartbreaker to Asheville in the state championship game at Kenan Stadium in Chapel Hill.

More ...
GEOFF NEVILLE, Graphic Sportswriter
Salute To Bobby


RED OAK -- One of the most iconic figures surrounding Northern Nash Athletics in the 1970s and 80s is former boys basketball coach Bobby "BT" Dunn.
At last Friday night's home basketball game against the visiting Southern Wayne Saints, Coach Dunn was honored by the athletic department, joining former Athletic Director and Basketball Coach Bill Ennis, Girls Basketball player Marcia Richardson, and Girls Basketball player Carisse Moody as the only former Knights honored by a commemorative basketball above the scoreboard on the locker-room end of the NNHS gymnasium.

More ...
CHANCE PUCKETT, Correspondent

NASH CO. 8-UNDER GIRLS ALL-STARS SWAC STATE SOCCER CHAMPIONS

Soccer squads claim crowns


FAYETTEVILLE -- The Nash County Parks and Recreation Department sent several teams to the recent Statewide Athletics Committee Soccer Tournament, which was held over Thanksgiving Weekend in Cumberland County.
All of the Nash County clubs made it to the championship round in their respective age groups.

More ...
Staff Reports
COACHING GREATS
Tarboro High School has a handful of assistant coaches on its football staff with a history in Nash County, including former Northern Nash skippers (l to r) AB Whitley and Don Reams. Whitley also has the Nash-Rocky Mount Schools' AB Whitley Award named after him. Tarboro head coach Jeff Craddock brought all of his assistants to Monday's state finals press conference at Carter-Finley Stadium in Raleigh.
More ...
HARDWARE COLLECTORS
Southern Nash's (l to r) Zachary Jones, Quinton Cooley and Matt Foster accept the regional championship plaque from SN Principal Hugh Scott.
More ...
HOME IS WHERE THE HEART IS
Kwamaine Battle is one of several former Southern Nash High School football players who have remained loyal to the program by becoming assistant coaches.
More ...
SN SUPERSTARS
(L to R) Southern Nash's Trenton Weeks, Quinton Cooley, Zach Baker and Preston Curtis pose with the East Regional title plaque.
More ...
WHAT A NIGHT
Senior Quinton Cooley (with ball) was unstoppable for the Southern Nash Firebirds during last Friday night's regional football victory.
More ...

Michael Dolly serves as the narrator for this year's performance of "A Christmas Carol."

"A Christmas Carol" finale is this weekend!


Nash Arts will host the final weekend of the 18th annual production of "A Christmas Carol."
This year's production returns to the traditional, Victorian London version. The more traditional version will remain for the 2021 and 2022 season, although the show is never quite the same as the year before.

More ...
AMANDA CLARK, GRAPHIC STAFF WRITER
LETTERS TO SANTA
Dear Santa,
I have been a good boy all year. I listen to my teacher and to my Mommy and Nama. Nama is helping me write because I am still learning. I do miss my PaPa who went to Heaven this year.
More ...
Nashville Christmas! pics 1


These youth won fourth place for their Polar Express creation in the Children's Christmas Parade on Saturday. Pictured (L-R) is Lucas Couch, Hailey Couch, Riley Luper and Emma Couch.

More ...
Graphic photos by Amanda Clark
Nashville Christmas! pics 3
Olivia Stone (far right) shows off her Grinch side Saturday at Nashville's Christmas Parade, winning third place for her cute Grinchy costume. Pictured with Olivia is mom, Sarah Stone.
More ...