Subscribe/Access
Advertisements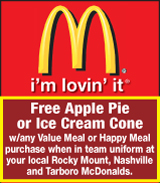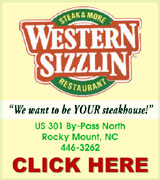 Sections
Member Options
Back

HANCOCK

Local woman arrested for 2004 murder


A woman authorities allege is responsible for the 2004 murder of a Nash County woman is also the step-sister of a Franklin/Nash County man who's been missing since 2009.
Authorities now are trying to see if there are any dots to connect.
The Nash County Sheriff's Office arrested Kimberly Hancock, 49, last Thursday evening and charged her with first degree homicide for the murder of Deborah Elaine Deans, who was reported missing in January 2004.

More ...
AMANDA CLARK, GRAPHIC STAFF WRITER and CAREY JOHNSON, TIMES STAFF WRITER
DOT awards $60.5 million contract for interchange
A popular Nash County route will be widened and a new Interstate 95 interchange will be constructed in Rocky Mount, after the N.C. Department of Transportation awarded a $60.5 million contract last Thursday.
Here are the project details:
More ...
SCIENCE & CAREER NIGHT
Nashville Police Corporal Daniel Strutton shows Zayden Taylor how to lift fingerprints during Nashville Elementary's Science / Career Night. Several local businesses and agencies were on hand to offer information about careers ranging from wildlife, forestry, research scientist, geologist, engineering, agricultural, law enforcement, and more. Scientific activities were also popular during the event including classroom experiments.
More ...
Castalia native inducted into Livestock Hall of Fame
Agriculture Commissioner Steve Troxler recently inducted six new members into the 40th N.C. State Fair Livestock Hall of Fame at the State Fairgrounds, including a Castalia native.
"This is one of my favorite events each year, because it gives me the opportunity to recognize the men and women who have helped to make our livestock shows some of the best in the nation," Troxler said
More ...
Local students benefit from Arc Program


Scholars from North Carolina State University recently provided STEM education to afterschool students in the Arc Program.
The Arc Program is in its third year being hosted at four Nash-Rocky Mount elementary schools and one Nash-Rocky Mount middle school.
The program is a partnership between the Boys and Girls Club of the Tar River Region and Nash-Rocky Mount Public Schools and is made possible thanks to a 21st Century Community Learning Center Grant.

More ...
AMANDA CLARK, GRAPHIC STAFF WRITER
Ikirt leaves Carolinas Gateway Partnership


Krista Ikirt is leaving Nash County to be closer to her grandkids in her home state of Pennsylvania.
Ikirt recently left her role as Vice-President of the Carolinas Gateway Partnership and will soon assume the role of President of the Erie County Redevelopment Authority in Pennsylvania.

More ...
AMANDA CLARK, GRAPHIC STAFF WRITER
Bark for Life lands Isaac forever home


Attendance at the Sixth Annual Bark for Life event wasn't as high as organizers hoped but a dog found a new forever family and funds were raised for Relay for Life so Brandon Ward is happy.
Ward serves as the Chair for the annual event, which was held this year at Nashville's Stoney Creek Environmental Park.

More ...
AMANDA CLARK, GRAPHIC STAFF WRITER

TYLER
Kenly women arrested for drugs during traffic stop
The Nash County Sheriff's Office arrested two Kenly women during a traffic stop, where methamphetamine was found.
The Narcotics Unit was following up on narcotics complaints when the arrest occurred. Officers were able to discern that a subject would be bringing an undiscloseed amount of methamphetamine to Nash County.
More ...
NASHVILLE POLICE REPORTS
INCIDENTS
An involuntary commitment service was reported on 10/21/19
An assault on a female and simple assault were reported on 10/21/19 at 108 Arrowood Drive
A hit and run was reported on 10/23/19 at Wal-Mart, 1205 Eastern Avenue
More ...
NASH COUNTY SHERIFF'S OFFICE
Recovered stolen property was reported on 10/20/19 at Old Bailey Highway and E NC 97
A flee to elude, driving while license revoked and fictitious tags were reported on 10/20/19 at US 264A and Camp Charles Road
An assault was reported on 10/20/19 at 1673 N NC 581
A felony larceny was reported on 10/21/19 at 5482 Dortches Boulevard
More ...

Kalei Garris and Madelyn Taylor participate in the Birds, Blooms & Butterflies program hosted by the Rocky Mount Garden Club.
Birds, Blooms & Butterflies!
The Nash-Rocky Mount Junior Garden Club learned about the importance of pollination at their most recent meeting. Birds, Blooms, & Butterflies, their program theme, concentrated on different types of pollinators, the blooms they visit native to this region, and how to preserve and promote their natural habitats. Butterflies were an interesting topic as the group learned of different natives and the largest and smallest species. They were surprised to learn bats and beetles were among pollinators, along with moths and flies.
More ...
Spooktacular
Girl Scouts help Nash County Parks and Rec. with their 1st annual Spooktacular event at Brown Auditorium on October 22. Girls from Troop 3249, 578 and 4016 worked several games during the event. Girls from left to right are Zamya Garner (3249), Ashley Zipko (578), Elizabeth Leak (3249), Serenity Walker (4016), Logan Greene (3249) and Jenna Crawford (3249).
More ...
NCWC hires director for new RN to BSN program
North Carolina Wesleyan College announced in August their plans to implement a new accelerated RN-to-BSN program, which will now be led by Dr. Brittany Bass. With experience in both the classroom and clinical settings, Dr. Bass brings a fresh perspective to launch the new program.
Dr. Brittany Bass has a Bachelor of Science in Nursing from Barton College.
More ...

Ashleigh Glover, NCC Human Services Gerontology student, of Wilson, is the first to receive the Alzheimer's Care Scholarship established in 2019. Glover is pictured with Charles M. Johnson.
New scholarships at NCC to support Gerontology students
Charles M. Johnson of Nashville has established a new scholarship to support Nash Community College students pursuing careers caring for patients suffering from age-related dementia.
Ashleigh Glover, NCC Human Services Gerontology student, of Wilson, is the first to receive the Alzheimer's Care Scholarship established in 2019.
More ...
Castalia man to pay pesticide settlement
The North Carolina Pesticide Board recently approved several settlement agreements in several counties, including Nash County.
Barry E. Murphy, of Castalia, agreed to pay $600 for drift damage to tobacco plants from a pesticide application to a pasture in Franklin County.
NC law states that no person shall apply pesticides under such conditions that drift from pesticide particles or vapors results in adverse effects.
More ...
Local man graduates Hwy Patrol School
The State Highway Patrol proudly welcomed 23 new troopers at a graduation held for the 149th Basic Highway Patrol School. The ceremony ended 12 weeks of demanding training preparing cadets for a rewarding career of service to the state of North Carolina.
The event was held last Thursday, October 24 at Colonial Baptist Church in Cary.
More ...
Nominations open for Governor's Volunteer Service Award
The awards program, created by the Office of the Governor in 1979, recognizes North Carolina's most dedicated volunteers. Through the years, the award has been bestowed on thousands of North Carolinians who have shown concern and compassion for their neighbors by volunteering in their local community.
Each county selects up to ten individuals, businesses, groups/teams and one paid Director of Volunteers to be recognized for their outstanding contributions to their communities.
More ...
Real blessings come through faith


"By faith Moses, when he had grown up, refused to be known as the son of Pharaoh's daughter. He chose to be mistreated along with the people of God rather than to enjoy the pleasures of sin for a short time. He regarded disgrace for the sake of Christ as of greater value than the treasures of Egypt, because he was looking ahead to his reward. (Hebrews 11:24-26)

More ...
MIKE RUFFIN
Intersections: God and Life


As we study the characteristics of the Good Samaritan, let's ask ourselves if these qualities are true of us as well. He opened his eyes. Although all three men physically saw the critically wounded man, only the Samaritan looked and stopped to help. Before we can meet needs, we must be aware of them.
He opened his heart. The difference between the priest and Levite's gaze and the Samaritan's was compassion.

More ...
CARLYLE HALL
Luke's Word for the Week


Happy All Saints Eve, Fellow Followers!
Remembering is at the core of the Christian faith. We remember that God created all things in six days and rested on the seventh. We remember that God freed his people from the bondage of Egypt.

More ...
LUKE WHITEHEAD
RED OAK NEWS


Congratulations to Wesley and Allison Boone on the birth of their son, Garrett Ellis on October 22! Proud big brother is Sawyer. Proud grandparents are Neal and Mary Boone and great-grandmother, Bobbie Wollett.
The Community Fall festival and Trunk or Treat had a great day at Ennis Park on Sunday, October 27.

More ...
SUZY PEARCE
SANDY CROSS NEWS


News from Christian
Fellowship Church
On Saturday October 26, around ten volunteers did community outreach in Wilson and Rocky Mount by clothing and feeding the homeless.

More ...
EMILY SILLS
PEACHTREE COMMUNITY NEWS


What a wonderful Sunday at Peachtree Baptist Church as the active members welcomed all the visitors to High Attendance Sunday.
The sanctuary flower arrangement Sunday was presented to glorify God by by Brenda and James Shepherd in honor of Brenda's birthday which was on October 26th.

More ...
FRAN BUNN
A pinch of chew was scarier than Ouija!


Let me take you back to a dark and stormy night of my childhood, right around Halloween. I think I was in fifth or sixth grade.
My best friend Kelly invited a few friends over to his house for a sleepover. But this was no ordinary sleepover: Kelly was going to fulfill a "lifelong dream" of having a "real séance."
Me: You know that stuff's not real. And, it's like devil stuff.

More ...
Mike Brantley
Nothing holds a candle to a house full of little boys


I have friends who like to laugh at me.
I think they laugh because they're not sure what else to do but I can tell they really want to take my hand and say, "I'm sorry."
These friends either have little girls or no kids at all and have no idea how I am able to keep up with three wild and crazy boys.
Sometimes, I don't even know how I do it. I'm not really sure I actually do it.

More ...
Amanda Clark
Backward Glances


LITE-A-BIKE -- This photo originally published in The Nashville Graphic on May 22, 1969. Carson Turnage, commander of the Nashville VFW Post, sticks a strip of reflective tape on a bicycle as some delighted youngsters look on. The safety tape was part of a program sponsored by the VFW to promote bicycle safety.

More ...
A PICTORIAL LOOK INTO THE PAST

SOUTHERN NASH QUARTERBACK MATT FOSTER

Birds, RMHS Set For Showdown


NASH COUNTY -- It's become an annual custom for the Big East Conference football championship to be at stake when Southern Nash and Rocky Mount collide on the gridiron.
This season will be no different as both clubs enter this Friday's showdown at RM with unbeaten marks in league action.

More ...
GEOFF NEVILLE, Graphic Sportswriter

JUST IN TIME. Southern Nash High School keeper Eliel Benitez makes a sprawling save for the Firebirds during last Wednesday afternoon's Big East Conference home boys soccer meeting against Franklinton.

A HEARTBREAKER


STANHOPE -- Southern Nash controlled its own destiny heading into the final two matches of the Big East Conference's regular season in boys soccer.
Southern needed to defeat Franklinton last Wednesday and Hunt on Thursday in order to secure the conference title, which has featured a three-way dance down the stretch between the Firebirds, Franklinton and Wilson Fike.

More ...
GEOFF NEVILLE, Graphic Sportswriter

NN QB KAMERON JOHNSON

CLUTCH VICTORY


FRANKLINTON -- In front of an impressive homecoming crowd lastFriday night, Franklinton High School looked to pick up its first Big East Conference football win of the 2019 season.
However, Coach Andrew Farriss' Northern Nash Knights spoiled the homecoming festivities with a 42-14 win over the Red Rams.

More ...
CHANCE PUCKETT, Correspondent
Marshall, Jimenez own B.E.


RED OAK -- The rivalry between Southern Nash's Jadiza Jimenez and Northern Nash's Elana Griffin continued last Wednesday at the annual Big East Conference Cross Country Championships.
With Northern Nash serving as the host at Red Oak Middle School, Jimenez was able to edge Griffin for the top spot in the girls race.

More ...
Staff Reports
Bishops fall vs. Brevard


ROCKY MOUNT -- The North Carolina Wesleyan College football team's comeback attempt fell just short as they lost 26-20 to Brevard College in conference action at Rocky Mount Stadium last Saturday.
Wesleyan scored 20 straight points in the fourth quarter to get within six points, but their onside kick attempt fell a half-yard short of going the required 10 yards before the kicking team could recover.

More ...
Staff Reports
COUNTY SOCCER UPDATE


NASH COUNTY -- Heare are updated Nash County Recreation & Senior Services Youth Soccer League Scores for the fall season:

More ...
Staff Reports
EPC Champions


ROCKY MOUNT -- Nash Central High School has enjoyed a successful fall cross country season -- a stretch that was capped recently with a first-place team finish at the Eastern Plains Conference Championship at Farmville Central High School in Pitt County.
The Bulldogs, coached by Terri Cash, took the top spot with 37 points -- six points ahead of runner-up Farmville.

More ...
Staff Reports
NN stars nab accolades


NASH COUNTY -- Northern Nash experienced an uptick in girls tennis this fall -- with even better things potentially to come.
The Lady Knights almost earned a playoff spot as a team, finishing in third place in the competitive Big East Conference behind co-champions (and perennial titans) Rocky Mount and Wilson Fike.

More ...
GEOFF NEVILLE, Graphic Sportswriter

MJ BROWN OF THE MAYOR'S MAGICIANS

Soccer Season Ends


NASHVILLE -- This past Saturday was the last day of the regular season at Glover Park for the Town of Nashville Youth Soccer League.
The three-year-olds have come a long way this season.
In the first game, Providence Bank played Murray Auto and Tire.

More ...
Staff Reports
BACK FOR MORE
Northern Nash High School's Amir Pittman-Williams had another huge game last Friday night for the Fighting Knights against Big East Conference opponent Franklinton.
More ...
GREAT ESCAPE
Northern Nash's Jay Johnson avoids a sack for the Fighting Knights during last Friday's road football showdown against rival Franklinton.
More ...
LAYING OUT FOR THE BALL
Southern Nash's Adrian Rangel dives for possession for the Firebirds during last Wednesday afternoon's key Big East Conference boys soccer match versus Franklinton.
More ...
RUSH HOUR
Southern Nash's Adrian Flores (with ball) makes a strong rush upfield during last Wednesday afternoon's Big East Conference showdown at home against the Franklinton Red Rams.
More ...

Jillian Hale was named the winner for the first ever Nash County's Got Talent Junior competition, which was held last Friday night at Nash Arts.

Nash County's Got "Junior" Talent!


The numbers were few but the talent was big for the first ever Nash County's Got Talent Junior edition.
Jillian Hale was announced as the winner of this year's event.
Hale is a fifth grader at Nashville Elementary School.
She sang "My Favorite Things" from the Sound of Music during her first performance and sang "Tomorrow" from Annie as her final performance.

More ...
AMANDA CLARK, GRAPHIC STAFF WRITER
Competition talent
Reyann Hatu won second place in the Nash County's Got Talent Junior competition. tion, which was held last Friday night at Nash Arts.
More ...
First Friday returns to Imperial Centre
First Friday makes its return with a kick-off event from 6-9 p.m. on Nov. 1 at the Imperial Centre for the Arts and Sciences.
The night is full of free activities including a live performance from The Sunspots, arts and crafts, carriage rides and more.
Talented poets, singers and musicians are invited to show off their skills during "No Shame Theater."
More ...