Subscribe/Access
Advertisements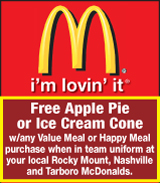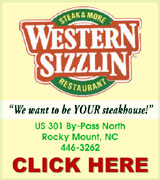 Sections
Member Options
Back
Former Red Oak mayor passes away


The community of Red Oak is mourning the loss of its former mayor.
Alfred Wester, who many knew simply as "Al," passed away last Thursday, October 17.
Wester served as mayor of Red Oak from 1993 to 2017 but his service to the town started long before.
Wester was a lifelong member of Red Oak Baptist Church, where he served as a deacon.

More ...
AMANDA CLARK, GRAPHIC STAFF WRITER
School closing study nears completion


School closing studies were approved earlier this month by the Nash-Rocky Mount Board of Education as part of the process to consolidate three smaller schools into one new, larger school.
The school system was awarded a Needs-Based Public School Capital Fund Grant in the amount of $10 million last October to assist in the construction of a new elementary school in the northern end of the county. Nash County plans to match the $10 million grant.

More ...
AMANDA CLARK, GRAPHIC STAFF WRITER
SPOOKTACULAR!
Starr Radford holds Ashton Barrow, 5, as he selects a prize from one of the many games he played on Tuesday night at Nash Community College during the first annual Halloween Spooktacular, hosted by Nash County Recreation and Senior Services. The event drew a large crowd.
More ...
Early voting ends Nov. 1


Early voting for the November 5 municipal elections is underway and so far, turnout has been higher than expected.
Nash County Board of Elections Director John Kearney said the high turnout is likely due to the runoff race in Rocky Mount.
The City of Rocky Mount held its general election on October 8, with mayoral candidates Sandy Roberson and Bronson Williams advancing.

More ...
AMANDA CLARK, GRAPHIC STAFF WRITER
Momeyer mulls bird sanctuary


Momeyer Commissioners are considering whether to make the Town of Momeyer a bird sanctuary.
The item was brought before the board last Monday morning at the board's regular meeting. Mayor Kenneth Parker said the suggestion of the town being a bird sanctuary had been brought to him by a citizen.

More ...
AMANDA CLARK, GRAPHIC STAFF WRITER
Cancer ride is Saturday


Black Cat Harley-Davidson in Rocky Mount will present Bikers Fighting Cancer on Saturday, October 26.
Registration for the ride will be held from 9 until 11 a.m. with the one-hour ride starting around 11 a.m.
Robert Toney, one of the organizers for the event, said he's expecting between 200 to 300 to attend.
"It's going to be held rain or shine," he said.

More ...
AMANDA CLARK, GRAPHIC STAFF WRITER
Nash County's Got Talent Junior edition is Friday night


Nash Arts will host its first ever Nash County's Got Talent Junior edition on Friday night.
For the past 13 years, Nash Arts has hosted the talent competition for ages 14 and up. Shelly Gray, Director of Nash Arts, said there has been a lot of interest in younger ages competing so a junior event was put together.

More ...
AMANDA CLARK, GRAPHIC STAFF WRITER
Nashville has a full bag of treats for Halloween!


The Town of Nashville will host its annual Halloween festivities next Thursday, October 31.
The town's Parks, Recreation and Cultural Resources Department, along with Cooley Library, will host a Fall Festival beginning at 4 p.m. inside the library and council chambers.

More ...
AMANDA CLARK, GRAPHIC STAFF WRITER
Youth enjoy new playground equipment at Glover Park


Local youth are enjoying new play equipment at both Glover Park and Stoney Creek Environmental Park.
The new playground at Glover Park was made possible thanks to the town being selected as a recipient of the 2019 North Carolina Recreation and Park Association's (NCRPA) Healthy Play and Recreation Initiative.

More ...
AMANDA CLARK, GRAPHIC STAFF WRITER
Nash County Blood Drives for October 2019
Monday, October 28 from 3 until 7 p.m. at Sandy Cross United Methodist Church, 3725 Sandy Cross Road, Nashville
Monday, October 28 from 9:30 a.m. until 2:30 p.m. at Nash Commumity College, 522 N Old Carriage Road, Rocky Mount
Monday, October 28 from 12:30 until 4:30 p.m. at Golden East Crossing Mall, next to Conn's Home Plus, Rocky Mount
More ...
Community Christian Church celebrates 130 years


"Loving God, serving others and seeking the lost."
That statement serves as the mission of Community Christian Church today and since its inception 130 years ago.
The church held a special homecoming celebration recently at its East Beulah Road location. The celebration also served as a 130th anniversary celebration.

More ...
AMANDA CLARK, GRAPHIC STAFF WRITER
RMPD sponsors new initiative to address gun violence
The Rocky Mount Police Department has taken the lead on a new initiative to address gun violence with its ballistic identification technology.
The department is now home to IBIS (Integrated Ballistic Identification System). Neighboring agencies who shared in the cost of the system include Wilson Police Department, Greenville Police Department, Nash County Sheriff's Office, the Edgecombe County Sheriff's Office and ATF (Alcohol Tobacco and Firearm).
More ...
Rocky Mount man faces drug charges
Citizens complaints led to the arrest of a marijuana dealer at a Rocky Mount apartment complex last week.
Members of the Nash County Sheriff's Office Narcotics Division, along with Patrol Platoon C. Deputies executed a search warrant at 2390 Hurt Drive in Hampton Village Apartments last Tuesday afternoon. The investigation was a result of concerned citizens complaining of suspicious activities and narcotics sales at the apartment.
More ...
NASHVILLE POLICE REPORTS
INCIDENTS
A forgery was reported on 10/14/19 at 222 W Washington Street
A possession with intent to sell/deliver marijuana and maintaining a vehicle/dwelling for selling of a controlled substance was reported on 10/14/19 at 1973 Reges Store Road
More ...
NRMPS celebrates principals
The Nash-Rocky Mount Public School System is recognizing principals during the month of October.
The National Association of Elementary and Secondary School Principals declared October National Principals Month.
Interim Superintendent Dr. Del Burns asked the board of education earlier this month to join the district in celebrating the leaders of the district's 29 schools.
More ...
YAM JAM
A long-time tradition of gathering sweet potatoes for donation to the Food Bank continued this past Saturday, October 19 on Richard Tyson's farm just outside of Nashville. Pictured above, Fletcher Dickerson and Evan Hilliard (L-R) work togeher to pick sweet potatoes.
More ...
NCC to name building after president
Nash Community College recently announced the naming of the Continuing Education building after Dr. Bill Carver who is set to retire at the end of October. The Board of Trustees voted in support of the naming opportunity at the regular board meeting held on September 16, 2019.
Dedicated in June 2015, the Continuing Education building contains 31 classrooms and nine labs. It is also home to an eight-lane, 3,000 square foot, indoor gun range and virtual reality simulator used for law enforcement training.
More ...
Annual CTE Showcase set for Oct. 29 at NCC
Nash Community College and Nash-Rocky Mount Public Schools will host fifth through twelfth-grade students and their parents at the Tenth Annual Career & Technical Education Open House at Nash Community College on Tuesday, October 29, 2019, from 5:30 PM - 7:30 PM.
During the showcase, attendees will explore classes that can be taken in Nash-Rocky Mount Public Schools that align with classes and programs offered at Nash Community College.
More ...
Certificate of Membership
Deborah Tucker, center, receives her certificate of Membership for Bethel Heroes Chapter 636, United Daughters of the Confederacy. Deborah is the great-great granddaughter of David Jonathan Johnson. Presenting the award is Donna Boykin, registrar, (left) and Edith Whitby, (right) president of Bethel Heroes Chapter 636.
More ...
Girl Scout Troop 3249
Girl Scout Troop 3249 worked the games at Jacob's Friends Special Needs Carnival at Red Oak United Methodist Church on Saturday September 14th, 2019. Girls from left to right are: Jenna Crawford, Kiersten Carmichael, Elizabeth Leak, Zamya Garner and Logan Greene.
More ...
Bunn graduates basic training
U.S. Air Force Airman Taylor M. Bunn graduated from basic military training at Joint Base San Antonio-Lackland, San Antonio, Texas.
The airman completed an intensive, eight-week program that included training in military discipline and studies, Air Force core values, physical fitness, and basic warfare principles and skills.
More ...
Barnes earns national award for campaign
Rocky Mount native Clifton Barnes, who was a reporter and editor at the Nashville Graphic in the 1980s, has won a top national award for a campaign to honor Kay Kyser.
Barnes' efforts to bring a Kyser historic marker to Rocky Mount and celebrate the comedic bandleader's life earned him the Grand Award from the DC area-based Communications Concepts through its 2019 Awards for Publication Excellence competition.
More ...
Nash County Animal Friends' Notebook


Life is Precious, ALL Life.... Shelter the homeless and care for them, is a moral duty of mankind. That includes those without a voice, the animals. Especially, companion animals that have been so domesticated by man that they cannot live on their own in today's world. You see them all the time, on the sides of the road, walking along, bony as can be.

More ...
Carol Vierrla
NEW OFFICERS
The Rocky Mount Toastmasters Club #8957 held its installation of officers for the 2019-2020 over the summer. The organization meets on the second and fourth Mondays at 6:30 p.m. at Braswell Memorial Library.
More ...
Why some churches frown on Halloween


"The night is far spent, the day is at hand. Therefore let us cast off the works of darkness, and let us put on the armor of light." (Romans 13:12)
October is a great month. Fall begins to show just how crisp of a season it can be, the World Series provides a crowning end to our national pastime, and Halloween forces most of us to the grocery store for a last-minute purchase of candy for the kids.

More ...
MIKE RUFFIN
Intersections: God and Life


What do you think of Jesus Christ? How you answer this question is of utmost importance.
Was He merely a man, one of the numerous prophets or teachers who roamed the world in that day, or someone else? Many people may be interested in His teachings or healings, but in the big scheme of things, they think God is the important one--not Jesus. They may claim to believe in God while considering Jesus irrelevant. But what does the Bible say?

More ...
CARLYLE HALL
Luke's Word for the Week


This time next week, it will be October 31, Halloween, or more appropriately called "All Hallows Eve" and what an opportunity we have as the church. Here's why - Halloween is a dream come true for Followers of Jesus.
Now, I'm aware many of you might completely balk at what I just said, so let's spend some time together so that you will hopefully hear me out.

More ...
LUKE WHITEHEAD
SANDY CROSS NEWS


Friday night October 18, the Love Ladies held their monthly gathering at the church with guest speaker Telley Pender Lucas.
News from Kingdom Internatonal Church - Sunday October 20 was Homecoming / Pastor Appreciation / 70th Anniversary of the Church. A light buffet breakfast of pastries and coffee was served before service.

More ...
EMILY SILLS
PEACHTREE COMMUNITY NEWS


What a wonderful Sunday at Peachtree Baptist Church.
The sanctuary flower arrangement Sunday was presented to glorify God by Fran and Bobby Bunn in honor of Fran's birthday on October 24th and Mary Hazel Mink, their grand-daughter's 21st birthday on October 31st.

More ...
FRAN BUNN
RED OAK NEWS


Several from Red Oak Baptist Church enjoyed a fun day at Kings Dominion on Saturday, October 19.
The Baptist Men enjoyed their monthly breakfast meeting on Sunday, October 20 at Red Oak Baptist Church.
Congratulations to Maddie Shingleton who was baptized at Red Oak Baptist Church on Sunday, October 20!

More ...
SUZY PEARCE
How may I help you with your non-emergency


Residents in Nash County are well aware of what fine emergency services we have, both in our towns and rural areas.
I've seen these folks in action and I have to say it takes a certain personality to do that kind of work. I say the same about nurses.
I admire people who work in these types of professions, because I know its something I could not do.

More ...
Mike Brantley
Get out and vote!


It is super hard to believe the end of October is quickly approaching but here it is!
This year has truly flown by and though this year has not been the greatest year for my family, I am in no hurry to rush it away.
Nonetheless, like it or not, November is almost here, which means the holidays, yes I said it, the holidays are upon us.

More ...
Amanda Clark
There's one thing for sure, we're the original!


Nashville's recent visioning forum was quite interesting. It was refreshing to see the turnout. A mix of citizens, business owners and town staff made for some good and diverse conversations.
The one thing that seemed to be a common opinion between all attending was the branding of Nashville as the "Original Nashville."

More ...
Jo Anne Cooper
Saving lives from intimate partner violence


So far this year in North Carolina, a staggering 44 people have died in domestic violence homicides. When our communities tragically lose someone to this kind of violence, we often ask ourselves what we could have done to prevent their death. This Domestic Violence Awareness Month, I'm proud that the North Carolina Department of Justice is launching a powerful new tool to proactively protect domestic violence victims who are at risk of being killed by their partners.

More ...
Attorney General Josh Stein
Backward Glances


This photo originally published in The Nashville Graphic on June 6, 1969. Nash Central's top sportsmen pose with trophies they received during the school's annual sports banquet.

More ...
A PICTORIAL LOOK INTO THE PAST

THREE AGAINST ONE. Rocky Mount's Nate Foote is surrounded by a trio of Southern Nash defenders during Monday's match on the RMHS campus.

Southern Nash In Mix For Title


STANHOPE -- Flash back to earlier this decade, when the Southern Nash boys soccer team overwhelmed opponents with an offensive arsenal that was unmatched in school history.
Score four goals? The Firebirds would register five. Name the score, and Southern Nash's offense would find a way to get it done.

More ...
GEOFF NEVILLE, Graphic Sportswriter

FULL HEAD OF STEAM. Northern Nash High School's Austin Curtis picks up yardage for the Fighting Knights during last Friday night's Big East Conference football showdown at rival Southern Nash.

'BIRDS PULL AWAY


STANHOPE -- Last Friday night's football game between county rivals Southern Nash and Northern Nash was surrounded by copious amounts of anticipation from fans, students, players and coaches from all around the area.
That excitement showed in a 55-23 win for Coach Brian Foster's Southern Nash Firebirds in a game that exhibited both excitement and confrontation from beginning to end.

More ...
CHANCE PUCKETT, Correspondent - 1 opinion posted
SWING STATES


RED OAK -- Earlier this week, Northern Nash girls tennis coach Elaina Ingram was poring over information both online and at the school, trying to find out the last time a Lady Knight qualified for the state singles tennis tournament.
Ingram was not successful in her quest, so it's unsure if the feat has been previously accomplished.

More ...
GEOFF NEVILLE, Graphic Sportswriter
Meeting scheduled for coach


LOUISBURG -- J. Enid Drake's former players, associates and friends are invited to attend a get-together this Saturday for the legendary Louisburg College men's basketball coach.
Drake, a native of Castalia, coached at Louisburg College for five decades before retiring in 2007. He is a member of the National Junior College Athletic Association Hall of Fame.

More ...
GEOFF NEVILLE, Graphic Sportswriter
NCWC hoops releases slate


ROCKY MOUNT -- North Carolina Wesleyan College's men's basketball team will tip off its 2019-20 season by with a home game on November 13 versus Lynchburg College.
The event is slated to begin at 7:30 p.m. at historic Everett Gymnasium on the NCWC campus. Tickets will be available at the gate.

More ...
Staff Reports
COUNTY SOCCER UPDATE


NASH COUNTY -- Here are updated scores from the Nash County Parks and Recreation Department's Fall Youth Soccer League:

More ...
Staff Reports
Down To The Wire


NASHVILLE -- This past Saturday was the second-to-last weekend of soccer games at Glover Park for the Town of Nashville Youth Recreation League.
In 12U, Taylor Made Jewelry played MGD Realty in a tight game.
It was tied with a goal by Carter Hager for Taylor Made Jewelry and Elijah Govender for MGD Realty.

More ...
Staff Reports
Wesleyan defeated at Averett


DANVILLE, VA. -- The North Carolina Wesleyan College football team fell 41-24 on the road at conference leader and rival Averett University (Va.) last Saturday evening.
After Averett got out to an early 6-0 lead, the Bishops came right back with a 4-play 65-yard drive ending with sophomore WR Tyler Roberts catching a 6-yard touchdown pass from senior QB Donielle Totten.

More ...
Staff Reports
Area gymnasts shine at states


NASH COUNTY -- Nine Tri-County Arts Complex Gymnasts competed recently in the North Carolina State Games.
The gymnasts from Tri-County Arts received 99 percent of the top podium awards in their level and age categories.
Out of a possible of 45 awards, these nine girls were 26-1st places Gold Medal Champions, 10-2nd places Silver Medal State Champions, 8-3rd places Bronze Medal State Champions, and 1-4th place which was just 0.15 off the podium.

More ...
Staff Reports
HERE HE GOES AGAIN
Southern Nash High School senior veteran running back Quinton Cooley (with ball) had another huge night on offense last Friday as the Firebirds picked up a home football victory against Big East Conference opponent Northern Nash.
More ...
QUARTERBACK SCRAMBLE
Northern Nash High School signal-caller Thomas Engelking (with ball) tries to escape the Southern Nash defense during last Friday night's Big East Conference football rivalry contest at historic Firebird Stadium on the SNHS campus.
More ...
New Imperial Centre exhibit to take visitors for a spin
Spin has taken over the Children's Museum and Science Center in the Imperial Centre for the Arts and Sciences through Dec. 31. Designed to engage visitors in the science of rotation by looking at how objects spin, why things spin at different speeds and how spinning objects are used in daily life, Spin is an interactive exhibit that uses real-life examples, according to Leigh White, curator of education for the city of Rocky Mount.
More ...