Subscribe/Access
Advertisements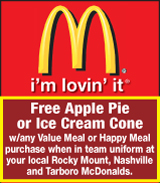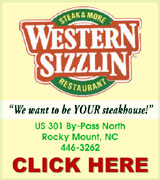 Sections
Member Options
Back
School Board to soon review applications


The Nash-Rocky Mount Board of Education will soon start sifting through applications of those interested in serving as the next superintendent of the school district.
The deadline for applications was last Monday, October 7. Allison Schafer, Director of the Legal Department for the NC School Board Association, told school board members that 20 applications had been received so far. However, Schafer added that she anticipated a few more would come in before the official deadline.

More ...
AMANDA CLARK, GRAPHIC STAFF WRITER
Nashville man dies in house fire


The body of a man was found in his Nashville home after a fire on Sunday morning.
Nashville, Castalia and Red Oak Fire Departments were called to the fire on Sunday, October 13 around 1:30 a.m. in reference to a structure fire at 3315 Sykes Road.
"It was a fully involved fire when the first engine arrived on scene," said Nashville Fire Chief Chris Joyner.

More ...
AMANDA CLARK, GRAPHIC STAFF WRITER
SCIENCE DAY
Red Oak Elementary School hosted its annual Science Day on Friday, October 11. Pictured is Nash County Sheriff's Deputy D. Walker showing students the gear his K-9 partner Dako wears when he is on duty.
More ...
Bark for Life set for Oct. 26 in Nashville


The sixth annual Bark for Life will be held next Saturday, October 26 in Nashville.
Stoney Creek Environmental Park will be the host site for this year's event.
The inaugural Bark for Life was held in Nashville. The second event was in Nashville as well but then moved to Rocky Mount the third year.

More ...
AMANDA CLARK, GRAPHIC STAFF WRITER
NCSU Dean of Agriculture visits Nashville


Nash County Cooperative Extension was one of several stops of an Eastern North Carolina tour hosted by North Carolina State University.
A catfish luncheon was held to welcome the group to Nash County.
Each year, a tour of Eastern North Carolina is done with new faculty members, said Dr. Richard Linton, who serves as the Dean of the College of Agriculture and Life Sciences at N.C. State. Faculty are taken all over the state so they can see for themselves the diversity in agriculture.

More ...
AMANDA CLARK, GRAPHIC STAFF WRITER
Town holds visioning forum


Nashville residents, property and business owners and leaders of the town were given a chance to look towards the future on Tuesday night during a special forum.
The town hosted a Community Economic Positioning/Vision Forum in council chambers on Tuesday, October 15 to receive input that will help the town develop an economic development vision/positioning statement for the town.

More ...
AMANDA CLARK, GRAPHIC STAFF WRITER
Locals inducted into Nash County 4-H Hall of Fame


Three generations of 4-H were honored on Sunday during an ice cream social hosted by Nash County Alumni and Friends.
Linda Fisher, Molly LaHay and Brenda Reges Shaw were each inducted into the Nash County 4-H Hall of Fame during the annual event.
The Nash County Alumni and Friends group was established in 2008. After the group was formed, the first inductees were named to the Nash County 4-H Hall of Fame. Barbara High Tyre serves as the president of the group and announced the latest inductees.

More ...
AMANDA CLARK, GRAPHIC STAFF WRITER
Longtime business holds grand reopening


A long-time business in the Oak Level community hosted a grand re-opening this past weekend.
Nashville's Chamber of Commerce also took part in the celebrations, holding a ribbon cutting last Friday to celebrate the expansion of Harper's Garden and Stone Center.
The business has been around for over 60 years.

More ...
AMANDA CLARK, GRAPHIC STAFF WRITER
Red Oak nails down annual events


Red Oak's town board spent most of its regular monthly meeting planning for upcoming events and improvements to the park.
First, the board voted to accept a bid from Seegars Fence Company to extend the fencing at the baseball fields from the backstop to the dugouts. At last month's meeting, the board discussed the lack of fencing as a possible safety issue. The installation of the fencing will take about a week, sometime possibly in January or February and will cost $10,385.

More ...
JESSICA SMITH, GRAPHIC CORRESPONDENT - 1 opinion posted
Suspect charged with homicide
A 22-year-old man has been charged with murder after a woman's body was found on the side of the road.
Rocky Mount Police were called to the 900 block of Greyson Road on Wednesday, October 9 around 9:45 a.m. in reference to a suspicious event. When officers arrived, they found an unidentified white female lying on the shoulder of the road.
More ...

FOREMAN
Rocky Mount couple nabbed for trafficking heroin
A Rocky Mount couple was arrested last week on charges of trafficking heroin.
The Nash County Sheriff's Office, along with members of the Tar River Regional Drug Task Force, stopped a vehicle on US 64 Alternate at NC 231 last Wednesday around 5:15 p.m. for motor vehicle violations.
More ...
Search warrant leads to drug arrest in Middlesex
Crack and powder cocaine were discovered during a search warrant execution in Middlesex on Monday afternoon.
The Nash County Sheriff's Office and Tar River Regional Drug Task Force executed a search warrant at 13459 Cope Avenue in Middlesex regarding the sale and distribution of crack cocaine around 3:30 p.m. on Monday, October 14.
More ...
Nash County Blood Drives for October 2019
Saturday, October 19 from 10 a.m. until 2 p.m. at Penders Chapel Missionary Baptist Church, 3426 Howard Avenue Ext., Tarboro
Monday, October 28 from 3 until 7 p.m. at Sandy Cross United Methodist Church, 3725 Sandy Cross Road, Nashville
Monday, October 28 from 9:30 a.m. until 2:30 p.m. at Nash Commumity College, 522 N Old Carriage Road, Rocky Mount
More ...
NASH COUNTY SHERIFF'S OFFICE
A runaway juvenile was reported on 10/7/19 at 902 Holland Lane
A call for service was reported on 10/7/19 on Old Carriage Road
An injury to personal property was reported on 10/8/19 at 9684 Stoney Hill Church Road
More ...
NASHVILLE POLICE REPORTS
INCIDENTS
A larceny (shoplifting) was reported on 10/7/19 at Sheetz, 100 E Evans Drive
A larceny of a motor vehicle, found property and breaking and entering a motor vehicle was reported on 10/9/19 at 2256 Barnes Court
More ...
Principals rally to keep graduation at schools


High School principals in the Nash-Rocky Mount Public School District provided input into whether high schools should continue holding graduations at their own schools or move graduations to one, larger site.
The consensus among principals was to keep graduations as is.

More ...
AMANDA CLARK, GRAPHIC STAFF WRITER
Citizens discontent with Envirolink's service


One resident is livid over what Envirolink workers did to gravesites at a local cemetery.
Spring Hope resident Ruby Davis said she visited Oakdale Cemetery to remove flowers from off of her family members' graves on October 4th, but they were nowhere in sight.

More ...
KENDRA JONES, GRAPHIC CORRESPONDENT
House Representative hosts forums in Nash County


Representative James Gailliard recently hosted three town hall forums in Nash County to provide information on what is happening in Raleigh.
The forums are part of a promise Gailliard made when elected to host town hall forums to help constituents stay connected. Gailliard said during his campaign, he promised to host 20 town hall forums.
"One of my goals is to bring Raleigh to you," Gailliard said.

More ...
AMANDA CLARK, GRAPHIC STAFF WRITER
First Responders Appreciation Dinner is November 12th
The Jim Dickens First Responders Appreciation Dinner scheduled again for Rocky Mount Event Center, Tuesday, November 12.
First Responders in Edgecombe and Nash Counties are being invited to attend the second Jim Dickens First Responders Appreciation Dinner scheduled in the Nash Room of the Rocky Mount Event Center on Tuesday, November 12 from 5:00 - 8:00PM.
More ...
Christ Christian to host appreciation service
Christ Christian Center will honor Pastor Jackie R. Richardson during a special Appreciation Service on Sunday, October 29 at 2 p.m.
Richardson became the pastor of Christ Christian Center Holy Church after the demise of her husband, Pastor Willie Earl Richardson.
However, the appreciation service is not only her pastorship of the church but about her being a pillar in the Nash County communities.
More ...
Unchecked sin is like a silent and deadly disease


"Do not be deceived, God is not mocked; for whatever a man sows, that he will also reap." (Galatians 6:7)
We all know what the Bible teaches: "For the wages of sin is death." (Romans 6:23) Yet, we often don't equate chronic everyday sin as something that will eventually lead to spiritual death. The truth is sin can often be a silent killer, one that doesn't show the damage it can do until it's in its late stages.

More ...
MIKE RUFFIN
Intersections: God and Life


In recent days, I've been considering the idea of "trusting in the Lord." It seems it can be easy for many to say, "I trust God" or be emotionally aroused when someone mentions the idea of removing "In God we trust" from our US currency. For me one of my favorite biblical texts is Proverbs 3:5-6, but what exactly is trust all about?

More ...
CARLYLE HALL
SANDY CROSS NEWS


News from Sandy Cross United Methodist Church - The United Methodist Men of Sandy Cross United Methodist Church will be having a barbeque chicken sale and the United Methodist Women will have a bake sale on October 18 from 11 a.m to 6 p.m at the Coopers Ruritan Club. The baked goods will be homemade by the ladies of Sandy Cross United Methodist Church.

More ...
EMILY SILLS
Luke's Word for the Week


Hi Fellow Followers and Saints! What follows is an excerpt from a sermon I preached this past Sunday, October 13th, I pray it would nudge you to ask of the Lord, "Lord, teach me how to pray."
Jesus taught the disciples how to pray, not because he was frustrated with them. Jesus taught his disciples how to pray because they asked of him, "Lord teach us to pray" (Luke 11:1).

More ...
LUKE WHITEHEAD
RED OAK NEWS


Women in Action met at Red Oak Baptist Church on Tuesday, October 8. They enjoyed a spaghetti supper and then had their meeting. Maureen Williams had the program, Vicki Lassiter shared an article on unwrapping spiritual gifts, and Virginia Perry led the Prayer Patterns and prayed for the missionaries. This month's mission action project was the donation of filled backpacks for the Appalachian Christmas Outreach. Over 9 backpacks were donated.

More ...
SUZY PEARCE
PEACHTREE COMMUNITY NEWS


What a wonderful Sunday at Peachtree Baptist Church.
The sanctuary flower arrangement Sunday was presented to glorify God by Mary Jane May in honor of the Peachtree Sanctuary Choir.
SUNDAY SCHOOL GATHERING:
Jerry Hobgood welcomed the Sunday School gathering and led the song, "In The Garden."

More ...
FRAN BUNN
The sad tale of a failed tomato crop


Perhaps the Texas country poet and legendary balladeer Guy Clark summed it up as well as anyone, with a catchy tune:

"Ain't nothin' in the world that I like better
Than bacon & lettuce & home grown tomatoes
Up in the mornin' out in the garden

More ...
Mike Brantley
Coaching gig taught me valuable lessons


This is my third year helping out with little people soccer.
Two of those years, I served as an assistant coach, though I use that term loosely, and the other year I was "the" coach of a group of three-year-olds.
I got involved simply because there was a need.
I went into the whole coaching thing terrified.

More ...
Amanda Clark
Backward Glances


This photo originally published in The Nashville Graphic on June 26, 1969. Students from Nashville were registering with Coach Enid Drake for the Louisburg College Basketball Camp. Pictured, left to right, are: Rand Ward, Phil Valentine, Craig Smith and Tyrell Bunn.

More ...
A PICTORIAL LOOK INTO THE PAST

ANOTHER BIG NIGHT. Southern Nash High School senior running back Quinton Cooley was exceptional last Friday night for the Firebirds during their road football victory against Big East Conference foe Wilson Fike.

SN IN THE CLUTCH


WILSON -- Even after watching his club roll through an above-average non-league schedule, Southern Nash High School football coach Brian Foster knew things were eventually going to get much tougher for his Firebirds -- especially when the Big East Conference slate kicked off.
It took only one game into the league worksheet for that philosophy to be realized as the undefeated Firebirds were tested by the homestanding Wilson Fike Golden Demons last Friday -- only to rally in the fourth quarter to achieve a clutch 36-20 triumph at Bedgood Stadium on the Fike campus.

More ...
Staff Reports

SERVE IT UP. Southern Nash senior Leah Longmire delivers a serve for the Ladybirds during last Thursday's home spike meeting with league foe Franklinton.

SNHS' Waiting Game


STANHOPE -- Two teams on different missions met last Thursday when Southern Nash entertained Franklinton as part of the annual Senior Night festivities for the Ladybirds' volleyball squad.
While honoring the upperclassmen was certainly a priority, SNHS coach Melanie Hicks was also concerned as to whether her club's overall body of work would be good enough to earn a spot in the Class 3-A State Playoffs.

More ...
GEOFF NEVILLE, Graphic Sportswriter

MATCH ACTION. His and Hers Barber Shop and Salon (left) against Lauren Fassnacht Photo and Video (right) in a Town of Nashville soccer event.

SOCCER STARS


NASHVILLE -- The Town of Nashville Youth Soccer season at Glover Park is halfway over now and the players' skills have improved as the season has progressed.
This past Saturday was another beautiful day with great soccer.
The 8U age division saw some very close games.

More ...
Staff Reports
Northern takes out Warriors


RED OAK -- Last season, Northern Nash High School's football team lost a heartbreaking Big East Conference opener to the Hunt Warriors.
This year, after taking an early lead, the Knights made sure to keep their foot on the pedal for four quarters.
Northern opened up conference play by knocking off the visiting Warriors 28-14 last Friday night, pushing its record to an impressive 5-2 as the team prepares for the rest of its Big East slate.

More ...
CHANCE PUCKETT, Correspondent
Lady Knights drop matches


RED OAK -- Northern Nash High School's volleyball team started out hot last Tuesday in the school's annual "Pink Out" game against Wilson Fike, but the Lady Knights' slipped in the final three sets to drop their record to 1-16 on the season with the 3-1 loss.
Northern started out with a commanding 25-15 win in the game's first set, using a loud environment and home crowd to their advantage to gain momentum immediately.

More ...
CHANCE PUCKETT, Correspondent
COUNTY SOCCER UPDATE


NASH COUNTY -- Here are updated Nash County Recreation & Senior Services Fall 2019 Youth Soccer Scores:

More ...
Staff Reports
NCWC wins on-campus game


ROCKY MOUNT -- The North Carolina Wesleyan College Football team cruised to a 44-7 homecoming win over Greensboro College last Saturday in the first-ever football game played on campus at the Vernon T. Bradley Complex.
Wesleyan scored 37 points in the first half on 5 touchdowns as the Bishops raced out to a 30-0 lead midway through the 2nd quarter.

More ...
Staff Reports
Nash County rec offering signups


NASH COUNTY -- Registration for Nash County Parks and Recreation Department Youth Basketball & Futsal (Indoor Soccer) Leagues will run through November 15 this year.
The Youth Basketball program will accommodate players from the ages of 4-18 years old, whereas the Futsal (Indoor Soccer) League will be for participants ages 4-15.

More ...
Staff Reports
Rocky Mount blasts Franklinton


ROCKY MOUNT -- The Rocky Mount Gryphons, with some help from the Franklinton Red Rams, tallied 42 unanswered points last Friday as part of a 42-0 victory over FHS during the Big East Conference football opener for both clubs at Gryphon Stadium.
With the loss, the Red Rams fell for the fifth time in a row and are now 2-5 overall to go with a 1-0 mark in Big East Confeence play.

More ...
DAVE BUCK, Correspondent
SPIKING FOR A GOOD CAUSE
PINK MATCH. Nash Central Middle School's Volleyball Team hosted a Pink Out Dig Out Cancer match last week against Rocky Mount Middle in Tri-County Conference action. All proceeds from the event were donated to the Susan G. Komen Foundation in an effort to support finding a cure.
More ...
STURDY DEFENSE
Several Southern Nash defenders team up to make a tackle during last Friday night's road football victory at Wilson Fike in the Big East opener for both squads.
More ...