Subscribe/Access
Advertisements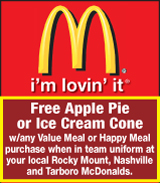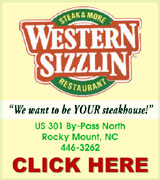 Sections
Member Options
Back
NRMS realizes loan was unnecessary


Interim Superintendent Dr. Del Burns ended the meeting of the Nash-Rocky Mount Board of Education on a good note Monday night.
The school system will be able to immediately pay back the $800,000 it borrowed from Nash County.
Actually, the school system never needed the money in the first place, Burns told school board members.

More ...
AMANDA CLARK, GRAPHIC STAFF WRITER

ARRINGTON
Two men nabbed for drugs at Nashville home
A convicted felon on probation is facing drug charges after drugs were found in his Nashville home.
The Nash County Sheriff's Office Narcotics Units, with assistance from Patrol Platoons A and C, executed a search warrant on Friday, October 4 at 7229 Cedar Grove School Loop Road in reference to the sale and distribution of crack cocaine.
More ...
SHOWCASE
High School Marching Bands gathered Saturday night in unity for the Nash-Rocky Mount Public Schools High School Marching Band Showcase under the traditional theme of "Let the Music March Free." Northern Nash, Southern Nash, Nash Central and Rocky Mount High Schools performed their 2019-2020 marching season shows. The event concluded with all four schools performing together.
More ...
Nashville hopes for public input
Nashville residents, property and business owners will gather on Tuesday to develop an Economic Positioning Statement/Vision for the Town of Nashville.
The forum will be held from 6 to 8:30 p.m. on October 15 in Town Council Chambers, located in Cooley Library at 114 W Church Street in Nashville. The forum is open to the public.
More ...
Castalia man convicted of sex offenses
A Castalia man was sentenced to up to 29 years in prison after being found guilty of sex offenses.
A jury found Jalen Tiwayne Brake guilty of first-degree forcible rape and second-degree sexual offense in Wilson County Superior Court last week.
During the trial, the prosecution presented evidence that Brake and the victim were attending a trail ride on October 7, 2017 when around midnight, they walked to a secluded area away from the dance floor.
More ...
Nashville swears in finance director


Nashville swore in its new finance director last Tuesday at town council's regular meeting.
Samantha Sanchez, of Franklinton, was sworn in by Mayor Donald Street at the start of the meeting. "We're very happy to have you here with us," Street told Sanchez.

More ...
AMANDA CLARK, GRAPHIC STAFF WRITER

Nashville Elementary School recently held a hat day to raise money for second-grade student Miasia Perry.

Nashville Elementary rallies around injured student


Nashville Elementary School is showing support for a student injured last month in a drive-by shooting.
The school hosted "hat day" last Thursday as a fundraiser for seven-year-old Miasia Perry, a second grader at the school.
Miasia Perry was shot on the evening of September 5 while playing on a hoverboard in the living room of her Old White Oak Road home.

More ...
AMANDA CLARK, GRAPHIC STAFF WRITER
Former commissioner speaks out on jail conditions


The condition of the Nash County Detention Center was the topic of discussion during public comments on Monday morning at the Nash County Commissioner's regular meeting.
Former Nash County Commissioner Danny Tyson said he recently had the opportunity to tour the facility after seeing numerous articles and broadcasts about the jail's condition.

More ...
AMANDA CLARK, GRAPHIC STAFF WRITER
South Carolina woman continues search for dog


A South Carolina woman is desperately searching for her dog that went missing after an accident on I-95 in Nash County.
Jessica Davies was involved in a car accident Labor Day weekend on I-95 North.
Davies was traveling from Charleston to Park Ridge, New Jersey to visit her parents. She said she left Charleston close to 11 p.m.

More ...
AMANDA CLARK, GRAPHIC STAFF WRITER

PUMPKIN PARADE -- Youth toss candy from the Happy Cent Farm float during the Pumpkin Festival Parade on Saturday.

Spring Hope hosts 48th Pumpkin Festival


Saturday was the perfect fall day for the 48th annual Spring Hope Pumpkin Festival.
Spring Hope Chamber of Commerce President Allen Barbee said he attributes the weather to having such a great event.
"The weather was the saving grace," he said. "It was so pleasant. Everybody talked about how nice the weather was. "

More ...
AMANDA CLARK, GRAPHIC STAFF WRITER
Grand jury return indictments on Rocky Mount men
Nine Rocky Mount men were indicted last week on charges that include firearm, drug and robbery offenses.
A federal grand jury sitting in the Eastern District of North Carolina returned indictments against the following:
Kelvin Jermaine Davis, 43, of Rocky Mount, for charges of being a felon in possession of a firearm.
More ...
Bailey man faces drug charges


A Bailey man was charged with drug offenses after a search warrant was executed at his Bailey home.
The Nash County Sheriff's Office Narcotics Unit, along with the Wilson Police Department Narcotics Unit and Port Team conducted the search warrant at 13919 Old Smithfield Road in Bailey last Wednesday, October 3 at 5:49 p.m.

More ...
AMANDA CLARK, GRAPHIC STAFF WRITER
RMPD seeks information on Tuesday morning homicide
Rocky Mount Police are investigating a homicide that occurred early Tuesday morning.
Officers responded around 3:40 a.m. on October 8 to Aqua Court in reference to a possible shooting. When they arrived, officers learned that a male had been shot inside the home.
More ...
RMPD investigates shooting
Rocky Mount Police are investigating a shooting on E. Grand Avenue last Friday night.
Officers responded to the McDonald's at 2640 Sunset Avenue in Rocky Mount around 7:30 p.m. on Friday, October 4 in reference to a possible shooting. When officers arrived, they learned a male victim had been shot in the 800 block of E. Grand Avenue in Rocky Mount and had been driven to the McDonalds.
More ...

Pictured above, Angela Norfleet, at right, has a book signed by Etaf Rum, at left, last Thursday during the Empty Chair event hosted by My Sister's House.

My Sister's House hosts annual Empty Chair fundraising event


Forty-four people have lost their lives to domestic violence so far in North Carolina this year.
And there's still three months left to go.
Those lives were remembered last week at My Sister's House annual Empty Chair event, held at Nash Community College.

More ...
AMANDA CLARK, GRAPHIC STAFF WRITER
NASHVILLE POLICE REPORTS
INCIDENTS
A larceny was reported on 9/30/19 at Sheetz, 100 Evans Drive
An intoxicated and disruptive was reported on 10/2/19 at 1001 Eastern Avenue
More ...
NASH COUNTY SHERIFF'S OFFICE
A call for service was reported on 9/29/19 at 6485 Harpy Drive
A misdemeanor larceny was reported on 9/29/19 at 10601 E NC 97
A common law forgery and fraud was reported on 9/30/19 at 5230 Nancy's Way
More ...
Gov. appoints local man to commission
Governor Cooper recently announced appointments to boards and commissions across the state.
"State boards and commissions make critical decisions about the lives of North Carolinians every day," Gov. Cooper said. "I appreciate these appointees for their service and helping our state move forward."
More ...
Military news
U.S. Air Force Airman 1st Class Jarvis D. Battle graduated from basic military training at Joint Base San Antonio-Lackland, San Antonio, Texas.
The airman completed an intensive, eight-week program that included training in military discipline and studies, Air Force core values, physical fitness, and basic warfare principles and skills.
More ...
Donation
The Coopers Ruritan Club presents a check to Ken Powell of the Coastal Plains Beekeepers. This donation will go to the NC Beekeeping Lab in Raleigh to help fund a new lab facility. Currently the lab is housed in a dilapidated house in Raleigh. North Carolina is one of the largest group of beekeepers in the country.
More ...
Donation
Momeyer Ruritan Club members Demo Tant, far left, and Scotty Winstead, far right, present a donation from the Momeyer Ruritan Club to April Baker, of A Touch of The Father's Love Food Bank in Spring Hope.
More ...
History Teacher of the Year
Renny Taylor, AP and Honors American History Teacher at Nash Central High School, was selected as the Sons of the American Revolution High School History Teacher of the Year for 2018-2019. Among the items given to Mr. Taylor was the opportunity to attend the Colonial Williamsburg Teacher Workshop in Williamsburg, VA.
More ...
NC State Highway Patrol holds 148th graduation ceremony
The State Highway Patrol ceremoniously welcomed 42 new troopers at a graduation held for the 148th Basic Highway Patrol School. The ceremony ended 27 weeks of rigorous training preparing cadets for a fulfilling career of service to the state of North Carolina. This class was officially sworn in on September 4, as the approach of Hurricane Dorian prompted the need for a rescheduled formal ceremony.
More ...
Creekside Music Series
Betty Strickland celebrated her 82nd birthday at the Creekside Music Series on Saturday, September 21. Strickland received a happy birthday shotout from members of the band, Charlie.
More ...
PANCAKE BREAKFAST
Nashville's Lions Club hosted a Pancake Breakfast at the Highway 55 Diner in Nashville on Saturday, September 28. Pictured above, Huberta Foreman serves a pancake meal during the fundraising event.
More ...
Nash County Blood Drives for October 2019
Friday, October 11 from 11 a.m. until 4 p.m. at Englewood Presbyterian Church, 100 South Englewood Drive, Rocky Mount
Tuesday, October 15 from 1:30 until 7 p.m. at Stony Hill FWB Church, 9649 Stoney Hill Church Road, Middlesex
Tuesday, October 15 from 3:00 until 7 p.m. at Momeyer Baptist Church, 4967 Momeyer Way, Momeyer
More ...
Breast Cancer "Lunch & Learn" is Friday
Nash UNC Health Care is hosting a Lunch & Learn event in honor of Breast Cancer Awareness month on Friday, October 11th, from 12:30 to 1:30 p.m. The Lunch & Learn will be held in the Mayo Surgery Pavilion's Conference Center located on the Nash UNC Health Care campus.
"Everyone knows that October is breast cancer awareness month, but not everyone knows the effect breast cancer has right here in our own community.
More ...
KAB seeks volunteers
Keep America Beautiful of Nash and Edgecombe Counties is seeking volunteers for litter cleanup. According to Stephanie Collins, Keep America Beautiful coordinator, cleanup efforts are needed now more than ever as litter has increased along areas like US 301, Thomas A. Betts Parkway and more.
In addition to increasing litter, these highways, which are high visibility areas maintained by the NC Department of Transportation (NCDOT), no longer have litter pickup by contractors due to NCDOT budget constraints.
More ...
Nash County Animal Friends' Notebook


The following is a plea written by Shelley Milburn of Promoting Animal Welfare in NC. This is one of the typical stories that post almost weekly on Facebook. Taking care of Nash County homeless pets is why our groups joined forces to fight for the ones without a voice.
"A pitiful girl was picked up out of a ditch by a kind person and brought to the safety of Nash Co Animal Control.

More ...
Carol Vierela
Right between the eyes


"For the Lord loves the just and will not forsake his faithful ones..." (Psalms 37:28)
We often think that God is never around for the little things. That's mainly because the only time we ever look for him is when hard times come our way. The truth is God is always with us and reveals himself to us in small ways, too.

More ...
Mike Ruffin
RED OAK NEWS


The Adult 1A Sunday School Class of Red Oak Baptist Church held a Spaghetti Dinner fundraiser on Friday, October 4. With everyone's help they were able to sell all 500 tickets and prepared over 400 plates! All proceeds will go to help with medical bills for Shane Bass.
Welcome to the new members at Red Oak Baptist Church, James and Dakota Newton and Maddie Shingleton. Maddie will be baptized at the morning worship on October 20!

More ...
SUZY PEARCE
Luke's Word for the Week


When we open our Bibles, we realize quickly that our story does not begin with a wrathful God, nor a fallen, sinful humanity. No, the Bible begins with a loving, creating God who is in a perfect fellowship of love, which we now know as the Trinity (I say this a lot, because it can't be said enough).
God, being the very essence of love, desires to share his love - not because he needs to be loved back, God has no need, but because it's the heart of God to love and share his love.

More ...
LUKE WHITEHEAD
SANDY CROSS NEWS


KIC Men's Fellowship had their meeting and breakfast on October 5.
On Sunday October 6, service at Kingdom International was opened with announcements, prayer, and offering by youth pastor Steve Massey. The Praise Team led several selections.

More ...
EMILY SILLS
Tackle the Tar nets $27K for NCC Foundation
The Nash Community College Foundation was recently awarded $27,000 by Rotary Club of Rocky Mount from proceeds raised at Tackle the Tar. Rocky Mount Rotary Club #6122 raised a record breaking $81,000 at the 4th Annual Tackle the Tar 5K Race held May 18, 2019. Tackle the Tar is a unique 5k obstacle course race and family fun day that raises money for scholarships for students attending Nash Community College, Edgecombe Community College and North Carolina Wesleyan College. Nash Community College students have benefited from a total of $76,000 in scholarships since the event began.
More ...
PEACHTREE COMMUNITY NEWS


What a wonderful fall like Sunday at Peachtree Baptist Church.
The sanctuary flower arrangement Sunday was presented to glorify God Ann Browder in loving memory of her husband, Bobby Browder, Sr.

More ...
FRAN BUNN
Election cycle begins, tone needs to change


By now, the election results from Rocky Mount should be settled. One has to look no further than the local press or social media to see how things have gotten.
Nashville and other towns have elections coming up that are contested, but have much less heated rhetoric.
The presidential election of 2020 is already nasty. It will get worse. Much worse.

More ...
Mike Brantley
There is always room for your voice


Not many small towns in Eastern North Carolina can boast the success we continue to have with buildings remaining occupied and the stability of our businesses in downtown Nashville.
However, as the old saying goes -- time changes everything.

More ...
Jo Anne Cooper
It's time to end the war


Dear Editor:
Get us out of Afghanistan. An 18-year long war is ridiculous. World War II was over and done with in four years!
The taxpayers have paid a fortune to build and rebuild that desdate country.

More ...
LETTER
Backward Glances


This photo originally published in The Nashville Graphic on July 3, 1969. These three gentlemen defied the heat to jog around the Nashville ball park each afternoon. Left to right: J.A. Glover, Don Glisson and Sidney Weeks.

More ...
A PICTORIAL LOOK INTO THE PAST

THIS ONE IS COMING YOUR WAY. Nash Central Middle School's quarterback attempts a screen pass during Monday afternoon's road conference football triumph against the Rocky Mount Ravens.

A CONVINCING WIN


ROCKY MOUNT -- Hindsight can cause a coach's hair to go prematurely gray, but Nash Central Middle School football skipper Matt Lancaster can't help but think his squad should be undefeated through three games of the 2019 campaign.
Two weeks ago, Central won a tight game at Phillips and followed those heroics up Monday with a one-sided 36-6 triumph over host Rocky Mount Middle in a rescheduled contest from last week.

More ...
GEOFF NEVILLE, Graphic Sportswriter

HERE COMES THE HEAT. Northern Nash's Meredith Vaughan blasts a forehand return during last Thursday's home girls tennis match versus Rocky Mount.

NNHS Takes 3rd Spot


RED OAK -- Northern Nash's girls tennis building project took a huge step in the right direction this season as the young Lady Knights, with only one senior, posted an impressive 10-4 record.
While that mission was accomplished in strong fashion by Coach Elaina Ingram's club, the next upward goal is obvious -- the Lady Knights now have to find a way to crack into the Top-Two of the competitive Big East Conference standings.

More ...
GEOFF NEVILLE, Graphic Sportswriter

TERMS OF ADVANCEMENT. Southern Nash's Jared Gonzalez moves the ball through the midfield during Monday's road match versus Franklinton.

CLUTCH VICTORY


FRANKLINTON -- Franklinton had an opportunity Monday to create some space for itself in the always-competitive Big East Conference boys soccer standings.
But once again, the league's parity ruled the day as Southern Nash spoiled the potential Franklinton party with a 1-0 triumph over the Red Rams in a key Big East showdown at the FHS Football Field.

More ...
GEOFF NEVILLE, Graphic Sportswriter
Knights earn BE victories


RED OAK -- Justin Marshall was once again the big winner for Northern Nash during last Wednesday's latest Big East Conference Cross Country Meet.
Marshall, a junior, continued his consistent string of first-place finishes, and was able to do so at NN's picturesque home course at Red Oak Middle School.
Marshall brought home a victory with a time of 18:43.88 over the 3.1-mile layout -- almost 17 seconds ahead of the second-place performance of Southern Nash's Shamir Small.

More ...
Staff Reports
NN readies for league


RED OAK -- Off to its best start since the 2016 season, Northern Nash isn't planning on its early-season football success stopping anytime soon.
While the Knights are happy with their 4-2 start, which includes wins over East Wake, Beddingfield, Nash Central and Bunn, Northern looks to compete for the Big East Championship in the next coming weeks, which won't come without a challenge.

More ...
CHANCE PUCKETT, Corrspondent
COUNTY SOCCER UPDATE


NASH COUNTY -- Listed are updated Nash County Recreation & Senior Services Fall 2019 Youth Soccer League Scores:

More ...
Staff Reports
NC Wesleyan a winner on road


LAGRANGE, GA. -- The North Carolina Wesleyan College football team put on a big offensive showing on the road at LaGrange College (Ga.) last Saturday, scoring 52 points en route to a 52-35 win to open USA South Conference play.
The Bishops began the game with a 14-play 72-yard drive ending with a 2-yard touchdown pass from senior QB Donielle Totten to senior tight end Ben Dorfman.

More ...
Staff Reports
History Is Made


STANHOPE -- Even with his team facing a 17-stroke deficit in the overall standings, Southern Nash High School girls golf coach Todd Brewer felt plenty of optimism heading into last Monday's regular season finale in the Big East Conference.
Brewer had reason to feel good, as the expanded 18-hole event allowed his squad more of an opportunity for a comeback as opposed to the league's usual 9-hole format.

More ...
GEOFF NEVILLE, Graphic Sportswriter
SN Begins Title Defense


STANHOPE -- It's become almost an annual ritual to watch the Southern Nash Firebirds roll to the Big East Conference football championship -- but it's something SNHS veteran head coach Brian Foster will never take for granted.
That is especially true this season as the Big East looks to be deeper and better all-around as league action opens across the area this Friday night.

More ...
GEOFF NEVILLE, Graphic Sportswriter
Clubs Duel At Glover


NASHVILLE -- The Town of Nashville Recreation Department Youth Soccer League U-12 teams took the field first this past Saturday at Glover Park in another tight game.
Great defense on both teams lead to only one goal being scored by Connor Byrd on MGD Realty.

More ...
Staff Reports
AROUND END
Elijah Harrison picks up yardage for Nash Central Middle School during Monday afternoon's road victory against Rocky Mount in football action.
More ...
MIDFIELD MIXUP
Southern Nash's Jared Gonzalez (5) collides in the midfield with a Franklinton player during Monday evening's key Big East Conference boys soccer showdown at FHS.
More ...
SENIOR MOMENT
Members of the Northern Nash High School girls tennis team surround senior Nisaja Thomas -- the lone upperclassman on this year's team -- during Senior Day festivities at the NN Courts.
More ...
Rocky Mount man to compete in "The Ultimate Cowboy Showdown"
A Rocky Mount man is among 12 self-proclaimed cowboys who will compete in a competition that will premiere on television October 14.
Jason Davis will appear on "The Ultimate Cowboy Showdown" Monday night. Country music icon Trace Adkins serves as the host for the event.
Davis believes he was born to be a cowboy.
More ...
Twelfth Night comes to Imperial Centre this weekend
An all-local production of William Shakespeare's "Twelfth Night" will be performed Oct. 10-13 at the Imperial Centre for the Arts and Sciences.
"Twelfth Night" is a comedy production for all ages about a girl who finds herself in the middle of a love triangle and mistaken identity.
The cast is comprised of 22 local actors and actresses, ranging from 12 through 67 years of age.
More ...
Rocky Mount to host first Food Truck Invasion
The inaugural Downtown Rocky Mount Food Truck Invasion, sponsored by the city of Rocky Mount's Community and Business Development Department, will take place Saturday, Oct. 26, 2019 from 4-9 p.m., rain or shine.
The event will be located at NE Main St. between Thomas and Goldleaf Street, in front of the Rocky Mount Event Center and on the historic Douglas Block.
More ...
Ricky Skaggs to perform at Louisburg College
A 15-time Grammy winner and newly inducted member of the Country Music Hall of Fame, Ricky Skaggs has made it his mission in life to introduce a new generation of listeners to bluegrass and traditional American music. The legendary bluegrass musician will perform alongside Kentucky Thunder, his band of virtuoso pickers, at Louisburg College on Friday, October 11.
More ...