Subscribe/Access
Advertisements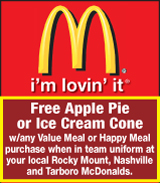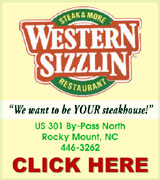 Sections
Member Options
Back
New name proposed for MSD


Nashville's Municipal Service District (MSD) will soon have a new name.
The Advisory Board met on Tuesday morning for a workshop to discuss the organization's mission and a potential change in name.
Though only two board members of the advisory board attended the meeting, the workshop went on since no action was required. A few members of the community attended the meeting and were able to provide input.

More ...
AMANDA CLARK, GRAPHIC STAFF WRITER
Town Council okays curbside pick up for downtown business


Nashville's Town Council approved a request last week to allow a local coffee shop a 60-day trial period for curbside pick up.
The request was unanimously approved last Wednesday during the board's agenda meeting.
Corner Coffee Cafe requested use of the first parking spot on the west side of S. Boddie Street near the side door of the business to be used as a online or phone-in curbside pick-up space.

More ...
AMANDA CLARK, GRAPHIC STAFF WRITER

Heidi Brown leans in to pet one of several horses at the horse farm of Janet Taylor and Glenn Yasser on Friday.

Nash hosts Horse Farm Tour


Horse lovers had a chance to visit area horse farms on Friday during the second annual "Nash County Horse Farm Tour."
This year, 44 participated in touring the three horse farms, two just outside of Red Oak and one in Rocky Mount.
Kelsey Lichtenwalner, Nash County Extension Agent for Livestock, said she was pleased with the participation this year.
"I think it was a successful second year," she said. "We almost doubled in participation."

More ...
AMANDA CLARK, GRAPHIC STAFF WRITER

OTIS CHANCEY

"Library Man" earns notable state award


Nashville's own "Library Man" was recognized on Tuesday night by Nashville's Town Council.
Otis Chancey was recently named the winner of the 2019 William H. Roberts Public Library Distinguished Service Award. He will receive $500 and a plaque. The library will also receive $500 and a plaque.

More ...
AMANDA CLARK, GRAPHIC STAFF WRITER

Beverly Wood chats with Charles Brantley last Wednesday at the annual Veterans Luncheon, held at the Middlesex home of Brenda Stallings. This is the 11th year the luncheon has been held to honor veterans.

Annual Veterans Luncheon salutes locals


It's an event many veterans look forward to every, single year but no one looks forward to it more than Brenda Stallings and her many volunteers.
Stallings' annual Veterans Luncheon was held last Wednesday in Middlesex, with just over 100 veterans in attendance.
Veterans were treated to fried catfish for lunch, along with hush puppies, slaw, potatoes and homemade dessert.

More ...
AMANDA CLARK, GRAPHIC STAFF WRITER
Pumpkin Festival is this weekend!


Spring Hope's Chamber of Commerce crowned its Pumpkin Festival Queens on Saturday night, signaling the official start of the annual Pumpkin Festival.
This year's Pumpkin Festival Queen is Sarah Howell. Little Miss Pumpkin Queen is Annie Grace Manning.
The first runner-up for the Pumpkin Queen title was Taylor Hall while Grayson Eleanor Moss was the runner-up for the Little Miss Pumpkin Queen title. Rachel Perry received the Miss Congeniality Award.

More ...
AMANDA CLARK, GRAPHIC STAFF WRITER
NPD makes drug arrest
Nashville Police recently arrested a man for selling drugs.
Members of the department's narcotics unit were conducting surveillance on a suspected drug target around 7 p.m. on Friday, September 27. Officers observed the suspect, Tyrone Arrington, conduct a sale of narcotics.
More ...
Absconder nabbed for counterfeit drugs
The Nash County Sheriff's Office arrested a man last week and charged him with selling a counterfeit controlled substance.
Deputies with the Sheriff's Office Narcotics Unit received information on September 24 that Justin Daniel Hamlet, would be in possession of crystal meth.
During surveillance, officers observed Hamlett exit his vehicle and go into the Hardee's Restaurant in Bailey.
More ...
NCSO catches man wanted for carjacking in Durham
The Nash County Sheriff's Office apprehended a man last week wanted in a carjacking in Durham.
Deputies attempted to stop a vehicle on I-95 for failing to move over for an emergency vehicle. The vehicle failed to stop and a chase began.
The suspect's vehicle traveled at speeds over 100 miles per hour. The chase traveled westbound on US 64 and continued into Wake County when the driver lost control and crashed in the median.
More ...
NASHVILLE POLICE REPORTS
INCIDENTS
An uttering a forged instrument was reported on 9/23/19 at Food Lion, 131 Nashville Commons Drive
An obtaining money/property by false pretense was reported on 9/25/19 at 1205 Eastern Avenue
A failure to appear was reported on 9/25/19 at 100 Evans Drive
More ...
NASH COUNTY SHERIFF'S OFFICE
An assault inflicting serious injury was reported on 9/22/19 at 1789 Rose Boulevard
A larceny of a motor vehicle was reported on 9/22/19 at 12928 W Old Spring Hope Road
Found property was reported on 9/22/19 at 2808 S Wesleyan Boulevard
More ...
Senior Center seeks meal delivery partnerships


The Nash County Senior Center is reaching out to area businesses to help with its Home Delivered Meals program.
The center recently started a new program called BEST, or Businesses Empowering Seniors Together. Wendy Perry, who serves as a Senior Services Coordinator, said the program was designed to encourage businesses to get involved with the community and to allow employees to help deliver meals.

More ...
AMANDA CLARK, GRAPHIC STAFF WRITER
Carver receives prestigious award
Nash Community College President, William S. Carver, II, Ed.D. has been awarded the Order of the Long Leaf Pine, one of the state's most prestigious civilian honors. The announcement was made by Nash Community College Board Chair, Paul Jaber, during the College's Employee Recognition Ceremony held Thursday, September 26.
More ...
Missing Dog
A South Carolina family is searching for their pet after an accident on I-95 at the 125 mile marker over Labor Day weekend. Jessica Davies' hit a car stopped in the right lane. Her vehicle rolled and during the accident, Davies' dog Merle got out of the vehicle. Davies has since been searching for the three-year-old Beagle/Hound mix. Anyone with information can call 551-427-4327 or 252-567-0151.
More ...
Nash Central alumni to host conference
The Upper East Coast Chapter of Nash Central Senior High School Alumni Association will host the 2019 mid-year conference October 4, 5 and 6 in Rocky Mount and Nashville.
The event will kick off on Friday, October 4 at 6 p.m. in the Hospitality Room at the Country Inn and Suites.
More ...
Nash County Animal Friends' Notebook


Biting...
Even the best natured and gentle dog may bite, if certain things happen. I know this very well, since I have one that bites. He is scared of nail trimming, brushing or a surprise touch. His fear came from being a puppy mill dog, isolated with little human contact until he was several years old. We had to use a muzzle on him initially, but time went by, he has became trusting. If you can get a puppy, it is much easier to train although it is a lot of work.

More ...
Carol Vierela
Nash County Blood Drives
Monday, September 30 from 10:30 a.m. until 2:30 p.m. at Edgecombe Community College, 2009 West Wilson Street, Tarboro
Thursday, October 3 from 3 until 7 p.m. at the Spring Hope Community Building, 104 Community Street, Spring Hope
Thursday, October 10 from 12 until 6 p.m. at Englewood Presbyterian Church, 100 South Englewood Drive, Rocky Mount
More ...
RED OAK NEWS


Saturday was a great day for a family reunion! Dorothy, Audrey, and Suzy Pearce traveled to Henderson for their annual Patterson Family Reunion at South Henderson Pentecostal Holiness Church on September 28. They enjoyed visiting with family and having a delicious lunch together.
Women in Action will meet at Red Oak Baptist Church on Tuesday, October 8 at 6:30 pm.

More ...
SUZY PEARCE
Spiritual growth comes from life experiences


"He sighed deeply and said, 'Why does this generation ask for a miraculous sign? I tell you the truth, no sign will be given to it'." (Mark 8:12)
When I was in graduate school, I took a course in organization theory. In the early weeks of the semester, I realized that I did not have so much as a clue as to what that course was about. I didn't understand the readings and found the lectures to be even more confusing.

More ...
MIKE RUFFIN
Intersections: God and Life


No matter our circumstances, God responds when we turn to Him. When we are in a right relationship with Him and walking in obedience and submission, He determines the limits of our trials and suffering. This doesn't mean He'll remove all pain and trouble from our lives, but He guards us through it. And even if we lose our lives, He promises that we will immediately be in His presence (2 Cor. 5:8).

More ...
CARLYLE HALL
Luke's Word for the Week


Alright, fellow followers, let's keep digging into our Storyline of Scripture articles. Today, we are looking at the Church. As a reminder, here is our storyline: Creation, Fall, Israel, Jesus, Church, New Creation.
So, what does it mean to be a church? Nice sanctuary? Good numbers? Country club feel? Warm fuzzies? A place where you "get something out of it"? A place to give money so you can get a tax break? I'm not so sure any of those are the point of being church.

More ...
LUKE WHITEHEAD
SANDY CROSS NEWS


The Kingdom International Church Young At Heart gathered on Saturday evening 9/28. Brenda Braswell brought the devotion. There was a covered-dish supper including bbq chicken, ham, boiled potatoes, stuffed peppers, butterbeans, string beans, peas, rolls, chocolate cake, pineapple cake, coconut cake and pie. If you are a Senior Citizen and interested in coming to Young At Heart, please contact Rev. Loraine Thorne.

More ...
EMILY SILLS
PEACHTREE COMMUNITY NEWS


What a wonderful Sunday at Peachtree Baptist Church. Peachtree celebrated a Service of Ordination and Dedication of the Diaconate Mr. Roger "Glen" Brooks. Glen was honored by his family, church members, and friends with a celebration for him. Everyone present shared in a laying on of hands and support to Glen.
The sanctuary flower arrangement Sunday was presented to glorify God by Barbara Privette in honor of her son, John Privette, on the occasion of his birthday.

More ...
FRAN BUNN
Sometimes you just get a Monday


I don't know how your week has gone, but I had a month of Mondays on Monday.
The day started when I got up at 4:45 a.m. to get my oldest son to Rocky Mount for a field trip that was to depart at 6 a.m.
Even in Extreme Teenager Mode, we were in good shape and in the cool pitch dark morning, cranked my car. After just a couple of feet towards the end of the driveway, I realized I'd either run over six or seven people or I had a tire problem.

More ...
Mike Brantley
Common core math doesn't seem all that common


Recently, I saw a funny picture of a car that was obviously poorly built. The caption read something like, "the first car built using common core math."
I couldn't help but laugh but then I shook my head because though it's funny, it's also true.
I have a kid now in third grade. His math is getting a bit more challenging for him. He's doing multiplication and has been needing help with his homework. One thing I've discovered when trying to assist him is this, there's nothing common about common core math.

More ...
Amanda Clark
Students should get a vote in a proposed graduation venue


Dear Editor: Next Monday, October 7th, the NRMPS Board of Education will be holding a work session at 5:00 followed by the regular scheduled board meeting at 7:00. One of the items that will be discussed in the work session is a potential change of venue for the local high school graduations.

More ...
LETTER:
Backward Glances


These photos originally published in The Nashville Graphic on July 17, 1969. The above photo announced the new Nash County Bookmobile.

More ...
A PICTORIAL LOOK INTO THE PAST
Northern Soars Past Red Rams


FRANKLINTON -- Two teams with much different short-term goals met on the tennis court last Thursday when Franklinton hosted Northern Nash for a Big East girls showdown.
For NNHS, the future is now as the solid Lady Knights' lineup has dropped just two matches overall to date this season -- and are destined to finish no worse than third place in the Big East Conference standings.

More ...
GEOFF NEVILLE, Graphic Sportswriter

SIDE BY SIDE. Northern Nash's Justin Marshall (right) was last Wednesday's boys winner as he held off Southern Nash's Shamir Small for the top position.

OWENS PARK TEST


LOUISBURG - Northern Nash's Justin Marshall and Southern Nash's Shamir Small began the race 1-2 -- and that standing never changed during the boys portion of the latest Big East Conference cross country meet.
The event was held last Wednesday at the redesigned layout at Owens Park in Franklin County, with Franklinton serving as the host.

More ...
GEOFF NEVILLE, Graphic Sportswriter

NEXT UP -- FARMVILLE CENTRAL. Davion Lewis (33) and the Nash Central Bulldogs will open league action Oct. 11 versus Farmville Central.

EPC IS LOOMING


ROCKY MOUNT -- Despite what the final scores might say, there has been an air of predictability to date for the Nash Central High School football squad during its 2019 campaign.
The Bulldogs are currrently 3-3 overall and have experienced both sides of lopsided results.

More ...
GEOFF NEVILLE, Graphic Sportswriter
Southern stars on the links


WILSON -- The race for the Big East Conference Girls Golf Championship literally went down to the last shot Monday afternoon.
That's when the Big East golfers convened for the final time in the regular season, and Wilson Hunt appeared to be in good shape to take the team title heading into the 18-hole event.

More ...
Staff Reports
NN falls vs. SouthWest


RED OAK -- With a massive home crowd in attendance last Friday night, Northern Nash looked to upset Southwest Edgecombe, a team coming off its first football loss of the 2019 season just one week before.
Despite a solid performance and holding the Cougars to a closer matchup than the scoreboard indicated, the Knights dropped a frustrating 40-20 setback to SouthWest, falling to 4-2 on the season.

More ...
CHANCE PUCKETT, Correspondent
COUNTY SOCCER UPDATE


NASH COUNTY -- Here are updated Nash County Recreation & Senior Services Fall 2019 Youth Soccer Scores:

More ...
Staff Reports
Wesleyan defeated at Stetson


DELAND, FLA. -- The North Carolina Wesleyan College football team got off to a great start leading 14-0 early, but eventually fell 55-21 to FCS Div. 1 Stetson University (Fla.) on the road last Saturday afternoon.
The Bishops got out to their two touchdown lead as sophomore WR Tyler Roberts caught a 21-yard Touchdown pass from senior QB Donielle Totten.

More ...
Staff Reports
ECU begins fall baseball sked


GREENVILLE -- The East Carolina University baseball team held its first official fall practice last Thursdayat Lewis Field inside Clark-LeClair Stadium.
Throughout the six-week practice session, ECU will scrimmage every Friday, Saturday and Sunday leading up to its annual Purple-Gold World Series, which will be held Nov. 1-3 (timed to be determined) and is free of charge to the fans.

More ...
Staff Reports

STEPHANIE BYRD / LBJ BLAZER 5-UNDER TEAM

Town Soccer Stars


NASHVILLE -- This past Saturday, teams took the field again at Glover Park for soccer games in the Town of Nashville Youth Rec League.
In the 8U division, George's BBQ played Lauren F Photo and Video.
Georges bested Lauren F with goals by Nolan Parsons and Graham Kannan.

More ...
Staff Reports
Lady Bishops fall versus Meredith


ROCKY MOUNT -- The North Carolina Wesleyan College Volleyball team could not keep pace with the terrific attacking from the Angels of Meredith College on Wednesday as MC would go on to sweep the Bishops 3-0, (25-16, 25-15, 25-14) at Everett Gym on the NCWC campus in Rocky Mount.
Meredith totaled 14 kills in each set hitting .294, .375, and .414 apiece while the Bishops managed just 24 kills throughout.

More ...
Staff Reports
READY TO STRIKE
Edward Jones-Cliff Joyner and Providence Bank battled it out during this exciting contest last Saturday as part of the Town of Nashville Youth Soccer League at Glover Park.
More ...
SOCCER ACTION
Caleb Sykes (right), of the Express Floors Team, works to get the ball down the field while Corbin Clark and Gavin Katkaveck try to defend in the 8 and under division.
More ...
TOP TWO
The Top-Two girls finishers at last Wednesday's Big East Conference Cross Country Meet in Franklin County were (l to r) Northern Nash's Elana Griffin (first) and Southern Nash's Jadiza Jimenez (second).
More ...
Pirates of the Carolinas coming to the JPAC
The Tar River Center for History and Culture presents "Pirates of the Carolinas" a swashbuckling day of fun for the whole family on Saturday, October 5th. Blackbeard's Crew, a living history performance group dedicated to the accurate representation of seafaring life in "The Golden Age of Piracy," will appear in full pirate regalia. The crew will demonstrate fascinating topics such as navigation, seamanship, surgery/medicine, hygiene, rope making, period cooking, and sail/ship repair. Spectators may also experience firelock, live swordplay and cannon live fire demonstrations.
More ...