Subscribe/Access
Advertisements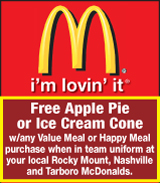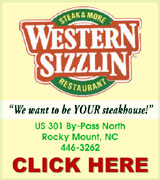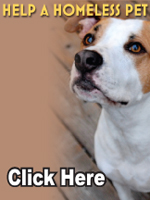 Sections
Member Options
Back
Nashville considers second fire station


Nashville's Town Council is considering a second fire station for the town.
A proposal was presented to council members on Wednesday at the board's agenda meeting, however, the need for a new fire station has been around for at least 10 years.
In 2009, a feasibility study was presented by Oakley Collier Architects that highlighted the need for a substation along Oak Level Road.

More ...
AMANDA CLARK, GRAPHIC STAFF WRITER
NRMS hires new finance director
The former manager of business affairs at the Center for Great Public Schools at the National Education Association is now serving as the Chief Financial Officer for the Nash-Rocky Mount School System.
The Board of Education approved Joyce Jarrett for the position at the board's May 6 board meeting. Jarrett began in the position last month.
More ...

Pictured above, William Joyner colors a page from a story his teacher read. Joyner's first day of school was also his fifth birthday.
Students return to NRMS classrooms
Monday was the first day of school for many students in the Nash-Rocky Mount Public School System. Interim Superintendent Dr. Del Burns said the first day went well. "It was a pleasure to see the result of the hard work and planning that occurred to make the day a great start for students," he said. "The opening was smooth, the buildings were sparkling and it generally appeared that school had been in session for a while, even though it was the first day.
More ...
Study offers options for new school site


The Nash-Rocky Mount Board of Education received an update last week from the Operations Research and Education Laboratory (OREd) and was presented two scenarios for building a new school in the northern end of the county.
The school system was awarded a Needs-Based Public School Capital Fund Grant in the amount of $10 million in October 2018 to assist in the construction of a new elementary school in the northern end of the county. Nash County plans to match the $10 million grant.

More ...
AMANDA CLARK, GRAPHIC STAFF WRITER
Field Minister Program begins third year at NCI
Carefully chosen offenders began the third year of the N.C. Field Minister Program, a four-year classroom journey at Nash Correctional Institution they hope ends not only with a college degree but with an opportunity to counsel their fellow offenders, their family and friends, and perhaps those responsible for their supervision.
More ...
Rocky Mount PD investigates homicide
A 26-year-old man lost his life last Thursday morning after being shot in Rocky Mount.
Rocky Mount Police responded to 2160 Nancys Circle around 7:22 a.m. on August 22 to reports of shots fired. When officers arrived at the scene, they located a 26-year-old black male unresponsive. Life-saving measures were started until Nash County EMS could arrive.
More ...
NASHVILLE POLICE DEPARTMENT REPORTS
INCIDENTS
A residential breaking and entering was reported on 8/6/19 at 326 Aviation Avenue
A credit card fraud was reported on 8/7/19
A larceny was reported on 8/10/19 at Domino's Pizza, 242 Eastpointe Drive
More ...
NASH COUNTY SHERIFF'S OFFICE REPORTS
An attempted suicide was reported on 8/18/19 at 4356 Langwood Way
A driving while intoxicated was reported on 8/18/19 at 501 W Washington Street
A financial card fraud was reported on 8/18/19 at 1052 Bryantown Road
A secret peeping was reported on 8/18/19 at 5334 Red Oak Battleboro Road
More ...
Attendants
Mu Chapter members of NC- State, Organization of the Delta Kappa Gamma (DKG) Society International, attended the NC- State Convention.
More ...
NCWC anticipates RN-BSN program
In an effort to increase academic opportunities, North Carolina Wesleyan College has announced the anticipation of an RN-to-BSN program for licensed nurses.
With the College's growth in its biology, biomedical and exercise science programs, it is a natural fit for Wesleyan to explore adding this to their curriculum. This program will be for licensed nurses who have an Associate's Degree in Nursing and desire to obtain a Bachelor of Science in Nursing.
More ...
NRMS seeks input on superintendent search
The Nash-Rocky Mount Board of Education is seeking input from the public on the next superintendent of the Nash-Rocky Mount School System.
The Board of Education hired the North Carolina School Boards Association to help facilitate its search for the next superintendent of the school system. As part of the process, the board will seek input from interested parents, other members of the community and staff to help shape the search process and to assist in defining the qualities and characteristics desired in the next leader of the school system.
More ...
Nashville offers rainwater barrel workshop


The Town of Nashville Parks, Recreation and Cultural Resources is planning to offer a workshop on stormwater and how to make a rainwater barrel.
The class is set for Saturday, September 7 at Glover Park from 9:30 a.m. until 12:30 p.m.
During the workshop, participants will learn about stormwater and then be walked through the building process of how to make their very own rain barrel out of a trash can.

More ...
AMANDA CLARK, GRAPHIC STAFF WRITER
SHP emphasizes safety for new school year
As students across North Carolina make preparations to begin the school year, the State Highway Patrol is requesting the motoring public to keep safe travel a top priority. More than 14,000 school buses will be hitting the roadways, transporting over 790,000 children to and from school. With this in mind, motorists are encouraged to plan for delays as congestion is to be expected during the morning and afternoon commute.
More ...
CLUB AWARDS
The Nashville Lion's Club Post 110 was presented an award for 100 percent membership at their June meeting. Pictured above, members of Post 110 accept an award for community service. The post was the only post in the state to receive the award for their work in the community. Pictured (L-R) is Ken Powell, Adjutant, Larry Womack, Veterans Service Officer and Jim Boehm, Historian.
More ...
NEW BPW OFFICERS
Nashville's Business and Professional Women installed their new slate of officers for the 2019-2020 year in June. Pictured (L-R) is President Stacie Shatzer, Vice President Brenda Foster, Secretary Linda Hardy, Treasurer Shirley House and Assistant Treasurer Tracy Shearin. The ladies were sworn in by long-time BPW member Mary Wells, who presented each member with a candy bar that was fitting to the duties bestowed upon them.
More ...
4-H youth representative
Olivia Daughtridge was selected as 4-H youth representative on behalf of Nash County to attend the 2019 North Carolina Association of County Commissioners annual conference, which was held this past weekend. Daughtridge had a chance to attend a Youth Voice Program while at the conference. Daughtridge was recognized by Nash County Commissioners during their August meeting.
More ...
Trump responds
Nashville resident Ravin Carpenter recently received a response to a letter he sent President Donald Trump a few months ago. Carpenter said he sent Trump a letter and mentioned his military service and also expressed his views on some of the issues going on in the country.
More ...
Prayer is a great weapon for what ails you


He was a murderer from the beginning, and does not stand in the truth, because there is no truth in him. When he speaks a lie, he speaks from his own resources, for he is a liar and the father of it. But because I tell the truth, you do not believe Me. (John 8:44-45)
Fourteen years ago, I watched my daughter suffer from anorexia and am convinced from the deception I saw at work that Satan may have been more responsible than some of the other explanations I was given.

More ...
MIKE RUFFIN
Luke's Word for the Week


Hi Fellow Followers, we are taking a brief detour from our Bible 101 articles for 2 weeks to dive into worship (this is the second of the two). What follows is another teaching from our Night of Worship in Nashville from August 18, 2019. I pray it encourages you as the Spirit pushes you into true worship.
"But perhaps the most needed reason for worship is that worship brings the future into a present reality.

More ...
LUKE WHITEHEAD
RED OAK NEWS


Promotion Sunday was August 25 at Red Oak Baptist Church. Randy Griffin, Sunday School Director, led the recognition along with Bryant Fisher, Assistant Sunday School Director. Audrey Pearce was recognized and received a pin and certificate for perfect attendance this church year making it her 12th year with perfect attendance in Sunday School! Children moving up to first grade were also recognized and they were presented a Bible from the church.

More ...
SUZY PEARCE
Intersections: God and Life


GOOD OR GODLY?
Put simply, godliness is living a fruitful, obedient Christian life. It is one of seven qualities we are instructed to add to our faith after we become Christians. There are sixteen references to godliness in Scripture. All of them are in the New Testament, and most of them occur in 1 Timothy and 2 Peter.
Characteristics of Godliness

More ...
CARLYLE HALL
SANDY CROSS NEWS


Sunday 8/25 at Christian Fellowship Church, praise and worship was led by Freedom with the music of Elevation. The morning message was given by Pastor Daniel Parker - "The Revelation Timeline - The Millenial Reign & The New Jerusalem."
The Love Ladies of Kingdom International Church gave out 67 backpacks to Coopers & Williford Schools on 8/21. The bags were also full of supplies for the children in the classrooms.

More ...
EMILY SILLS
PEACHTREE COMMUNITY NEWS


This past Sunday Peachtree Baptist Church congregation, family, and friends met to worship our Lord.
The sanctuary flower arrangement Sunday was presented to glorify God by Lynn and David Griffin in honor of their son, Josh Griffin, on the occasion of his birthday.

More ...
FRAN BUNN
Local teacher attends Teacher Institute
Renny Taylor, a teacher at Nash Central High School, recently completed an intense, week-long immersion in American history at the Colonial Williamsburg Teacher Institute.
The Teacher Institute was created to encourage history education and make it engaging for students.
More ...

Medical Assisting diploma recipients.
Students recognized for health sciences program completion
Nash Community College held a Health Sciences Recognition Ceremony on August 8th in Brown Auditorium. Students were honored for their completion of the academic and clinical work required to become medical assistants as determined by the American Association of Medical Assistants, and practical nurses as determined by the North Carolina Board of Nursing.
More ...
NC Wesleyan College announces internal staff promotions
North Carolina Wesleyan College recently promoted three from within its Admissions Department: Ben Lilley, Paige Price Wells and Megan Brabble.
After serving as Assistant/Associate Director of Admissions for the last five years, Lilley has been selected for the role of First Year Experience (FYE) Advisor. Wells, who most recently held the position of Senior Admissions Counselor, has now been promoted to Assistant Director for Recruiting in Admissions.
More ...
Outstanding Student Scholarship Award
Hannah Dixon is the 2019 winner of the Nash County Sheriff's Office annual Outstanding Student Scholarship Award for $500. Hannah was a student at the Nash-RM Early College High School. She will be attending Liberty University.
The NCSO gives this $500 scholarship annually and applications can be obtained from the school guidance counselor of any of the high schools in Nash County.
More ...
Nash UNC announces grant awardees
The Nash UNC Health Care Foundation recently awarded grants, amounting to a total of $347,784, to eight community organizations to support their efforts to promote community wellbeing and education.
During the foundation's annual luncheon, Stacy Jesso, the Chief Development Officer and Foundation Vice President, introduced each community organization and honored their work.
More ...
Peacemakers banquet is Oct. 3
Peacemakers will host its annual Hope Banquet fundraiser Thursday, October 3, 2019 at 7 p.m. at Englewood Baptist Church in Rocky Mount. Doors open at 6:30 p.m.
"The theme of this year's banquet is 'Stories of Restoration,' and we can't wait to share these stories with the community.
More ...
Nash County Animal Friends' Notebook


MISSING PETS?
BEWARE of the COYOTE! It is NOT safe to allow your pet to go outside by itself, especially at night. Just recently, we heard of a suspected coyote attack on a 30 pound dog in Nashville when the owner let it out to potty. Her leg is badly hurt. Many people report being tracked by them when walking their pets or hearing their howling. Leaving pet food outside, for example, encourages them, as they are scavengers.

More ...
CAROL VIERELA, NASH COUNTY ANIMAL FRIENDS
Organ donation myths hold back help


Last week was quite a week.
I started a new job. It was hectic, but good.
And, after three years, I heard back from the family of the donor that saved my life when I received my liver transplant.
Sometimes it seems like it was a lifetime ago, and sometimes it seems like it was just a few weeks ago. The clock was running out for me.

More ...
Mike Brantley
Social media is not the place to get your news!


Being a journalist has always been a challenging job but I would say that in today's world, it's more challenging than ever.
In today's world, everyone is a journalist (or so they think).
In today's world, everyone has a cell phone and can snap a photo or a video and post it on social media instantly. There's really no protocol to follow, per say, so whether it's an accurate depiction or not really doesn't seem to matter.

More ...
Amanda Clark
Backward Glances


This photo originally published in The Nashville Graphic on November 6, 1969. Congressman L. H. Fountain was pictured cutting the ribbon to mark the official dedication of the new Momeyer Ruritan Club Building.

More ...
A PICTORIAL LOOK INTO THE PAST
NC State announces fall slate


RALEIGH -- The North Carolina State University baseball program announced its two fall scrimmages on Monday.
The Wolfpack will host South Carolina on Sun., Sept. 29, at Doak Field at Dail Park with first pitch set for 3 p.m., then travel to UNCW on Sun., Oct. 6, for a 12 p.m. contest.

More ...
Staff Repors
Wesleyan picked fifth in conference


ROCKY MOUNT -- The USA South Athletic Conference's women's soccer coaches have released their 2019 preseason polls.
Each divisional preseason poll only includes votes from coaches within that particular division-only. Head coaches do not vote for their own teams in the balloting.
The 2019 NC Wesleyan women's soccer team, led by head coach Beverly Biancur, was chosen to finish 5th out of nine teams in the East Division Preseason Poll released Wednesday afternoon.

More ...
Staff Reports
CHASE SCENE
Southern Nash's Xavier Burgess (30) and Michael Parker (1) attempt to track down the Warren County quarterback during last Friday's season opener at historic Firebird Stadium.
More ...
DEFENSIVE PLAYMAKER
Southern Nash's Izaiah Walker-Warren comes up with an interception for the Firebirds during last Friday night's home victory over the Warren County Eagles in Stanhope.
More ...
HERE THEY ARE, FOLKS
Members of the Southern Nash High School football team race to the field before last Friday night's season-opening triumph versus the Warren County Eagles in Stanhope.
More ...
NIFTY MOVE
Northern Nash's Austin Curtis (right) shakes an East Wake defender en route to a substantial gain during the Fighting Knights' season-opening road victory on Monday evening.
More ...
SACK ATTACK
Northern Nash's Jordan Hughes (right) chases down the East Wake quarterback during Monday night's prep football showdown on the EWHS campus, which is located in Wendell.
More ...