Subscribe/Access
Advertisements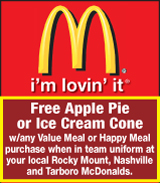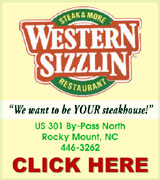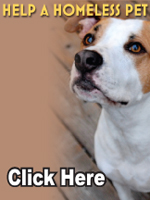 Sections
Member Options
Back
Board begins search for superintendent


The North Carolina School Board Association will aid the Nash-Rocky Mount School Board of Education in their search for the school system's next superintendent.
Board members unanimously agreed to use the School Board Association's search service following a presentation by Allison Schafer, Director of the Legal Department for the NC School Board Association.

More ...
AMANDA CLARK, GRAPHIC STAFF WRITER
Board agrees to eliminate lift station


Nashville's Town Council agreed on Tuesday to move forward with abandoning the Aviation Lift Station.
The project has been on the town's "to do" list since 2006, when the Wooten Company was hired by the town to evaluate the town's water and sewer systems and determined that the Aviation Lift Station needed to be eliminated with construction of a gravity flow sewer line.

More ...
AMANDA CLARK, GRAPHIC STAFF WRITER
CASTALIA COMMUNITY DAY
Olbin Romero looks outside the window of the Nash County Smokehouse at the Castalia Community Fun Day, which was held at Castalia's park.
More ...
Nashville hires public works director


The Town of Nashville's latest hire will begin work next week.
Lee Brown was hired as the town's new Public Works Director at a salary of $70,038. He will start in the new position on August 13.
Brown replaces Jamey Baines, who worked with the town for 18.5 years.

More ...
AMANDA CLARK, GRAPHIC STAFF WRITER
School Prayer Walks set for Aug. 19-22


The Youth Pastor's Coalition (YPC) is hosting its annual School Prayer Walks this year and still searching for churches and other organizations to pray over schools.
This is the fifth year the YPC has hosted the prayer walks.
The YPC is made up of youth pastors from all denominations and backgrounds.

More ...
AMANDA CLARK, GRAPHIC STAFF WRITER
Nash okays 700-acre solar farm


Nash County Commissioners granted approval for the largest solar farm thus far in Nash County on Monday morning.
The 692-acre solar farm is a part of eight tracts of land and will be located in Southern Nash County, on the east side of S NC Highway 231, the south side of Frazier Road and both sides of portions of Prophecy Road, Old Nash Road and Valley Road.

More ...
AMANDA CLARK, GRAPHIC STAFF WRITER

Deputy Brooks Heath and Trey Snow were able to meet again on Tuesday, a week after Heath saved Trey's dog Riley from a well after he fell in.

Deputy helps rescue Spring Hope boy's dog


Deputy Brooks Heath wasn't supposed to be in the Spring Hope area last Tuesday evening but the Snow family is grateful he was.
Heath, who was off-duty at the time, was on the way to pick up his daughter, when he saw a young boy frantically running down the road in his pajamas. His parents were following behind him.

More ...
AMANDA CLARK, GRAPHIC STAFF WRITER
Spring Hope to fund new car for police chief


The Town of Spring Hope is considering paying off one Police Department vehicle to help fund another for its Police Chief.
Within the budget ordinance, the town is currently paying for a Ford Explorer being used by the department. The remainder balance on the vehicle is $11,520.
Town Manager Jae Kim said the rest of the Ford Explorer would be paid off using the Appropriated Fund Balance, which would free up funds within the Police Vehicle Line Item in the budget ordinance.

More ...
KENDRA JONES, GRAPHIC CORRESPONDENT
Suspect kills himself after chase
A man involved in a vehicle pursuit committed suicide in front of deputies on Monday night.
The Nash County Sheriff's Office reported that they were notified that the Highway Patrol was involved in a vehicle pursuit on US 301 in Rocky Mount. A description of the vehicle was given to the Sheriff's Office.
More ...
Second man nabbed for July 28 homicide
A second Rocky Mount man was charged last week in the death of Dominic Antoine Baker.
Baker, 31, of Rocky Mount, was found dead with gunshot wounds on Sunday, July 28 at a home on Kinlaw Court.
Soon after, law enforcement officers arrested Kaylith Lewis Moore, 20, of Rocky Mount, and charged him with first degree murder.
More ...
Castalia says no to soccer field rentals


Castalia Commissioners turned down a request to allow the soccer fields at the Castlia park to be rented.
At the board's June meeting, Emilio Reyes, owner/coordinator of a soccer league that would like to use the park as a place to hold their games presented to the board. Reyes explained that the league has almost 26 teams but only about eight to 10 would actually play in Castalia.

More ...
JESSICA A. SMITH, GRAPHIC CORRESPONDENT
Spring Hope man finds bear in yard
Jerome Johnson, who resides on Robertson Road between Spring Hope and the Macedonia Community, recently awakenend to find a large black bear in his back yard. A neighbor was able to capture an image while passing by. Johnson had the same thing happen in July of 2015 at his residence.
Johnson said he again contacted the Game Warden to make sure people in the community were aware that a bear was in the area.
More ...
NASHVILLE POLICE REPORTS
INCIDENTS
A damage to property (vandalism) was reported on 7/29/19 at Stepping Stone Preschool and Childcare, 1707 Red Oak Road
A larceny was reported on 8/4/19 at Wal-Mart, 1205 Eastern Avenue
More ...
Scholarships presented
The Oak Level Ruritan Club recently presented four youth with scholarships at their monthly meeting. Pictured (L-R) is: Haley Brown, Victoria Thompson and Robert Simmons. Brown is the daughter of Ricky and Kim Bowen and the granddaughter of Diane and Rodger Bowen and will attend East Carolina University; Thompson is the daughter of Lee and Yvonne Thompson and the granddaughter of Jim and Mary Boehm and will attend Wesleyan College; Simmons is the son of Lisa and Aaron Simmons and the grandson of Helen and Terry Hayes.
More ...
Youth Council presents pediatrics project
Members of the Rocky Mount Area Youth Council sponsored the Children for Life Project as they delivered activity items to the Pediatric Emergency Department of UNC Nash Hospital on July 26.
Items donated included board games, educational books, toothbrushes, toothpaste and personally decorated cards that will serve patients from young children through high school ages.
More ...
Local banker graduates
Ken E. Sawyer, Senior Vice President and Commercial Relationship Banker at Southern Bank in Rocky Mount, is among the 185 bankers receiving graduation diplomas on May 31 from the Graduate School of Banking at Louisiana State University.
This three-year program provides courses covering all aspects of banking, economics, and related subjects. Students traveled from twenty-one states and Mexico to participate in this Session.
More ...
KEYNOTE SPEAKER
Public Speaking International Scholar Michael Parker was the Keynote Speaker for the 22nd year opening event for the Rocky Mount Toastmasters.
More ...
Food drive
Micajah Pettaway Chapter of the Daughters of the American Revolution and Bethel Heroes Chapter 636 of the United Daughters of the Confederacy, jointly collected food for the pantry of the Wilson Residential Service for Veterans. Food was delivered to the pantry by Edith Whitby, president (second from the left) and Donna Boykin, registrar of Bethel Heroes (third from left).
More ...
Division 4 wins top honor in NCDOT "Roadeo" Championship
Division 4, which covers communities east of Raleigh, took home Thursday the top team honors in the N.C. Department of Transportation's annual safety event championship.
The Equipment Operators Safety Training Conference and "Roadeo" at the N.C. State Fairgrounds promotes employee training and safety. Division 4 employees placed well enough to earn for their team first place overall winner for the second year in a row.
More ...
Local receives Preconception Peer Educator Certification
Fayetteville State University (FSU) students received certifications as Preconception Peer Educators during a training sponsored by the NC Department of Health and Human Services, Division of Public Health, Women's Health Branch and the NC Office of Minority Health.
Members from the Wellness Ambassadors and My Sister's Keeper student organizations were among representatives from four North Carolina universities selected to attend the Preconception Peer Educator training held on the campus of Johnson-C. Smith University (JCSU) in Charlotte.
More ...
Nash County Animal Friends' Notebook


Everyone should be responsible for the stray dogs that are in your area, especially if you take pity on it and start feeding it. At that point, you are starting to become the owner. Now remember, please, that a stray dog may have an owner. They may have taken off on an adventure. There are several things you must/should do. First secure it, so it will be safe.

More ...
Carol Vierela
Word Tabernacle presents scholarships
Word Tabernacle Church recently awarded scholarships to 10 high school and returning college students during the church's annual scholarship service. Students received a total of $20,000 in financial support for the 2019 - 2020 academic year.
The scholarship program is a part of the church's passion and dedicaiton of the entire being.
More ...
When bad things happen to good people


In 1981, a Jewish Rabbi wrote a penetrating book, Why Bad Things Happen To Good People. Rabbi Harold Kushner looked at suffering through the life of his son, who was diagnosed with progeria, a childhood disease that sees a child age by decades in just a few years.
Kushner - like most of us in similar circumstances - wondered why.

More ...
MIKE RUFFIN
PEACHTREE COMMUNITY NEWS


This past Sunday Peachtree Baptist Church congregation, family, and friends met to worship our Lord and pray for those lost and injured in the two mass shootings, one in El Paso, Texas and the other on Dayton, Ohio. We prayed for the families and friends of these people. We prayed for the people in this country that do not know or worship the Lord and that we would come back to Him.

More ...
FRAN BUNN
SANDY CROSS NEWS


VBS at Kingdom International Church last week was a huge success. There was an average of about 60 children each night to enjoy "In The Wild". The last night was "Family Night" with the children showing their parents what they learned.
There was also a competition going during VBS between the boys and girls.

More ...
EMILY SILLS
Luke's Word for the Week


August greetings, fellow followers, may you be filled with the peace of Christ and the power of the Holy Spirit this day. I thank God that you have taken the time for us to be together, in community, as we stir one another up towards love and good works!
For the next few weeks we are going to transition and look at the grand story of Scripture that I will call collectively, "Bible 101."

More ...
LUKE WHITEHEAD
Intersections: God and Life


I have decided to follow Jesus: No turning back, no turning back.
On Sunday morning, August 4th, I preached a message entitled Kingdom Entry: Your Choice. My biblical text was Matthew 6:33 and 7:13-23. Jesus is wrapping up His preaching/teaching on the mountainside encouraging His listeners to consider the choices. He says there are two choices.

More ...
CARLYLE HALL
RED OAK NEWS


The children and chaperones from Red Oak Baptist Church had a great time at Camp Caraway recently! There were 19 children and 5 chaperones who attended. Campers reported that they enjoyed the missionary and various recreational activities. They thanked everyone who supported them through their fundraisers to make their trip possible. They are already looking forward to next year!

More ...
SUZY PEARCE
Getting back to basics may be good for the U.S.


Our family got in one last trip this past weekend, a kiss goodbye to the summer.
Well, only to the summer as a "break" -- I'm sure we have a good eight weeks of the heat left.
But, with my wife in a new job, a child preparing to return to college, kids heading back to school, and me starting a new job next week, this was our last chance.

More ...
Mike Brantley
It's time our country makes prayer important again!


This week, there's a story in the paper on Prayer Walks that will be held at area schools.
The idea is to simply pray over schools. Pray for the teachers, the principals, the students and other staff members. Pray for the parents and anyone else that may be a part of a child's educational day.
Just pray.

More ...
Amanda Clark
Backward Glances


This photo originally published in The Nashville Graphic on August 7, 1969. Pictured, Irma Bass and Diane Bone couldn't resist the temptation to put their initials and footprints in wet cement poured on Boddie Street.

More ...
A PICTORIAL LOOK INTO THE PAST

ANOTHER YEAR AT THE DAWG POUND. Veteran head coach Chris Lee addresses his Nash Central High School football club during a practice session Tuesday morning on the NCHS campus in Rocky Mount.

BACK ON THE FIELD


ROCKY MOUNT -- Funny how the pendulum swings in high school football in a short period of time.
Two years ago, Nash Central was an offensive juggernaut -- and rode that excellence all the way to the second round of the Class 2-AA State Playoffs.
It was a record-breaking season for the Bulldogs as far as numbers on offense are concerned, but the next spring saw the graduation of several standouts, including quarterback Travis Griffin.

More ...
GEOFF NEVILLE, Graphic Sportswriter
A National Showcase


NASH COUNTY -- Last weekend, a group of local youth soccer players from all around Nash County made the trip to Lynchburg's Central Virginia United Soccer complex to take part in the 2019 Powerade State Games of America.
Each player -- all girls under the age of 12 -- played in the Nash County Parks and Recreation system this spring, and earned a spot on the roster based off of their performance throughout the year.

More ...
CHANCE PUCKETT, Correspondent
THE TOP CHOICE


STANHOPE -- Given their recent dominance in the league, it was no surprise that the Southern Nash Firebirds are picked to repeat (again) as the Big East Conference football champions.
But the shocker from Tuesday's annual Big East Media Day was how close the final voting was in the poll, which was done by conference's head coaches.

More ...
GEOFF NEVILLE, Graphic Sportswriter
Southern will open at L'burg


STANHOPE -- Southern Nash High School will kick off its 2019 boys soccer season on Aug. 19 with a road match at Louisburg.
SN's complete ledger is as follows, with home events listed in CAPS:

More ...
Staff Reports
Mudcats fall against Dash


WINSTON-SALEM -- Mario Feliciano hit his league-leading 17th home run, Brice Turang tripled and scored a run and Payton Henry hit his 11th home run of the season, but the Carolina Mudcats ended up falling short in a series-clinching loss to the homestanding Winston-Salem Dash 7-5 on Sunday afternoon at BB&T Ballpark.

More ...
Staff Reports
Wilson Tobs knocked out of playoffs


MOREHEAD CITY - The Wilson Tobs lost to the Morehead City Marlins 4-1 on Tuesday night in Coastal Plain League summer baseball action.
The Tobs season ended with the regional round loss.
Morehead City jumped out to a 1-0 lead in the second inning.

More ...
Staff Reports
DON'T FUMBLE!
The Nash Central High School Bulldogs use this drill to hopefully limit fumbles during the season. The Bulldogs open their campaign August 23 at home versus Southeast Halifax.
More ...
TAKING ON THE SLED
Members of the Nash Central High School offensive line take part in a blocking sled drill during Tuesday morning's football practice on the NCHS campus. The Bulldogs will begin their season on August 23 at home against Southeast Halifax.
More ...