Subscribe/Access
Advertisements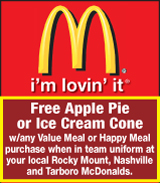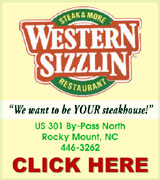 Sections
Member Options
Back
Escaped inmate is captured


A second jail break at the Nash County Detention Center has led Nash County Sheriff Keith Stone to temporarily close up the portion of the jail where the escapes are occurring until more secure measures are put into place.
Stone said between 1 and 3 a.m. on Tuesday, May 14, Terrell Gailand Miles, 29, of Rocky Mount, reportedly went through a malfunctioning back door and crawled through the same fence where five inmates escaped in March.

More ...
AMANDA CLARK, GRAPHIC STAFF WRITER

Little Caleb Perry is all smiles at the carnival while visiting the Nashville Blooming Festival. (Graphic photo by Jo Anne Cooper)

Nashville Blooming Festival deemed a huge success


The rain did fall as anticipated on Saturday night during the evening entertainment at this year's Blooming Festival but it went as quickly as it came and Parmalee's performance still went on.
Parmalee took to the stage an hour later than planned but Cindy Puckett, one of the festival organizers, said she was pleased the rain was only a quick downpour instead of the storms that were initially being called for.

More ...
AMANDA CLARK, GRAPHIC STAFF WRITER
Shriner Ceremonial Parade is Saturday!


Dozens of Shriner's parade units will take part in the Ceremonial Parade Saturday in Nashville.
The Shriner's Parade is set for Saturday, May 18 at 12 noon.
Carl Wayne Smith, of Nashville, is serving as the Potentate for the Shriners. Smith is a member of the Rocky Mount Shrine Club and has lived in Nashville 10 years.

More ...
AMANDA CLARK, GRAPHIC STAFF WRITER
Tornado touches down in Nash Co.


The National Weather Service has confirmed an EF-2 tornado in Southern Nash County on Monday morning.
The tornado touched down around 10:13 a.m. on Monday, May 13 four miles northeast of Knightdale in Wake County, traveling 17.40 miles and ending at 10:39 a.m. four miles northwest of Bailey. Wind speeds reportedly reached a maximum of 115 miles per hour.

More ...
AMANDA CLARK, GRAPHIC STAFF WRITER
Nash lauds Dual Language Program


The Dual Language Immersion Program is wrapping up its second year in action and planning for growth as it prepares for the 2019-2020 school year.
The program was first implemented at Bailey, Winstead and Middlesex Elementary Schools during the 2017-2018 school year.
"We're very excited that our Dual Language Immersion program is moving into its third year at our three sites," said Dr. Edward Hicks, who serves as the Director for Curriculum Support at Nash-Rocky Mount Public Schools.

More ...
AMANDA CLARK, GRAPHIC STAFF WRITER
Nashville changes public comment policy


Public comments will now be allowed at both the agenda and regular meetings of the Nashville Town Council.
Council members unanimously approved an amendment to the public comment policy which would allow comments at both meetings.
The issue was initially brought up at the board's regular meeting on April 2 after several members of the public showed up at the March 27 agenda meeting hoping to speak.

More ...
AMANDA CLARK, GRAPHIC STAFF WRITER
Red Oak adds Fourth of July fireworks


At its regular monthly meeting on Monday, the town board of Red Oak approved the annual budget and discussed a new ordinance.
First, the board held the required public hearing for the budget. No one was present for the hearing. The budget was unanimously approved. The 2019-20 of $1,160,500.00 reflects an increase of 25.7 percent over the current budget. The increase is based on adding two holiday festivals for the community (Christmas and Fourth of July Fireworks), and the proposed matching grant of $500,000.00 for the park expansion.

More ...
JESSICA SMITH, GRAPHIC CORRESPONDENT
Nash to accept bids to lease farmland


Nash County is accepting bids to lease cropland the county owns.
The property is located at 3279 E NC Highway 97 in Wilson and includes around 115 acres.
Nash County purchased the property for economic development.

More ...
AMANDA CLARK, GRAPHIC STAFF WRITER
NASHVILLE POLICE REPORTS
INCIDENTS
A possession of drug paraphernalia and driving while impaired was reported on 5/6/19
An obtaining money/property by false pretense was reported on 5/9/19 at 109 S Barnes Street
More ...
Spring Hope aims to discard park equipment


Plans are being made to remove equipment at the park in Spring Hope.
Town Manager Jae Kim said several complaints have been made regarding the park's playground equipment condition.
The equipment was donated and installed as part of the Parks and Recreation Trust Fund grant (PARTF). According to Kim, some of the equipment may impose safety issues including being dated, heavily worn, or broken.

More ...
KENDRA JONES, GRAPHIC CORRESPONDENT
Castalia mulls park rental for soccer league


The majority of the regular meeting of the town board of Castalia was spent discussing the park and whether or not it should be rented to an adult soccer league. The issue was tabled at the last meeting, and since then another request to rent the fields has come in.
"I've heard all the comments and most of them are negative," said Mayor Ellene Leonard.

More ...
JESSICA SMITH, GRAPHIC CORRESPONDENT
NRMS Early College third semester honor roll
Nash-Rocky Mount Schools has released its Honor Roll lists for the third semester of the 2018-2019 school year.
The following students at Nash Rocky Mount Early College High School made the A or A/B Honor Roll.
More ...

Trail Life Troop NC-0834 are pictured on deck waiting for flag raising.
Trail Life, Heritage Girls participate in Patriots Point camping program
American Heritage Girls and Trial Life USA Troop NC-0834 recently walked in the steps of the country's heroes while participating in the Patriots Point Naval & Maritime Museum's camping program aboard the historic World War II aircraft carrier USS Yorktown on Charleston Harbor.
During the trip, the group became "shipmates" while touring the museum's three 70 year old warships: the USS Yorktown, World War II destroyer USS Laffey, and Cold War submarine USS Clamagore.
More ...
Evans appointed to Assistant Director of First Year Experience at Wesleyan
Taylor Clark Evans has transitioned to the role of Assistant Director of First Year Experience (FYE) Programs at NC Wesleyan College, assuming the responsibilities of Taylor Stone who was recently promoted to Director of the program.
Evans is responsible for providing developmental advising to first-year students, assisting with First Year Experience programming and working with other Student Success Center program initiatives.
More ...
Support
Thomas and Peggy Winstead recently provided support for Nash Community College Basic Law Enforcement Training cars to be painted. The Winsteads previously established a scholarship at Nash Community College for students enrolled in trades-related continuing education programs. Their son, J.T. Winstead, a NCC Basic Law Enforcement Training alumnus, serves the community as a Nash County Sheriff's Office deputy, and adjunct instructor at NCC. Special thanks to Custom Car Trims and Capitol Ford of Rocky Mount.
More ...
Awarded
Lee Hart, at left, and Frank Daughtridge, at right, were recently awarded the Stonewall Jackson Medal by the Bethel Heroes Chapter 636, United Daughters of the Confederacy, in appreciation for their contribution and dedication to the chapter. They worked on the repairing and preservation of the Confederate Monument and undertook repairing/replacing the Iron Cross Markers on local graves of Confederate Soldiers.
More ...
Attendees
Delta Kappa Gamma, Mu Chapter members Tobey Worthington, at left, and Margie Parker Brantley, at right, attended the Eta State North Carolina Executive Board Meeting at Elon. Tobey gave the NC State Rules Committee Report. The group collected gift cards to send to teachers in schools damaged by the hurricanes.
More ...
Every Christian will face an occasional Goliath


One of the most influential Christians in my life is an attorney with whom I once worked.
When we were in Atlanta on a business trip in the late 1980's, I took him to a favorite restaurant of mine. I was not saved at the time. In fact, salvation would not come my way for another two years.

More ...
MIKE RUFFIN
Luke's Word for the Week


Hi Fellow Followers, thank you for joining me once again as we continue in our current article series, "Saved: From This, For That". Throughout these weeks we are looking at the grand scope of salvation and diving into the depths of what it means to be saved from and saved for through the work of Jesus Christ. We have this week and one more. Let's dive in.

More ...
LUKE WHITEHEAD
RED OAK NEWS


Several ladies from Red Oak Baptist Church attended the NRBA senior luncheon, "Carolina Derby", at West Edgecombe Baptist Church. Guests dressed for the derby with hats and bright colors. Amy Kornegay was guest speaker and provided music. The day also included a "horse" race and lunch. Those attending from Red Oak included Linda Sheets, Barbara Sue Edwards, Rochelle Bass, Sheila Housden, Jean Mellor, and Vicki Davenport.

More ...
SUZY PEARCE
Nash County Animal Friends' Notebook


We've found that our more mature friends are calmer, laid back and generally very sweet wonderful companions. Most, through no fault of their own (family breakup or death, moving, etc.) find themselves in the Shelter system. They often have plenty of energy, love to go on walks (although maybe not real long ones!), and get along with everybody and everything.

More ...
CAROL VIERELA, NASH COUNTY ANIMAL FRIENDS
Intersections: God and Life


My wife spoke to our congregation on Mother's Day and encouraged the women in particular to understand that just as we take care of our physical bodies so also we should take care of our minds.
The subject was something that was discussed in my classes while preparing for full-time ministry, but I honestly didn't pay attention because I was just ready to see the world come to know Jesus and I was full of zeal and passion.

More ...
CARLYLE HALL
PEACHTREE COMMUNITY NEWS


The Peachtree Baptist Church Congregation family and friends came together on Mother's Day Sunday to worship.
The Sanctuary flower arrangement Sunday was presented to glorify God by JoAnn in loving honor of her daughter, Melanie White.

More ...
FRAN BUNN
SANDY CROSS NEWS


We hope all the ladies enjoyed Mother's Day in our community. At KIC, the day started with buffet breakfast by our dedicated Kitchen Staff. The usual breakfast was offered with the addtion of yummy Krispy Kreme donuts. The men enjoyed those donuts as much as the ladies!!!
Each lady was greeted at the door and given a small box of chocolates; there was also a drawing for three rose bushes to be given away.

More ...
EMILY SILLS
A well planned day off never happens


I read something recently where someone said writer's write -- they don't talk about writing, or spend time on social media posting about writing, or think about the romanticism of writing.
Even though I had tons of stuff that needed to be written, I'd been putting it off. That's another thing writers are really good at. Other people in other professions excel at it as well, of course.

More ...
Mike Brantley
You only live once through a midlife crisis!


I'm starting to wonder if I'm going through a strange female midlife crisis.
From the brief research I've done, I'm too young, far too young, for such a thing.
But lately, I've noticed that I'm trying to do things I have no business doing.

More ...
Amanda Clark
Backward Glances


This photo originally published in The Nashville Graphic on February 18, 1971. Miss Jan Christensen (right) State Extension Home Economics Editor, conducted a workshop in Nashville to teach homemakers club leaders how to write better news articles for newspapers. Discussing news writing here with Miss Christensen are Mrs. R.B. Freeman, Nash Cub, and Mrs. C.L. Cooper.

More ...
A PICTORIAL LOOK INTO THE PAST

NORTHERN NASH HIGH SCHOOL SENIOR MACKENZIE PROCTOR

RUNNING TO GLORY


FRANKLINTON - Northern Nash and Southern Nash found familiar territory last Saturday in their respective quests to qualify athletes for the Class 3-A State Track and Field Championships.
That's because the Class 3-A East Regional Meet was held at the home of fellow Big East Conference foe Franklinton, with the top four finishers in each event earning the right to participate in this Saturday's state meet.

More ...
GEOFF NEVILLE, Graphic Sportswriter

HEADING TO GREENSBORO. Nash Central's Collin Johnson in the pole vault was among several Bulldogs' qualifiers for the state track and field meet. (Photo Submitted by Meryn Johnson)

Next Stop -- States


WILSON -- For the Nash Central Bulldogs, the road to Greensboro began with a side journey last Saturday to Wilson Fike High School.
That's where the Bulldogs -- and their Class 2-A East Regional competitors -- convened for an opportunity to qualify for this Friday's State Track Championships at North Carolina A&T State University.

More ...
Staff Reports

NORTHERN NASH GOLFER JOSH MILLER

GOLF HEROES


NASH COUNTY -- The 2019 NCHSAA Regional campaign proved to be a tough one for Northern Nash, Southern Nash, and Nash Central High Schools.
Last Monday, Nash Central competed in the 2A Eastern Regional at the Wedgewood Golf Club in Wilson, while the Knights and Firebirds of both Northern and Southern Nash had a longer drive down I-95 South on Tuesday, as they were sent to the Reedy Creek Golf Club in Four Oaks.

More ...
CHANCE PUCKETT, Correspondent
Red Oak finishes unbeaten


RED OAK -- To Red Oak Middle School baseball coach Kristian Cox, it was merely a coincidence that his club met Elm City last Wednesday afternoon in the championship game of the Tri-County Conference Tournament. But for the Tigers, it was certainly an opportunity to right a wrong, as Cox's club had given up a double-digit lead last year to Elm City in the tourney finals -- and were defeated in heartbreaking fashion.

More ...
GEOFF NEVILLE, Graphic Sportswriter
Nashville kicks off youth sked


NASHVILLE -- The Town of Nashville Youth Baseball and Softball season started off a little slowly this spring with rain really dampening the season opener and the weeks following. The weather seems to have broken now and Glover Park as sprung back to life with T-ball, baseball, and softball action.

More ...
Staff Reports
NASH BASEBALL RESULTS


NASH COUNTY -- Listed are updated Nash County Recreation & Senior Services Youth Softball and Baseball League Scores:

More ...
Staff Reports
Mudcats defeated at Lynchburg


LYNCHBURG, VA. -- Tristen Lutz had a run-scoring double in the second, Zach Clark tripled and scored in the fifth, but the Lynchburg Hillcats scored three runs in the first and held on for a 4-2 victory versus the visiting Carolina Mudcats on Monday night at City Stadium in Lynchburg.
The Mudcats (22-15) had won three straight before dropping Monday's series opener in Lynchburg to the Hillcats (18-17).

More ...
Staff Reports
REC SOCCER RESULTS


NASH COUNTY -- Here are updated Nash County Recreation & Senior Services Spring Soccer Scores:

More ...
Staff Reports
State wins series against rival Clemson


RALEIGH - The No. 17 North Carolina State University baseball jumped out to a 3-0 lead in the first inning and never looked back, as it closed out its home slate on Sunday afternoon at Doak Field at Dail Park with an 8-3 victory over visiting Clemson in Atlantic Coast Conference diamond action.
It was a complete effort at the plate and on the mound, as the Wolfpack picked up its first ACC series win since April 6 (at Boston College) and sixth of the year.

More ...
Staff Reports
Pirates wrap up league crown


WICHITA, KS. -- Jake Agnos tossed seven shutout innings, while Alec Burleson drove in four runs helping No. 8 East Carolina University to a 6-1 baseball win over homestanding Wichita State last Friday night at Eck Stadium in Kansas.
With the win, the Pirates clinched the American Athletic Conference regular season title and improved to 38-11 overall (17-2 AAC) and the Shockers dropped to 22-27 (6-13 AAC).

More ...
Staff Reports
N-HSL swimming schedule finalized


NASH COUNTY -- Birchwood will not field a team this summer, so only three programs will participate in the Nash-Halifax Swim League.
Action will begin June 13 when defending champion Nash Rec will host Westridge.
Another change this season is that meets will start at 5:30 p.m. -- 30 minutes later than in the past.

More ...
Staff Reports
Wesley Men rally for clutch victory


ROCKY MOUNT -- Tristan Murray laced a bases-loaded triple to right centerfield with one out in the bottom of the sixth inning to chase home 3 runs and lead his Wesley Men team to a come-from-behind 11-10 victory over Hester and Tucker last Thursday night in City of Rocky Mount Little League baseball action.
Murray's heroics came one day after he helped carry his Red Oak Middle School team to the Tri-Counties conference championship by way of a 5-1 win against Elm City Middle.

More ...
Staff Reports
HAWKINS IN THE HURDLES
Nash Central High School's Byron Hawkins (center) was the individual winner in the Boys 110 Hurdles at the Class 2-A East Regional Track and Field Championships.
More ...
INTENSE RUNNER
A Southern Nash relay runner picks up the pace during relay action last Saturday at the Class 3-A East Regional Track and Field Championships at Franklinton High School.
More ...
IT'S ALL YOURS
Nash Central's DJ Baines takes a handoff from teammate Timothy Holiday during a relay event during last Saturday's Class 2-A East Regional Track and Field Championships at Wilson Fike HS.
More ...
OVER THE TOP
Northern Nash's Kamden Johnson competes in the Boys High Jump and the Class 3-A East Regional Track and Field Championships.
More ...
Nashville Blooming Festival Snap-Shots, 8
Addison Combs has her hair spray painted by her dad, Jonathan Combs, of Eastgate Community Church. The church offered hair painting along with other activities at their booth at the Blooming Festival on Saturday.
More ...