Subscribe/Access
Advertisements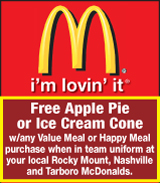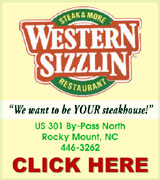 Sections
Member Options
Back
County mulls 94.5 million budget


Nash County Commissioners met on Tuesday to give direction on several items that will be included in the 2019-2020 budget.
Finance Director Donna Wood provided a basic budget proposal to commissioners of where the county is currently with its revenues and expendietures.
"I wanted to show you where we currently are in our expenditures," Wood said.

More ...
AMANDA CLARK, GRAPHIC STAFF WRITER
No tax increase in Nashville


Nashville's Town Council had few questions on the newly proposed $10.3 million budget, which was presented last Wednesday night at the board's agenda meeting.
Interim Town Manager Leonard Barefoot presented the budget to council members.
"My proposed budget contains no increase in taxes," Barefoot said. "The current rate of 58 cents is my recommendation."

More ...
AMANDA CLARK, GRAPHIC STAFF WRITER

Pictured (L-R): Tracie Gay, Angela Stokes, Lisa Wells and Susan New enjoy the Derby Day festivities on Saturday in Red Oak.

Red Oak celebrates Derby Day


Tickets sold out for this year's annual Derby Day in Red Oak.
The Red Oak Area Historical Society hosted the event on Saturday at the Historic Red Oak Teacherage, with 200 attending the second annual event.
The event served as a fundraiser for the Historical Society, who is working to raise money to preserve the old teacherage. Plans are to renovate the home to be utilized as a multi-purpose venue for the community.

More ...
AMANDA CLARK, GRAPHIC STAFF WRITER
Blooming Festival is this weekend!


A national band will headline this year's 23rd annual Nashville Blooming Festival.
Parmalee will take to the stage on Saturday night in front of what is anticipated to be a record crowd.
Cindy Puckett, one of the organizers for the event, said the festival committee decided to do something a little different this year with Saturday's entertainment.
"We're excited about Parmalee,"

More ...
AMANDA CLARK, GRAPHIC STAFF WRITER
Run for Fallen is next Saturday


Over 500 miles will be walked, ran or biked next Saturday to honor North Carolina service men and women who have died since October 2000.
This will be the third year that the North Carolina Chapter of Honor and Remember has hosted the event in Nash County.
Run for the Fallen is a national event that started in 2008 when a team of runners ran across America from Fort Irwin, California to Arlington National Cemetery.

More ...
AMANDA CLARK, GRAPHIC STAFF WRITER
NRMS takes county bailout


The Nash-Rocky Mount Board of Education agreed to accept Nash County's $800,000 advance on Monday night but not all board members were sold on the idea.
Board members Evelyn Bulluck and Reginald Silver voted against accepting the advance but were outvoted in a 9-2 vote to accept the money.
Bulluck said she didn't like all the stipulations placed on accepting the advance.

More ...
AMANDA CLARK, GRAPHIC STAFF WRITER
National Day of Prayer


Local residents joined together on the steps of the Nash County Courthouse last Thursday to participate in the National Day of Prayer service.
The theme of the service was "Love One Another."
The event has been hosted each year by Ebenezer Pentecostal Holiness Church. Rev. Dr. David Radford helped organize this year's event, which included prayer by Rev. Sidney Dunston, of Union Hill Baptist Church and Rev. J. Kenneth Byrd, of Nashville Baptist Church.

More ...
AMANDA CLARK, GRAPHIC STAFF WRITER
Local football legend passes away
Monroe Eley, born April 17, 1949 to the late George Thomas and Juanita Eley, passed away Tuesday, May 2, 2019 in Nashville.
Monroe graduated from Nash Central High School in 1969. In 1970, he played in the Peach Bowl in Atlanta Georgia and won (MVP) Most Valuable Player. Monroe was an outstanding football player and running back. He attended Arizona State University for three years. He played for British Columbia Lions for four years. Later he played for Atlanta Falcons (NFL) National Football League.
More ...
MAY THE FOURTH BE WITH YOU
The Harold D. Cooley Library hosted a Star Wars event on Saturday, May 4, which is known as Star Wars Day. A Star Wars movie was shown and different Star Wars themed activities were also held. Pictured above, Tronyale Daniel works on making a "Wookie Cookie" during library festivities.
More ...
Nash County man faces child sexual exploitation charges
A Nash County man was among 82 arrested recently during a multi-state child exploitation operation dubbed "Operation Southern Impact III."
Christopher John Authement was among the 82 people arrested during a mutually coordinated operation between eight southeastern states. Authement was charged with second degree sexual exploitation of a minor.
In addition to the 82 arrested, 17 children were rescued or identified as victims during the operation.
More ...
NASHVILLE POLICE REPORTS
INCIDENTS
A possession of a firearm by a convicted felon and possession of marijuana was reported on 4/28/19 at E US 64 at the 461 mile marker
A fraud (Credit Card/ATM) was reported on 4/28/19 at Wal-Mart, 1205 Eastern Avenue
More ...
NASH COUNTY SHERIFF'S OFFICE REPORTS
A driving while intoxicated and speeding was reported on 4/30/19 on US 264 eastbound
A reckless driving, failure to heed and no operator's license was reported on 4/30/19 on NC 58
A misdemeanor larceny was reported on 4/30/19 at 7242 Strickland Road
More ...
Shriner's Parade is Saturday, May 18th
The Sudan Shriners are bringing their Ceremonial Parade to Nashville.
The Shriner's Parade is set for next Saturday, May 18 in Nashville. The event will begin at 12 noon.
Carl Wayne Smith, of Nashville, is serving as the Potentate for the Shriners. Smith is a member of the Rocky Mount Shrine Club.
More ...
Nash County Animal Friends' Notebook


So many people, let their dogs go out to potty by just opening the door and then later letting them back in. They always seem surprised when their dog isn't there. There are so many distractions that can lead your dog on an adventure and then they can become lost. Rabbits, for example. If your dog isn't fixed, spayed or neutered, they can go off looking for love in all the wrong places. Almost every single dog that ends up in the Shelter is unaltered.

More ...
CAROL VIERELA, NASH COUNTY ANIMAL FRIENDS
Annual Fishing Creek Paddle is June 1st
Get in a summer frame of mind by participating in a meandering journey down Fishing Creek through soulful countryside. The 9th Annual Enfield Fishing Creek Paddle takes place Saturday, June 1, 2019. Registration for the paddle begins at 8:00 a.m. at Bellamy Mill in Enfield, a landmark on the National Register of Historic Places. Paddlers will journey for about 2-to-3 hours through lush landscapes.
More ...
State Troopers graduation includes Nash County man
The State Highway Patrol proudly welcomed 34 new troopers at a graduation ceremony for the 147th Basic Highway Patrol School. The ceremony ended 12 weeks of demanding training preparing them for a fulfilling career of service to the state of North Carolina.
The ceremony was held at Colonial Baptist Church in Cary on Friday, May 3.
More ...
Graduate
Samantha K. Hill, daughter of James and Leslie Hill, graduated from Campbell University on May 11th with a Bachelor of Arts degree in Criminal Justice and a Bachelors of Science in Homeland Security. After graduation, she will be working for the Nash County Sheriff's Office.
More ...
Nursing Home Ministry
A group of ministers from Word Tabernacle Church and the Impact Center in Rocky Mount often visit area nursing homes to baptize residents as part of their "Nursing Home Ministry." Minister Bertha Smith shared, "There are many older people who are in the rest homes who never have had the opportunity to get saved. Some people do not realize the connection between God and salvation until they are unable to travel to a church and are hindered by wheelchairs and being bed ridden.
More ...
Take ownership in your problems


A friend of mine is a cancer survivor. She's had a tough time and her recovery has been anything but easy. In fact, I hadn't seen her in several years and would not have recognized her if we had met by chance. But it wasn't due to a loss of weight or hair; she just didn't look the same. Her mother attributes the difference in her appearance to a combination of the side effects of chemotherapy and stress.

More ...
MIKE RUFFIN
Luke's Word for the Week


Are you saved? What a loaded and often confusing question in the world. This question carries an expectancy for believers, yet ushers in confusion to those who are non-believers. The question is one that is normal for the churched and not normal for the unchurched. Why is it confusing to non-believers? Well, the question begs a further question, "saved from what and saved for what?"

More ...
LUKE WHITEHEAD
SANDY CROSS NEWS


The youth of Kingdom International are still raising funds for their trip to Forward 2019 at the end of June. We have about 50 youth and adult chaperones planning to attend this event. The cost is $300 per person. The $300 covers all necessary expenses (room, travel, etc.). If you would like to help sponsor a young person or chaperone, please see youth pastors Steve & Jill Massey.

More ...
EMILY SILLS
RED OAK NEWS


What a great day for Derby Day! The Red Oak Area Preservation Society held it's 2nd Annual Derby Day Party on Saturday, May 4. The community turned out in their "Derby" wear with colorful clothes and festive hats. They enjoyed the party held on location at the Red Oak Teacherage. The good time included music by The Brake Tyme Band, meal catered by The Main Course, live feed of the Kentucky Derby, refreshments, and so much more!

More ...
SUZY PEARCE
PEACHTREE COMMUNITY NEWS


The Peachtree Baptist Church Congregation, family and friends met to worship on Sunday. The Church was full of the faithful.
The Sanctuary flower arrangement Sunday was presented to glorify God by Tanya Pitts in loving memory of her husband, Harry Pitts and his parents, Needham and Hazel Pitts.

More ...
FRAN BUNN
America History High School History Teacher of the Year
Renny Taylor, Nash Central High School AP History teacher, was selected by the North Carolina Sons of the American Revolution as the Dr. Tom & Betty Lawrence America History High School History Teacher of the Year. The presentation was made at the North Carolina Sons of the American Revolution's Annual Meeting. Taylor received a Bronze Good Citizenship Medal and a check for $500. The Halifax Resolves Chapter NC SAR sponsored Taylor.
More ...
Now is the time to update emergency plans, kits
Nash County Emergency Management encourages residents to plan now for hurricanes by updating their emergency plans and supply kits. Hurricane season runs from June 1 through November.
"Tropical storms and hurricanes can devastate homes and communities," Brent Fisher, Nash county Assistant Director of Fire-Rescue Services and Emergency Management said.
More ...
Everyone deserves to be treated with respect


I walked to the counter to check in for one of several appointments I had on Monday at the hospital in Chapel Hill.
One lady working was finishing a phone conversation, hung up, said, "That's no problem," to the person on the other end, and then whipped around to the lady preparing to help me.

More ...
Mike Brantley
Time is the most valuable gift you can give


Mother's Day is approaching so don't forget to do something special for the mother in your life!
It's so easy to take for granted time.
My grandmother has been gone now for almost four years and I miss her so much.

More ...
Amanda Clark
Know the warning signs of Methamphetamine production


Dear editor:
As most already know, the opiate epidemic has been worsening, each year claiming more lives than the last. What is less known by the general public is the problem with Methamphetamines has been growing over the last several years as well.

More ...
LETTER:
Backward Glances


This photo was taken in March of 1971 of the World of Work Class, seventh and eighth graders, from Middlesex School. The students toured Nashville as part of their project on learning county activities. Students also visited The Nashville Graphic office which was located on Boddie Street.

More ...
A PICTORIAL LOOK INTO THE PAST

DOUBLE TROUBLE. Nash Central first baseman Andrew Page retrieves a ball to complete a double play during last Friday's victory North Johnston.

Bulldogs Earn The EPC Crown


WILSON -- Pressure-packed games are a staple of any deep playoff run, regardless of the sport.
Nash Central got an easy test in that regard last Friday as the Bulldogs took part in a tie-breaker game against North Johnston after the close of the regular season saw the clubs tied for first place in the Eastern Plains Conference.

More ...
GEOFF NEVILLE, Graphic Sportswriter

NC RELAY RUNNER COLLIN JOHNSON

GOING TO THE DOGS


ROCKY MOUNT -- Nash Central High School's high-octane track and field program put together another exceptional performance last Thursday at the annual Eastern Plains Conference Championships at The Dawg Pound on the NCHS campus.
Nash Central's girls roared to the team crown with 137 points to outlast second-place finisher North Johnston.

More ...
GEOFF NEVILLE, Graphic Sportswriter

Senior Kelsey Hutchison has been an exceptional multi-sport athlete at Northern Nash High School, including her effective work as a member of the NNHS cross country squad.

DISTANCE TREK


RED OAK -- It's ironic that Kelsey Hutchison, who boasts a talented proficiency for running long distances, will be making the short trek to North Carolina Wesleyan College for the next four years.
Hutchison, a talented all-around athlete at Northern Nash, signed a letter-of-intent last Thursday to continue her soccer and cross country careers at Wesleyan, a Division III school located in Rocky Mount.

More ...
GEOFF NEVILLE, Graphic Sportswriter

ROMS PITCHER TEVIN JONES

Red Oak advances to finals


RED OAK -- If ever there was a club destined for an opportunity for redemption, it's the Red Oak Middle School baseball team.
Last year, the tradition-rich Tigers appeared on the verge of a Tri-County Conference championships after soaring to a double-digit runs lead in the opening inning of the league title showdown at Elm City.

More ...
GEOFF NEVILLE, Graphic Sportswriter

NORTHERN NASH FIGHTING KNIGHTS - 2019 BIG EAST CONFERENCE BOYS TRACK AND FIELD CHAMPS

Knights nab Big East title


FRANKLINTON -- To most area sports fans, the Triple Crown is best known as an award presented by Nash-Rocky Mount Schools to two kids from each high school who boast all-around excellence in the classroom, on the playing field and in the community.
But Northern Nash's boys track and field squad has earned a Triple Crown of its own this school year in the always-competitive Big East Conference.

More ...
GEOFF NEVILLE, Graphic Sportswriter
Coaching Change


RED OAK -- Last Thursday, Northern Nash High School announced that fourth-year head baseball coach Bard Collins has resigned as the skipper for the Knights' diamond program.
The announcement came digitally from a tweet sent out by the Northern Nash High School Athletics account early on Thursday morning.

More ...
CHANCE PUCKETT, Correspondent
Mudcats topped versus Wilmington


WILMINGTON, DEL. -- Noah Zavolas struck out five over seven quality innings, Tristen Lutz went 3-for-4 and both Ryan Aguilar and Nick Roscetti had two hits, but the Carolina Mudcats ended up on the wrong side of a pitcher's duel as Jackson Kowar and three Wilmington relievers combined on a nine-hit, 2-0 shutout of the visiting Mudcats last Saturday night at Frawley Stadium in a Class A Carolina League baseball event.

More ...
Staff Reports
FLAG FOOTBALL UPDATE


NASH COUNTY -- Here are updated Nash County Recreation and Senior Services Flag Football League Scores:

More ...
Staff Reports
REC BASEBALL RESULTS


NASH COUNTY -- Listed are updated Nash County Recreation and Senior Services Youth Softball and Baseball League scores:

More ...
Staff Reports
TRYSA to host youth tryouts


ROCKY MOUNT -- The Tar River Youth Soccer Association (TRYSA) is hosting tryouts for competitive soccer teams, for players born 2002-2008, on May 21, May 22 and May 23.
These tryouts are for the 2019-2020 seasonal year.

More ...
Staff Reports
Central advances with victory


ROCKY MOUNT -- South Granville's baseball season came to an end at Nash Central Tuesday night, suffering a 12-2 loss to the Bulldogs.
The Vikings battled early, scoring 2 runs in the 2nd inning to answer Nash Central's three-run first inning, but South Granville only managed two base runners for the rest of the game after the second inning.

More ...
Staff Reports
East Carolina sweeps Cincinnati


CINCINNATI, OHIO -- Tyler Smith struck out a career-high eight batters, while Spencer Brickhouse and Alec Burleson each collected three hits helping No. 8 East Carolina University to an American Athletic Conference series sweep at Cincinnati, 6-2, Sunday afternoon in Marge Schott Stadium in the picturesque, historic Queen City.

More ...
Staff Reports
SARAH THE SUPERSTAR
Nash Central's Sarah Hicks was a big points collector for the Lady Bulldogs during last Thursday's Eastern Plains Conference Track and Field Championships at The Dawg Pound.
More ...
SHOW ME THE BALL
Nash Central's Hunter Robinson shows the umpire that he has the ball in his glove after making a tag on a steal attempt during last Friday's neutral-site victory over North Johnston.
More ...