Subscribe/Access
Advertisements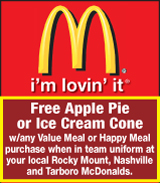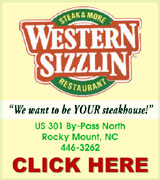 Sections
Member Options
Back
County questions NRMS budget


The budget makers for the Nash-Rocky Mount Public School System were chided for their budget proposal on Tuesday night during a joint meeting between the Nash-Rocky Mount Board of Education and Nash County Commissioners.
Superintendent Dr. Shelton Jefferies and Interim Chief Financial Officer Sheila Wallace presented the proposed budget to commissIoners at a meeting that was held at Nash Community College. Prior to the school system's presentation, Nash Community College presented its budget request.

More ...
AMANDA CLARK, GRAPHIC STAFF WRITER
Rain doesn't dampen Relay


Despite the rain and threat of storms, the 25th annual Nash County Relay for Life continued on.
The threat of inclement weather postponed the opening ceremony and survivor walk on Friday night but didn't stop it.
"We've made it 25 years and ain't no rain stopping us now," said Bradly Leonard, one of the co-chairs for the event. "This is a big year and we're going to celebrate no matter how wet."

More ...
AMANDA CLARK, GRAPHIC STAFF WRITER
Farmers Market kicks off Kids Day Saturday


The Nash County Farmers Market is hoping to attract more families to the market by offering a day for kids on the first Saturday of every month.
The first "Kids Day at the Market" will be held this Saturday, May 4 from 9 a.m. until 1 p.m. at the market, located at 1006 Peachtree Street in Rocky Mount.
Barbara Monk, Administrative Assistant for Nash County Cooperative Assistant, said the purpose of the Kids Day is to teach youth about what Cooperative Extension does.

More ...
AMANDA CLARK, GRAPHIC STAFF WRITER
Day of Prayer is at noon
National Day of Prayer will take place on the Nash County Courthouse on Thursday, May 2 at 12 noon.
The event will last around 30 minutes and will include a message by Rev. Travis Crocker, of Rock Creek Baptist Church in Nashville.
The theme for this year's event is "Love One Another."
More ...

State and local officials toss the celebratory first shovel of dirt during a groundbreaking ceremony for the new CCX facility which will be located across from NC Wesleyan College on 330 acres.

Officials break ground for Carolina Connector


Rocky Mount Mayor David Combs remembers when the city was known as a railroad town.
In late 2020, Rocky Mount will once again be known for its ties to the railroad.
Last Wednesday, Combs along with many others, including Governor Roy Cooper and NC Department of Transportation Secretary Jim Trogdon, celebrated the Carolina Connector (CCX) intermodal transportation facility with a ground-breaking ceremony on the campus of NC Wesleyan College.

More ...
AMANDA CLARK, GRAPHIC STAFF WRITER
House fire
Fire fighters from Castalia, Red Oak, Nashville and Momeyer Fire Departments spent a few hours on Monday battling a house fire at 4730 West Castalia Road. The fire destroyed the home's roof. The fire is still being investigated.
More ...
Nash to host Teen Job Fair May 8th
The NC Cooperative Extension, Nash County Center will be hosting the 2019 Teen Summer Job Fair on Wednesday, May 8, 2019 from 3 pm - 6 pm. The Job Fair will be held in the Gymnasium at Nash Central High School, located at 4279 Nash Central High Road in Rocky Mount.
The purpose of the event is to help local teens find productive use of their free time this summer, while learning life-long lessons on responsibility, finances, interview; and soft skills including teamwork, communications, and independence.
More ...
NASHVILLE POLICE REPORTS
INCIDENTS
A possession of counterfeit money was reported on 4/21/19 at Wal-Mart, 1205 Eastern Avenue
A damage to property (Vandalism) was reported on 4/22/19 at 328 Meadow Park Drive
More ...
NASH COUNTY SHERIFF'S OFFICE REPORTS
A damage to personal property and call for service was reported on 4/22/19 at 2953 Abner Drive
A misdemeanor larceny was reported on 4/22/19 at 2989 W Hornes Church Road
A fraud and impersonating a law enforcement officer was reported on 4/22/19 at 6007 Leon Road
More ...
Nash County Relay for Life, pics 3
Linda and Howard Taylor, of Rocky Mount, walk together during the Survivor Walk on Friday. Both are cancer survivors. Linda is a 33-year survivor while Howard is a five-month survivor.
More ...
Eason to speak at NCC pinning ceremony
Dr. Frances Eason, Professor and Director of Student Transitions at East Carolina University College of Nursing will be the guest speaker for Nash Community College's 2019 Nurses Pinning Ceremony.
The Nash Community College Associate Degree Nursing graduate pinning ceremony is scheduled for Thursday, May 16, 2019 at 7:30 PM, immediately following the Adult High School/High School Equivalency graduation in the Brown Auditorium.
More ...
Alum is keynote speaker at NC Wesleyan College graduation
North Carolina Wesleyan College will hold its Spring Commencement on Saturday, May 4 on the front lawn of campus. This will be the second time in 20 years that graduation has been held outside at the College due to growing class sizes. This week, Wesleyan announced its 2019 commencement speaker will be Tony Stroud, 1983 alumnus of Wesleyan and founder of Stroud & Company, a Wilmington, NC accounting firm.
More ...
Free family movies offered at Rocky Mount's Lawn Chair Theatre
Mark your calendars for five nights under the sky and family movies as the 2019 Lawn Chair Theatre series is set to begin.
Lawn Chair Theatre kicks off May 17 with a viewing of "Small Foot" at the Rocky Mount Sports Complex. This event also serves as the Tackle the Tar kick-off event as well.
More ...
Nash County Animal Friends' Notebook


The mutt represents the best of all worlds.
A mixed-breed dog is a testament to nature. Without any input--some might say interference--from humans, the mixed breed defies description. Available in all sizes, shapes, colors, and patterns, he might have a long snout or a short nose. He may display prick ears or floppy ones.

More ...
CAROL VIERELA, NASH COUNTY ANIMAL FRIENDS
So much God - so much man!


"Jesus wept." (John 11:35)
We all know it as the shortest verse in the Bible. But it is long on what it tells about the character of Jesus both as the Son of Man and as the Son of God.
The setting is in a small town, Bethany, located just two miles east of Jerusalem. Jerusalem, or anywhere near it, was not the safest of places for Jesus to show up. Word about his miracle-working power was spreading through the region like wildfire. The Pharisees were threatened by what they were seeing and hearing.

More ...
MIKE RUFFIN
Luke's Word for the Week


When someone speaks of being "saved" it's often used in the sense of being saved from sin, and while this is so very true - salvation, or "sozo", is so much grander. What God has done through Jesus is cosmic in scope - meaning, it saves and heals over every single facet of our lives. Whether the shame of a past sin or thinking that satan has control over our lives, salvation means Jesus is Savior over all.

More ...
LUKE WHITEHEAD
SANDY CROSS NEWS


On March 7, several in the community attended graduation service of the Nashville Bible College founded by Rev. Michael Clark. Graduates from our community with a degree in Bachelor of Theology: Mary Barnes, Gary Carpenter, Julio Diaz, Steve Massey, Jim Meade, Marie Parker, Tim Sills. Graduate with Bachelor Degree in Christian Counseling: Donald Barnes.

More ...
EMILY SILLS
Intersections: God and Life


Suffering is inevitable.
We are constantly reminded by our friends, family, and media of that suffering. Believers are not exempt; every follower of Christ will experience some kind of trial or suffering.

More ...
CARLYLE HALL
RED OAK NEWS


Congratulations to Stephen Bearman and Grey Davenport who celebrated their marriage on Saturday, April 17! Stephen and Grey were surrounded by family and friends and had perfect weather for their outdoor wedding at the home of Grey's parents, Richard and Donna Davenport.
Audrey, Suzy, and Dorothy Pearce traveled to Chapel Hill on Friday, April 26 to attend the Celebration of Life of Dr. Robert Twarog, an associate professor at UNC.

More ...
SUZY PEARCE
PEACHTREE COMMUNITY NEWS


The Peachtree Baptist Church Congregation, family and friends met to worship on Sunday. The Church was full of the faithful.
The Sanctuary flower arrangement Sunday was presented to glorify God by Catherine Gupton in loving memory of her husband, G.B. Gupton.
Sunday School:

More ...
FRAN BUNN
Heading full speed towards teenager-dom


Remember the old Tasmanian Devil cartoons from "The Bugs Bunny Show"?
Bugs Bunny was my favorite cartoon and I loved Tas (or Taz). Since they don't show the originals very often, only a watered-down, not very funny, politically correct version now, I hadn't given much thought to it.
Until recently.

More ...
Mike Brantley
Numbers are real, and so is common sense


I hated math in school.
It was my least favorite subject, well one of them!
Today, I still hate math.
Growing up, I could not understand why I needed to focus so much on math if I was going to be a writer one day.

More ...
Amanda Clark
Backward Glances


This photo was taken by The Graphic during the Dribbling For Dollars event held at Tarrytown Mall in April, 1971. Pictured, Dick DeVenzio, Duke University basketball star, poses with admirers while visiting the event which was a campaign to raise funds to fight drug abuse.

More ...
A PICTORIAL LOOK INTO THE PAST
NN's Heacox Signs With Peace


RED OAK -- Faced with a long, difficult rehabilitation process, Ben Heacox vowed not to just get back to where he was before he suffered a torn anterior cruciate ligament as a sophomore at Northern Nash High School.
Instead, Heacox wanted to get even better, and that was a goal he achieved in impressive fashion.

More ...
GEOFF NEVILLE, Graphic Sportswriter

IN THERE. Nash Central's Jessica Sohn slides safely into home plate during last Thursday's non-conference softball meeting with Southern Nash High School at Ladybird Field on the SNHS campus in Stanhope.

SN's PLAYOFF PREP


STANHOPE -- Even with their title-defending Big East Conference schedule wrapped up, the Southern Nash Ladybirds still faced a few challenges en route to closing out the softball regular season.
While some of their potential state playoff opponents were probably at the beach for Spring Break, the Ladybirds were in action last Thursday as part of a home round-robin competition against Nash Central and area powerhouse Clayton.

More ...
GEOFF NEVILLE, Graphic Sportswriter

NASH CENTRAL SENIOR VETERAN TREY WHITLEY

DECIDING WEEK


ROCKY MOUNT -- The fate of Nash Central High School's baseball regular season will come down to the Bulldogs' final game -- and maybe even beyond.
Central entered this week tied with North Johnston for first place in the Eastern Plains Conference standings.
Both clubs retained their positions Tuesday with victories -- NC versus SouthWest Edgecombe and NOJO against North Pitt.

More ...
GEOFF NEVILLE, Graphic Sportswriter
County's teams are improved


NASH COUNTY -- Several younger standouts -- and a handful of talented veterans -- have helped make for a memorable girls soccer season this spring in Nash County.
During the final week of the regular season, both Southern Nash and Nash Central were unsure of their potential postseason fortunes -- though the Lady Bulldogs appear to be a lock for a berth in the Class 2-A State Playoffs out of the Eastern Plains Conference.

More ...
GEOFF NEVILLE, Graphic Sportswriter

EAST CAROLINA'S SPENCER BRICKHOUSE

Area standout saluted at ECU


GREENVILLE - East Carolina University junior first baseman Spencer Brickhouse and senior distance runner Grace Sullivan have been named ECU's Most Outstanding Male and Female Scholar-Athletes for the 2018-19 academic year.
The duo was honored at the 30th Annual Breakfast of Champions last Saturday at the Murphy Center on the ECU campus.

More ...
Staff Reports
COUNTY SOCCER RESULTS


NASH COUNTY -- Here are updated Nash County Recreation and Senior Services Youth Soccer League Scores:

More ...
Staff Reports
NCWC's season ends


LAGRANGE, GA. -- The 5th-seeded North Carolina Wesleyan College Baseball team had its season come to a sudden end last Saturday with its second straight loss in the USA South Conference Baseball Tournament.
The 6th-seeded Greensboro College Pride outlasted the Bishops en route to a 10-2 win in the final loser's bracket game of the weekend.

More ...
Staff Reports
Mudcats claim series at home


ZEBULON -- Pat McInerney delivered a game winning walk-off single with bases loaded in the ninth inning and Tristen Lutz hit a score-tying home run in the fourth as the Mudcats earned a 2-1 series-clinching win versus Potomac in front of a crowd of 5,416 at Five County Stadium on Sunday afternoon.
Carolina (14-10) earned its second straight series victory, taking it two games to one, after sealing Sunday's series finale in walk-off fashion versus the Nationals (9-15).

More ...
Staff Reports
NASH CO. REC UPDATE


NASH COUNTY -- Listed are updated Nash County Recreation & Senior Services Youth Baseball and Softball Scores:

More ...
Staff Reports
NCWC shines at event


DAYTONA BEACH, FLA. -- On April 5, the North Carolina Wesleyan College Battling Bishops Cheer Team started the first round of the NCA Collegiate Championship Competition in Daytona Beach with a strong performance including a raw score of 93.3%, putting the team in 3rd place out of 10 at the end of day one.
Coaches Lyndsey and Pete Graham made some adjustments to improve the team's overall score prior to performing on day two.

More ...
Staff Reports
Hurricanes to host 5-K event


RALEIGH -- The Carolina Hurricanes Foundation has announced plans for its seventh annual Canes 5-K Race.
By raising funds through events like the Canes 5k, the Foundation awarded $450,000 to 25 different children's charities and youth hockey organizations in 2018-19.

More ...
Staff Reports
LEGENDS OF THE GAME
(L to R) Girls soccer coaches Robbie Kennedy (Southern Nash) and Ryan Ruiz (Nash Central) enjoy a chat before Monday's meeting between the two squads.
More ...
LET IT FLY
Southern Nash's Kierstin Cooper delivers a pitch toward the plate during last Thursday afternoon's home softball game against the Nash Central Lady Bulldogs in Stanhope.
More ...
MAKING CONTACT
Nash Central's Jessica Sohn picks up a hit for the Lady Bulldogs as part of last Thursday afternoon's road softball contest against the Southern Nash Ladybirds.
More ...
STURDY DEFENSE
Second baseman Anna Strickland makes a play last Thursday for the Southern Nash HS softball squad.
More ...

Chris Jones and Connie Dupree team up for Dancing with the Arts Friday night.
Nash Arts Dancing with the Arts 2019
A blend of local faces and trained dancers hit the stage Friday night at Nash Arts performing in the sixth annual Dancing with the Arts. The fundraising participants brought in over $12,000 while all dancers entertained this year's audience with a show choreographed to songs from the 80's movie, "Dirty Dancing."
This year's top fund raising participant was Morgan Roberson representing Nash County Farm Bureau. Janice Evans, representing Nash County, was awarded the runner up trophy for fundraising.
More ...